The South Australian Government has given development approval to Australian Gas Networks (AGN) for an $11.4 million dollar electrolyser project. It will produce hydrogen in Adelaide's not at all scenic suburb of Tonsley.
But development approval isn't the only thing the State Government's giving.  They're also contributing $4.9 million in public funding for a project that:
is not innovative,
requires no new technology (it uses an off-the-shelf electrolyser)
will lose money and
will harm the environment because it wastes an enormous amount of renewable energy.
I'm certain this is a waste of money.  If the plant operates non-stop at full capacity for 10 years it will produce less than $3 million worth of gas.  In reality it's likely to produce under half that amount.  The hydrogen produced will be "clean" because AGN will pay for Renewable Energy Certificates for the electricity required. But if that clean electricity was simply fed into the grid it would reduce CO2 emissions by far more.
If AGN and their gassy friends want to pay for an electrolyser I don't mind.  It's their money.1  But when they start using our money I become concerned.  I think the South Australian Government made a stupid and obvious blunder because if our $4.9 million was spent on something more cost effective, such as wind or solar power, it would produce far more energy and reduce emissions by more than this hydrogen project.  I also doubt replacing domestic natural gas with hydrogen will ever be environmentally or cost effective, so I don't think this will lead to worthwhile developments in the future.
I think there are similar problems with the $4.7 million the state is giving to the Port Lincoln hydrogen project, but because of its larger capacity and higher cost, the waste is not as extreme as with the Tonsley project.
It's A 1.25 Megawatt Electrolyser
The Tonsley Hydrogen Project, which will be located at Hydrogen Park SA2 will use a 1.25 megawatt Siemens electrolyser.  This will use electrical energy to split water into hydrogen and oxygen and the hydrogen will be added to the natural gas supply.  It will be up to 5% of gas supplied by volume but only 1.4% by energy.3  This low concentration requires no change in gas infrastructure and consumers shouldn't notice any difference.
The electrolyser is a permeable membrane type and produced by the giant German company Siemens.  It has the following characteristics:
A maximum continuous power draw of 1.25 megawatts of electricity.
A maximum peak power draw of 2 megawatts for brief periods.
Overall efficiency of 65-70%.
A "design life" of over 80,000 hours, which is over 9.1 years.4
A capacity factor in normal use that appears to be roughly 50%.
While Siemens says the "design life" of the electrolyser is over 9.1 years of operation, AGN simply says they expect it to operate for more than 5 years.
Capacity Factor
Normally the electrolyser would be used at around half its maximum continuous output, which is a capacity factor of 50%.  Or at least that's what this graph of one month's operation from Siemen's suggests: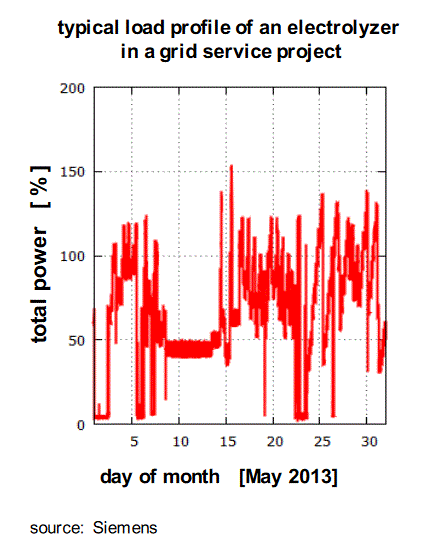 In normal operation it produces hydrogen when the price of electricity is cheap and shuts down when it's high, reducing the total cost.  But I'm not going to consider how much has to be paid for electricity.  I'm just going to look at if it's possible for this project to produce enough gas to pay for its initial $11.4 million price tag or even just the South Australian government's contribution of $4.9 million.
Tonsley Hydrogen Project Will Lose A Lot Of Money
If we assume the following:
The electrolyser has been improved so it operates at an average of 70% efficiency instead of 65-70%.
It operates at its full continuous power non-stop for 10 years.
It will produce 276,000 gigajoules worth of hydrogen gas in this time.5
The current price of natural gas in Adelaide at the moment is $8.25 a gigajoule:
If we assume the average price of gas over the next ten years will be a nice round $10 per gigajoule, then that amount of hydrogen gas will replace natural gas worth $2,760,000.  So, in this extremely optimistic scenario, the value of the gas produced will be less than one quarter the $11.4 million cost of the plant and close to only half the contribution from the people of South Australia.
Obviously, the Tonsley Hydrogen Project isn't going to make anyone money.  This will be especially true after the costs of electricity, operations and maintenance, and Renewable Energy Certificates are included.  (The cost of the water they'll electrolyse will be trivial.)
This Project Will Harm The Environment
Burning one gigajoule of natural gas results in 51.4 kilograms of CO2 emissions6 while burning hydrogen emits none.  So replacing 276,000 gigajoules of natural gas with hydrogen will reduce CO2 emissions by 14,200 tonnes.  To make this much hydrogen 109,500,000 kilowatt-hours of clean electricity will be used and this will mostly come from solar energy and wind power generation.
Including emissions from mining, Australian coal generation emits around 1 kilogram of CO2 per kilowatt-hour.  As wind and solar energy generally displaces coal generation7, if the renewable electricity was sent into the grid instead of being used to generate hydrogen it would reduce emissions by around 100,000 tonnes.  That's 7 times more than using it for the Tonsley Hydrogen Project.
Australia's grid may be less coal reliant by the time the Tonsley Hydrogen Project is expected to come online in 2025, but even if there is a miracle and all coal power stations are shut down by then and Australia's only fossil fuel generation comes from natural gas power stations operating at an excellent average efficiency of 50%, sending renewable electricity directly into the grid instead of using it to make hydrogen would still reduce emissions by 40,450 tonnes.  That's 2.8 times the CO2 emissions that would be avoided by using the electricity to create hydrogen to replace natural gas.
It really doesn't make sense for the South Australian Government to contribute to a project with such a poor environmental outcome compared to alternatives.  If they don't have anyone who can point out to them which schemes are bad ideas, such as a 14 year old high school student who is doing physics, then I'm willing to do it for free.
Domestic Hydrogen Makes No Sense
I doubt replacing domestic gas with hydrogen produced from renewable electricity will ever make sense.  Thanks to the laws of physics, it's impossible to create hydrogen with 100% efficiency. So it makes more sense to use the clean electricity directly.
For example, even a crap air conditioner will be at least 4 times more energy efficient than burning renewably produced hydrogen.  A standard electric hot water system will be over 40% more efficient8.  And like hydrogen production, both home and water heating can be done outside of high electricity price periods.
I know a lot of people like cooking with gas, but I don't think many people will see the point in paying the daily supply charge to stay connected to the gas grid just for that.  (Maybe I should consider marketing a stove with a built in hydrogen electrolyser so people without a gas connection can cook with gas?  I'm sure if I get it right it won't be too explodey.)9
It might make sense to produce renewable hydrogen for industry or air travel or rockets to the moon, but I doubt it will ever make economic or environmental sense for households.
Hydrogen Leaks Contribute To Global Warming
Hydrogen is not a greenhouse gas, but because of its indirect effects on the atmosphere it contributes to global warming.  Over a period of 100 years it is estimated to have more than 5 times the warming effect of CO2 per tonne.  It's not nearly as bad as methane, which is what natural gas is mostly made of, but due to its small size hydrogen is the leakiest of all gases.  Domestic gas pipelines already leak disturbing amounts of methane and hydrogen leaks will, proportionately, be unavoidably greater.  The warming effect of this leaked hydrogen will need to be accounted for when determining its overall environmental benefit.
Not Much Silver Lining
If the Tonsley Hydrogen Project is lucky, they'll find customers willing to pay more for hydrogen than the energy equivalent price of natural gas.  It could be used for industrial purposes or transport if my zeppelin permit ever comes through.  South Australia is building four electrical condensers, which are big spinny things that stabilize the grid through the power of spinning.  These are likely to use hydrogen to spin things in, as that results in less friction than air, but the amounts required will be tiny.
The trouble with selling hydrogen to industry is when when buyers know you are mostly using it to replace natural gas they won't want to pay much more than the equivalent cost of natural gas.
It's also possible they could capture and sell the oxygen the electrolyser will produce to hospitals, welders, and other people with a use for it.  I don't see this as being a big money earner, but it could help.
Better Options For Your Taxes
At the moment solar farms and large rooftop solar systems cost around $1 per watt before the benefit of Renewable Energy Certificates are included.  If the SA government spent the $4.9 million it is contributing to the Tonsley Hydrogen Project on solar power instead, it would pay for 4.9 megawatts of solar panels.  This would generate around 72,000,000 kilowatt-hours over 10 years, which could reduce emissions by around 70,000 tonnes.  This is more than 20 times the 3,050 tonnes which would be the State Government's share of emission reductions from the hydrogen project if it was run at a realistic 50% capacity factor for 10 years.  Since solar farms generally have project lifespans of 25-30 years it would continue to supply clean energy for many years after this.
Alternatively, since the hydrogen produced will only be green because Renewable Energy Certificates will be bought, the state government could just buy $4.9 million worth of these certificates.  Estimates vary, but by the time the hydrogen project begins production Large-scale Generation Certificates (LGCs) are likely to cost around 1 cent or less each per kilowatt-hour.  If they cost 1 cent they could potentially avoid over 400,000 tonnes of emissions.  So directly buying renewable energy certificates could be over 100 times more effective at reducing emissions than contributing to the Tonsley Hydrogen Project, although the exact amount will depend on how filthy our grid is in the future.
Wasting Money Won't Make Other Countries Buy Hydrogen
I can understand Australian Gas Networks paying for a money-losing project so they can point to it and say, "Look!  Domestic gas networks have a future!"  But I don't understand why South Australians are forking over money for their PR.  It's a huge environmental negative compared to simply sending the clean electricity it requires into the grid.  Also, because of those pesky laws of physics, it also seems unlikely that domestic hydrogen will ever make environmental or economic sense, so I don't see it ever paying itself off with worthwhile future developments.
I know the government is hoping we will be able to export hydrogen overseas in the future, but we can't magically make that happen by wasting state funds on a project that is never going to pay for itself and unlikely to lead to anything worthwhile.
All we can do is sit back and hope that Korea, Japan and other countries are stupid enough to go in for hydrogen in a big way and buy it from Australia.