A message that the Andrews Labor Government's rebooted Solar Homes PV rebate is an utter mess was delivered loud and clear yesterday in Melbourne.
An estimated 300 solar business owners, workers and supporters gathered on the steps of State Parliament to protest how the scheme is being run.
The rally was organised by the Smart Energy Council and Solar Cutters to put pressure on the government and raise awareness of the fiercely competitive, clunky and intrusive application process and rebate allocation issues preventing many Victorians from participating in the scheme.
The situation has resulted in solar businesses across the state finding themselves in dire straits. The monthly quota of 3,333 rebates is acting as a cap on solar power sales activity in a sector that grew to meet previous demand under the first phase of the scheme. It has also added layers of unnecessary complexity to selling solar, with businesses bearing the administrative burden.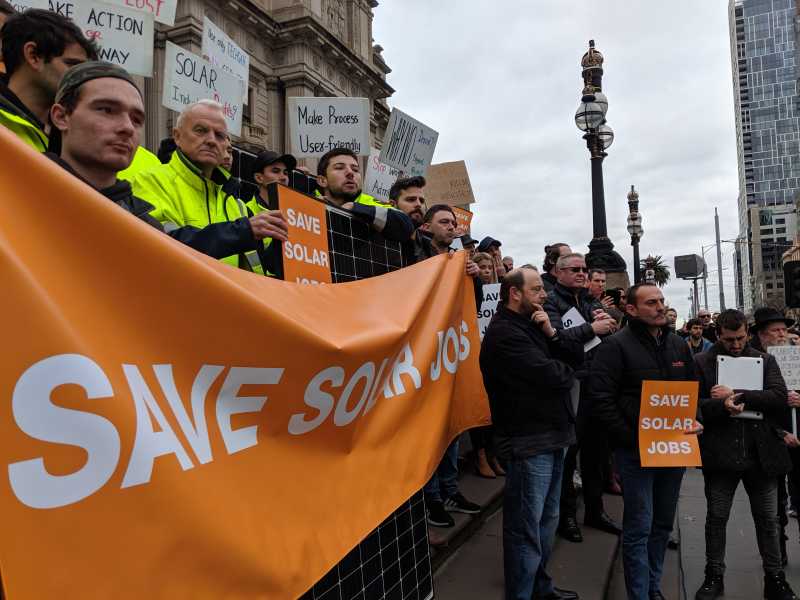 At a Smart Energy Council hosted webinar last week, a number of examples were provided of companies already laying off staff and closing their doors – and the carnage has continued since. Smart Energy Council CEO John Grimes said he had spoken to another three business owners the day before the rally that had just put their companies into liquidation.
"60 employees out of work," said Mr. Grimes. "This is gut-wrenching. These are good people who have put their family homes on the line. They were working in a great industry. They were helping people save money."
As well as being a tragedy for the business owners and workers affected, the situation also puts their existing customers with solar power systems in a difficult position should they need support or to make warranty claims.
Solar Homes Mess Must Be Fixed – Now
During the rally, Mr. Grimes asked for a show of hands of those who had let people go or had been laid off – quite a few hands went up. He then asked for a show of hands from those whose jobs would be on the line if the situation continued into August. Many more were raised.
With time running out for the Andrews Labor Government to fix the mess before the state's residential solar sector is decimated, Mr. Grimes urged everyone attending to contact their local Member of Parliament.
"The Government don't believe there is a problem. They say this is teething issues. They say that the program is working really, really well. They say it's your fault because you can't run a business properly."
While Premier Andrews and Solar Homes Minister Lily D'Ambrosio weren't around to engage with the protesters, this isn't something they can ignore in the hope it will go away.
"The Government created this problem. They have to fix it," said a business owner. "And if they don't, lets return the favour at the next election."
Victorian opposition leader Michael O'Brien, who also spoke at the rally, said he will push for a Parliamentary inquiry into the handling of the rebate scheme when Parliament resumes. That will be too late for many solar businesses, but perhaps the threat of an inquiry may help spur Premier Andrews and Minister D'Ambrosio into action.
Selling Solar Three Days A Month
SolarQuotes founder Finn Peacock, who attended the rally, believes the Victorian Government needs to either scrap the rebate entirely or halve it. By doing the latter, the monthly allocation of rebates could be doubled to 6,666 and meet demand.
In comments on ABC News last night, Finn said:
"You cannot run a capital-intensive business if you're only selling solar three days a month".
The three days was how long it took for July's quota of rebates to be fully subscribed – and next month's release is expected to also be snapped up quickly; again with many Victorians left frustrated and disappointed.
The new monthly quota isn't much more than what was being installed in Victoria in the months prior to the first phase of the rebate kicking in mid-August 2018 (May 2018 – 3,223 installations, June – 3,025, July 3,102). Given the decreasing cost of solar power systems and the ongoing availability of the national "solar rebate", existing Victorian solar installation businesses could have continued to do quite well without the Solar Homes program.