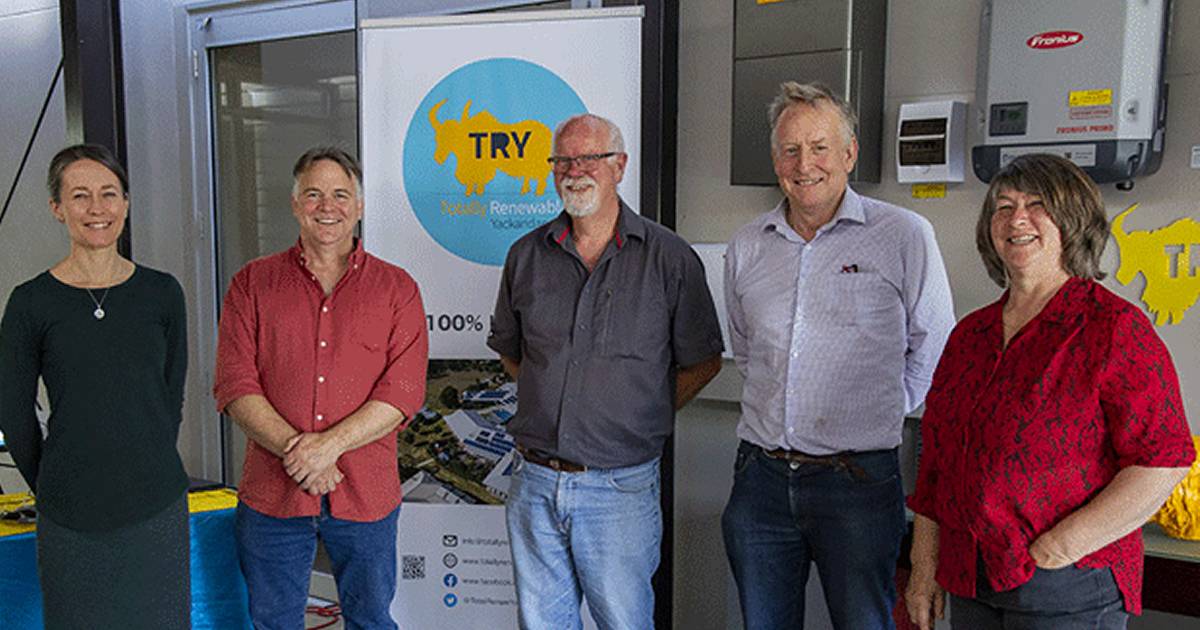 Totally Renewable Yackandandah's Virtual Power Plant project was recently named a finalist in Victoria's Premier's Sustainability Awards 2020 – community category.
The town of Yackandandah (population: ~1,800) is situated in northeast Victoria around 300 kilometres from Melbourne, in the Indigo Shire Council local government area. Totally Renewable Yackandandah (TRY) was launched in 2014 with the goal of achieving "energy sovereignty" for the town by 2022 through the use of renewables, including solar powered microgrids backed by battery storage.
TRY's Virtual Power Plant is a network of ten publicly owned buildings generating, storing and sharing electricity. After at least three years of effort, the VPP was launched in September last year. It involved the installation of 74.8 kW of solar panels, along with 36 kWh of battery storage capacity across three buildings – Yackandandah Public Hall, Sports Park and the CFA station. The VPP is generating 104MWh of clean energy a year and reducing carbon emissions by an estimated 88 tonnes annually.
"It's an exciting project which is already saving community groups operation costs (although due to pandemic restrictions we don't yet know how much as many buildings have been closed) and will provide extra resilience during emergencies to organisations that have batteries, such as the CFA," says TRY.
Other recent recognition for the TRY project and those who power it included its founder Matthew Charles-Jones being nominated as a contender in the 2021 Australian of the Year Awards Victoria Local Hero category.
Solar also features among other finalists in the Premier's Sustainability Awards this year, among them:
Frasers Property Australia – Built Environment Category
Frasers Property Australia's Burwood Brickworks Shopping Centre has a 6 Star Green Star Design rating. Contributing to its sustainability street cred are 3,300 rooftop solar panels that generate equivalent to 40% of the Centre's electricity requirements. Other interesting aspects of Brickworks include a closed loop system that treats all grey water on site for reuse and a 2,500m2 rooftop urban farm.
Mirvac Group – Built Environment Category
Mirvac's fully electric "House With No Bills" features appliances with the highest star ratings available, but still at an affordable price. The home features 5.7kW of solar PV and a 17kWh battery system, glazing upgrades, insulation, LED lighting, zoned air conditioning and smart monitoring systems. While it didn't quite reach the zero energy bills target, across 12 months it used only eight per cent more electricity than it generated, and operated as 'energy positive' for five months.
On a related note, if you're interested in achieving tiny electricity bills for your home with solar power, check out The Good Solar Guide; free to read in its entirety online.
After a record number of entries, twenty-eight finalists were announced across 10 categories for this year's awards. More information on the Premier's Sustainability Awards and all the finalists can be found here.
The 2020 winners will be announced at an online ceremony hosted by meteorologist and weather presenter Jane Bunn on December 16. Lily D'Ambrosio, Minister for Energy, Environment and Climate Change, will also be in attendance to announce the winners.