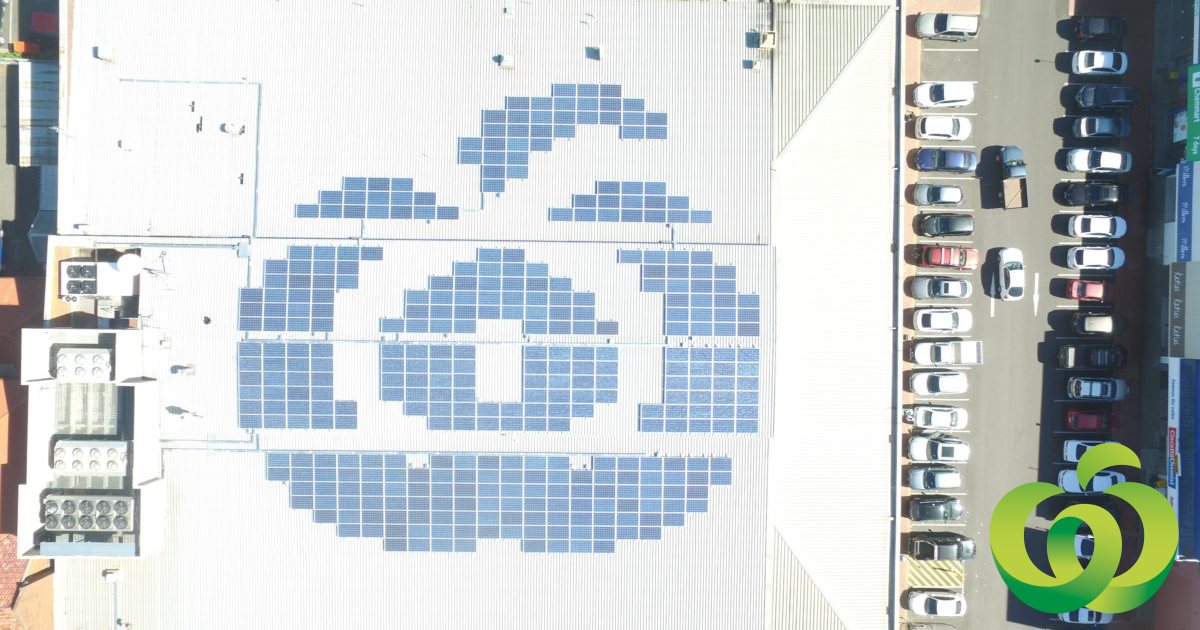 Another two Woolworths stores are now harvesting solar energy – slashing emissions and electricity costs for the company.
The Woolworths store in Greenfields, Western Australia recently had a 157kW rooftop system installed, comprised of 541 solar panels. According to the Mandurah Mail, the system will generate more than 230 megawatt-hours of electricity each year, providing equivalent to 16% of the supermarket's electricity consumption.
The other store to have recently integrated PV is in Coffs Harbour, New South Wales, where a 272kW system featuring more than 930 solar panels is now operating. While estimated output isn't clear as further details are hiding behind the Coffs Coast Advocate's paywall, a system of this size installed in Coffs Harbour could be expected to generate around 426 megawatt-hours of electricity annually.
Towards 100% Renewables
Woolworths Group has committed to powering its operations with 100% renewable electricity by 2025, and by late November last year had  solar systems installed at more than 150 of its locations nationally. Its 100th installation (pictured above) was made up of 357 panels arranged in the shape of the company's logo.
Woolworths Group CEO Brad Banducci said in November that moving to 100 per cent renewable electricity "is the right thing to do".
Woolworths Group consumes around one per cent of Australia's electricity according to Mr. Banducci. The Australian Energy Regulator indicates the amount of electricity consumed across the National Electricity Market (all states and territories except WA and NT) in 2019/20 was 192.4 terawatt-hours (192,400,000,000 kilowatt-hours), so one percent of that would be 1.924 *billion* kilowatt-hours.
While extolling the environmental virtues of its shift to renewables, another motivation for Woolworths would be the bottom line – solar energy saves companies a bundle of bucks. As has been the case for residential PV, the cost of commercial solar power has reduced significantly over the years.
But on-site panels won't meet all of Woolworths energy needs, so the company will be signing on to more Power Purchase Agreements (PPAs). Renewables-based PPA arrangements are also providing companies with cheaper electricity than conventional mains grid supply.
Woolworths Makes The CDP "A" List
In other recent news from Woolies relating to emissions, the company announced early last week it was one of three Australian companies1 – and the only Australian retailer  – making CDP's Climate A List for 2020. In 2019, it scored a "B".
"It's a testament to the hard work of our sustainability teams and the countless initiatives that have already seen us cut our emissions by almost 25 per cent in the last five years," says a company statement.
Woolworths has committed to not only to attaining net neutral carbon emissions but to make its operations net carbon positive by 2050, meaning it will remove more carbon from the atmosphere than it produces.
Woolworths Group's actions have put more pressure on Coles to follow suit and commit to 100% renewables for its electricity requirements. In terms of on-site renewables, Coles has installed solar panels on 69 supermarkets – the company says it has plans for more installations on existing stores and solar power is on the design blueprint for new stores.