ElectraNet has announced construction of its 30 MW large-scale battery at Dalrymple substation on South Australia's Yorke Peninsula will be carried out Adelaide company Consolidated Power Projects (CPP).
The battery system will work with AGL's existing 90 MW Wattle Point Wind Farm and rooftop solar PV to provide frequency response services and back-up power in the event of a blackout.
"The South Australian energy mix and landscape has significantly changed in recent years and this project will help the State to adapt to this change," said ElectraNet Chief Executive, Steve Masters. "The battery will demonstrate how energy storage can strengthen the grid and improve reliability for the lower Yorke Peninsula."
CPP will work with ABB and battery provider Samsung to deliver the $30 million facility. The project will be built with the support of the Australian Renewable Energy Agency (ARENA), which  is contributing up to $12 million.
"It may not be the biggest battery in the world, but pound-for-pound it will pack a big punch in demonstrating how utility scale storage can contribute to a stronger South Australian energy network," stated ARENA chief executive Ivor Frischknecht in August.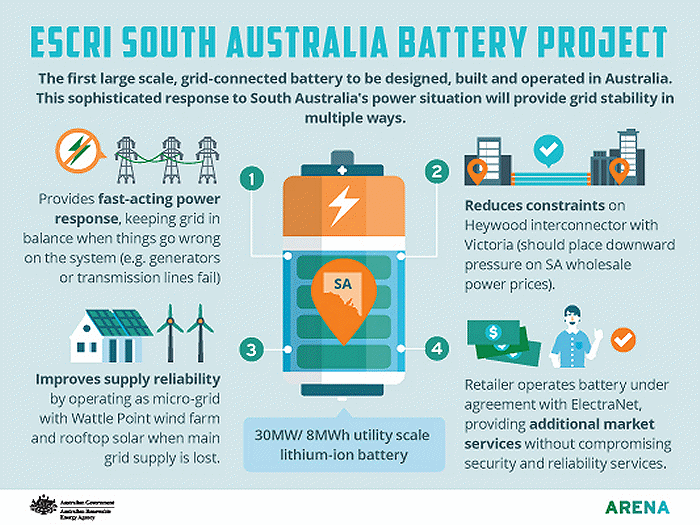 Mr.  Frischknecht says it will be the first large-scale grid-connected battery to be designed, built and commercially operated in Australia; largely with private investment from energy providers.
The battery system is expected to be ready for full operation in the National Electricity Market (NEM) by May next year. ElectraNet will lease operation of the battery to energy retail operator AGL.
"We're pleased to be part of a project that will demonstrate how a battery of this scale can help firm renewables and provide more dispatchable power for South Australian energy consumers," said AGL's Doug Jackson.
The news follows an announcement last week that Tesla had signed a connection agreement with ElectraNet for its 100MW/129MWh Hornsdale battery system project near Jamestown in South Australia's mid-north. Half of that facility's battery capacity is already in place and Tesla says it is on schedule to be ready by early December.
More large-scale energy storage is also on the horizon for South Australia, which was struck by a severe weather event last year that resulted in three major transmission lines and 22 transmission towers damaged, sending the state into a blackout.