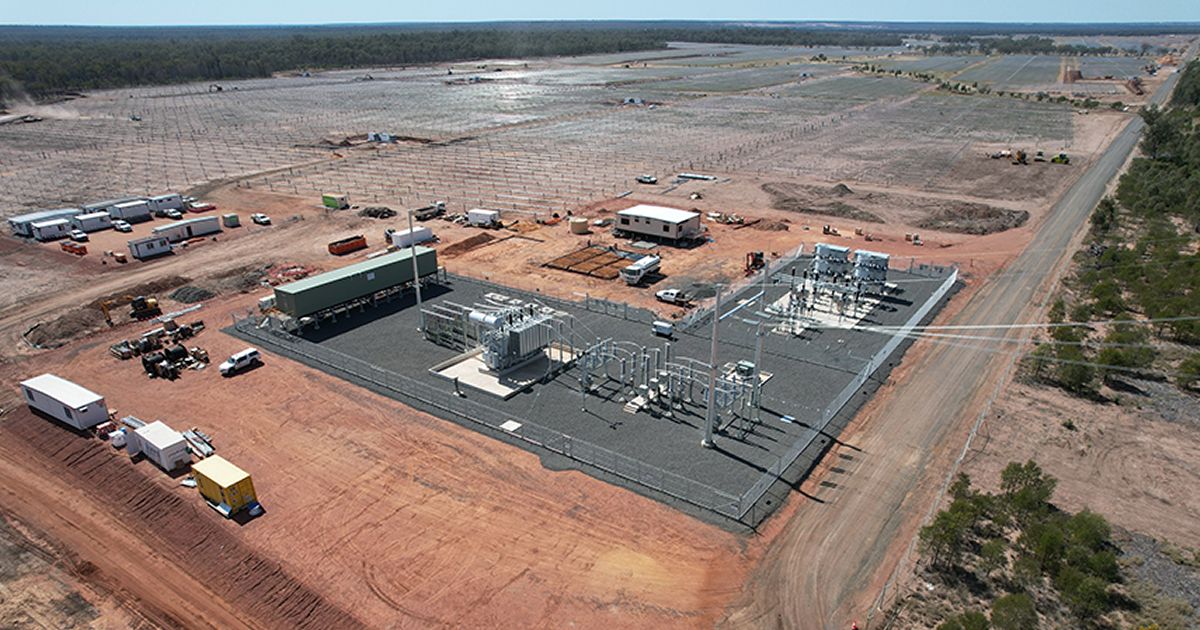 A major solar farm under construction between Chinchilla and Miles in Queensland's Western Downs Region is another step closer to prime time.
Columboola Solar Farm is a 162 MW(ac)/202.5 MW(dc) PV project consisting of 417,000 bifacial solar panels and 39 Medium Voltage Power Stations – the latter supplied by inverter manufacturer SMA1. The clean power station will generate an estimated 440 GWh of electricity annually; enough to supply the equivalent of 100,000 homes.
Electricity network transmission services provider Powerlink announced on Tuesday it had completed its connection of the facility to Powerlink's network, which involved building two kilometres of transmission line and various upgrades at the existing Columboola Substation.
"After many months of dedicated on-ground work, our project team has been able to bring construction activities to a close – safely, on-time and on-budget," said Powerlink Chief Executive Paul Simshauser. "The project was technically complex and required meticulous planning, with the new stretch of transmission line crossing directly under an existing 275kV line."
Powerlink says its final testing and commissioning activities at Columboola Solar Farm will occur in the months ahead.
Columboola Solar Energy To Power Queensland Universities
Once operational, Queensland-government owned CS Energy will snap up all the output of the solar farm under an initial ten-year Power Purchase Agreement (PPA) signed back in 2020; selling it to large customers including Griffith University, CQUniversity and QUT.
The solar farm is owned by Korean investment manager Hana Financial Investment (HFI) and is being constructed by Sterling and Wilson; which is an incredibly British sounding name, but is based in India.
Columboola Solar Farm was originally to deliver first generation to the grid in Q3 last year and ramp up to full commercial operation this quarter; but is as often the case with major solar energy projects – particularly in the current environment – that plan turned out to be a little ambitious. It's not clear when the photo above was taken, but there was a fair bit of work left to do at that point.
Western Downs And Solar Energy
Queensland's Western Downs region is a hotspot for utility-scale solar development. Another and much larger project under construction not far from the Columboola site is the Western Downs Green Power Hub, a Neoen project boasting 460MW (ac)/400MW (dc) solar power and 200MW/400MWh Tesla-based battery storage capacity.
As with Columboola, CS Energy has dibs on output from this project  – 320MW (ac) capacity.
In terms of currently operational utility-scale solar farms in the Western Downs region, it's home to the 110MW (ac) Darling Downs, 120MW (ac) Gangarri  and 19.9MW (ac) Baking Board solar farms.
Beyond utility-scale PV, the local government area also hosts a bunch of smaller large-scale and small-scale systems, with the total capacity (all types) installed to the end of September last year estimated by the Australian Photovoltaic Institute at 333.6 MW (assumed DC) capacity. With the addition of Columboola, the Green Power Hub and whatever else has been installed since September, Western Downs LGA could breeze past the 1GW DC mark quite soon.
Footnotes
SMA has previously indicated each MVPS used at Columboola Solar Farm features Sunny Central inverters, a medium voltage transformer and switchgear. ↩