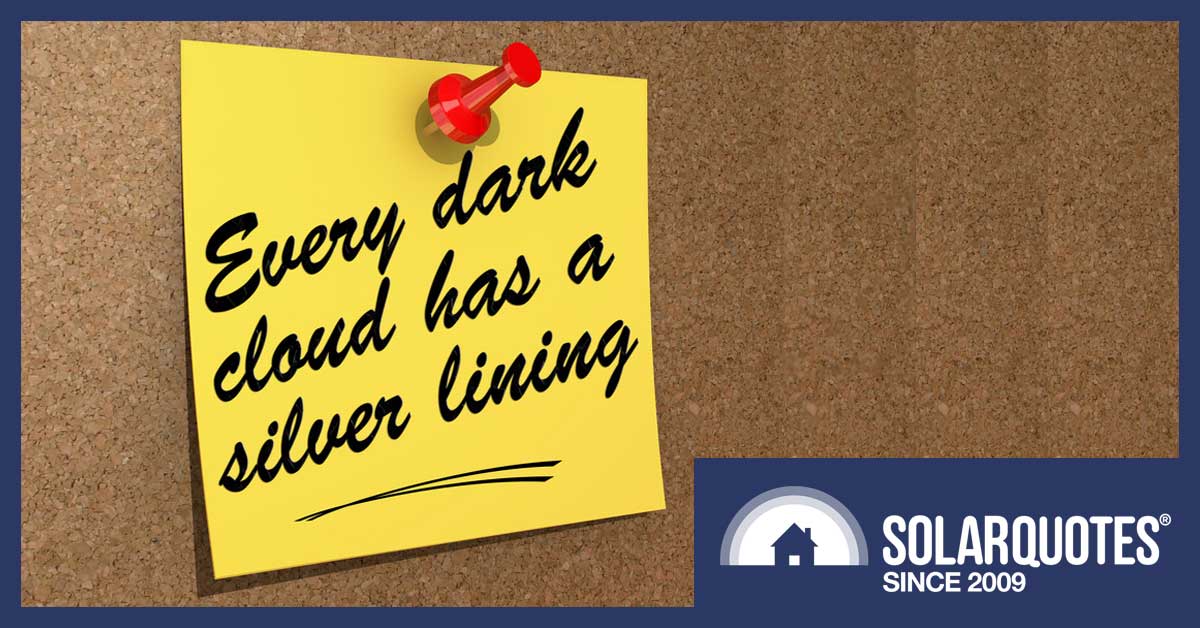 The coronavirus, or COVID-19 as all the cool epidemiologists are calling it these days, has at time of writing killed over 2,600 people in China and quarantine measures taken to slow its spread have led to the greatest economic downturn that country has seen since the Global Financial Crisis of 2008.
But in the wake of all this suffering and disruption, there is a silver lining saving many more lives than the virus is taking.  With power stations consuming half the coal they were at this time last year and road travel way down, lives saved from reduced air pollution should easily exceed those lost to the virus.
Despite the benefits of reduced air pollution, I'm not suggesting China try a new deadly contagion each year.  It's not the most efficient way to make China's brown skies blue.  But it really rubs in how dangerous burning coal and oil is when the response to deadliest new disease since SARS saves more lives through a reduction in air pollution than COVID-19 takes.
Positive News About The Virus
Before I tell you about how deadly air pollution is in China, I'll give some good news about COVID-19.  I think it's important to do this because I'm at my parents now and I've seen them watch hours of TV reports on the outbreak while learning less than if they spent 5 minutes skimming the Wikipedia article.  It's almost as if the TV news doesn't even want to calmly and rationally educate people.
While large numbers of people are still contracting COVID-19, the number of new infections per confirmed case is decreasing.  This means instead of shooting upwards exponentially like the number of bacteria in a bucket of body temperature soup:
The graph of total cases instead looks like this: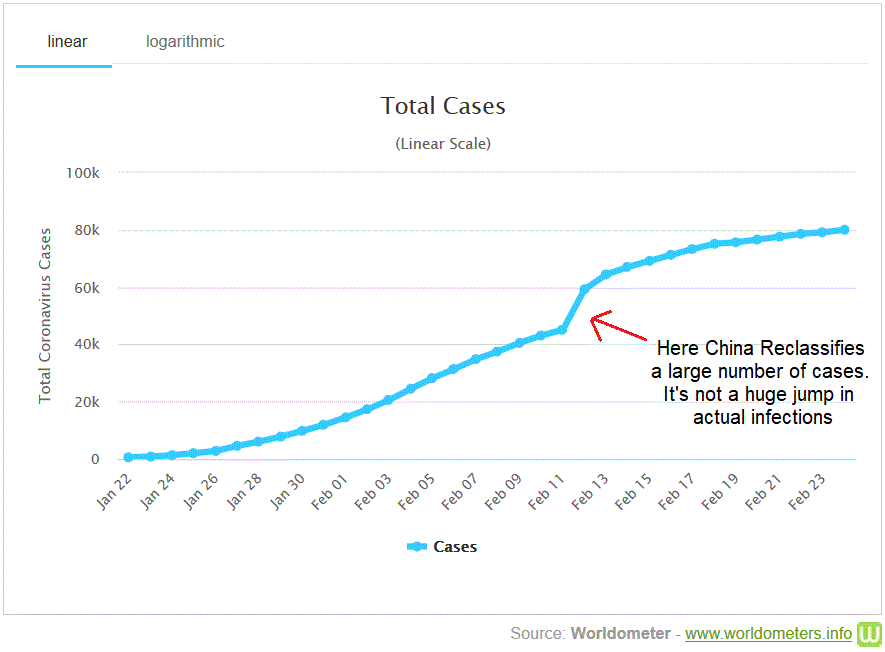 The number of new reported cases per day looks like this: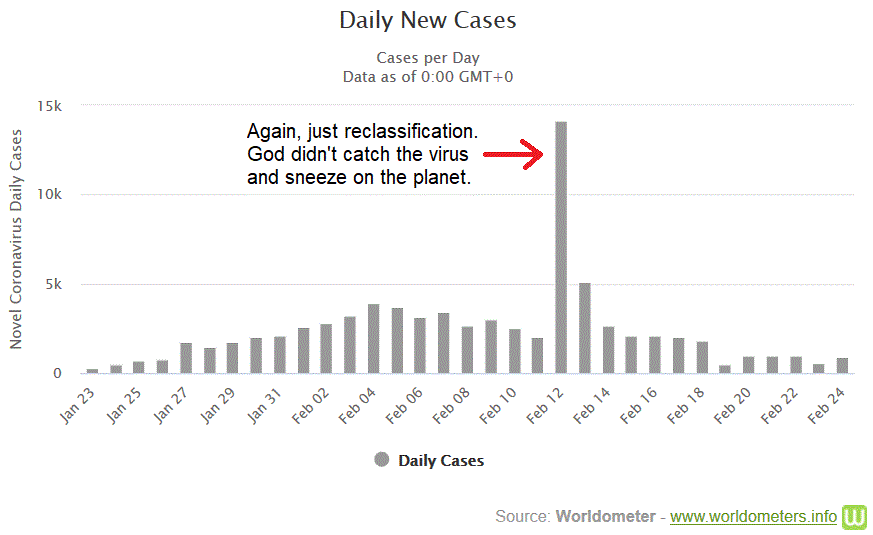 The daily number of new cases is down from its peak and this suggests China and the rest of the world is getting the disease under control.
Things are bad in Hubei Province, where the virus first crossed over into humans, because it was able to spread itself around before health professionals knew what was going on — and for a while after that due to the Chinese government's incompetence.  But China appears able to control new outbreaks in other provinces now they are neither surprised nor too scared to point out the Emperor's new clothes are coated with an infectious pathogen.
Other good news is the warmer and more humid the weather, the harder it is for the virus to spread.1  With the precautions they already have in place2 and the country heading into spring, the odds look good we will soon see a rapid reduction in the number of new cases.
While the coronavirus has turned up around the world and has the potential to spread widely, richer countries have lots of resources they can throw at the problem.  This means the virus is likely to be contained when it shows up in Tokyo or, ooh la la, Paris.3  For example, we're sticking it all in Darwin and on Christmas Island.
The real danger is serious outbreaks in developing countries that may lack the money, medical personal, and organizational ability to stem its spread.  On the bright side, the world's poorer countries tend to be warm and often humid as well.  Also, they have younger populations and the young appear far more able to survive infection:
Pointing out only a tiny portion of the population will die in your country if there's an uncontrolled outbreak may not seem like much of a consolation, but it's a hell of a lot better than a large portion dying.
Or Maybe I'm Really Wrong
If you think my take is way too hopeful and you need something depressing to prevent you being overwhelmed by a crushing sense of optimism, all you need do is read this quote from an actual epidemiologist:

I think he's wrong about our chances of a globe-spanning pandemic, but I have to admit his medical training does exceed my own, which mostly consists of watching reruns of M.A.S.H..4  Fortunately, there are experts who are more positive, so if we only pay attention to them I'm sure everything will turn out fine.
We Can Trust Chinese Figures
Some suspicious people think official figures from China can't be trusted, but I think they can — now.  Initially China was slow to react and take appropriate measures.  This was probably because no one wanted to give Uncle Xi bad news.  But now the cat's out of the bag5 and the virus is bursting out of cell nuclei all over Hubei, China has no incentive to deliberately mislead the rest of the world.  It's hard to hide the truth and would make it more difficult for international medical experts to help.6
China's Air Pollution Is Horrific
Now I've established COVID-19 isn't the Black Death7 I'm going to tell you how terrible China's air pollution problem is.8
In their State Of The Air 2019 report, the US Health Effects Institute said in 2017 China suffered around 1.2 million deaths from air pollution.  This was mostly due to particulates, but an estimated 178,000 deaths also occurred due to ground level ozone.9  That's a whole heap of lost lives.  Air pollution kills so many Chinese people it's the Chairman Mao of the 21st century.
This map from the report shows China and India are world leaders in fatal breathing: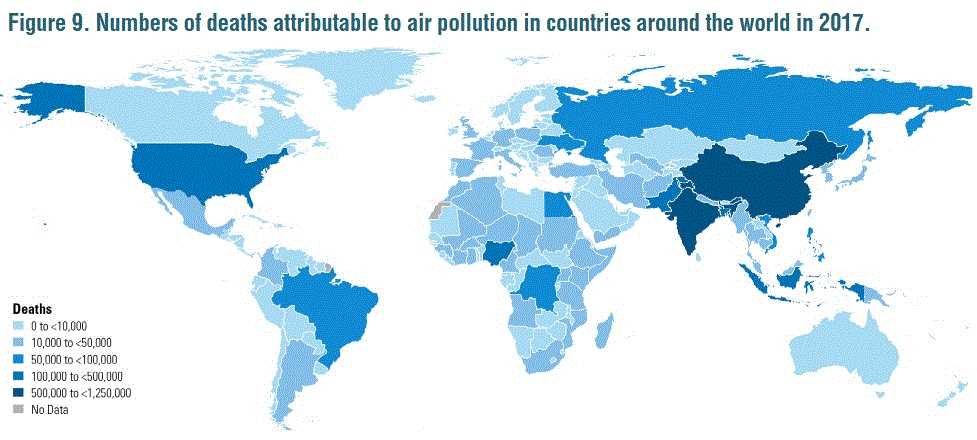 China has been working hard to reduce air pollution, but they still have a long way to go before the majority of the population is breathing air that could be described as reasonably safe.
Coal Is The Main Culprit
Air pollution in China comes from a variety of sources, but if you guessed coal was public enemy number one you'd be right.  The State Of The Air report states:

That makes coal the main source of air pollution followed by road transport, as boats and planes and trains are only bit players when it comes to the tear gas flavored fart pretending to be air in the majority of China's cities.
China's Coal Generation Has Halved
Government enforced lockdowns and voluntary10 reductions in activity have resulted in a massive decrease in China's coal consumption.  This graph from the Guardian puts it at around 50% what it was this time last year: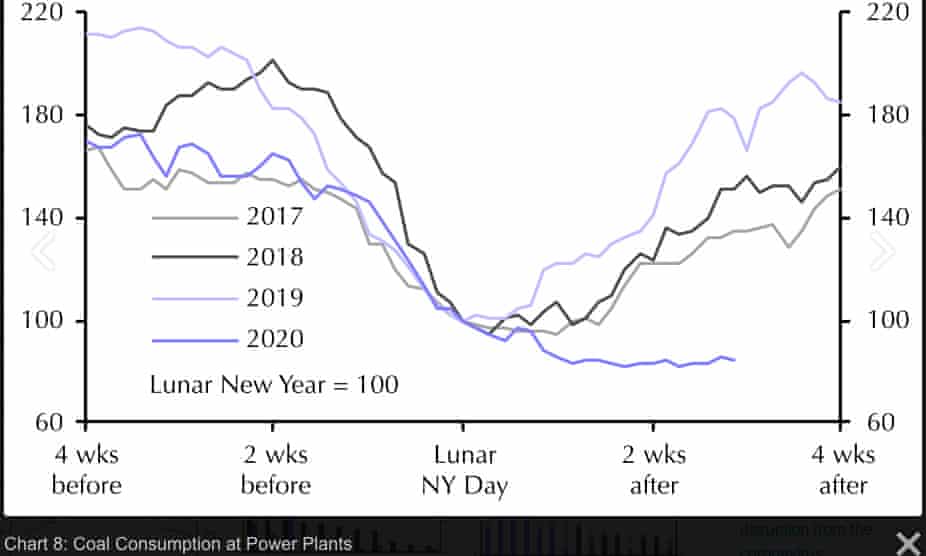 The graph only shows coal used to generate electricity, but the large decline in economic activity in China means coal use by industry, which is mainly used for process heat and steel smelting, will also be down.
China's oil consumption this time last year was around 13.5 million barrels a day, but they have now cut imports by 1.1 million barrels per day.  This may not seem like much of a decrease given how dead many Chinese cities seem at the moment, but China also normally produces around 4 million barrels of oil a day and — if my understanding of how China works is correct — this will have been cut back to limit disruption to international oil supply chains and to leave more in the ground to increase future oil independence.
Wuhan's Air Quality
Wuhan was ground zero for the virus.  (The now deceased Doctor Li Wenliang was one of the first to raise the alarm about the disease, so I guess he was ground hero.)  The city has horrible air pollution even by China's standards, but apparently it's often left off Government lists of most polluted cities because its population is below 10 million.  The entire Hubei province, which is the main centre of infection, normally suffers from severe air pollution.
The level of air pollution in a city on any particular day is very dependent on local weather so it's not possible to look a current pollution levels and draw any strong conclusions about the effects of reduced coal and oil consumption, but let's have a look anyway.  This graph shows air quality in Wuhan city over the past month.  The lower the line, the cleaner the air:
Going by the decrease in coal consumption, air pollution should have started falling a few days before Chinese New Year on the 25th of January and we can see that happening.  But then it climbs back into the red before becoming extremely clear by Wuhan standards for two weeks in February.  On average the city only has 40 days a year where the severity of air pollution is "orange" or less:

The graph shows air pollution heading up after the 18th.  This could be because China is restarting industries or it could just be because the wind died down.  But even at the point where the graph ends, the air pollution index is at 81 while the annual average is 102.  An air quality index of 81 is horrible by our standards, but still better than what people in Wuhan normally have to put up with.
Estimating Lives Saved
To determine how many lives have been saved by reduced pollution caused by the response to the coronavirus involves going through a lot of detailed information and making careful statistical calculations.  And I'm not going to do that.  I'll just take a stab at a rough estimate.  To do that I'll need to assume:
How many deaths would have occurred if there were no outbreak.
How much air pollution reduction has occurred thanks to the outbreak.
Expected Air Pollution Deaths
The estimate for China's air pollution deaths in 2017 was 1.2 million.  While China has continued to work at reducing air pollution since then, these efforts will have been partially countered by coal consumption increasing in 2018 and again in 2019.  But to make things simple, I'll assume with no outbreak annual air pollution deaths would have declined by 17% to one million.
Air Pollution Reduction Due To Coronavirus
With coal use for electricity generation cut by half and the empty streets of many Chinese cities making them look like ghost towns, a simple assumption would be the response to the coronavirus has halved air pollution.  But while solar, wind, hydro, and nuclear power can all substitute for coal generation, coal burned by industry for process heat and steel making probably won't have been reduced by as much.  It's also hard to be certain how much oil use has declined, as a much smaller portion of oil is used for private transportation than here and a vast number of the two and three wheeled vehicles that normally clog the streets of Chinese cities are already electric.
To keep things simple, I'll assume the coronavirus has resulted in a temporary one-third reduction in China's air pollution.
Lives Saved
Deaths due to particulates and ozone appear to be linear with respect to concentration and time.  Or at least close enough to linear to be used as a rule of thumb for my estimate.  In other words, halving the amount of air pollution halves the deaths it will cause.11
If one million deaths would have occurred without the coronavirus over a year that's an average of 2,700 a day.  If the response to the virus has reduced air pollution by one-third that would save around 900 lives per day.  This means just three days of reduced pollution, which has lasted for weeks so far, is enough to save more lives than China's current total death toll from the coronavirus, while equaling the current world death toll at the time of writing of around 2,700.
Coronavirus Effects:  Lives Saved Vs. Lives Lost
Looking at daily deaths from coronavirus, almost all of which occur in China, they now come to around 120 a day: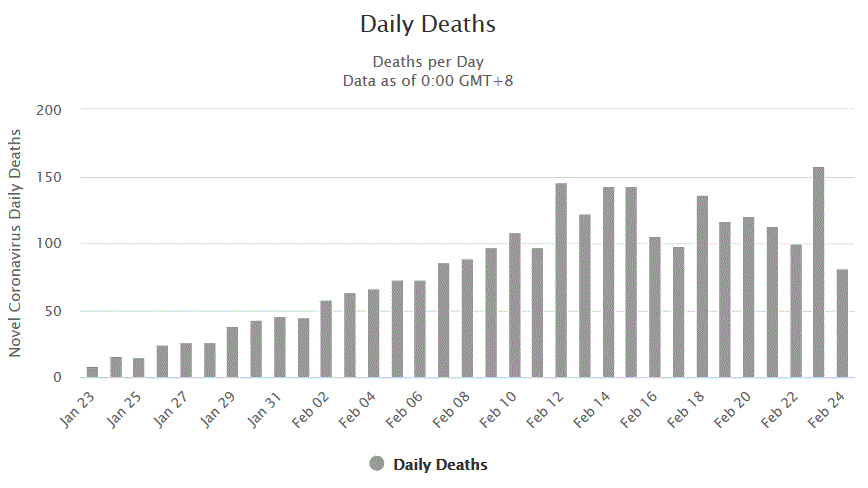 This means reduced air pollution resulting from efforts to prevent the spread of the virus is saving more than 7 times as many lives as the virus takes.
Deaths May Be Comparable But Suffering Is Not
Normally it's not the young who succumb to air pollution.  It usually takes decades of exposure before the Grim Reaper comes a-knocking on your rib cage.  But as the coronavirus disproportionately kills the elderly, the two sources of mortality may be reasonably comparable.  But the suffering they cause is not.
While coronavirus infection can be absolutely horrible, in around 80% of cases it is mild and even in serious cases whether you live or die is usually determined inside two or three weeks.  But air pollution causes long term suffering for nearly all of China, ranging from mild irritation to years of crippling illness.  One death from air pollution represents a far greater burden of additional human misery than one from the coronavirus.
Lessons
If this article has a moral it is this:  While we need to protect ourselves from new threats — such as COVID-19 — as they appear, we shouldn't allow familiarity or stupidity to blind us to potentially greater familiar threats that kill people every day.  If we do, we'll continue to have faintly ludicrous situations where the response to a virus outbreak saves far more lives than the virus takes because we ease off poisoning the air we breathe for a couple of months.
Our Prime Minister has taken a cautious approach to the coronavirus.  He says we should err on the side of safety and decisions on how to protect Australia are made after extensive consultation with medical experts.  But I am unable to recall any member of our current government, at any time, discussing the need to cut this country's air pollution and reduce the estimated 3,000 Australian lives it takes each year.  Instead we have a Prime Minister and government which has opposed fuel efficiency standards for vehicles and wants to build more coal power stations.  It's enough to make you weep.  Especially if bushfire smoke gets in your eye.
I would offer China my thoughts and prayers in these difficult times, but I'm not that big an arsehole.  Instead I'll just hope their hard work and sacrifice turns the tide on the coronavirus soon.  And I'll cross my fingers for the world and hope no uncontrolled outbreaks take off anywhere.  (Okay, I'll uncross my fingers now.  It took me about 10 minutes to type that last sentence.)
We are fortunate here in Australia.  Unless there are special circumstances there's no need to take precautions, but if you are traveling overseas please be sure to wash your hands frequently and thoroughly.
While it's not really necessary, I've started taken some personal precautions, just in case.  I've adopted the Japanese habit of bowing when I meet someone instead of licking their face.  I've also put an earplug in one nostril so I should only catch the coronavirus in one lung.  If there is an outbreak here and I contract the virus I hope I'll be one of the asymptomatic cases so I'll have enough strength to sing My Corona.
Ooh, my poor little lungs, my little lungs,

When you gonna give me some respite, Corona?

Ooh you make my nostrils run, my mucus run,

Dripping down my lip in a line, Corona.

Never gonna stop, hacking cough, such a dirty trick,

I cough it up, making lots of other people sick,

My, my, aye-aye, whurg!

M-m-m-my Corona!

Come any closer, hur, oh will ya, hur?

Close enough to catch a strain of Corona,

Keeping it just to me, is not easy,

Coughing it across the room – Corona!

Broke quarantine, big mistake, now I'm gonna pay,

Never should have gone, to Hubei the other day,

My, my, my, aye-aye, whurg!

M-m-m-my Corona!

M-m-m-my Corona!

When you gonna give to me, immunity,

Is it just a matter of time, Corona?

Are there any antibodies, antibodies,

Or perhaps a vaccine in time, Corona?

Never giving in, not giving up, gonna make it stop,

Fighting on, like Li Wenliang the hero doc,

My, my, my, aye-aye, whurg!

M-m-m-m-m-m-m-my, my, aye-aye, whurg!

M-m-m-my Corona!

M-m-m-my Corona!

M-m-m-my Corona!

M-m-m-my Corona!

Ooooooo-ohhh, stop Corona!

Ooooooo-ohhh, stop Corona!

Ooooooo-ohhh, stop Corona!12