I have two pieces of good news about HT-SAAE solar panels I'm just dying to tell you.  They are:
No one's going to get mad if you call them HT panels for short.
The product warranty for panels sold in Australia has increased from 10 to 12 years.
—
UPDATE: January 3, 2022. This blog post is a couple of years old. The product warranty on HT-SAAE solar panels has since been boosted again a couple of times, most recently to 25 years. The latest warranty document (as at January 3, 2022) can be found here.
—-
Since I've brought them up, I may as well tell you everything I know about HT-SAAE solar panels:
They are tier one.
HT-SAAE is a large, diversified, state owned Chinese company with 3,149 employees.1
Their annual production capacity is around 1.5 gigawatts of panels.
They did well in DNVGL PV Scorecard testing.
They don't have an Australian office.
They manufacture in China and Turkey.
They have never made panels in Europe.
HT-SAAE made a bad impression on me a few years back by claiming their solar panels were made in Europe.  In reality, their closest factory misses that continent2 by a good 35 kilometers.  But, to the best of my knowledge, the panels themselves are reliable and suffer no disadvantage from not being made in that ridiculous mass of peninsulas sticking into the Atlantic.
The HT-SAAE Company:  To Infinity & Beyond!  (But Mostly Earth.)
HT-SAAE's story begins in 1956 with the formation of the original version of the China Aerospace Corporation that produced satellites, space rockets and missiles.  Because nuclear powered satellites have one or two minor drawbacks, they started producing solar cells.3
In the late 90s, China started a series of reforms that transformed many state owned companies into other state owned companies and this led to HT-SAAE being founded in 1998.  Their website says the final four letters of their name stand for Shanghai Aerospace Automobile Electromechanical.  They didn't mention what the HT means, so I thought it must be a state secret.  But ASC Energy — their sole distributor in Australia — told me it stands for "Hang Tian" which apparently means "aerospace" and not "Hang Ten" as I assumed.
I have no idea why they decided to combine aerospace and automobiles in the same company.  I'm pretty sure that in 1998 the Chinese Government knew you couldn't drive to the moon.  They say the automotive side of the company makes vehicle spare parts and air conditioners and not space cars — but that's exactly what I'd expect them to say if they were working on space cars.
No Australian Office
HT-SAAE does not have an Australian office.  This means the importer of the solar panels is responsible for the manufacturer's warranties.
Is A State Owned Company Secure?
With a finger in car air conditioning, along with several other pies, HT-SAAE is definitely a diversified company.  This may help them survive downturns in the PV market and still be be around to honor warranties in the future.  On the other hand, the PV side of their business could be at risk if they manage to screw up the vehicle spare parts and air conditioner side of things, so you'll have to go with your own judgement on this.
My guess is being owned by the Chinese Government increases the chances HT-SAAE will be around long term.  But it's not a guarantee.  Like most of China's state owned enterprises, HT-SAAE earns a very low return from the capital invested in it.  China is in no hurry to break apart these inefficient enterprises because they fear social unrest from rising unemployment.  But if the country's rulers become desperate to maintain GDP growth, they may be tempted to start cracking open these state enterprise eggs to see if there is any golden yolk inside.4
My impression is China is reluctant to let any solar panel manufacturer that reaches tier one status go to the wall, so I think the odds are good the solar side of HT-SAAE will be around long term, even though the company may get reorganized.
Manufacturing Locations
HT-SAAE produces solar panels in Shanghai City and Jiangsu Province and has a factory in Istanbul in Turkey.  There is also a research center in the Inner Mongolia Autonomous Region.  This is part of China, but has some measure of self-rule.  Either that, or it's where they test their self-driving cars.
HT-SAAE Solar Panels:  Never Made In Europe.  Ever.
It's several years now since my eyes first gazed across a crowded solar exhibition room in Melbourne and locked onto the HT-SAAE display stand.  At the time I knew very little about the company except she was Chinese, so I was surprised to see, under her name, the words:
"Made in Europe"
This intrigued me and I approached, eager to learn more.  A HT-SAAE representative told me their European factory was in was in Turkey.  When I asked them if any of the panels made in the Turkish factory were imported into Australia, they said:
"No."
I considered explaining that in this country that's not what's meant by "Made in Europe".  But, unfortunately for his education, I was short of time and moved on because I still had to meet my quota for knocking over pot plants that day.
But it gets worse.  HT-SAAE's Turkish factory isn't even in Europe.  Maybe HT-SAAE thought they could get away with their deception because they didn't realise every Australian schoolchild is forced to learn in excruciating detail about Churchill's attempts to force battleships up Turkey's Dardanelles.  As a result, we know exactly which parts of Turkey are in Europe and which parts are in Asia and the HT-SAAE factory is clearly on the Asian side of the thin blue line of the Bosporus that separates the continents and prevents their southern regions from touching tips.
I wasn't impressed by this geographical deception.  It made me want to refer to HT-SAAE solar panels as ASE-HAT panels  But I decided maybe I should cut them some slack.  Most Chinese people don't know much about the world outside their own country and are incapable of pointing out the position of the Dardanelles at all, either on a map or anatomically.5
Vertically Integrated?
The HT-SAAE brochure tells me they are a vertically integrated company.  This means they're not just middlemen in the Middle Kingdom, but produce their own silicon feed stock, use it to make their own solar cells, and use them for their own solar panels.  This diagram displays what they are supposedly doing: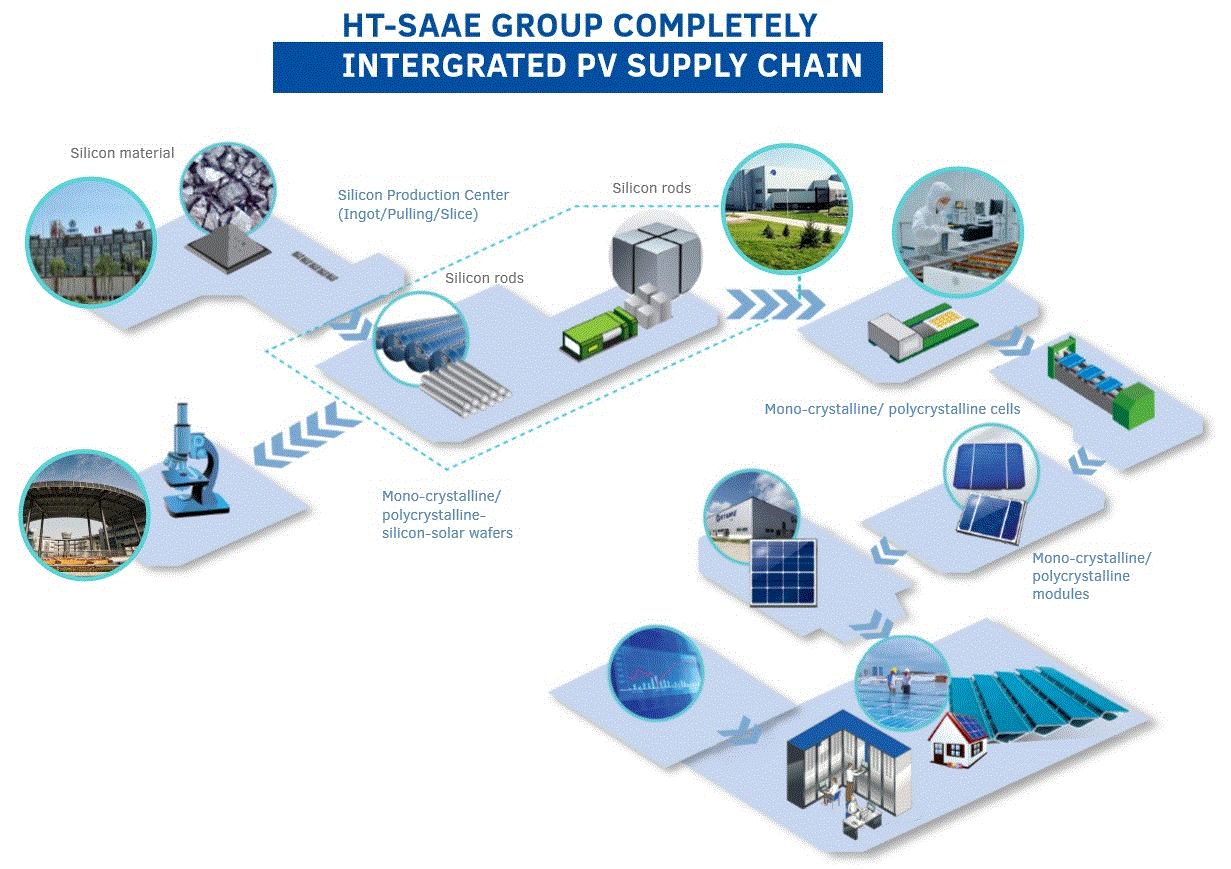 As you can see it certainly looks as though HT-SAAE is doing it all on their own:
But I have been told they source their polysilicon from GCL and their monosilicon from Longi. So while they may make some silicon themselves, and they may have produced all the silicon for their own use in the past, they are probably a lot less vertically integrated and more dependent on outside suppliers than the diagram suggests.
HT-SAAE Is Focused On Corruption
Corruption is a huge problem in China.  Success in business there often depends not on what you know but who you know.  So it was very gratifying for me to find a press release on the HT-SAAE site that shows they have a laser like focus on the problem — as the underlining I put in the introductory paragraph shows:
Not A Fortune 500 Company
I was told HT-SAAE was a Fortune 500 company, but it's not.  What I did find was the China Energy News Press, along with the China Institute of Energy Economics Research, and a Chinese website I won't mention because it's classified as a security risk, designated HT-SAAE as 254th in the 2018 Global Top 500 New Energy Enterprises.
This is all fine and dandy, but it's a very different thing from the Global Fortune 500 list.  A company like HT-SAAE with only a few thousand employees is not likely to be on it.  However, CASC is a giant Chinese company with around 173,000 employees and is on that list.  HT-SAAE used to be associated with CASC, but I believe that stopped in 1998 and I think people who are say HT-SAAE is on the Global Fortune 500 list through association with CASC have gotten something lost in translation.
But I will admit it is difficult for me to be certain.  The only thing I can say in Chinese is "My mother is a doctor" and that's not even true.  So everything I say in their language is a lie.  It's not a good position to start from when trying to work out if there has been a misunderstanding.
Did Well In 2018 DVNGL PV Scorecard Testing
DVNGL is a Norwegian standards organization that — until this year6 — would test solar panels and publish who their "Top Performers" were in annual PV Scorecard Reports.  In 2018 HT-SAAE participated and, of the four tests performed, at least one HT-SAAE panel received Top Performer status in each: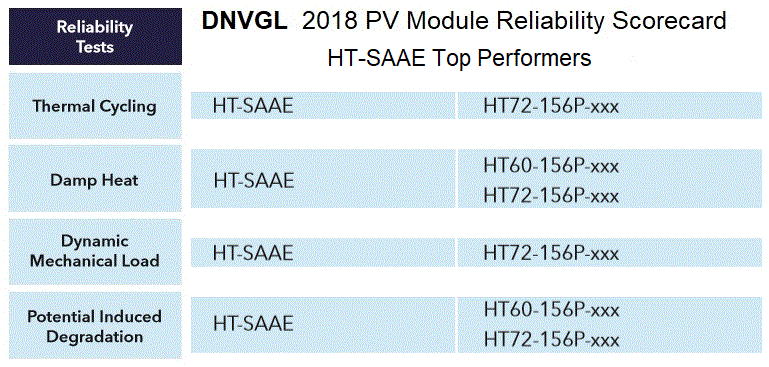 I consider these results a good indicator of toughness and thus reliability.  The HT60 panel is only shown as a Top Performer in two of the tests.  From the published results it's not possible to know if it received all four.  But if it did and only received Top Performer status for two of them, it still did much better than many other solar panels.
HT-SAAE Solar Panel Wattage
ASC Energy very kindly sent me a spreadsheet containing the HT-SAAE panel wattages.  Since it was easy to turn it into a graph, I did: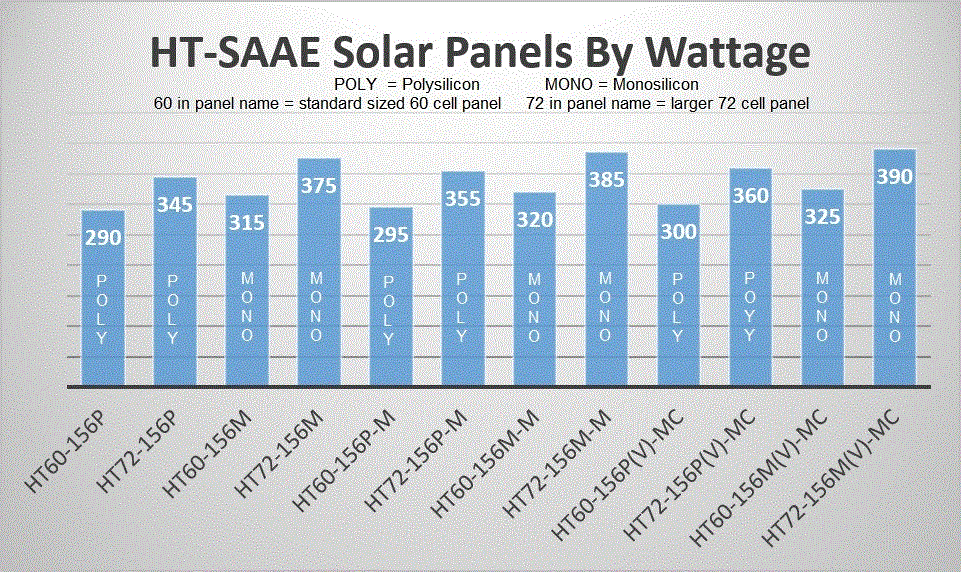 A "HT60" at the start of a panel name indicates a standard sized 60 cell panel, which is the size that most commonly goes on home roofs while a "HT72" indicates a larger 72 cell solar panel.  Their standard sized panels range in efficiency from 17.7% up to 19.8%.  Panel efficiencies have been increasing, but I say one that's a little short of 20% still counts as high efficiency and can be useful for making the most of limited roof space.
Warranties
—
Note: as mentioned above, the HT-SAAE solar panel product warranty in Australia has been boosted to 25 years.
—
HT-SAAE solar panels sold in Australia now have a 12 year product warranty and a 25 year performance warranty, as this snippet from their new warranty document shows:

The wording of the warranty document could be improved, as it excludes a number of things you are protected from under Australian Consumer Guarantees.  Fortunately, these guarantees apply no matter what a warranty document may say.  But it's always good to know in advance you won't have to fight a company for your consumer rights.
While the warranty document should be improved — including the quality of the English — I must admit it's better than many I have looked at.
ASC Energy Is Now Sole Distributor
Unfortunately, HT-SAAE does not have an Australian office.  This is apparently due to complications I don't understand arising from it being a Chinese state-owned company.  This means their importer has legal responsibility for the manufacturer's warranties.  ASC Energy has been the exclusive distributor since October 2018, so if you've had HT-SAAE panels for a while they may not have been supplied by ASC Energy.
I've been told ASC Energy import 15 containers a month.  As I know it's possible to fit 868 panels in a container, that could be around 13,000 solar panels.
To Sum Up…
HT-SAAE solar panels are tier one and did well in independent testing, so I expect them to be reliable.  I'd prefer it if they had an Australian office, but that's not necessarily a deal breaker for good quality panels, as they are unlikely to have problems in the first place.  You can also research the Australian importer and decide if they seem likely to be around long term.
As for whether or not I can ever forgive the whole "made in Europe" thing…  Well, I think I'll just have to wait and see what people tell me about the solar panels in the future.
Added: If you've had these panels installed, you can add your HT-SAAE solar panel review here.