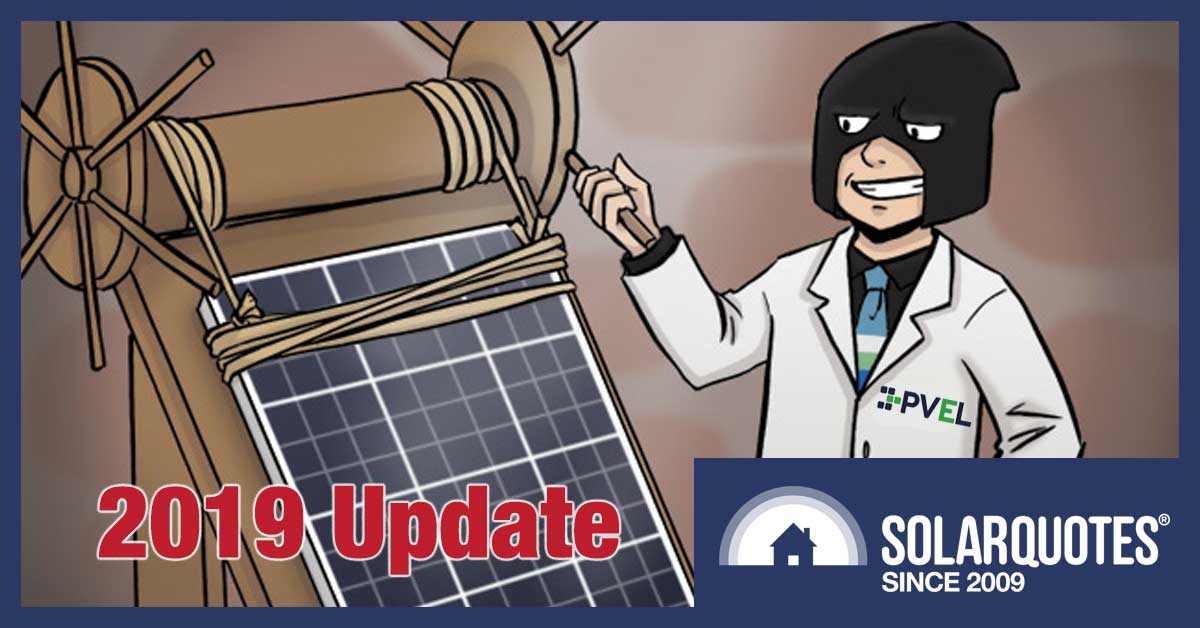 A new Module Reliability Scorecard was published earlier this month.  It reveals the sadistic practices of a standards organization that subjected solar panels to torturous tests so they could announce which ones came out on top.  But while it tells us who the winners are it doesn't reveal which panels failed or degraded horribly.  Despite not telling us which ones should be avoided, it still provides useful information.
Module Reliability Scorecards have been published since 2014.  The testing format has varied but still shows a general improvement in the reliability of tested solar panels over time.  But this wasn't the case with one test this year.  The Damp Heat test was worse. This is the fault of PERC panels. PERC solar panels, which are now very common, can suffer from a form of deterioration known as LeTID.  LeTID is made worse by hot and humid conditions. Fortunately, PERC panels can be made resistant to this effect and such solar panels are included among the Top Performers for this test.
One interesting thing to note about this year's Scorecard is the strong showing by Indian manufacturers.  Two Indian companies — Adani/Mundra1 and Vikram — had solar panels that were classed as Top Performers.
Update 23rd June 2019:  I originally called Boviet Solar an Indian company when Boviet2 is actually Chinese owned and manufactures in Vietnam.  Sorry about that. 
DVN GL Scorecards Now Done By PVEL
Module Reliability Scorecards used to be done by DNVGL — a large Norwegian standards company — but they are now done by PVEL.  This is a smaller organisation that was gobbled up by DNVGL but has now been spat out as an independent lab.  PVEL stands for PV Evolution Labs while DNVGL stands for some weird sounding combination of Norwegian and German.
Past Scorecards
You can check out what I've written about DVNGL's scorecards over the past three years here:
Also, PVEL put out a solar inverter scorecard this year, but it focuses on North American inverters:
Scorecard Quotes
The scorecard spends a page or two gushing about how far solar has come and some of this gush is probably worth repeating:
"Since PV Evolution Labs (PVEL) was established in 2010… total installed photovoltaic (PV) capacity expanded tenfold to over 400 GW."

"Total solar capacity is expected to reach 1 TW3 by 2023″

"In only 10 years, the average price of PV modules dropped by 90%"
But in other quotes PVEL cautions that:
"75% of the world's installed solar PV capacity has operated for less than 5 years."

"Long-term field data that proves today's PV modules will perform reliably for decades does not exist."

"Certifications and warranties cannot fully protect PV module buyers from field failures and subsequent financial consequences."
They sure make it sound like we should pay attention to PVEL and their reports.
The Scorecard Routine
PVEL follows DVNGL's usual method of presenting scorecard results.  This consists of not telling us:
Which panels performed poorly, or even…
If a solar panel was tested at all.
They only tell us which solar panels did well on a test by suffering less than 2% reduction in performance.  These are designated their Top Performers.  We don't even know which are the best out of this group as they are simply given in alphabetical order.
If you want detailed information you can pay PVEL for a detailed report, but I presume you'll have to promise not to blab about the results all over the internet.
The Four PVEL Tests
PVEL subjected solar panels to 4 tests:
Thermal Cycling:  Determines the effects of temperature change.
Damp Heat:  How well a solar panel handles hot and humid environments.
Dynamic Mechanical Load Sequence:  How well they handle flexing from wind or snow.
Potential Induced Degradation:  How well they resist deterioration from stray currents.
Manufacturers have to pay for these tests and decide which types of panels they produce undergo which tests.  What they can't do is decide which specific panels get tested.  PVEL is very careful to ensure only solar panels made for normal use are selected to prevent companies handing over high quality ring-ins.
Thermal Cycling Testing
Stuff expands when heated and contracts when cooled.  Because this happens at different rates to different materials it puts stress and strain on joins and connections and can damage and break them.  To test resistance to this, PVEL shoves panels into a combination freezer/oven, cools them down to -45 degrees, and then heats them up to 40 degrees.  This is done 400 times over a month and a half.
It's important for solar panels to do well on this test no matter where they are installed.  But it is especially important for inland Australia where the temperature differential between day and night can be extreme.
Top Performers — those that suffered less than a 2% decline in output — are shown in this chart: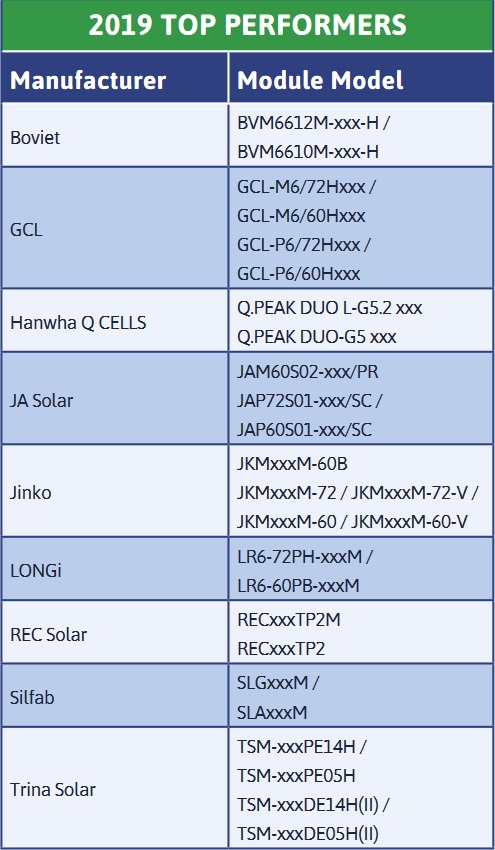 Of these 9 Top Runners, as far as I am aware, Boviet and Canadian Silfab panels are not sold in Australia.4
Damp Heat Testing
It gets hot here in Adelaide in the summer, but it's a dry heat.  Places like Darwin and Townsville have damp heat and nobody likes that.  Not even solar panels.  It's the sort of environment that can cause the glue5 holding solar panels together to degrade and — in the case of the cheapest and shoddiest panels — can cause them to fall apart.
Provided you stay away from crappy solar panels you are not likely to get one that goes to pieces.  But in PERC solar panels heat and humidity can cause a type of deterioration in called LeTID, which you can read about here.   Because of this and because PERC panels are now so common, it has caused the average result on this test to go backwards instead of following the general trend of improving quality.
The good news is there are PERC panels that are resistant to this and some are included among the Top Performers: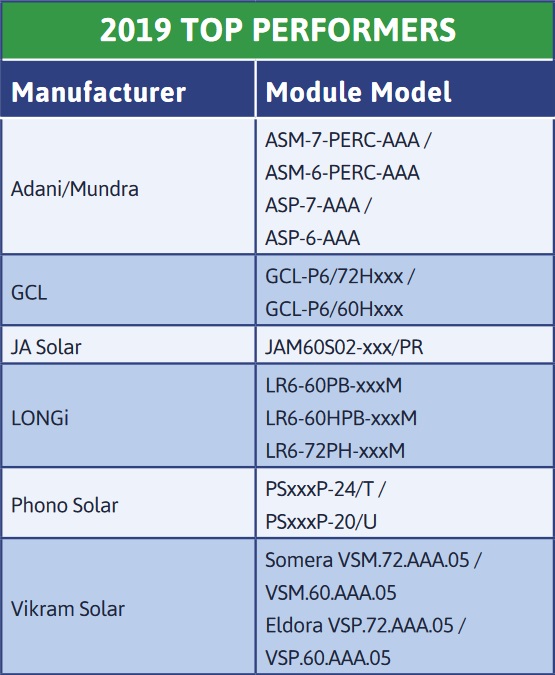 Two of these Top Performers you are unlikely to see in Australia are the Indian made Adani/Mundra and Vikram panels.
Dynamic Mechanical Load Sequence Testing
Constant flexing isn't good for you, which you'll know if you spend an afternoon gardening.  Continual flexing by wind isn't good for solar panels and the Dynamic Mechanical Load Sequence tests how well they resist damage from this.
A good result on this test is a useful trait for a panel to have anywhere in Australia, but is obviously more useful in windy locations such as Newcastle and Toowoomba and less important in a place such as Adelaide, where the average wind speed is surprising low considering almost half the state's electricity generation is from wind.
Top Performers that suffered less than 2% deterioration in performance were: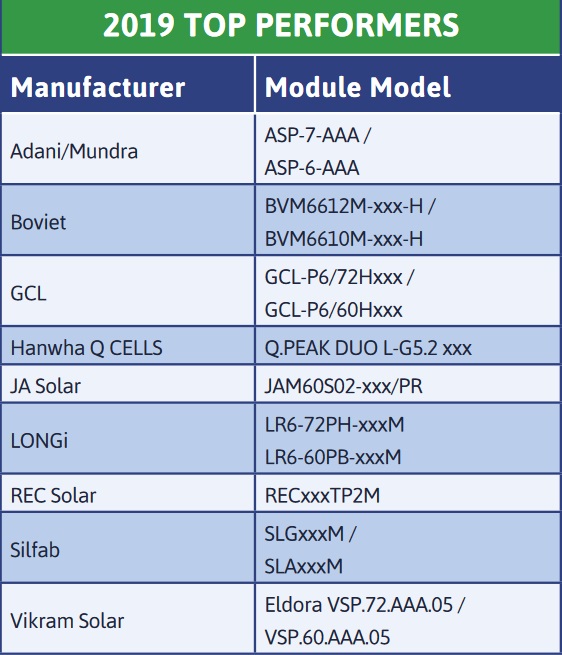 With Adani/Mundra and Vikram Solar listed above, Indian manufacturers have done well in this category.  But any of these Top Performers would probably be a good choice if you are planning to use a solar panel as a wobble board.
Potential Induced Degradation Testing
Potential Induced Degradation, or PID for short, is caused by electrical currents going where they shouldn't.  In poorly made panels it can cause a rapid deterioration and eventually cause the entire solar panel to fail.  It's made worse by hot and humid environments making resistance to it is especially important in tropical Australia.  Higher voltages also exacerbate it.  Large commercial solar can have voltages higher than the residential limit of 600 volts, so PID resistance is an especially important consideration.
Fortunately, makers of quality solar panels have worked hard to eliminate or at least minimize this problem, so this test category has the most Top Performers and the average result is considerably better than in previous years: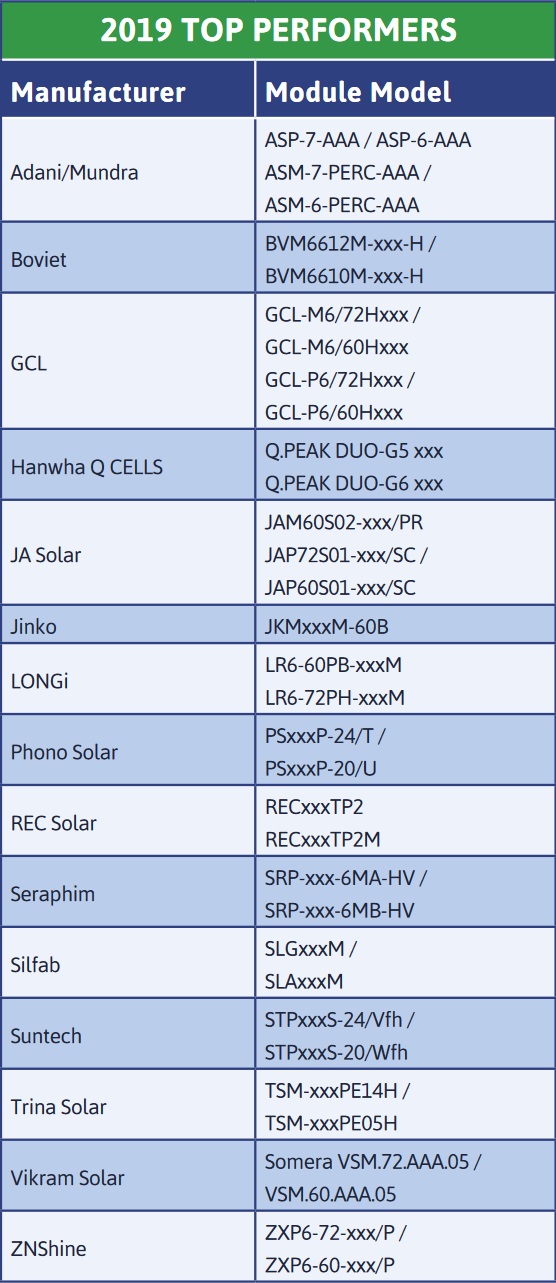 Manufacturer Comparison
A Top Performer result is clear evidence a solar panel can handle a particular test with minimal deterioration.  But because we don't know if a panel was given a particular test or not, if it's not listed as a Top Performer it doesn't mean we can conclude it can't meet that standard.  This means we can't conclude that any particular panel isn't good.  But just knowing which panels are definitely good is still useful.
If I take the 15 panel manufacturers that had a solar panel receive one or more Top Performer results I can separate them into 4 categories.  These range from those that received a Top Performer result for a panel in every test to those that only received it for one test: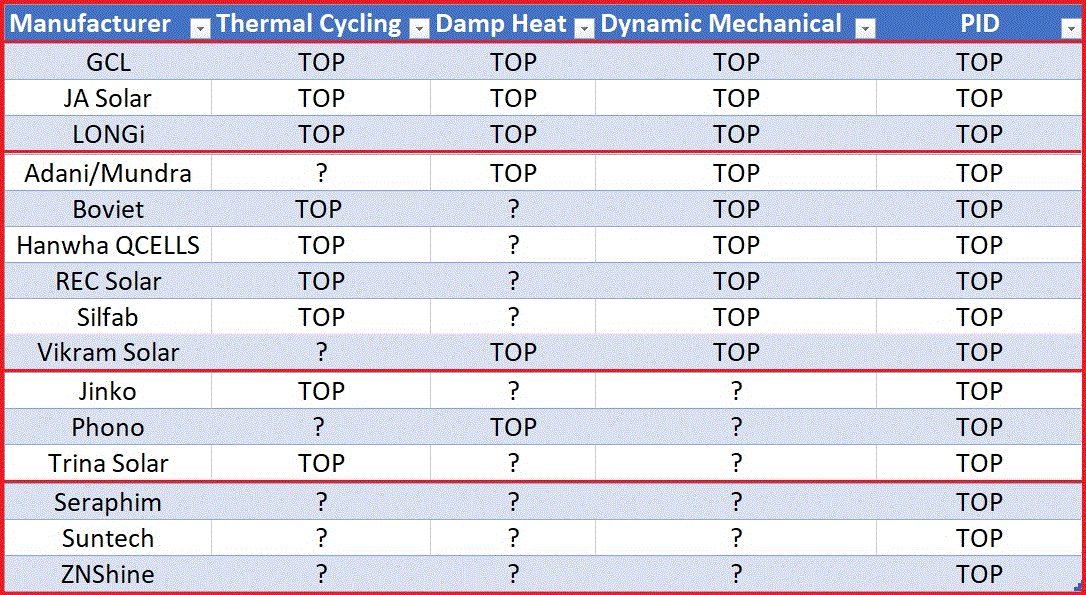 As the table shows, there were 3 manufacturers that got a Top Performer result for every test:
This doesn't mean you can be certain every type of solar panel they sell will be awesome, but it is a good sign because it shows they at least know how to make durable solar panels that can pass those tests.
But don't get too carried away by this table.  For all we know ZNShine with its single Top Performer result only paid for one test and if their panels had received every test they would have got a Top Performer result for each.  Also, there would be producers of high quality solar panels that didn't bother to have any tested.  This could be because they have their panels independently tested elsewhere, because they didn't think the expense was worth it, or simply because they couldn't afford to have their panels tested because they are going broke.  The solar panel industry is extremely competitive, even for high quality manufacturers with excellent reputations.