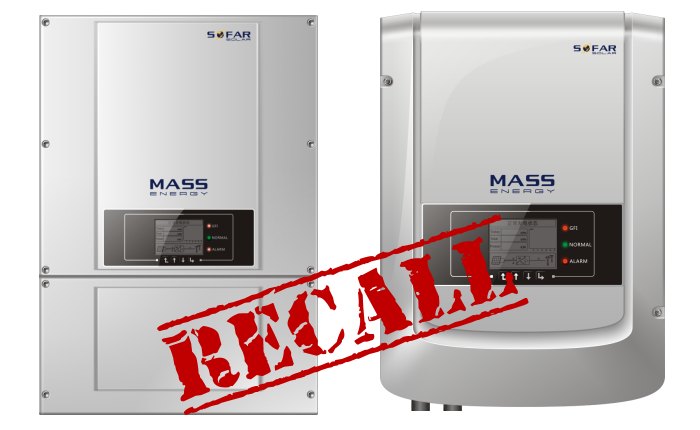 After being de-listed from the Clean Energy Council's Approved Products List, certain Mass Energy solar inverters from Shenzhen Sofarsolar are now subject to a recall notice.
—–
UPDATE June 5, 2018: A statement from Sofar Solar Australia says the company has "flown a large team of factory-trained engineers" to Australia to work with local installers to install the latest firmware update to all affected inverters, a task the company says is being completed "very efficiently". The firmware update automatically sets the country code and the company says it improves the efficiency of the inverter.
Sofar Solar has also confirmed its inverters are back on the CEC Approved Products list.
—–
Nearly two months ago we reported on the de-listing, which was based on one model failing CEC testing for compliance with AS 4777-2 – specifically the Passive Anti-islanding test.
The Clean Energy Council de-listed all Shenzhen Sofarsolar (Mass Energy) inverters, stating it considered the result as representative of all models. These inverters remain off the list today.
Last week, the Australian Competition & Consumer Commission published a recall notice on the Product Safety Australia website relating to all Shenzhen Sofar Solar Mass Energy inverters with the following serial numbers:
"1st and 2nd digits include SA/SB/SC/SD/SG. 9th and 10th digits include G8/G9/GA/GB/GC/H1 to H9/HA/HB/HC/J1/J2/J3"
The serial number can be located on the left- hand side of single phase inverters and right- hand side of 3-phase models. These inverters were sold throughout Australia between 1 July 2016 and 21 February 2018.
The notice says the inverters can exceed voltage limits and may not switch off when required. There's also an issue with the inverter not being labelled to warn of a hot surface.
"If the inverter continues operating in the event of variations in the power grid voltage, there is small risk that electrical products in the premises could fail in an unsafe manner resulting in electric shock and/or fire. Contact with hot surfaces of the inverter may cause burns."
To remedy the situation, new firmware will need to be installed by a technician (on-site), who will also check settings are correct for use in Australian electricity networks. A hot surface warning label will also be applied.
The recall notice can be viewed here, along with instructions for owners of Shenzhen Sofar Solar Mass Energy inverters for redress.
Choosing A Solar Inverter
While solar panels tend to be a focus when buying a solar power system, inverter choice also needs to be given special attention. A solar inverter is a crucial component, converting the direct current (DC) produced by solar panels into alternating 240V current (AC).
Pick up some tips on choosing a good solar inverter or view a chart of what SolarQuotes considers to be trusted solar inverter brands. Australians in the process of going solar should also check the CEC's Approved Products List to ensure that inverters and solar panels specified in a quote are currently listed. Besides potential quality and safety issues, grid-connect inverters not listed won't be eligible for Australia's solar subsidy and grid connection may be refused.