Attention, fellow capitalists!  Our god, the Moody's rating agency, has put out a report on the economic effects of climate change and — in return for a small fee — I will tell you all about it.  Just put $50 in an envelope and mail it to me and then keep reading.  I trust you.
The report was released in June, but I'm only writing about it now because I had to do things that provided me with higher utility first.  The bad news is they estimate the economic costs of climate change by the end of this century to be:
$77 trillion if global warming is limited to 1.5 degrees.
Almost $100 trillion if global warming reaches 2 degrees.
At the moment we are on track for around 2 degrees of warming, but Moody's say if we exceed that it could:
"…result in larger and irreversible warming feedback loops such as permanent summer ice melt in the arctic ocean."
The world will suffer economic harm from even just one degree of warming because…
"Rising temperatures and shifting precipitation patterns will affect agricultural production and universally hurt worker health and productivity. More frequent and intense extreme weather events will increasingly disrupt and damage critical infrastructure and property. And sea-level rise will threaten coastal communities and island nations."
Climate change is expected to kill at least millions this century and the death toll is already mounting.  It hasn't killed anyone I know so far, but now money is under threat, so this time it's personal.
Who Is This Moody Bastard?
Moody's Corporation is a massive financial services company with an annual turnover of around $6 billion a year.  That's more than the GDP of some island nations.  Maybe this is why they have strongly come out against global warming.  They want to keep these little nations above water so there will be economies they are bigger than.
The corporation is mostly known for rating bonds, which is handled by Moody's Investor Services.  They didn't do a great job of this early in the century and, as a result, some people blame them for creating a largest global recession in history,1 but that's not really fair.  At worst Moody's merely shot the world economy in the foot.  If central banks and governments had been competent it would have just limped for a bit and then been okay.  But there must have been a sale at the incompetence store because every developed country — except Australia — decided they'd like a long grinding recession.  In other words, every central bank and government in the developed world were a bunch of useless wankers and deserve to be pointed and laughed at.  Please be sure to do this the next time they come over for tea.
As a result of some minor lapses of judgement where they did the financial equivalent of declaring lead to be gold if you bundled it together the right way, Moody's was fined $1.23 billion by the US Justice Department.  That's around 0.005% of the wealth US households lost due to their housing crash.  But, to be fair, if Moody's hadn't helped the bubble inflate, then US households wouldn't have had nearly so much money to lose.  Also, on the plus side, it no doubt warms the hearts of many homeless Americans to be able to think back to the days when they lived in a nice home of their own and not a shelter, before their economy popped like a soap bubble made of greenbacks.
Moody Bastards Rate Australia
I would say Moody's has clearly destroyed their reputation and their ratings obviously can't be trusted, except for the fact they have given Australia their top rating — Aaa.2  So clearly getting their highest rating is very important and a great thing indeed:

Oh, wait a minute…  That can't be right!  I just found out the accursed Dutch have exactly the same rating, so it obviously it can't be that important after all.

However, the report on the Economic Effects of Climate Change was done by Moody's Analytics, which is not responsible for credit ratings and so we can't blame the people who wrote the report for giving the Dutch3 a good score.
Temperatures Will Rise
Although it discusses melting icecaps and flooded coastal areas, the report is a rather dry read.  But I suppose this is what enabled me to get through it without screaming too much or curling up into a ball under the table and weeping.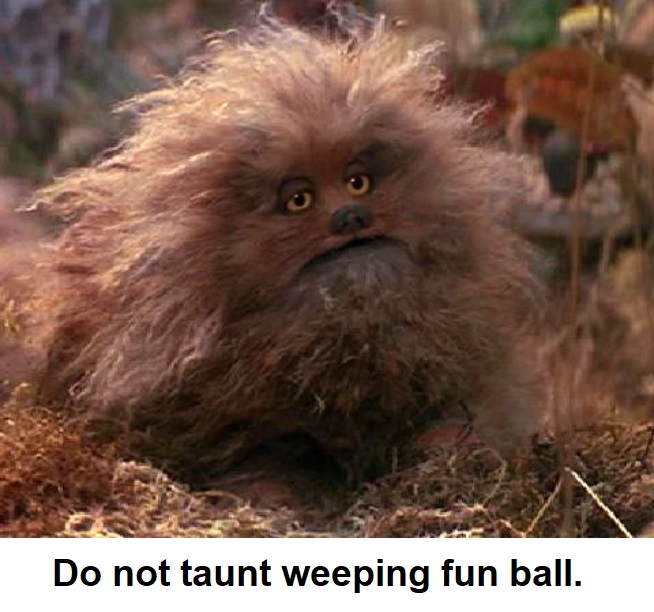 From the start of the 20th century human activity has raised average global temperature by around 1 degree — mostly due to carbon dioxide released from burning fossil fuels — and we're currently continuing to crank up the greenhouse gas thermostat.4
The report gives four different scenarios for future temperatures called Representative Concentration Pathways or RCPs for short.  These were developed by the IPCC5 and Moody Analytics has based their analysis on them.  The four different RCPs are shown in the graph below.  I added what the atmospheric CO2 concentrations will be in 2100 on the right: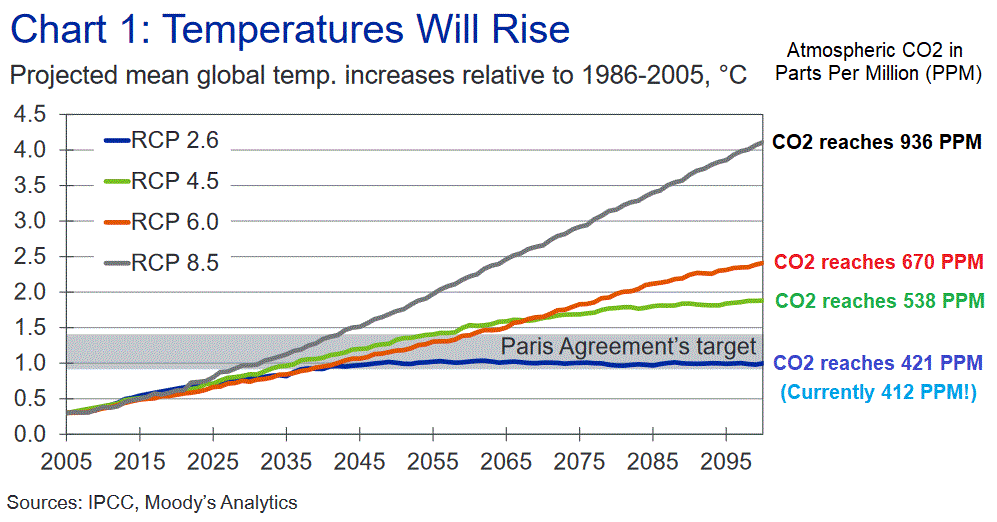 If you'd prefer that information in a table, here you go: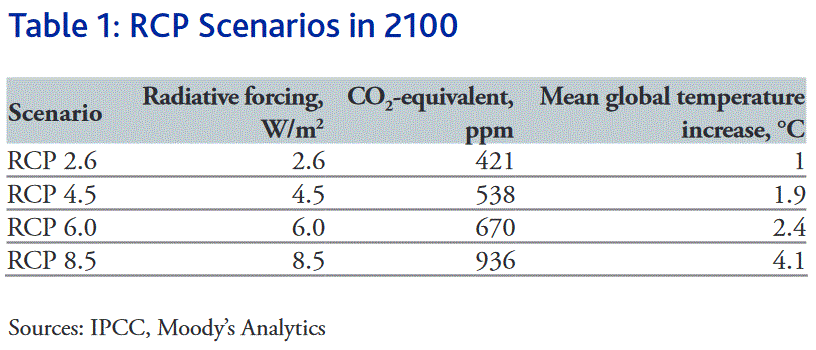 Least Worst Scenario
The least worst scenario is RCP 2.6 where the global warming will be limited to around the current 1 degree increase and the carbon dioxide concentration in the atmosphere6 reaches 0.0421% or 421 PPM (Parts Per Million).
If we want to keep carbon dioxide levels to only 421 PPM it's going to be difficult because we have already hit 412 PPM and we are increasing it by around 2.4 PPM a year, so at the current rate we are going to reach 421 PPM in 2023:
If there are less than 4 years before we hit 421 PPM, you may be wondering how the hell we will avoid exceeding that amount?  Well, unfortunately, we won't.  But there is some wriggle room given by the oceans' considerable, but still limited, ability to absorb carbon dioxide.  Eventually, the oceans and other carbon sinks, such as vegetation, will become mostly satiated — that is, full up, stuffed, can't take any more — but if we cut carbon dioxide emissions fast enough then they will cause a modest fall in the amount in the atmosphere and it will be possible for it to only be 421 PPM by the end of this century.7
We Are On Track For 2nd Least Worst Scenario
Much to my chagrin,8 we are not on track for only one degree of warming.
According to Moody's Analytics the world is headed for around 2 degrees of global warming by 2100.  This is the green line on their chart above which represents 1.9 degrees of warming and where carbon dioxide reaches 538 PPM.  The reason why we are headed for around 2 degrees of warming rather than the 2.4 or 4.1 degrees represented by the red and black lines is thanks to the current low cost of renewable energy which, in part, has been the result of people like you installing solar panels on  your roofs.  So if you own a solar power system you should stop to pat yourself on the back.  Once for every panel you have.
But 2 degrees of warming is still a global disaster and Moody's puts the economic cost at $99 trillion dollars.
Paris Agreement — 1.5 Degrees Global Warming
In 2016 in Paris 196 countries agreed by consensus to limit global warming to 1.5 degrees.  There are only three countries that haven't signed or said they want to withdraw.  Two of them are tiny and insignificant on a global scale, while the third — The United States — is becoming less significant with every passing day.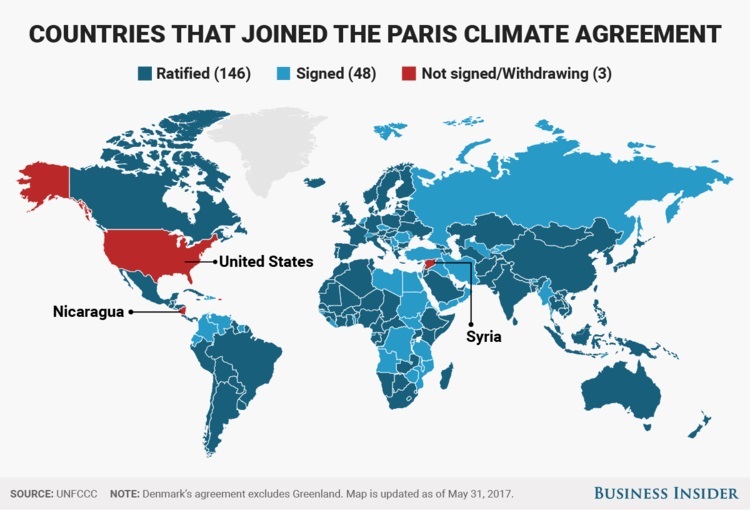 Moody's estimates that, if warming is a little under 1.5 degrees, the economic damage by 2100 will be $77 trillion.   While the world isn't close to doing what's required to meet the Paris Climate Accord, I'm optimistic that over the next 10 years we'll turn things around and do what it takes to keep the temperature rise to 1.5 degrees or less.  You can decide for yourself whether or not the fact I have been married three times so far indicates I suffer from an excess of optimism.
Causes Of Economic Losses
The report gives six areas in which global warming — or global heating, as it's starting to be called these days9 — affects the economy.  These are:
Rising sea levels
Health effects
Heat reducing labor productivity
Agricultural productivity
Tourism
Energy Demand
Major Factors They Could Not Calculate
There were other factors that can make the economic effects of climate change far worse that were completely left out of their calculations.  These include:
Increased risk of natural disasters such as cyclones.
Extinctions, loss of natural habitats, and general loss of biodiversity.
Greater risk of international and civil conflict.
Oppression and/or murder of refugees, migrants, and marginalised groups.
It's not they weren't aware of these factors.  It's just that they had no accurate way to include them in their calculations.  So what may be the greatest risks have been left out.  This means their estimates of costs are likely to be far too low, but how low it's impossible to say with any certainty.
Sea Level Rise
As sea levels rise floods become more common and severe, coastal erosion increases, and valuable real estate is lost.10
Health
High temperatures can kill, especially when they occur in areas where people aren't prepared.  For example:
As we continue to slow cook the planet direct deaths from high temperatures will increase.  But Moody's expects the main health effects to come from the spread of tropical diseases such as malaria and dengue fever.
Reduced Labour Productivity
High temperatures reduce the amount of labour people can perform.  When under heat stress, the human body can do less physical work and blood flow to the brain is reduced making it harder to think good.  This is a serious problem in poor nations where more physical work is done and access to air conditioning can be extremely limited.
Agriculture
Increasing temperatures and changing rainfall patterns and humidity conditions will affect agriculture.  Large areas of the world will have declining agricultural production but in some colder countries, such as Russia, it is expected to increase.  Despite this, the negative health effects from increased temperatures are expected to outweigh any benefits to agriculture.
Tourism
Tourism is a major world industry and Moody's expects it to decrease in hotter countries and increase in cooler ones.  This is obviously bad news for Australia, but our high air conditioner penetration and temperate regions should give us an edge over tropical countries as a low heatstroke holiday destination.
Energy Demand — Oil
A large amount of oil is used for heating and higher temperatures reduces demand for it.  This is expected to have a major negative effect on oil producers while benefiting oil importers.  I expect this decline in demand to be dwarfed by the rapid uptake of electric vehicles and I don't think Australia's lack of action in this area will stop it.
Cost
We are currently on track for 2 degrees of warming.  Moody's estimate of economic damage by 2100 is $99 trillion if this occurs.  But as they haven't estimated the cost of major risks such as increased natural disasters, extinctions, and conflict, this estimate is likely to be much too low.  The actual cost could be $150 trillion.  It could be $200 trillion.  It could be much more than that.
But if we just look at their $99 trillion figure and assume there will be 10 billion people in the world in 2100 then each one will, on average, be $10,000 poorer than they otherwise would be due to climate change.  That may not sound too bad in Australia, which is one of the richest nations in the world, but the cost of global warming is not going to be evenly and fairly spread out.  The reality is some very rich people will be a little poorer than they would be, most people will be worse off, and some poor people will be dead dead dead.
The Future Fallacy
Some people look at the estimated $10,000 dollar economic cost per person in 2100 and say:
"People will be much richer in the future, so it makes sense to leave it up to them to fix global warming.  We are, relatively speaking, so much poorer than they will be it's only fair!"
But this idea does not stand up to scrutiny on…
Economic grounds.
Moral grounds, and…
It's a bloody stupid idea grounds.
I will deal with the third point first.
Let's Get Future People To Fix Everything!
Sixty-four years ago Jonas Salk developed a vaccine for polio — a disease that annually crippled tens of thousands of people.  The medical trials he organized were the largest ever conducted at the time.  This man, Jonas Salk, who was adored worldwide for helping free people from the scourge of polio, was clearly an idiot because he didn't wait for future rich people to cure it instead.  He could have saved himself so much work!  And he wouldn't have been bothered by all those people who wanted to shake his hand, get his autograph, or give him an award.  Clearly, he was a very stupid man.
And whose brain dead idea was it to send people to the moon 50 years ago?  It would be much cheaper and easier if they had waited to do it now and used our modern technology.  But it will be even cheaper in another 50 years and cheaper still 50 years after that.  So, logically, we would never send anyone to the moon because it should always make sense to wait for future people to do it.  But if we're always waiting for future people to do stuff because it will be easier for them, no one will actually do the hard work required to improve our technology now and make it easier for future people to do things.
And that's what's called a goddamned reductio ad absurdum.
Risk Must Be Accounted For
People are dying from the effects of climate change now and will continue to die.  While we can't bring global warming to an immediate halt, by acting rapidly we can greatly reduce the number of deaths.  One estimate from the World Health Organization says we can expect around 250,000 excess deaths a year and perhaps 10 million dead by the end of the century.  If you happen to have morals you might think we have some sort of moral imperative to do something since we've contributed to this tragedy.
But 10 million dead is a very rough estimate.  We've never cooked a planet before so we don't know there won't be unpleasant surprises that could kill billions.  Whether it's the collapse of agriculture, new diseases appearing, or escalating tensions leading to nuclear or biological warfare, it would be foolish not to take out insurance in the form of large and rapid reductions in greenhouse gas emissions.
Large Cuts In Emissions Cost Nothing
Many people think cutting fossil fuel emissions will be expensive.  But this is an illusion caused by fossil fuels not paying for their externalities.  There are costs fossil fuel users push onto society and don't pay for themselves.  They include:
Health costs from pollution, and…
Economic and security costs from global warming.
If coal power stations had to pay for the health costs of the pollution they release into the air, compensate other industries such as agriculture12 for damage caused to them, and compensate the nation for the cost of more intense heatwaves and greater bush fire danger, coal power in Australia would soon be shut down and replaced with suitably firmed renewables.13  So the problem is not that it is expensive to cut emissions, it's that fossil fuel generation is free riding by not paying for the harm it's causing.
The same goes for road transport.  If internal combustion engines had to pay the full amount of their health and other costs we'd see a rapid reduction in oil use as people would avoid these costs by using more fuel efficient vehicles and electric cars.
The Report Is A Rough Under Estimate
It's not easy to predict what will happen 80 years in the future.  If you don't believe me, check out some science fiction from the 1930s.  I'm not convinced of the soundness of Moody's methods for estimating the costs of climate change out to 2100, but I'm glad they made the attempt and I'm sure their methods will be improved.  (Hopefully before the end of the century.)
Because they did not account for natural disasters, biodiversity loss, and conflict stemming from climate change their costs are likely to be gross underestimates.
Even though they are underestimates, it may seem unlikely people could look at predicted costs of $77 trillion or $99 trillion by the end of the century and then say this indicates we should do nothing about climate change, but trust me, it's been done.  Just promise me if anyone tells you rich future people should fix the problem, you will — at the very least — roll your eyes.
This is the end of the article, so I'm off to eat some chocolate eclairs and let future me lose the weight.