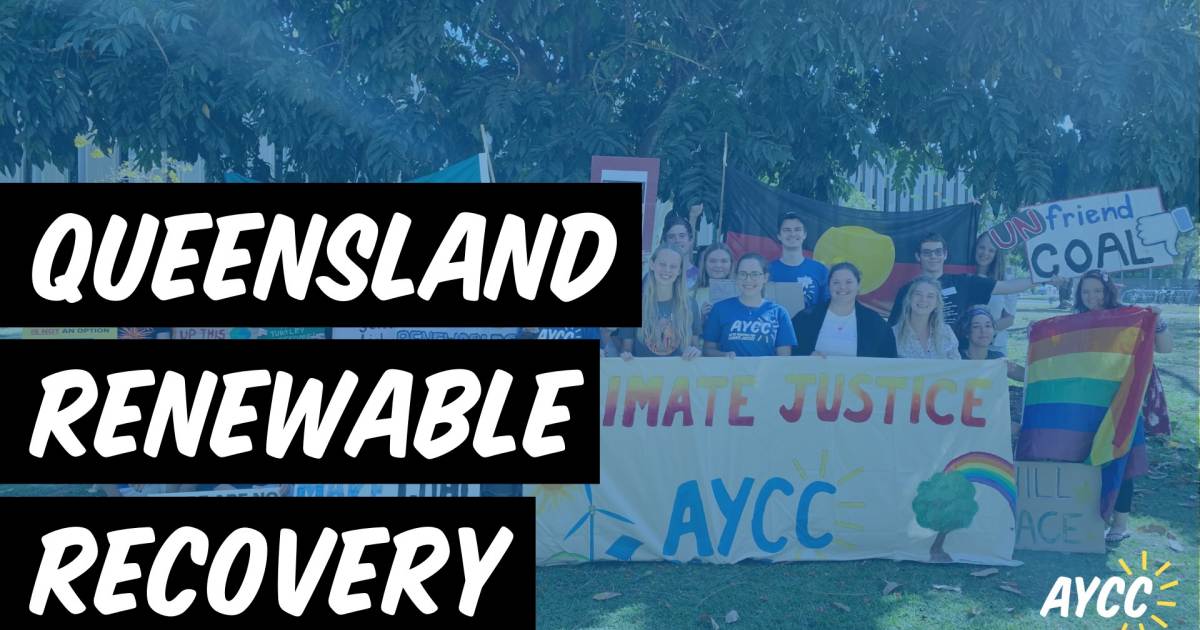 The Australian Youth Climate Coalition (AYCC) is demanding a renewables-led COVID-19 economic recovery for Queensland, and it's about to virtually assemble its troops.
The AYCC consists of dozens of other youth organisations, including the National Union of Students, and is part of the Global Youth Climate Movement. The AYCC claims to be Australia's largest youth-run organisation, with a mission to build a movement of young people leading solutions to the climate crisis.
"We can have a better world – with clean energy that never runs out, sustainable food production, fair and connected communities, where the places we love can thrive," says the organisation.
The AYCC says given the State Election on October 31, now is the time to act.
"That's why young people all across Queensland are coming together to demand our politicians put people before profits by investing public money into a Renewable Energy Recovery for Queensland – and as the generation most impacted by loss of work during COVID-19, and increasingly locked out of the workforce, who better to demand we rebuild our communities with well-paid, low-emissions jobs?"
The Zoom-hosted event will seek to build connections between participants and outline the steps the coalition will take to exert pressure on the Government. Further details can be found here.
Queensland And Renewable Energy
Yesterday we reported on electricity generation statistics for Australia in 2019 (estimates). Some of the stats mentioned for Queensland were:
70,964 GWh of electricity generated
13% renewables share of total electricity generation
70% coal share
15% gas share
Coal's share of total generation was still very high – the national share for the problematic little black (or brown) rock was 56%. But coal lost ground in Queensland in 2019. Some additional figures showing the year-on-year changes in electricity generation in the state:
Coal -6%
Gas +1%
Wind +194%
Hydro +29%
Solar Power (small and large scale) +62%
A poll of more than 1,000 Queensland residents in late March this year indicated a strong preference for more renewables over new coal power.
Queensland's government has set a target to have 50% of the state's energy generation coming from renewable sources by 2030.
Early this month, the Clean Energy Council said a national economic recovery led by accelerated renewables and energy storage investment could create tens of thousands of jobs and turn Australia into a clean energy superpower. Such a feat isn't just about installing more capacity – a stronger transmission network is also required in order that the capacity can be properly utilised and to improve the reliability and resilience of Australia's energy system.