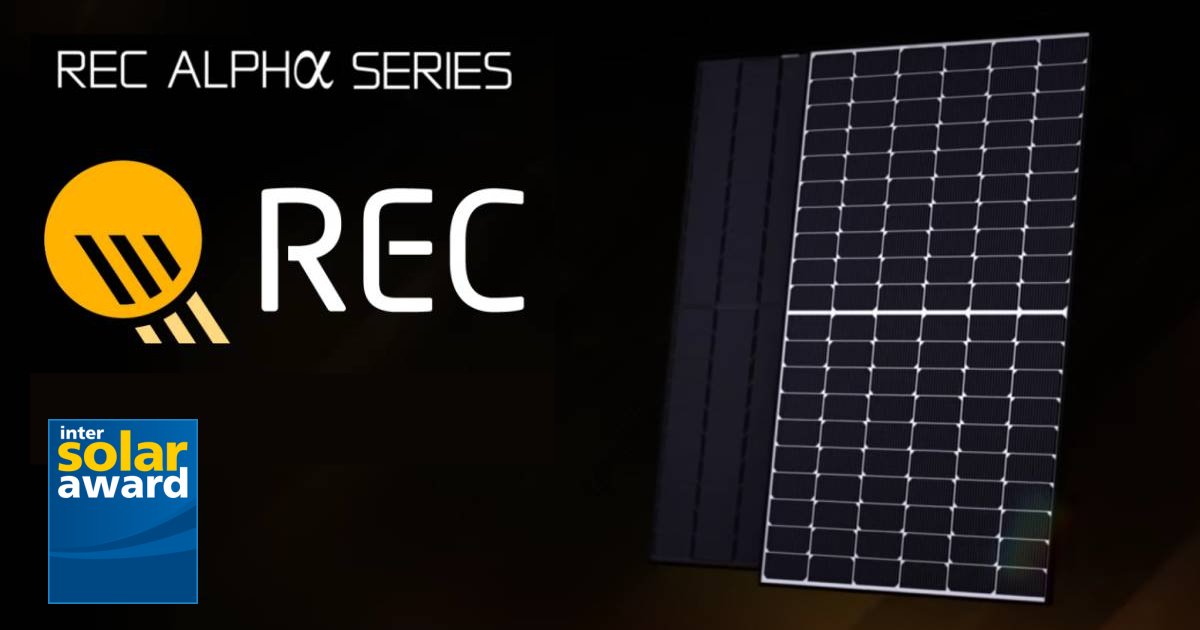 The REC Alpha solar panel has won an Intersolar Award in the photovoltaics category, the second time REC Group has won the coveted award.
The Alpha was unveiled with much fanfare in May last year, with REC claiming it to be the highest power 60-cell solar panel in the world – up to 380 watts. REC invested in 600MW manufacturing capacity from the outset and Alpha began rolling off the production line in October 2019. Even before manufacturing began, REC Group announced it intended to further expand production capacity by another 2 to 3 GW.
The company had a lot riding on the REC Alpha and it looks like it is paying off, and gaining an Intersolar gong is certainly going to help Alpha sales along.
According to the awards website:
"The jury was impressed by REC's game-changing technology – with no light-induced degradation, high efficiency, high power density, and one of the lowest temperature coefficients in the market – and their goal to become fully lead-free in 2020."
REC says the solder-free cells in the Alpha reduce lead use by 81%. So, how much lead is in a solar panel?
This document from Fraunhofer ISE states conventional solar panels often contain lead in the cell metallization layer (around 2 grams of lead per 60-cell module) and in the solder used (approximately 10 grams).
As for other attributes of the REC Alpha, you can find specifications on SQ's solar panel comparison table, where you can see how the Alpha stacks up against other modules. You can also read feedback from Australians using REC products on SQ's REC solar panel reviews page.
The first time REC Group picked up an Intersolar Award was in 2015 for its TwinPeak panels. Commenting on this latest achievement, REC's very modest Chief Technology Officer, Shankar G. Sridhara said:
"Receiving the Intersolar Award for a second time, clearly demonstrates who is leading the pack in the solar industry as a front-running innovator."
Patent Dramas Continue For REC
Perhaps the CTO's comment was also subtle swipe at competitor Q-Cells.
In March last year, Hanwha Q-Cells filed complaints relating to its solar cell passivation technology against REC Group and a couple of other manufacturers with the U.S. International Trade Commission (ITC), claiming the companies were unlawfully importing and selling panels infringing on its associated patent. Last month, the ITC issued a final determination indicating REC Group's (and the others') products did not infringe on the patent and the investigation was terminated.
However, patent infringement complaints weren't only filed in the USA – they were also lodged in Germany and Australia. On June 18, Q-Cells reported the Regional Court of Düsseldorf in Germany had upheld its patent infringement complaint, finding that REC, JinkoSolar and Longi unlawfully incorporated Q-Cells' patented technology into specific solar products.
As at a couple of weeks ago, opposition proceedings challenging the patent's validity were still pending before the European Patent Office.
The patent dramas don't end there – the company is creating one of its own. REC has filed a patent infringement lawsuit in China against Hanwha Q Cells (Qidong) Co., Ltd relating to REC's split cell and junction box technology.