SA Power Networks Makes Radelaide Sadelaide
It's December and the latest rules for connecting rooftop solar to the grid in South Australia are now available from SA Power Networks (SAPN).  I called them late last month to try and get a scoop on what they were planning, but no luck there — SAPN play their cards close to their chests.
So first thing on Friday morning I checked their website and found no change from November.  But that's okay, I completely understand.  I know there are times people will say they'll get things done by Friday but actually get them in first thing Monday morning.  Or possibly three weeks later.  That also happens.
But now they've had a whole week now to catch up and I see there have been some changes on their site.  There is movement at the station and I'm passing the word around.  The colt from old Regret has got away…
If you can't be bothered to read this whole post then here's what you need to know about installing solar in SA from 1 December 2017:
Only 5kW of inverters are allowed on a single phase supply
You can export limit a bigger inverter (up to 10kW)
SAPN doesn't say you can't oversize the inverter's nameplate capacity by 33% as is normal
With single phase supply you can AC couple a battery as long as the total inverter capacity is less than 10kW and the system as a whole is export limited to 5kW
3 phase homes can fill their boots with 30kW of inverters and 40kW of panels.
Inverter Limit for Single Phase Drops From 10kW to 5KW
It could be a lot worse, but regret is what I am feeling now.  While I did not have high hopes, it saddens me to see the days of South Australians being able to install 10 kilowatts of solar inverter capacity in a home with single phase power are now long gone.
You can install an inverter of up to 10 kilowatts if it is export limited to 5 kilowatts, but it's not the same.  For one thing it costs extra and can result in some clean solar energy going to waste while coal power stations emit murder fumes with impunity.
If you have three phase power you can install up to 40 kilowatts of PV capacity, which is more solar panels than you can poke a roof at.  But I am still bummed out by the restrictions for single phase power, as that's what most South Australians have.
It didn't have to be this way.
While they are following the national standard (AS4777.1), Distributed Network Service Providers, such as SAPN, are allowed to make exceptions.  And I would like the exceptionally good connection standard we used to have for homes with single phase power restored.  It was cool to have a better standard than other states.
What happened to you SA Power Networks?  You used to be cool.  But at least you're better than what people have to put up with in Western Australia, so there is that.
Solar Inverter Size With Single Phase Power
Most homes in South Australia have single phase power and SAPN's document, "Technical Standard — TS 129 Small Inverter Energy Systems (IES) — Capacity not exceeding 30kW" describes what these households can install.  I have excised out the relevant section and stuck it below for your edification1: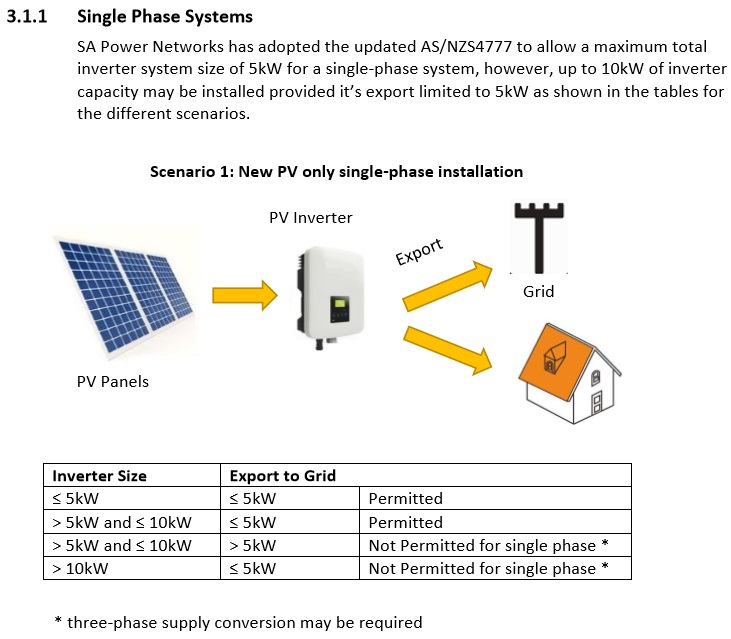 As solar panel capacity can be up to one third larger than inverter capacity, if you have single phase power you can:
1. Install up to 5 kilowatts of inverter with up to 6.66 kilowatts of solar panels.
2. Install more than 5 kilowatts of inverter capacity up to a maximum of 10 kilowatts with up to 13.33 kilowatts of solar panels — provided the system is export limited to 5 kilowatts.
This is only for new installations.  If you already have a single phase system that can export more than 5 kilowatts there's no need to change it.
Single Phase Power And Export Limiting
A system that is export limited to 5 kilowatts is unable to send more than 5 kilowatts of surplus solar power into the grid to receive a feed-in tariff.  Export limiting has the disadvantages of costing extra to set up and can result in clean solar energy going to waste if the solar panels produce more than 5 kilowatts over the household's power consumption.
The good news is, not much power is likely to be lost.  If a home has the following characteristics:
10 kilowatts of solar panels
The solar inverter is export limited to 5 kilowatts
All the panels face north
No electricity at all is consumed during the day2
Then in Adelaide only about 14% of the solar electricity generated would be wasted.
If instead of facing north, the panels faced east and west, the amount of solar electricity wasted would only be around 11%.  If there was a moderate amount of electricity consumption during the sunniest parts of the day, either because people are at home or appliances have been put on timers, then the amount of electricity lost would be reduced, potentially to almost nothing.
Export limiting encourages batteries
A battery system could also be used to store solar electricity that would otherwise go to waste for use in the evening.  If solar electricity is regularly going to waste, this significantly improves the economics of battery storage.
Batteries And Single Phase Power
The good news for all you Tesla fans out there is it will be possible to install a Powerwall 2 even if you have single phase power.
I guess this is good news even if you hate Tesla but want to install their battery anyway.
Here's what the new technical standards say: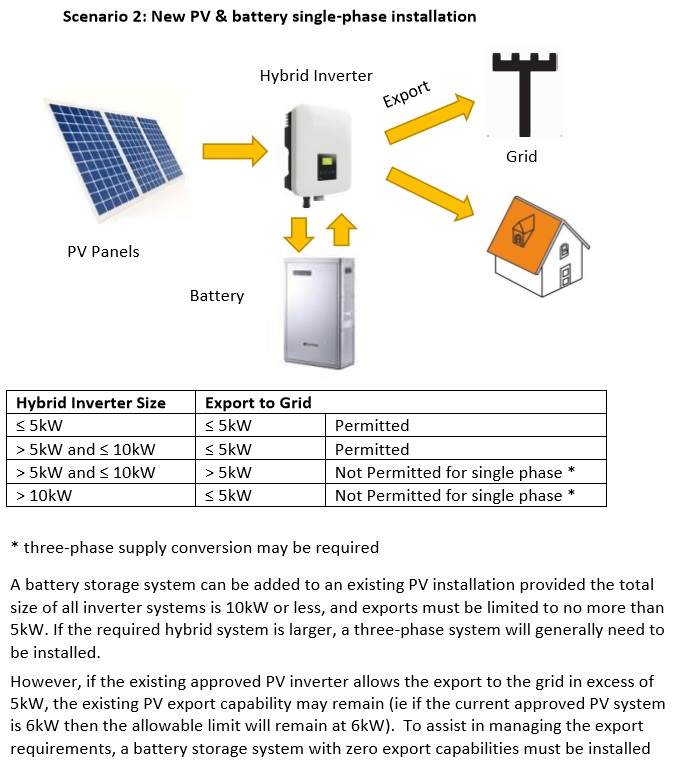 If you have single phase power you can install an AC coupled battery with a battery inverter, provided the total of solar inverter and battery inverter capacity does not exceed 10 kilowatts and the system is not capable of exporting more than 5 kilowatts to the grid.
If you have single phase power with an existing solar system that can export more than 5 kilowatts, you can retain your current export capacity, but any battery you install must be configured for zero export and you will still be limited to a total combined inverter capacity maximum of 10 kilowatts.
A multimode solar inverter, also known as a hybrid inverter, can be used to DC couple batteries without the need for separate battery inverters, so installing batteries this way won't affect your inverter capacity.  But only the AC version of the Powerwall 2 is available in Australia and it has a 5 kilowatt battery inverter.
Upgrading To 3 Phase Power Isn't Cheap
If you don't like the idea of being export limited or want to install more than 13.33 kilowatts of panels, upgrading from single phase to 3 phase power is an option.  In towns and cities the total cost is likely to be several thousand dollars or more and in rural areas it is likely to come to several thousand swear words worth of money, as it can be ridiculously expensive.
Update: 29th May 2019 – 3 Phase Power Allows Up To 30 Kilowatts Of Panel Capacity but must be export limited to 5kW per phase
If you have three phase power, as a small but slowly increasing portion of homes do, then you can install up to 30 kilowatts of panel capacity.  But most houses find it difficult to fit 10 kilowatts of panels on the roof, so if you want 30 kilowatts  of solar panels you'll either need a damn big house or room to rack them up on the ground.
As of 29 May 2019 you can only export a maximum of 5kW per phase. So if your inverter or inverters are larger than this, you'll need to export limit.
One final condition is the amount of inverter capacity on each phase must be within 5 kilowatts of each other.  This is not a problem if you are using a 3 phase inverter, but if you are placing separate inverters on each phase then they can't differ by more than 5 kilowatts.
Inverter Size Of Up To 5 Kilowatts On Rural SWER Connections
If you live off the main grid in a rural area and have grid electricity, then you'll be supplied by a Single Wire Earth Return (SWER) power line which is a low cost method of transmitting electricity long distances.  With these connections the technical standard says the maximum allowed inverter size is 5 kilowatts and that's all it says.  Here, I'll prove it:

Note that while you can install up to 5 kilowatts, if SAPN determines the local grid may not handle it they can require you to install less.  But hopefully they won't.
In Conclusion — I Am Sad
There may not be a single three phase home in South Australia that would come close to reaching its 30 kilowatt panel limit, even if the roof was completely slathered in solar panels, so this limit is not a big problem.  But it is a pity that people with single phase power can no longer install more than 5 kilowatts of inverter capacity without export limiting their systems.  I could argue that if three phase homes can have 10 kilowatts per phase without export limiting then single phase homes should as well, but I won't in case SAPN takes it the other way and decides to reduce the amount 3 phase homes are allowed to have.
Update: 29 May 2019. ASPN have just reduced the export limit for 3 phase to 15kW
The extra cost of export limiting will result in less solar capacity being installed than if it wasn't required.  This means more fossil fuels will be burned than would otherwise be the case and this makes me sad.  The reason why is because, after giving it some thought, I've decided that I'm in favor of living and against dying.
There are limits to how much distributed solar generation can easily be installed on the grid, but the amount is dependent on local grid conditions and so I don't think we should have one standard apply across an entire state.  Instead we should allow people to install as much as is practically possible in their location and reward Distributed Network Service Providers such as SAPN, for increasing the amount of rooftop solar capacity that can be installed.
Because I am willing to put my money where my mouth is and because I will stop at nothing to protect the world that I leave to my children, if by this time next year SAPN has increased the inverter capacity homes with single phase power are allowed to install without export limiting, I will give everyone who works there an ice cream cone3.
Footnotes
Edy really should stop ficating, but I don't think he can help himself. ↩
Clearly it is the home of one of those odd families that believe refrigerators are the work of Satan. ↩
They won't be $8 Haagen Darz ice cream cones, but they'll still be nice.  There's not a lot of ice cream in this world that tastes bad when it's free. ↩