Five to eight years ago, just as the Australian solar industry was getting underway, many people locked in high feed in tariffs for their new, cutting-edge solar power systems.  For example, many people in Victoria with systems installed before 2012 are now getting 71.3 cents per kilowatt-hour of solar electricity exported into the grid.  And they will continue to receive this for almost 7 more years.
While these sky high feed-in tariffs sound wonderful — and trust me, they are wonderful — most people who locked in dreamy feed-in tariffs only had very small solar systems, with the most common size being 1.5 kilowatts.  This is because back then, not only were solar power systems incredibly expensive, but subsides were greater for smaller systems.
Having a high feed-in tariff  isn't necessarily the golden goose it might seem for owners of small systems who don't export much of their solar electricity. It's more a golden willy wagtail or in Queensland perhaps a golden gecko.
As a result, many of the owners of these old PV systems are in a quandary: should they scrap their small 1.5 kilowatt system, along with the high feed-in tariff and replace it with a larger system that generates more electricity?
Should you replace your 1.5kW with a larger system?
The answer to that question can be clearly given in just two words — it depends.
In Victoria the premium feed-in tariff is so high you probably won't come out ahead.
In the ACT a high feed-in tariff combined with Australia's lowest electricity prices makes it a bad idea.
In Perth the feed-in tariff the new system will get is so low you're also unlikely to come out ahead.
But in Tasmania, Queensland, and South Australia, it can save you money, provided your cost of capital isn't too high.
While 1.5 kilowatts is the most common size that gets a high feed-in tariff, some people did buy larger systems, with the limit generally being 5 kilowatts.  So if you're receiving a 71.3 cent feed-in tariff for a 5 kilowatt solar power system, this article is not for you.  You should be raking in that feed-in tariff money.  In fact, if you are single, send me your phone number1.
Existing High Feed-In Tariffs And Their End Dates
If you have locked in a high feed-in tariff for your solar system then you probably know about it.  If there is any doubt, you can check your electricity bill to see if you get a fat payment for every kilowatt-hour you send into the grid.  It is possible you may not know when your high feed-in tariff will end, so here's a list of all the remaining old-time high feed-in tariffs and when they expire:
Victoria:  A minimum of 60 cents a kilowatt-hour with a retail feed-in tariff of at least 11.3 cents on top of this, making for a minimum feed-in tariff of 71.3 cents.  Ends in late 2024.
The ACT:  Rooftop solar applied for before the 13th of July 2011 could lock in a feed-in tariff which is now a straight 45 cents.  It can last for 20 years, so some households will still be receiving this in 2031.
Western Australia:  Those who applied for rooftop solar from the 1st of July 2010 till the 30th of June 2011 could lock-in a 40 cent feed-in tariff for 10 years and those who applied in July 2011 could lock-in 20 cents for 10 years.  This will end from 2020 to 2021.
Tasmania:  Those who applied to install solar before the end of August 2013 received a feed-in tariff equal to the retail cost of electricity.  But this ends at the start of 2019 so there's only one year left to go.
South Australia:  Applying to install solar panels before the 30th of September 2011 would lock-in a a 44 cent distributor feed-in tariff until the 30th of June 2028.  The retail feed-in tariff is received on top of this, so a household with a 17 cent retailer tariff would receive a total of 61 cents for every kilowatt-hour of solar electricity exported.
Queensland:  Those who applied to install rooftop solar the 10th of July 2012 received a straight 44 cent feed-in tariff which will last until the 1st of July 2028.
NSW used to have a generous feed-in tariff, but that came to an end last year.
While it is permitted to replace components that fail, it's usually not possible to increase the capacity of a system or add a second solar system without losing the feed-in tariff.  In Queensland, while the inverter size can't be increased, it is possible to increase the panel capacity up to a maximum of one-third more than the inverter capacity, but only if your inverter meets modern standards.
There are still high feed-in tariffs available in two places in Australia and they are the Northern Territory where the feed-in tariff is equal to the retail price of electricity and some parts of rural Western Australia.  The drawback of the high feed-in tariffs in rural WA are it can be impossible to receive permission to install solar panels.  But if you can get solar in these places, it's a good idea to install as much as you can.
Old Versus New Comparison
Most homes in Australia have single phase power and the maximum amount of solar panel capacity they can usually install without paying extra for export limiting is 6.66 kilowatts.  Homes with three phase power that aren't in Western Australia can install more solar provided they can fit it on their roofs, but I will limit myself to comparing the annual savings from keeping a 1.5 kilowatt system with a high feed-in tariff with the annual savings from replacing it with a 6.5 kilowatt system.
Replacing Versus Expanding
If you decide to give up your old feed-in tariff and expand your solar energy capacity, you have a choice between:
Removing the old system and replacing it with a new one.
Keeping the old system in place and installing a separate new system.
Attaching the old panels to a new inverter so they become part of a new system.
While it may seem that keeping the old system or making use of the old solar panels would be the cheaper option, this often isn't the case.  The larger a new solar system is, the cheaper it will be per watt and it gives the advantage that the entire system, including the panels and inverter, will be covered by new warranties.  This can avoid the need to make expense repairs to the old system, as if you have locked in a high feed-in tariff then your inverter is almost certainly out of warranty and could potentially die at any time.
Furthermore, any system old enough to get a high feed-in-tariff will be almost certainly be using solar panels and inverters that are not compliant with the latest Australian Standards. If you upgrade it, the whole installation will need to comply with the current standards. For most people this will require a new inverter and panels, essentially a whole new system.
Finally, most local networks (DNSPs) only allow 5kW of inverters on a typical, single phase home.
So I will assume the old system will be removed and completely replaced with a new one.
Household Solar Energy Self Consumption
How much of a solar power system's electricity is consumed by the home it is bolted to will affect the amount of money it saves over a year.  Personally, I always talk about the self consumption rate of households, but just to make things a little confusing, this graph from the Australian Energy Council's Solar Report December 2016 turns that upside down and shows the export rate of households for different sizes of solar systems.  But don't worry, it's only a little confusing.  I'm sure you can work it out: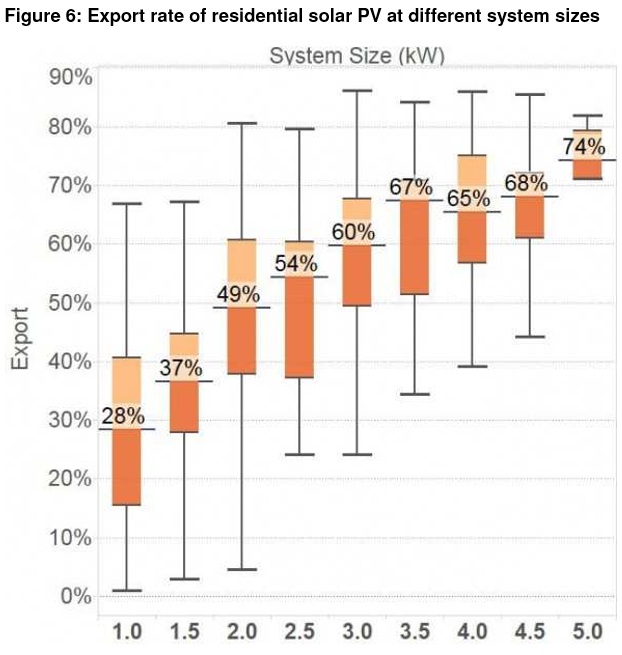 Generally, the smaller the system the higher the self consumption rate and according to the graph, a household with a 1.5 kilowatt system will self consume around two-thirds of the electricity it produces.  I realize that two-thirds isn't quite the same as the 63% self consumption rate on the graph, but I'll use 66.6% because it's easier to work with a nice round fraction and not at all because that is the number the voices scream at me from the bottomless pits that have been torn in my mind2.
But people who are out of the house for most of the day may have a self consumption rate of only around one-third.  So I will also estimate savings for homes with one-third self consumption, as this can considerably increase the amount of money saved.
However, if you are one of these people who does things like turn your refrigerator off during the day to try to get your solar electricity self consumption down to zero and maximize your feed-in tariff money, then I'd suggest that maybe you are taking things a little too far and you should probably get another hobby3.
According to the above graph a home with a 5 kilowatt solar system will typically self consume around 26% of the solar electricity generated.  But since I'll be using a 6.5 kilowatt system for comparison, which is off the graph, I'll estimate self consumption to be 20% for a typical household and 10% for one where there is usually no one at home during the day.
Estimating Annual System Output
The United States has given the world some amazing things.  For example, they gave us the space program that put humanity on the moon and the conspiracy theory that says they didn't.
One very useful thing they have gifted to us is the PVWatts site that can estimate the output of solar systems around the world.  Sure, you have to be careful to tell it "Melbourne Australia" and "Darwin Australia", otherwise it will take you to towns with those names in the US4, but apart from that peccadilo5 it's really quite handy.
PVWatts says a 1.5 kilowatt system in Melbourne that faces north and is tilted at a 20 degree angle will produce 2,058 kilowatt-hours a year.  But that figure is a little optimistic.  Solar panels slowly degrade over time and older systems with high feed-in tariffs are also likely to have inverters that are a little less efficient than modern ones.  Also, not every system is faces directly north.  To allow for this I will reduce the figure PVWatts gives by 10% and assume it will produce 1,852 kilowatt-hours a year.
PVWatts says a 6.5 kilowatt system that faces north at an angle of 20 degrees will produce 8,918 kilowatt-hours over a year.  But while these panels will be newer and inverter is likely to be more efficient, because of the large size of the system it's going to be harder to optimally position all the panels and to account for this I will reduce their output by the same 10% amount.  This means I'll expect it to produce 8,026 kilowatt-hours a year.
Savings From A Melbourne High Feed-In Tariff 1.5 KW System
Using the SolarQuotes retail electricity plan comparison tool I see that while electricity prices in Melbourne are considerably higher than what they were a year ago, by Australian standards they are actually pretty good6 and, after discounts, the most cost effective plan I can see charges 18.3 cents per kilowatt-hour of grid electricity and has a feed-in tariff of 11.3 cents.  Adding this onto the base 60 cents of Victoria's old premium feed-in tariff gives a total of 71.3 cents.
With a self consumption rate of 66.6% the 1.5 kilowatt system will save a household $666.60 a year7 on electricity bills.  If the self consumption rate is only 33% then the high feed-in tariff causes the savings to jump to $994.
Savings From A New Melbourne 6.5 Kilowatt System
After crunching the numbers I find that a 6.5 kilowatt system with the current 11.3 cent feed-in tariff and a 20% self consumption rate will save a Melbourne household $1,020 a year.  If the self consumption rate is only 10% then it will save $963.
But while this makes a new system appear worthwhile, it unfortunately ignores the cost of capital.  This is important to take into consideration because it is very unlikely that a brand new 6.5 kilowatt solar power system will fall off the back of a truck, bounce off the road, and land fully installed on your roof.  The only realistic way you are going to get one is to pay an installer to put it there.  So I will assume the system will be completely replaced and the total cost of the new system and disposing of the old one will come to $8,000.
Estimating The Capital Cost Of A New System
To work out the yearly savings from a new solar power system it is necessary to estimate what the cost of capital over a year will be.  I am going to use a very simple method.  Some people might say it is too simple, but fortunately, through a stroke of sheer luck, I don't care.
I am simply going to say that people who don't really have anything better to do with their money other than put it in the bank or make a house payment have a cost of capital of 5% and simply deduct 5% of the $8,000 cost of a new system from its yearly savings.  I am not going to worry about anything else and simply  assume the new system will fully pay for itself after the high feed-in tariff ends, which will be within 10 years everywhere except the ACT.
Some people have a higher cost of capital.  These are either people who don't have home equity or other cheap way of borrowing money, or who make a decent return from the money they do have such as by investing it in their own business or the share market.  I will assume these people have a cost of capital of 8% and deduct 8% of the $8,000 cost of a new system from their yearly savings.
It is quite possible for people's cost of capital to be over 8% but if this is you, I can tell you now you probably aren't going to be better off replacing a high feed-in tariff solar system.  Instead, cut up your credit cards, pay off the Dutch mafia, or do whatever else you need to get your finances in order and then look at replacing your old system.
Graph Of Potential Savings For Melbourne
If we take the yearly savings that are possible with the different self consumption rates and cost of capital for Melbourne and then put them in a graph we get this: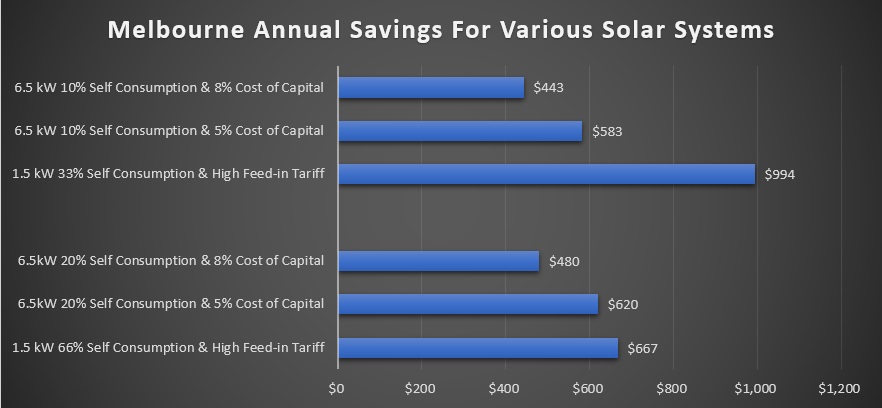 As you can see, while it is close for people who currently have typical self consumption and a low cost of capital, Melbournites aren't likely to come out ahead economically.  And for people who currently have a low self consumption rate, Victoria's massive premium solar feed-in tariff means these households are way ahead if they keep their old systems.
Using the same method, I will now make graphs for every capital where it's possible to have a locked-in high feed-in tariff.  I'll continue in the order I have started, from worst to best.
Canberra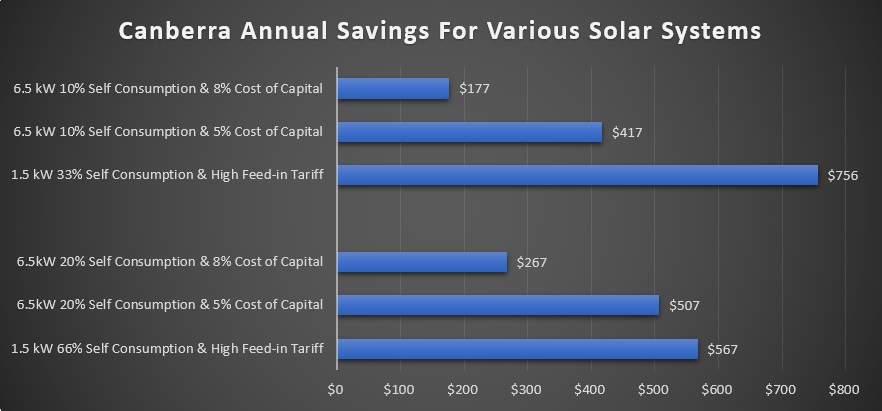 While the straight 45 cent feed-in tariff isn't the highest, Canberra does have the lowed grid electricity prices in Australia and so scrapping an old system is not likely to pay for itself.  The low cost of electricity makes it an especially bad idea if you have a high cost of capital.
(I have changed this graph from how I originally had it because I used the wrong information for the ACTs old premium tariff.  Thanks to Tony for pointing this out in the comments.  I hope the information I have now is correct.)
Graph For Perth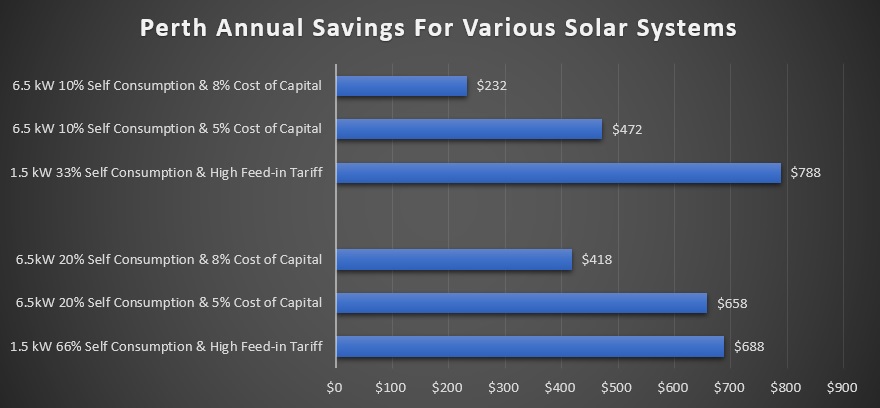 Because Western Australia' current feed-in tariff is the lowest in Australia, getting a new system isn't likely to pay for itself.  But this could all change if Western Australia increases its feed-in tariff, at which point I suggest we all hop on flying pigs and ride them to Fremantle for a party.
Hobart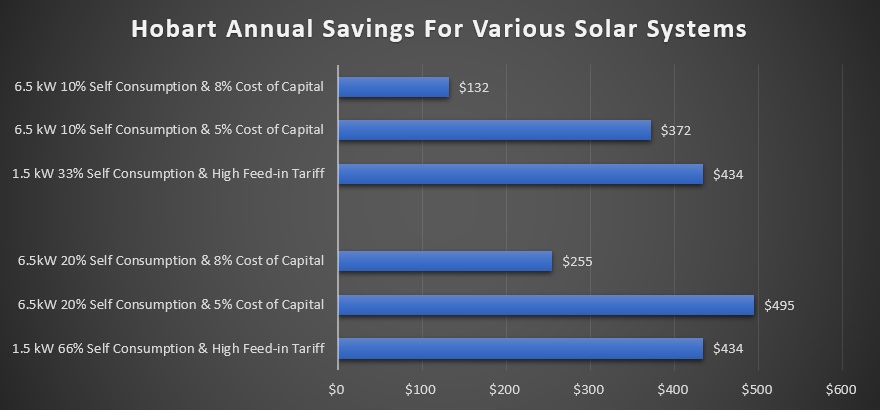 Hobart is the worst city in Australia for sunshine.  But, with a low cost of capital, it can be worthwhile to replace an old solar system and lose a high feed-in tariff.  Tasmania's premium is ending in one year anyway, so it's definitely not too soon to start saving for a larger PV system whether or not it's worth losing a high feed-in tariff now.
Brisbane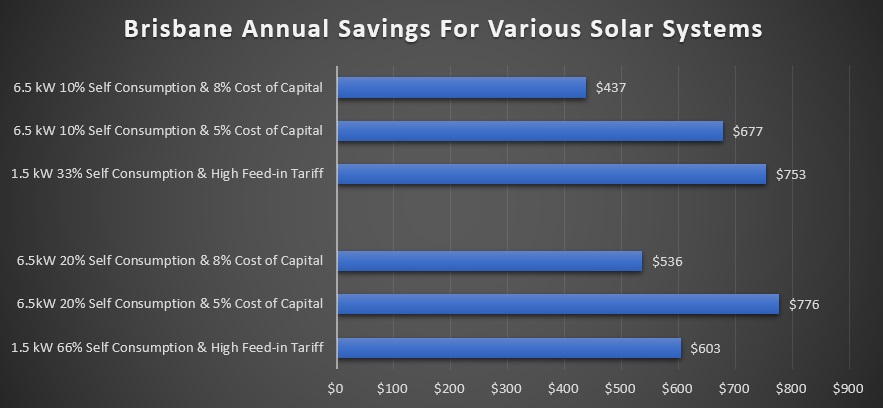 Under the right conditions it can be worthwhile for people in Queensland to ditch their 1.5 kilowatt systems and install something larger.  And grid operators there will love you if you do, since they keep complaining about high feed-in tariff households waiting until the evening to use electricity, which makes it harder to meet peak demand.
But the figures for Queensland could actually be a lot better than the graph suggests as, starting next year, Queenslanders may be able to get interest free loans for solar.  Details of how this will work don't appear to be online yet, so I didn't include it in the graph, but if you can get 6.5 kilowatt system interest free then it definitely makes sense to replace a 1.5 kilowatt system with a high feed-in tariff, but if it's over 2 kilowatts you'll want to think about it.  Unfortunately, some of the language used by the state government makes me think these interest free loans will not be made available to everyone.
Adelaide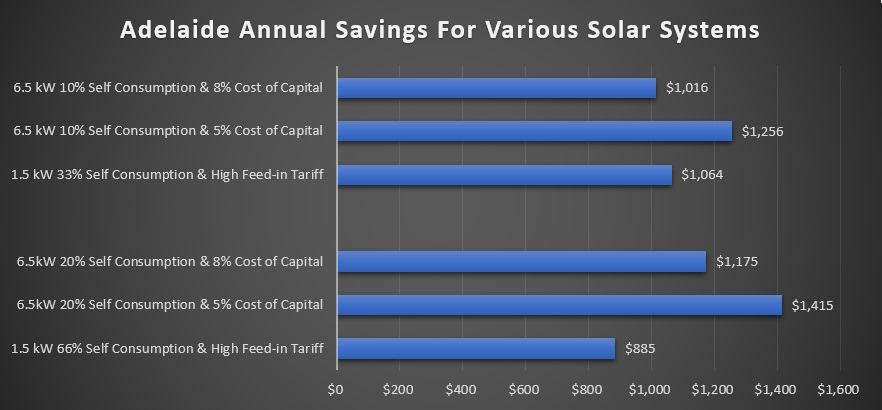 Adelaide is the best capital in Australia for scrapping a high feed-in tariff and if your cost of capital is low the savings can be bloody good.  Even if your cost of capital is high and your self consumption low you should come close to breaking even.  So if you are in Adelaide and have money in the bank, scrap that puny 1.5 kilowatt solar power system and get yourself something decent.
What About Systems Smaller Or Larger Than 1.5 Kilowatts?
If you have a system that is only 1 kilowatt then the savings it provides will be around two-thirds of what's shown in the graphs above.  This means it will often be worthwhile to replace it.  Savings from a 2 kilowatt system will be about one quarter more than in the graphs and so it will generally make sense to hang onto it.  Unless you can get a zero interest loan or something.
Current Feed-In Tariffs May Change
It is definitely possible feed-in tariffs will fall in the future and so increase the value of hanging onto a locked-in high feed-in tariff.  But I am very confident the cost of rooftop solar energy will continue to decline, despite the gradual phasing out of the "solar rebate8", and that may offset any decrease in feed-in tariffs.
My Solar Power System Died!
The older a system gets the more likely it is that something will fail and require expensive repairs.  This is most likely to be the inverter if it hasn't already been replaced, but solar panels and even wiring can die in a variety of different ways.
It is likely to cost around $1,000 to replace a 1.5 kilowatt inverter.  If you get a high quality inverter it will cost more, but in this particular situation a high quality inverter may not be a good choice, as even a cheap one is likely to last until your high feed-in tariff ends and even if it dies as soon as its 5 year warranty is over, by that time there is an excellent chance by that time rooftop solar will have fallen enough in price to make it worthwhile to simply install a larger system.
If your old solar energy system of around 1.5 kilowatts need repairs it may make sense to pay for them in Victoria, Queensland, and the ACT, particularly if you have a high cost of capital.  It's possible it will be worthwhile in Perth, despite its high feed-in tariff ending within 3 years, but its very unlikely to pay for itself in Adelaide and sure as hell won't pay for itself in Tasmania where the high feed-in tariff is ending in one year.
Save The Planet!
I have only discussed the economics of replacing a small solar power system with a high feed-in tariff.  If you want to help the environment then you could definitely find it worthwhile to install a larger system.  But if you are getting a pretty sweet deal from a high feed-in tariff, I will mention you can help the environment by installing a system on the roof of a relative or by donating one to charity.  You could also invest in energy efficiency measures in your home that will both reduce emissions and increase the amount of solar energy you send into the grid.