After years of operating in harsh outback conditions, solar panels from a couple of Australian manufacturers are still performing well.
Transcript begins —
Finn: For this month's field test, we head all the way up to Alice Springs, to the Desert Knowledge Australia's Solar Centre to find out just how Tindo and a bunch of other panels are performing in one of the sunniest places on Earth. First, let's hear from senior project manager Paul Rodden in Alice Springs.
Paul Rodden: The Desert Knowledge Australia Solar Centre was originally built in 2008 as a federally funded project designed to demonstrate solar technology. And this site was really about bringing the most up-to-date information to the public by making not only the site available to people, but the data that was generated from all the systems available via the publicly facing website.
It's all photovoltaics – it's a range of different technologies. And it's really about demonstrating those different technologies in this environment, which is a hot environment with high levels of irradiance – a really ideal place in many ways for solar.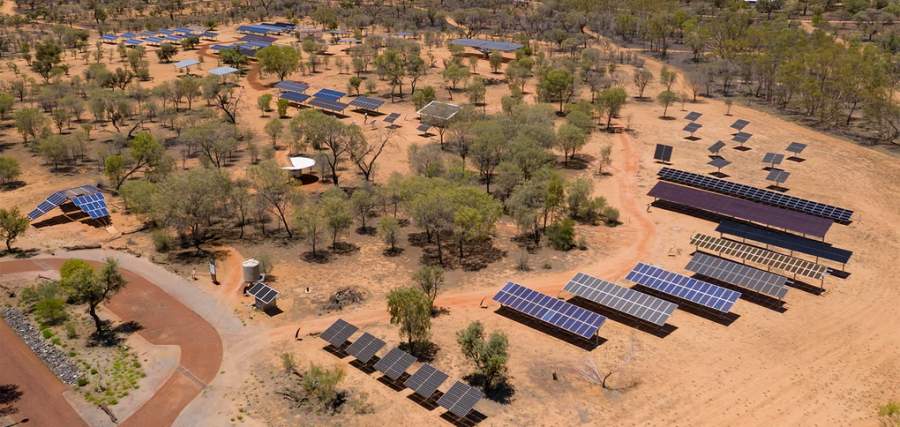 Finn: The oldest panels up in Alice are Australian-made BP solar panels made in the now sadly closed BP solar panel factory near the Olympic precinct in Homebush, Sydney. These beauties with their original inverters are approaching 14 years in the NT heat. They're still chugging along admirably, pumping out about 87% of their original energy output.
But what about the Tindo solar panels? They are kicking ass. These Tindo panels installed in 2016 are generating more energy per kilowatt installed than the other panels installed that year – Q CELLS, Hanwha or Canadian Solar.
The only silicon panels keeping up with Tindo are the more expensive SunPower, which is impressive as they were installed five years earlier in 2011. The only panels beating Tindo, as far as I can see, are ones I've never heard of – Solibro thin film panels installed a year later in 2017. But if you want those on your roof, bad luck, I don't know of anyone that installs Solibro panels in Australia.
So, that's great to see Australian made panels from 2008 and 2016, surviving and thriving in the Aussie outback.
If they can survive there, they should do just fine on your roof.
— Transcript ends
This segment was from SolarQuotes TV Episode 11: The Australian-Made Solar Edition – discover how Australian researchers and manufacturers are punching above their weight with their home-grown solar technologies.
Solar Panel Arrays At The DKASC
Check how different technologies, ages, makes, models and configurations of panels are performing at the DKASC using the following links:
More About The DKA Solar Centre
Electricity generated by the various arrays at the Centre helps power the Desert Knowledge Precinct. The Precinct occupies a 73-hectare property on Arrernte bushland, 9 kilometres south of the Alice Springs town centre. The Precinct provides a place for enterprises, research, education, partnerships and cultural activities.
Collectively, the solar panel arrays generate an average of 420,000 kilowatt-hours of clean electricity annually.
Learn more about the DKASC here.