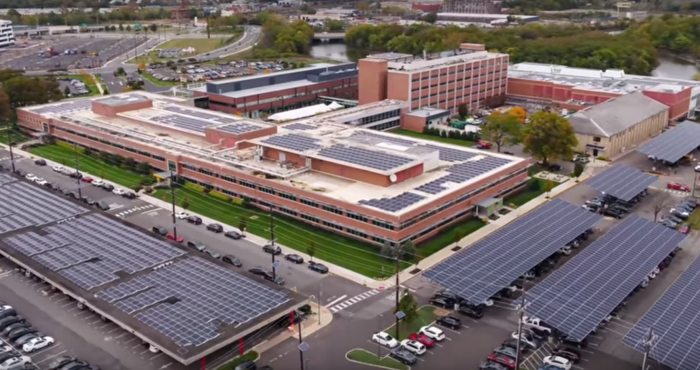 Campbell Soup Company announced yesterday a 4.4-megawatt solar power project at the company's World Headquarters in Camden, New Jersey is officially online.
It's taken just under 10 months to construct the project, which consists of SunPower solar panels installed on rooftops, above car parks and a ground-mount system.
2.7MW capacity is installed on rooftops and carparks at the Camden campus, while a 1.7MW ground mount array has been constructed on a 4.5 acre brownfield[1.A "brownfield" site is land that has been classified by the Environmental Protection Agency as restricted to certain developments due to the presence or potential presence of a hazardous, pollutant, or contaminant. Such sites have been increasingly used for solar power projects.] site adjacent to the facility.
Collectively, the systems will generate more than 5 million kilowatt hours (5 gigawatt-hours) of electricity per year, which is equivalent to around 20 percent of Campbell's World Headquarters' electricity usage.
Jointly owned by BNB and ORIX USA, the project will supply the company with clean energy under a 20-year power purchase agreement (PPA) , at a rate that Campbell's says is currently well below what it is paying for grid-sourced electricity supply.
Campbell Soup Company was among the early adopters of commercial solar energy and related PPA agreements in the USA. Its first major project was a 9.8MW facility in Napoleon, Ohio that was completed in 2012. The company is also being supplied by a 1MW solar farm in Bloomfield, Connecticut.
"Campbell's renewable projects are delivering clean energy to the grid and demonstrating the viability of energy sources like solar. They contribute to our long-term sustainability strategy and deliver on our commitment to expand renewable energy," said Jim Prunesti, Vice President of Global Engineering.
Campbell Soup Company has committed to reducing Scope 1 and 2 greenhouse gas emissions by 25% on an absolute basis by FY2025, using FY2017 as the baseline. It is also aiming to source 40% of its electricity from renewable or "alternative energy" sources by FY2020.
In addition to solar power, the company has 1.2 MW and 1.4 MW fuel cell installations in Bloomfield.
The positive attention the Camden project will receive, which is the largest solar installation in the city, will no doubt be welcomed by SunPower. The company stated last month it was feeling the effects of U.S. President Donald Trump's solar tax, formally known as Section 201 solar tariffs. In February, SunPower was reportedly preparing to lay off about 3 percent of its workforce this month and CEO Tom Werner warned more American jobs would go if the company couldn't secure an exemption from the tariffs.
In other recent SunPower news, the company announced last week it had completed a 10-megawatt (AC) solar plant in Covington, Oklahoma, featuring SunPower P-Series solar panels and its Oasis platform. SunPower P-Series modules have been available in Australia since October last year.