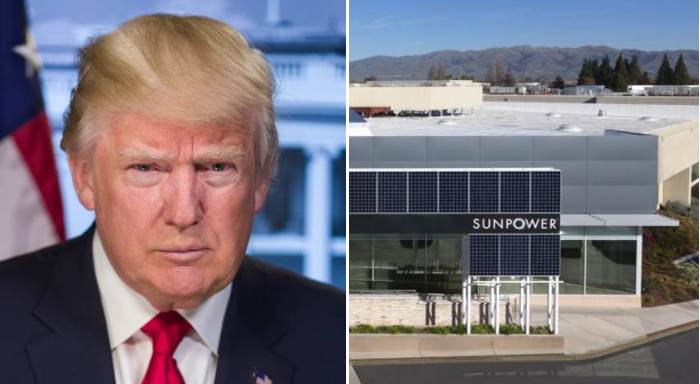 SunPower's president and CEO isn't particularly happy with the Trump Administration's recent attempt to help "Make America Great Again" through punitive duties on imported cells and solar panels.
In comments accompanying SunPower's fourth quarter and FY 2017 results, Tom Werner said the firm was feeling the effects of President Donald Trump's solar tax/solar tariffs. The so-called "safeguard duty" consists of a 30% tariff on imported solar cells and panels for the first year, then drops to 25% in the second, 20% in the third and reduces to 15% in the fourth year.
While SunPower has its headquarters in the USA, its manufacturing capacity is in Malaysia, the Philippines, Mexico and China. Mexico is part of the North American Free Trade Agreement (NAFTA), but hasn't been excluded from the tariffs.
"Unfortunately, we are already seeing a negative near-term impact from the ruling as the increased costs due to import tariffs have delayed certain 2018 projects and made other projects uneconomical," said Mr. Werner.
SunPower isn't giving up on finding a way to dodge the duties and is scrutinising a product exclusion process published last week.
"We will continue to work through this process with the Administration to convey that only SunPower can make a copper-plated, interdigitated back contact solar cells and that with an exclusion, SunPower can further invest in research and development to improve on its market-leading efficiency and performance while demonstrating America's continuing leadership in solar energy innovation," stated Mr. Werner.
New U.S. Jobs On Hold
Mr. Werner also stated the company has put its planned USD $20 million U.S. employment expansion on hold – perhaps an in-your-face to Trump's assertion the tariffs would create jobs and something to dangle regarding a potential exclusion – and is looking at other significant cost saving initiatives.
SunPower is no fly-by-night, bargain-basement cell/module manufacturer; it's widely regarded as one of the best in the world. The quality is reflected in the price of SunPower solar panels, so the duty added to existing cut-throat competition is particularly unwelcome.
To learn more about the company's products, SQ blogger Ronald's introductory post on SunPower is well worth a read, and you can also check out SunPower solar panel reviews from Australian customers who have had the modules installed.
The tariffs were the result of an investigation by the USA's International Trade Commission (ITC), based on a petition from Suniva and later joined by SolarWorld that claimed increased imports of solar panels and cells were a substantial cause of serious injury to the nation's domestic industry.
The Solar Energy Industries Association (SEIA) says the decision to introduce the tariffs will effectively will cause the loss of approximately 23,000 American jobs in 2018.