If you are checking out this article because you are planning to put solar panels on a flat roof, then odds are you're looking to install a commercial solar system.  While there are homes with flat roofs, they're not nearly as common as flat business roofs.  But whether it's for a home or a business the basic principles of installing on a flat roof are the same.  It's just that commercial systems tend to be a lot larger.
The good news is there is nothing particularly complicated or difficult about installing solar panels on a flat roof.  The bad news is you will either want tilt racks or special frameless panels and these will generally add a little to the cost compared to a standard installation on a sloped roof.  But don't worry, it won't come to nearly enough to prevent flat roof solar being an excellent investment.
In this article I'll go over:
Why conventional, framed panels shouldn't be installed flat.
The difference between penetrating and ballasted solar panel tilt racks.
The effect of tilt on output.
The best direction to face panels.
Different ways to space solar panels.
How panels can help keep buildings cool.
Don't Lay Regular Solar Panels Flat
The easiest way to install solar panels on a flat roof may appear to be to lay them flat out like a lizard drinking, but this can result in your lizard getting very dirty indeed.  Usually rain alone is enough to keep solar panels clean on a typical sloped roof because rainwater will flow off them, carrying away dirt.  But when panels lie flat, water will pool on top of them and stay there after it stops raining.  This water can collect dust and windborne debris, such as leaves, which will stay behind when the water evaporates.  This means they don't self clean well and can become very grubby.  Google found the output of their flat panels was cut in half after 15 months without a clean, while rain alone was enough to keep their tilted solar panels pretty pristine.
To keep panels clean on a flat roof it is recommended they be installed in racks that tilt them at an angle of at least 10 degrees so rain can effectively wash them clean.  Also, while good quality solar panels should be resistant to the effects of water, it's still not a good idea to let water pool on them so they soak longer than is necessary.
Frameless Panels Are Better At Low Angles
Most solar panels have an aluminium frame.  This strengthens them, protects the edges from damage, and serves as an attachment point.  But there are frameless ones and these can be useful if panels have to be installed with less than 10 degrees tilt.  Without a raised frame at their edge it is easier for water to flow off them.  If they are laid completely flat, some water will still collect on their surface, but not nearly as much.
Manufacturers are looking at frameless panels in an effort to reduce costs, but at the moment most frameless solar panels are double glass and carry a considerable premium over conventional modules1. Although when you consider these additional advantages of frameless solar panels, you may be persuaded to pay the premium:
typically 0.5% warranted degradation per year compared to 0.7% for framed panels
typically 30 year performance warranty instead of 25 years
less risk of long-term performance issues by not having a plastic back sheet
Update 16th October 2019:  Frameless panels can require yearly maintenance by a professional and this expense should be considered when determining if they are cost-effective.  For this reason – we have changed our advice. If you are going to install panels at a tilt under 10 degrees, we recommend panels with drainage slots.
Flat Roofs May Not Be Completely Flat
It's not unusual for roofs that look flat from the ground to have a slight tilt to prevent water pooling on them and this needs to be taken into account.  North facing racks with a 10 degree tilt will actually only be at 9 degrees if the roof has a 1 degree tilt to the south.  While this is unlikely to be disastrous, if it's a 3 degree tilt to the south it's time to consider frameless solar panels or steeper racks.
Ballasted Versus Penetrating Tilt Racks
There are currently two ways to attach solar panel tilt racks to flat roofs.  The first is to hold them in place using screws or other fixtures that penetrate into the roof and the second is gravity.
Because of cyclones, if you live outside of Wind Region A on the wind map below that I stole from the Shire of Shark Bay, then you can only use penetrating attachments to secure racks to a roof: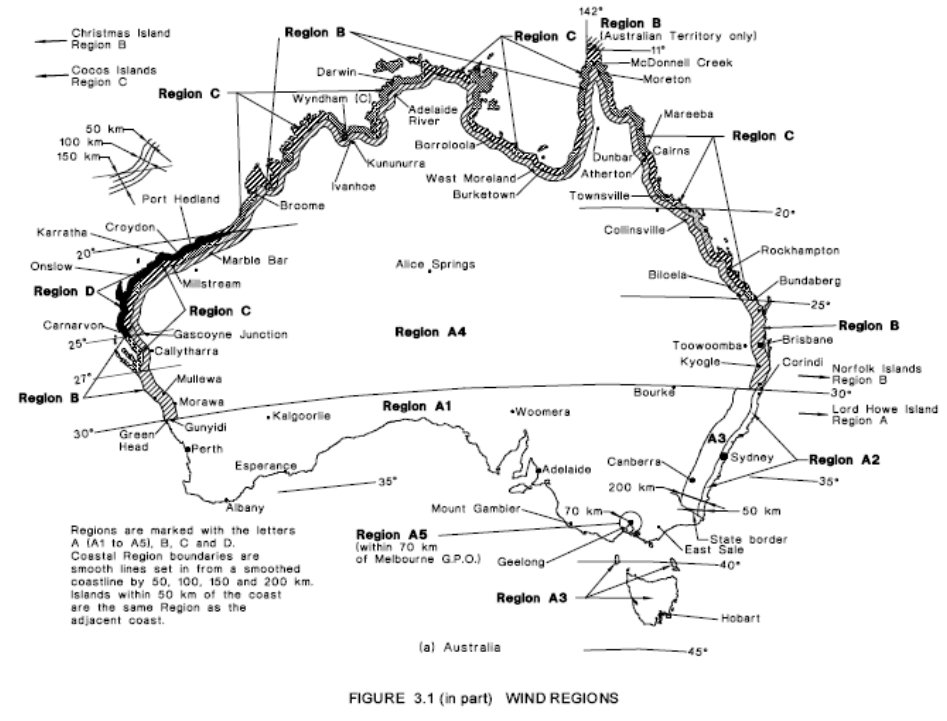 But if you live in Region A, which includes Sydney, Melbourne, Adelaide, Perth, and Canberra, then you have the option of using ballasted tilt racks, which are simply weighted down so they won't budge in strong winds.
Professional Penetration Is Not A Problem
Accredited solar panel installers are required to follow Australian standards and install penetrating tilt racks in ways that won't result in leaks.  If a leak does occur they have an obligation to return and remedy the problem.  Almost all solar installations on sloped roofs involve penetration and it very rarely results in a problem.
Unfortunately, there are a few installers who do not do professional work and/or try to avoid their obligations when a problem arises.  To avoid them you can use SolarQuotes to find installers who have been vetted by my boss, Finn, and can be trusted to do good work.  This also applies if you are looking for someone to do a large scale commercial solar installation.
Ballasted Tilt Racks Can Be Used In Wind Region A
A ballasted tilt rack requires no roof penetrations and is simply held in place by weights.  The weights are normally concrete, although I have seen pictures of some that can have their bases filled with water or sand.  Because they don't require any roof penetrations they are quite easy to install — provided you have a non-back-breaking way to get the weights up on the roof.
Ballasted racks can be useful on some membrane roofs, which can be problematic to penetrate.  The roof will need to be able to support their weight.  This is usually not a problem for homes, but is a consideration for commercial and industrial buildings and generally a structural engineer will need to give approval.  To ensure security in strong winds they are usually only tilted at a 10 degree angle to reduce wind loading.  In addition, they cannot be used in cyclone zones in Australia, but in hurricane prone Haiti they just use an awful lot of concrete blocks:
Other Non-Penetrative Solar
If you are outside of Wind Region A and you don't want to penetrate your roof or can't, then your options are limited.  While it is rarely done, it is possible to glue some panels in place, although if they are glued flat dirt build up will become a problem.  It is possible to take an alternative approach, such as putting solar panels in the car park as the University of Southern Queensland did:
Solar Panel Tilt And Performance
With penetrative tilt racks, panels can be placed at the optimal angle for annual electricity generation.  In Sydney this would be around 31 degrees while in Brisbane it would be a less steep 25 degrees.  But to reduce the amount of wind loading it is common for solar panels to be placed at less of an angle less than this, with 15 degrees being common.  Ballasted tilt racks have a 15 degree angle at most and more commonly 10 degrees.
Fortunately, this doesn't result in much lost performance.  Panels in Brisbane at a 10 degree tilt will have their output reduced by less than 3% compared to the optimum tilt, while in Sydney, solar panels at 10 degrees will only produce around 5% less than optimum.
North Gives The Greatest Overall Output
A flat roof grants the freedom or orientate panels in any direction desired.  Facing them north will result in the greatest overall generation, but it is possible to attempt to maximize self consumption of solar generated electricity by placing them facing east if electricity use is highest in the morning or west if it is highest in the afternoon.  It is also possible to split solar panels between east and west.  This will reduce overall output while making it a little more steady through the day.
If panels in Sydney are tilted at only 10 degrees then ones that face east or west will average around 13% less output than north facing ones.  But at such a low angle there will be very little shift in in when their peak output occurs.  On average, east facing solar panels will have their maximum output around 40 minutes before noon while west facing ones will peak around 40 minutes after midday.
My advice always is, unless you have a clear reason for doing otherwise, place them facing north and maximize the total number of kilowatt-hours generated.
Flat Roof Solar Panel Spacing
Normally solar panel tilt racks are spaced so they won't shade each other in winter when shadows are the longest.  But if panels that have panel string optimization are used they can be placed closer together, which will allow them to generate extra electricity in summer by making use of sunlight that otherwise would have fallen between the rows of panels.
Tilt Racks Are Cool–ing
Installing solar panels helps keep buildings cool and reduces air conditioning costs.  Panels in tilt racks can be slightly more effective at this because there is more room for air to circulate behind panels than ones mounted flush against a sloped roof.  Because they are just a little bit cooler on average they generate slightly more electricity, but it's not really enough to be noticeable.
I will mention one more trick for reducing air conditioning costs using solar panels.  This picture from Google Maps shows an Adelaide building with a rooftop solar power system: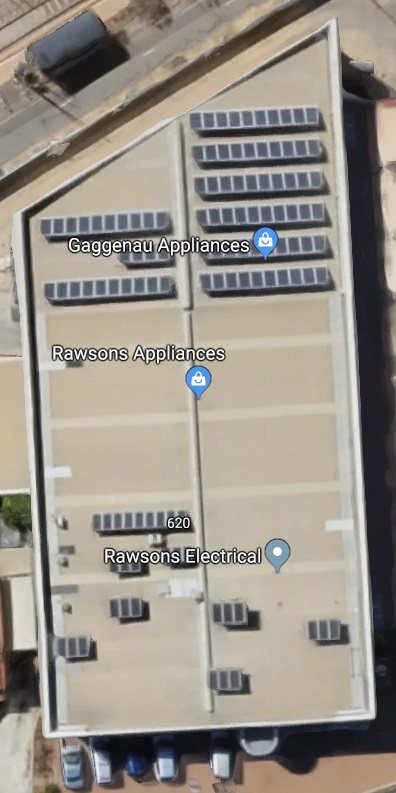 At the top of the picture you can panels arranged in tilt racks, but at the bottom of the picture you can see half a dozen or so small arrays consisting of three solar panels each that are either at much less of an angle or mounted flat, but you can see from their shadows they are raised off the roof.  While it can't be seen in this picture, those panels actually shade air conditioner units and help keep them cool so they use slightly less electricity.  While this arrangement is unlikely to be practical for most installations, it's still an interesting use of solar panels on a flat roof.
Footnotes
Solar First produces low cost frameless panels, but they now focus on making large panels for solar farms and I haven't seen any new rooftop installations using them for a long time. ↩