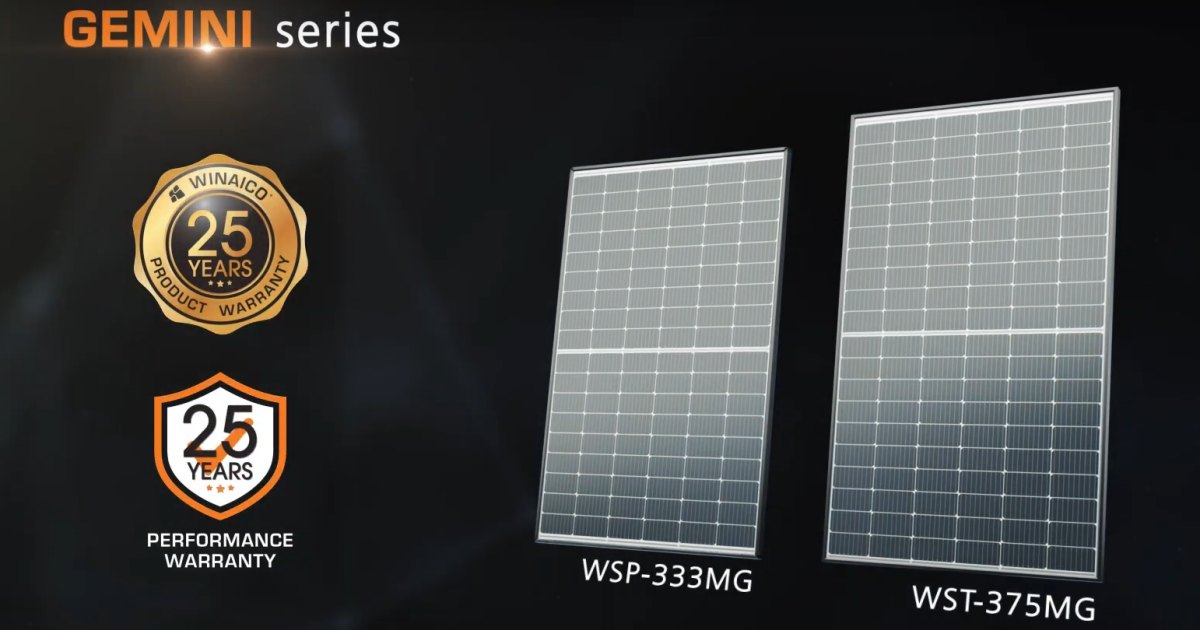 Winaico says its new Gemini solar panels will be available to Australian customers starting next month. The Gemini range consists of two panels, both featuring 9 busbars, half-cut cell design and reflective wires to reduce internal resistance.
The first is the WST-375MG, which at 375 watts is Winaico's highest capacity solar panel to date and boasts a module efficiency of 20.62%. It has dimensions of 1,759 x 1,034 x 35mm and weighs in at 20.6 kilograms. Temperature coefficient of PMAX for the WST-375MG is –0.35%/°C.
The other Gemini panel is the WSP-333MG that offers 20.27% module efficiency – as for other specifications, there doesn't appear to be an AU datasheet available yet. Winaico says this module has been optimised with smaller roofs in mind to achieve a solar system size of 6.66kW  (6.66 kW system = 20 solar panels).
"WINAICO is extremely excited to announce the arrival of these modules into the Asia Pacific region," said Winaico Asia Pacific Manager Blair Pester. "The new GEMINI Series is going to be an absolute gamechanger for our partners by boosting the power of both WSP and WST Ranges."
Both modules are accompanied by a 25 year product warranty. Winaico boosted its product warranty in Australia from 15 years to 25 years last year. Solar panels usually come with two warranties – product and performance. The product warranty length, which covers defects in manufacturing, is the one solar buyers should pay special attention to.
All Winaico modules also come with an insurance policy covering against loss due to material damage, interruption of service or reduced yield for the first two years.
Winaico Solar Panels And Hail
Something curious I spotted in the video promoting Gemini was this:

However, the data sheets for the WST-375MG just states "follow IEC standard", which is a 25mm ice ball at 83 km/hr. As mentioned, there doesn't appear to be a datasheet available yet for the WSP-333MG.
—
UPDATE: 5.20PM – Winaico Australia spotted this post and offered and explanation regarding the video vs. the datasheet.
"The video was commissioned last year for release in January/February with an expectation of the additional reliability tests such as the hail test to be completed by 2021. While the MG range and all are other modules use the same frame, glass integrity and back sheet we needed to acquire the additional certificate for the new modules.

WINAICO decided to move up to 1500 V for the system voltage later this year and delayed the MG reliability tests until after the IEC certification. While we are confident that the modules will pass the hail test, we do not want to make claims without the supporting documentation which is why the datasheet is different."
Winaico said the video will be updated to be in line with the IEC standard of hail testing.
—-
In January last year, Winaico's WSP MX range was successfully tested with a 35mm ice ball at 28 meters per second (~100 km/hr).
Hail may still be fresh in the minds of some Australian solar panel buyers after freak hail storms in SE Queensland back in late October, but no solar panel can be expected to stand up to being pummeled by 14cm hail.
Winaico's Clever Solar Panel Corners
Solar panels mounted at less than 10 degrees tilt can have issues with dirt scum building up as rain may not be sufficient to clean them. This can have a significant impact on output. One of the interesting features of the Gemini WSP-333MG and other Winaico WSP series solar panels are the corner channels that promote better drainage.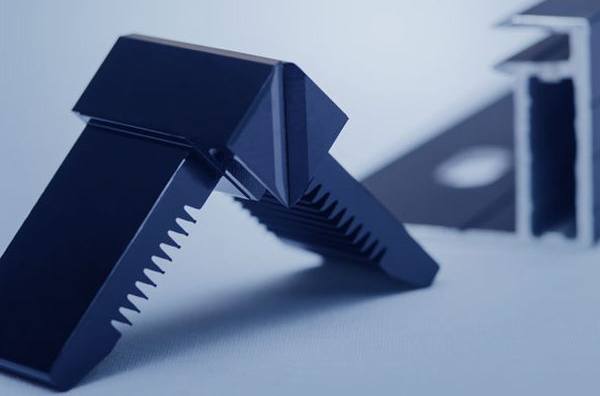 Another option for scenarios where panels will be at less than 10 degrees tilt are frameless solar panels, but these have proven to be difficult to install given their required clamping zones. Learn more about solar panel angle/tilt and other panels featuring water channels.
Taiwan-based Winaico was founded in 2008 and established an office in Australia in 2012. The company is currently listed as an SQ approved brand and Winaico solar panel reviews from Australian customers have generally been very favourable.