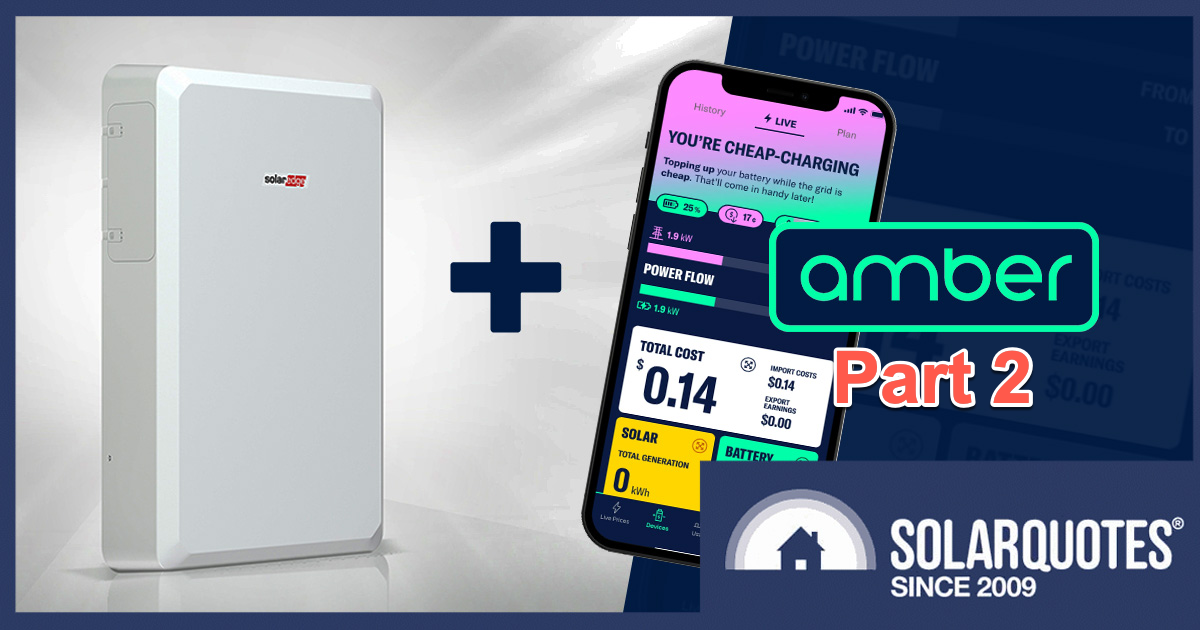 Joining Amber Electric a year ago, I began an exciting journey with 6.6kW of solar and a 10kWh SolarEdge battery on my Adelaide townhouse. The promise of sky-high prices for exported energy was irresistible.
But did the reality live up to the expectation? Let's dive into my year-long adventure with dynamic pricing, solar and batteries.
I switched to Amber Electric, intrigued by their unique model of selling electricity at wholesale prices. Connecting my solar system and home battery, I was drawn in by the prospect of being paid up to $15 per kWh for exported energy, more than 100 times the standard feed-in tariff.
Regular electricity retailers make money by buying electricity from power stations, adding a margin to cover costs, earning a profit, and staying competitive without alienating customers.
Amber, however, only makes money through a monthly membership fee of $19.  They then pass on wholesale pricing to you, which can change every 30 minutes.
The idea is that the Amber SmartShift App takes control of your battery and solar:
avoiding using the grid during moderately high prices by using battery power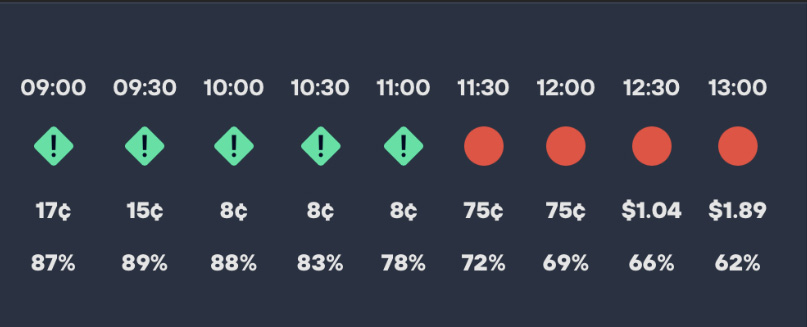 using as much electricity as possible during negative prices (you get paid to use energy with negative prices)
curtailing the solar to 'zero-export' when prices are negative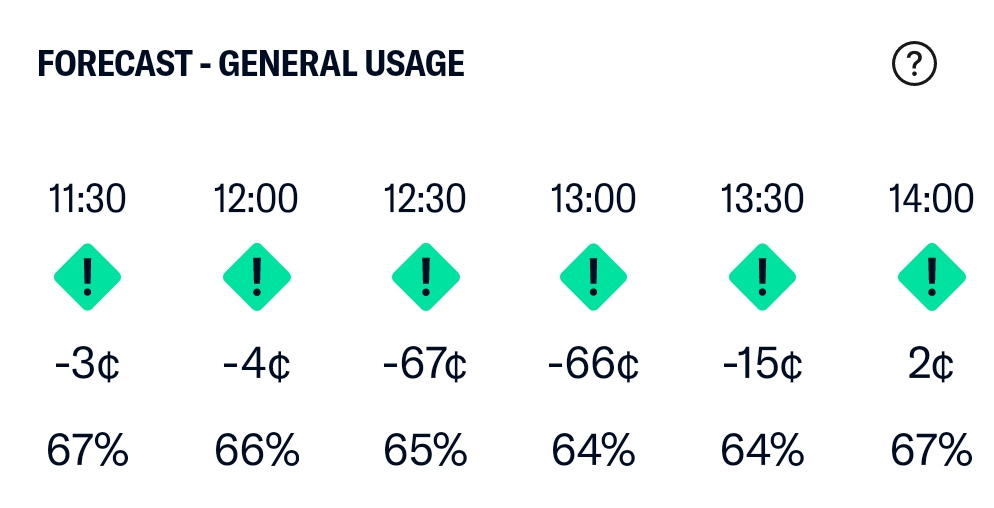 discharging into the grid from the battery and solar panels when prices are really high
Household members also play a role in managing appliance usage to reduce energy consumption during peak times.
This level of volatility means I wouldn't recommend Amber to my grandma.
And you shouldn't consider Amber without a home battery to buffer against price spikes or if you have a large solar array that can't be curtailed.
Amber Supported Batteries
Amber supports these brands for battery control and solar curtailment:
Coming soon:
Amber's priority is implementing solar curtailing first, then battery control.
Cash Rebates For Amber In SA
The SA government's Retailer Energy Productivity Scheme (REPS) allows eligible energy retailers to provide 'incentives' to homes or businesses that use their services.
Amber is eligible, and you can apply for a straight cash rebate after signing up.
The dollar amount varies from about $100 to $1,600 depending on the size of your battery and whether you're in a 'priority group'. For example, if I joined Amber today with my SolarEdge 10 kWh battery, I'd get a $570 cash rebate.
You must claim the REPS within the same calendar year you join Amber. And sadly – it's only available to new customers from July 2023 onwards. So, I missed out.
Amber has hinted similar schemes might be on the cards for other states in 2024.
Six-Month Results
I joined Amber in August 2022 and wrote my initial review 6-months later.
6 month summary: I was no better off with Amber for the first 6 months (Sept-Feb) than with my previous retailer, Origin.
But I predicted the next six months (March-August) would be more lucrative as, historically, Winter/Autumn gives Amber customers the highest average feed-in tariffs.
Amber's internal data shows their customers did well in autumn/winter 2023, with the average FiTs in SA averaging 50c per kWh from May to August.
Unfortunately, I couldn't take full advantage of those feed-in rates because my battery was faulty.
SolarEdge Battery Problems
In March, I noticed my battery was refusing to export at full throttle (5kW):
Despite the battery happily discharging into my house at 5kW, it refused to discharge at more than 2kW (usually less) into the grid during 'grid events', crippling my earnings.
Sky-high prices typically persist for 30-60 minutes, making it essential to rapidly discharge your battery when the opportunity is there. So I worked with Amber and SolarEdge to get it fixed.
A Six-Month SolarEdge Support Saga
Mid-March: Support ticket raised with SolarEdge.
Early April:  SolarEdge sent out a technician to check my installation. They identified a few minor issues but didn't fix the weak discharge issue.
May: SolarEdge remotely disconnected my battery from Amber while they 'ran some tests'. After ten days, they reported 'we have made some changes remotely, battery is doing good, please check and confirm'. Which I told them I couldn't do – until they reconnected me to Amber.
June: After waiting weeks for a reply, SolarEdge claimed they had reconnected my battery to Amber – but my Amber app said otherwise. Reaching out to my contact at Amber – they advised I had to re-apply for connection.
Reconnection took two weeks. I tested my export functionality – and the issue still wasn't fixed. Frustrating.
July: With a support ticket still open with SolarEdge, I hadn't heard anything from them. My contact at Amber was prodding them constantly.
August: Amber asks me to test my export rate again. Huzzah:
So – after raising the issue in March, it took a full six months to fix. I missed out on my most lucrative earnings period.
The silver lining is that other Amber users with SolarEdge batteries should now suffer less. As Amber told me:
Your experience has led to better troubleshooting for others. There's now quicker tech support responses and more local tech experts working with [Australia's] unique energy market. A new dedicated contact person has been added for quicker problem-solving. In cases of battery issues, there are now specialized battery engineers available for support. This team is gaining more knowledge about Amber and Virtual Power Plants (VPPs). While SolarEdge is slow to change, there are signs of improvement. Your challenges have contributed to enhancing services for others, and efforts are ongoing to further improve them.
I'm glad my SolarEdge frustrations weren't all for nothing.
My 12-Month Savings With Amber
Despite the hamstrung battery, spring with Amber was great. Comparing Amber with my bill the previous year, I was $200 better off. But over the summer, I was almost $200 worse off, wiping out the gains.  I then got slightly lower bills in Autumn and Winter with Amber.
Overall, I spent about $80 less with Amber over 12 months than with Origin in the previous 12 months.
But in Amber's defence, over those 12 months, Origin hiked its prices and slashed its Feed-in Tariff.
If I estimate what my bills would have been with Origin's new tariffs (dark blue below) and compare that with my Amber bills (light blue), Amber starts to look much better: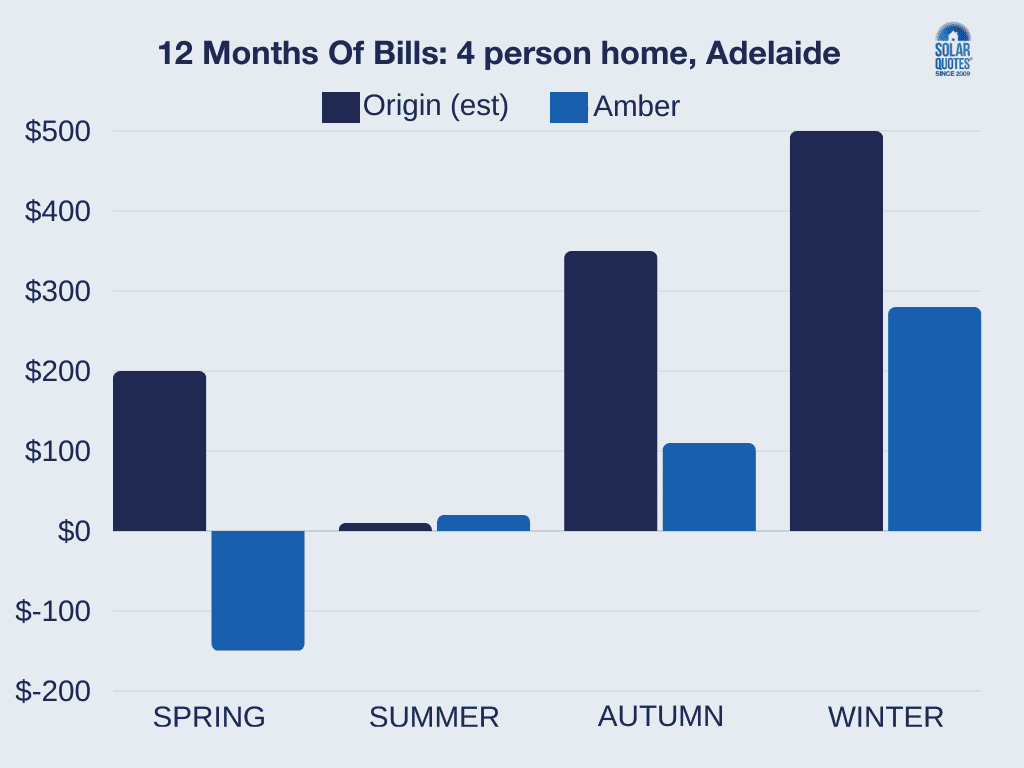 By my calculations, Amber was $500 cheaper over 12 months than if I'd stayed with Origin.
Will I Stay With Amber?
I've decided to stay with Amber for five reasons:
They were cheaper.
They're good guys who sell electricity at no margin to customers – all their money comes from their $19 monthly membership fee.  I've found their customer support helpful and their app easy to use and interpret.
My battery issues are now fixed. So, I hope to earn hundreds of dollars more next year.
A hot summer is predicted – and a stressed grid means more peak pricing events.
Trading electricity and taking advantage of low pricing periods feels futuristic and cool.
But Amber is not for everyone. Many people don't want to think about how and when they use electricity – if they want to blast their aircon at 5 pm on a summer day, they do it.
But for people like me, shifting usage habits to take advantage of high or low-price windows is fun.
Bottom line – I have no complaints with Amber and would recommend them to my more adventurous friends.