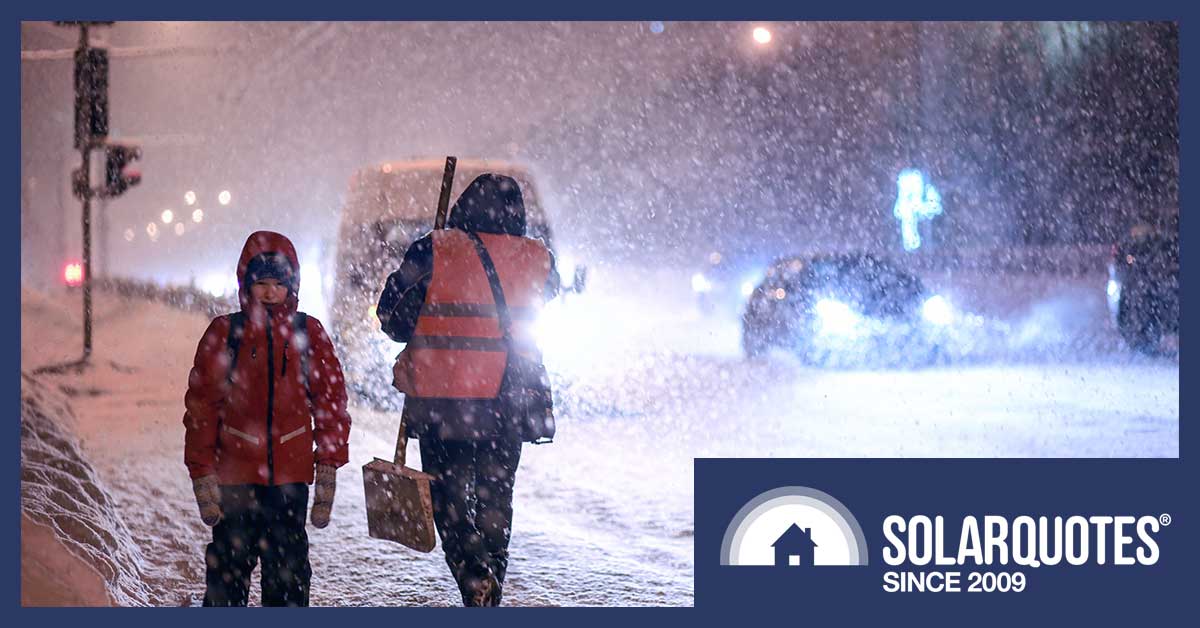 Thousands of Texans caught in a deadly, polar vortex blizzard have been charged thousands of dollars for electricity over just a few days. They were exposed to wholesale electricity prices that hit their maximum price of over $11 Australian per kilowatt-hour.
Just to be clear, I'm referring to the American state of Texas, not the Queensland town of Texas.  The people who remember the Alamo and wear burglar possum skin hats.  
It's not clear how many Texans have been slugged with massive electricity bills, but the main company involved was Griddy, which had 29,000 customers.  That's only around 1 in 350 Texas homes, but that's not likely to be much comfort if you've been hit by a massive bill as wholesale electricity prices rose to their maximum allowed level of $9 US per kilowatt-hour.  
Prices hit the maximum due to demand soaring as home heat pumps iced up and switched to less efficient electrical resistance heating, while supply dropped as the blizzard knocked out natural gas and nuclear power generation.  Even some wind turbines iced up because they weren't designed to handle the freezing conditions.  Of course, despite proving far more reliable than gas and nuclear generation, numerous politicians in the US are blaming wind power for the blackouts, just like in Australia. 
Provided the New York Times will let you read it, this article describes how one man had a $16,752 US electricity bill charged to his credit card while a woman was charged five times as much this month as she paid for all of 2020.  Texans who have been caught out have also taken to complaining on sausage media:
Griddy Warned Customers
In Australia, electricity retailers who expose customers to wholesale prices normally warn their customers when prices are high so they can cut back on consumption.  Griddy in Texas also warned their customers.  According to the New York Times, the company warned customers to dump Griddy and switch to a different retailer.  It's an interesting approach to corporate responsibility.  They're not willing to not sell people a product that can blow up in their faces, but they are willing to tell people to run when it starts blowing up.  
You may think Griddy was trying to help customers by telling them to switch retailers.  But if you have an impure mind — as I do — you'll realize they were acting in their own best interest.  They make money whether wholesale prices are high or low, but lose money if their customers go bankrupt and can't pay their bills.  So the more people they can convince to drop them when prices are heading sky-high, the better off they are. 
It's a really neat bit of financial pollution.  Make money by selling plans that look like a good deal because they have pushed risk onto the customer and when things go bad, tell the customers to leave and dump them on other electricity retailers at a time when wholesale prices are through the roof.  This will increase costs for the other electricity retailers which will then be passed on to their customers.  After the blizzard has passed and wholesale prices have returned to normal, Griddy — or perhaps another company with same businesses plan — can run the scheme again.  It's just like piracy, except there's no ships, no ocean, no one walks a plank, and nobody actually dies.1
Unfortunately, it takes days to change retailers and it's apparently hard not to use electricity in the middle of a blizzard.  Here in the Australian summer, a blizzard sounds kind of refreshing, but in reality they're actually defleshing and very nasty. 
Australians Are Better Protected
In Australia, there are retailers who expose their customers to wholesale electricity prices.  One example is Amber Electric.  But they are not allowed to charge more than what a household would pay under the government Default Market Offer over a 12 month period.  The Default Market Offer is a pretty lousy deal, and you will be stuck with the retailer for 12 months, but at least you won't see your annual electricity bill more than triple over an 18 day period.  But it's easy to imagine situations where a customer can't stay on a electricity plan for 12 months.  I don't know what happens when this occurs, but it's exactly the type of thing people forget to ask when signing up for these deals. 
Be Warned
Australians should take the Texas Electricity Bill Massacre as a warning to be careful if they are exposed to wholesale electricity prices.  Exceptional weather can cause electricity bills to soar and, at $15, our maximum wholesale price is considerably higher. 
The Antarctic polar vortex is much more stable than the one over Santa's workshop, so it's not likely to cause Dubbo to freeze over.  But this doesn't mean we're not at risk of a blast of icy weather worse than anything we've had for decades.  This could hit those exposed to wholesale prices very hard, as winter months plus clouds make for low solar output. 
Heatwaves also cause wholesale electricity prices to soar, but bad weather isn't necessary.  It's not hard to imagine the Loy Yang coal power station going Loy Bang and depriving the grid of 3.28 gigawatts of power.  That would cause wholesale prices to leap upwards no matter how fine the weather may be.  
But most importantly, we should be wary of rule changes that would allow electricity retailers to expose households to raw wholesale electricity prices without any protection.  While these plans may be great for people who have a solar power, battery, and generator setup; they carry a lot of risk for others.  Unless we are very careful with how these plans work and who they can be offered to, I'm 100% sure they will end up being flogged to our grandmothers2, and a small number of those grandmothers will have heart attacks when they receive electricity bills for thousands more than they usually pay. 
Update 23 February 2021, 10:20 am:  Octopus Energy3 have announced a bill forgiveness program for Texas customers and they will not charge more than 12.2 US cents per kilowatt-hour for electricity used during the blizzard.  Hopefully other energy companies that have charged massive amounts will do the same.

Footnotes
Frozen people aren't dead.  It's a type of suspended animation.  I have 10 high priced lawyers willing to say it was spring that killed them. ↩
Yes, my grandmother is dead, but I wouldn't put it past them to find a way. ↩
Octopus Energy?  Seriously?  That's what they decided to call themselves?  Was the name EvilMcEvil Company already taken? ↩