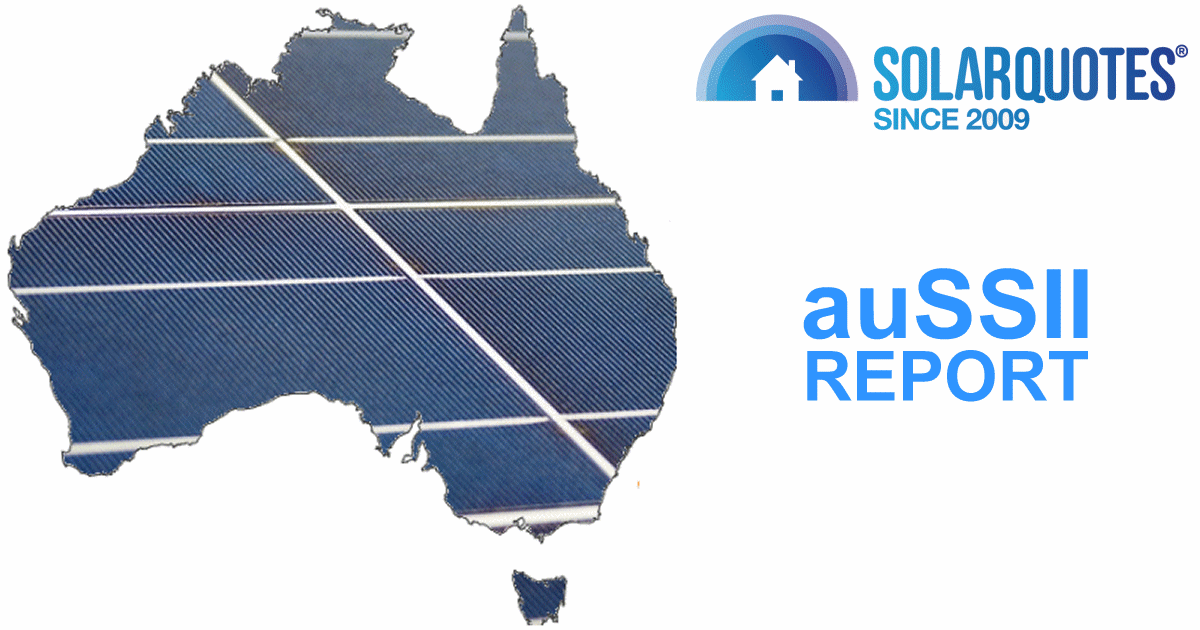 See what Australian solar and battery buyers were wanting in May and check out SQ's new tool showing solar pricing across Australia.
New! SolarQuotes Australian Solar Price Index
Before we get stuck into this month's auSSII, we've just taken the wraps off an interesting new interactive tool – the SolarQuotes Australian Solar Price Index.
Updated in real-time, it shows the average price paid over time for rooftop solar power system installations across the whole of Australia and in individual states; based on installation date. You can also drill down to see figures for specific system sizes, and systems with various brands of panels and inverters.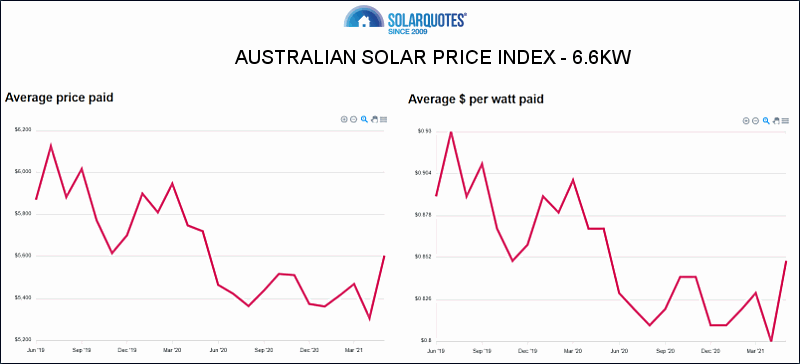 Bear in mind it's a work in progress, but we hope you find it useful – check it out here.
Now, back to the auSSII.
Solar System Capacity
Last month,  close to 87% of Australians who requested quotes through SQ and had a system capacity in mind were after systems 6kW or bigger. Of those, the proportion wanting systems larger than 6kW capacity was near 58%, continuing this trend.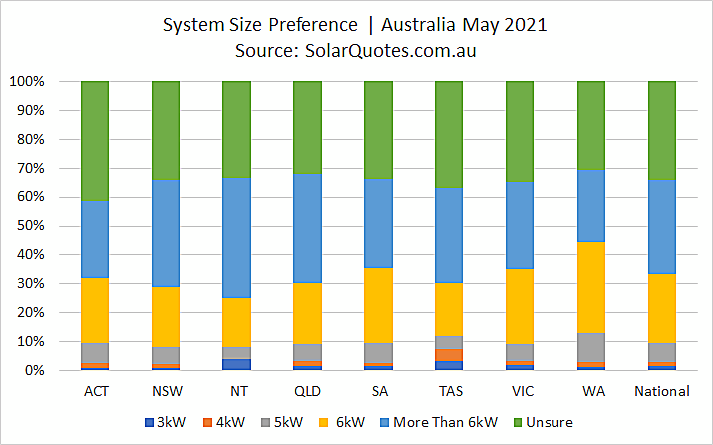 Purchasing Timeframe For Solar
22% were keen to buy a system immediately in May and 34% within the next 4 weeks; so 56% were considering a purchase within a month – with the remainder within 3 months. SolarQuotes doesn't process requests past three months as generally installers won't provide a quote beyond this timeframe due to fluctuations in the cost of solar and potential movements in the national subsidy, explained in more detail here.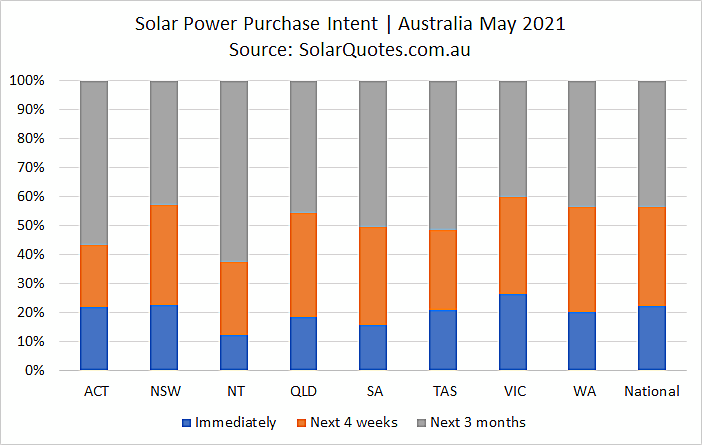 Price Vs. Quality
As was the case in April, close to 13% were wanting quotes on "top quality" (most expensive) systems in May, while around 80% wanted a system offering a good mix of quality and cost, and nearly 8 percent a good quality budget system.
On a related note, check out the results of SolarQuotes' Installer Choice Awards 2021 for the best solar panels, best solar inverters and best home batteries in both budget and high end categories as voted by installers in the SQ network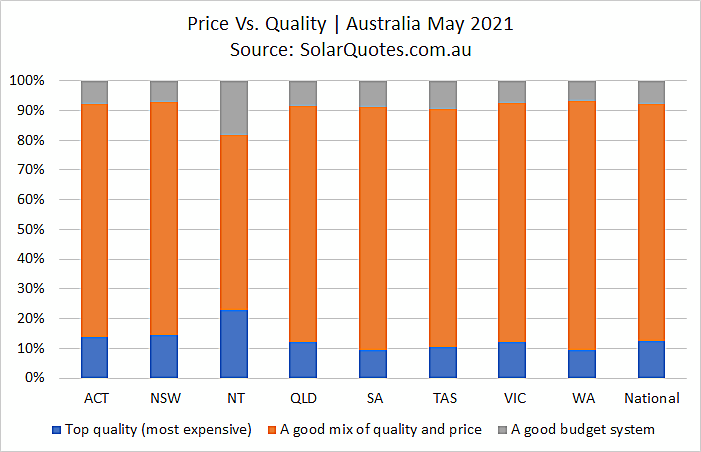 Microinverter Or Optimiser Option
Approximately 20% wanted details on microinverter or optimiser options – up on April's 19%, which was a big jump on March's 13%. These devices are both forms of Panel Level Optimization and particularly useful in partial shading scenarios; but also provide other benefits. You can learn more about microinverters and optimisers here.
Solar Energy Consumption Monitoring
Advanced solar monitoring enables a system owner to see how much solar electricity is being self- consumed in addition to how much is being generated. Again in May, close to 43% expressed an interest in this optional extra – and it's one well worth having.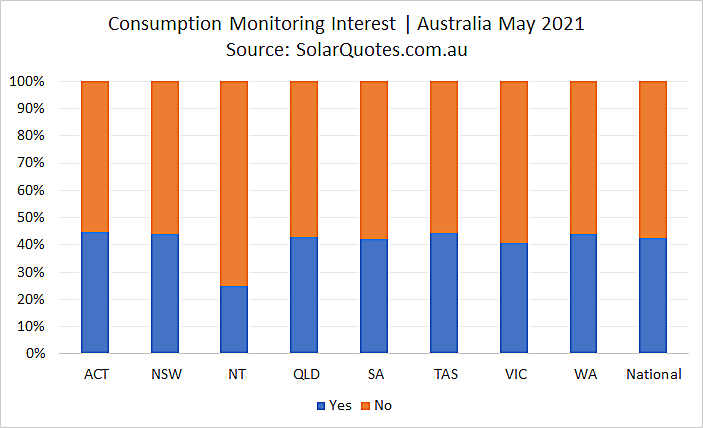 Battery Ready Solar System
Nothing changed here in May – 7% expressed interest in a battery-ready system. Letting an installer know you're considering having a battery installed at a later point can assist in the system design phase; but generally speaking all solar systems are battery-ready.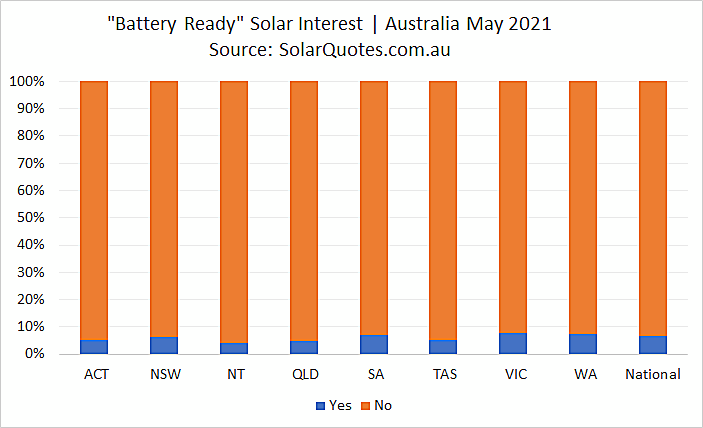 Concurrent Battery Installation
The desire to have a battery installed at the same time as the panels picked up in May – a little under 11% (April: ~10%, March: ~12%, February: ~14%). If you're considering home energy storage, try the SolarQuotes solar and battery calculator – it will show you estimated savings and payback on the panels and battery separately.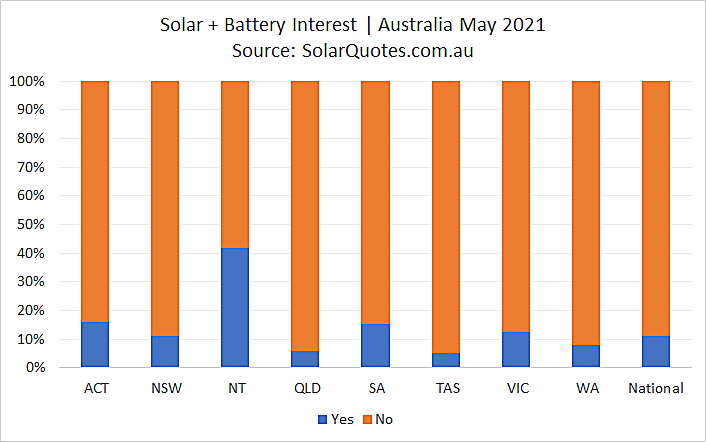 Battery Sizes
Where a concurrent battery installation was wanted and capacity (size) specified:
1 – 5 kWh: ~11% (April ~13%, March ~11%, February ~13.5%)
5 – 10 kWh: ~44% (April ~43%, March ~43%, February ~51%)
10 kWh+: ~45% (April ~44%, March ~46%, February ~35%)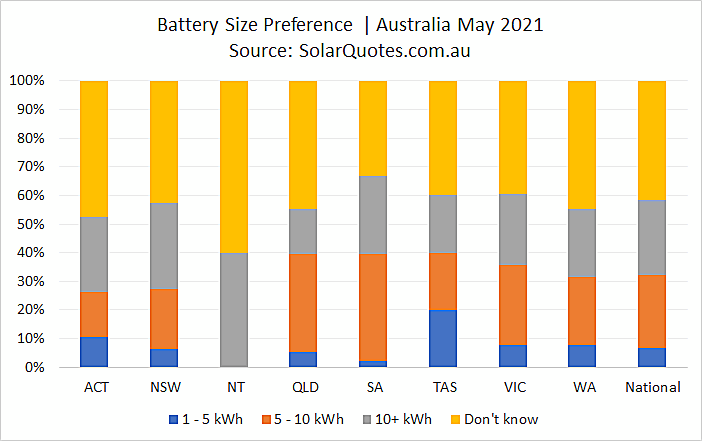 Primary Battery System Use
7% of these potential future battery owners wanted energy storage primarily for backup (4% in April, 7% in March). 39% noted the primary application is to reduce mains grid energy use (45% in April and 38% in March), while 54% indicated both applications (around 50% in April).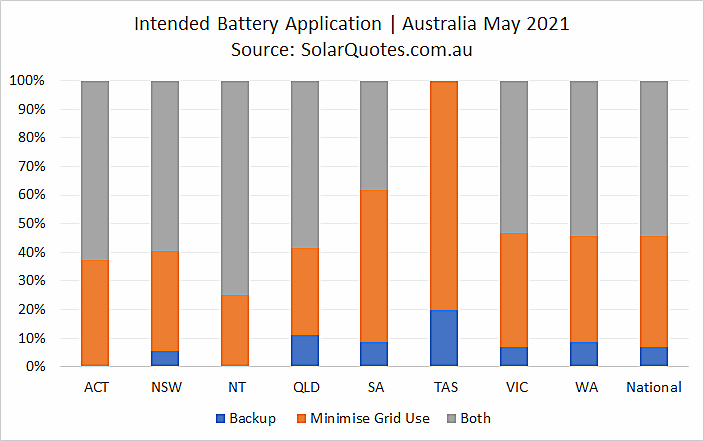 Electricity Costs Pre-Solar
45% of those who knew their electricity costs were paying between $500 and $1,000 per quarter on average, compared to 47% in May and 45% in March. Again in May, around 9% had power bills of more than $1,000 per quarter.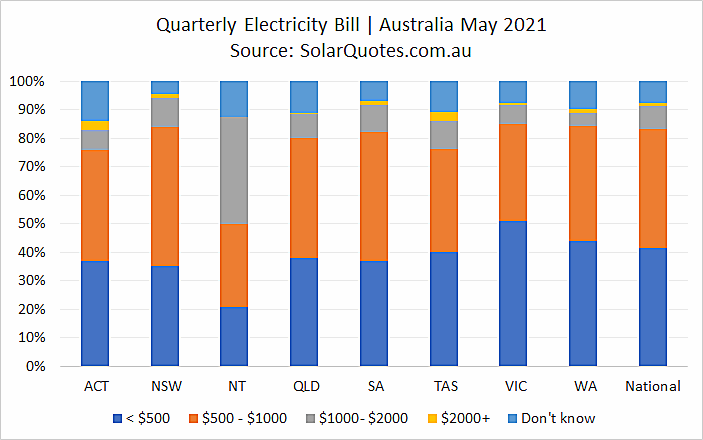 auSSII Report Data Source
The information above is sourced from submissions of thousands of Australians who utilise the SolarQuotes service each month to request quotes from pre-vetted solar installers part of the SQ network.
Quality Sales Leads For Quality Installers
Since SolarQuotes kicked off in 2009, close to 550,000 Australians eager to have PV systems installed by quality companies have used this service. Discover how your solar business can access customers ready to get started on an installation.
Using Content From The auSSII
If you wish to use content from this report on your web site, you're welcome to – but you'll need to attribute it to SolarQuotes and reference this page.