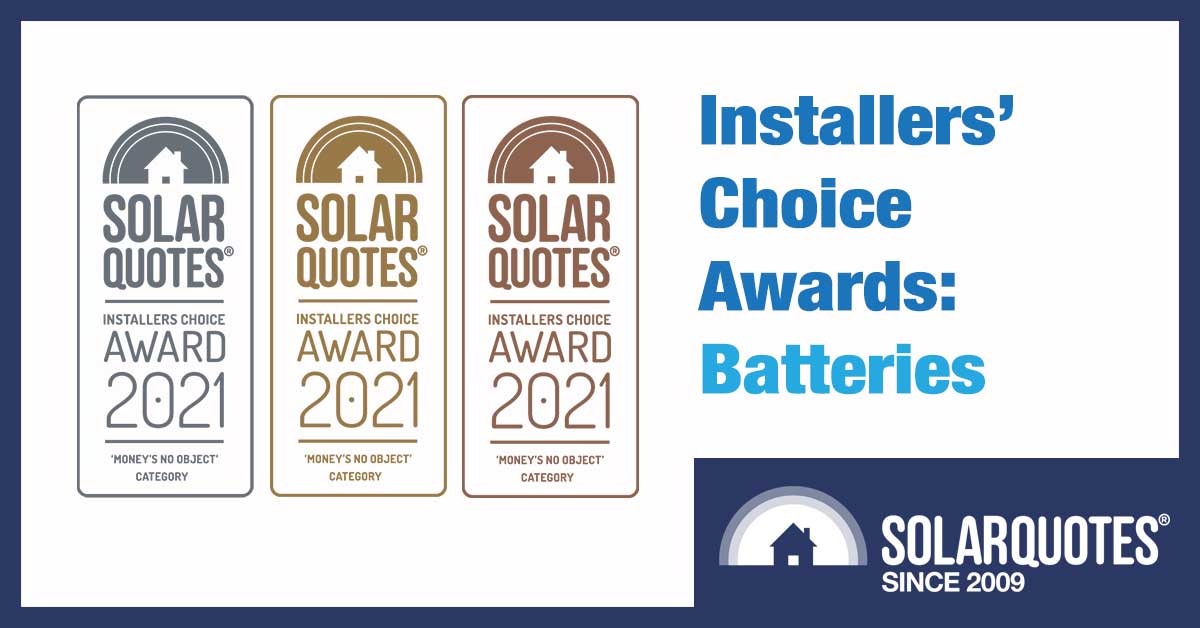 If one renewable energy technology for your home deserves particularly careful due diligence, it's the home battery system. A solar battery is an incredibly dense box of energy. If something goes wrong, the consequences could be dire.
Home battery systems are a relatively immature market with a bunch of entrants jumping on board, many of whom seem to be struggling with long term reliability.
But battery storage is also a vital part of the world's march to renewable energy generation. If we're going to get to 100% renewables, we'll need to deploy both large and small scale batteries quickly, networking them in Virtual Power Plants (VPPs) to support the inherently variable output of wind and solar power systems.
And at the end of the day, we are all comfortable carrying lithium-ion batteries in our pockets, so we shouldn't be scared of installing a good solar battery brand in our homes.
But which brands can you trust? As with the recently published SolarQuotes Installers Choice Awards 2021 for solar panels and solar inverters, we thought we'd ask the installers in the SolarQuotes network.
SolarQuotes Installers' Choice Awards For Batteries: 2021
To try and tease out which solar batteries installers trust, we asked 2 separate questions:
What battery brand would you put on your own house if money was no object?
What battery brand would you put on your own house if money was tight?
Note: Choosing good brands is very important when buying solar batteries for your home. But of equal importance is ensuring the battery system is competently installed. Please – never skimp on the installation. 
Best High-End Solar Batteries in Australia (Money No Object):
We asked the installers:
What battery would you put in your own home if money was no object?
Here's what they told us their favourite 'high-end' home batteries are: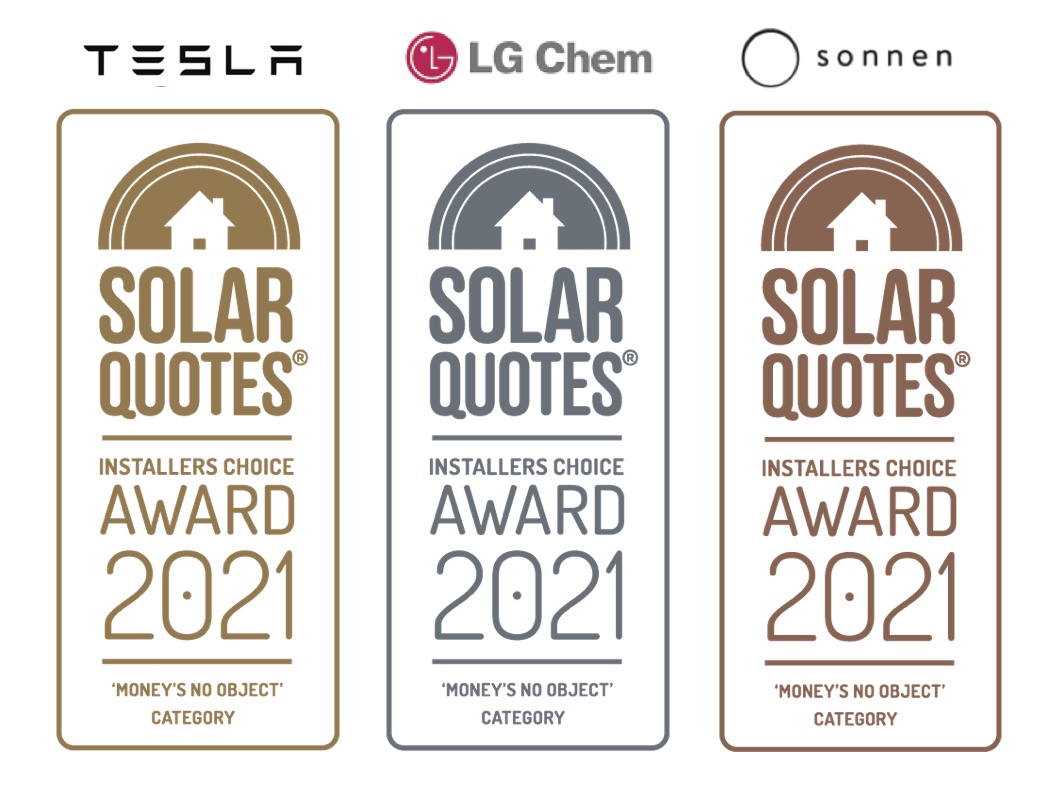 First Place: Tesla (58.70%)
Tesla winning 'best battery' was not a surprise. It is a fantastic looking unit with a beautiful app, and they just work. But the margin of victory was a surprise – getting almost three times as many votes as second place. With Tesla's recent announcement it has upped the Powerwall's power rating, they will continue to be the battery to beat going forward.
Unfortunately, the top-rated battery comes at a high price that is consistently increasing. But if you have the cash, it's hard to beat a Tesla Powerwall for self-consuming solar energy and backing up your home.
Second Place: LG Chem (21.74%)
LG Chem (now LG Energy Solution) makes standalone residential batteries that require an external battery or hybrid inverter to work. They are well-respected for quality and customer service. LG Energy Solution recently had a recall, but their conduct was impeccable – contacting consumers immediately and organising all aspects of replacement quickly. If you want a DC-coupled battery, LG Chem is a great choice.
Third Place: sonnen (6.52%)
Sonnen batteries, which are partly assembled in Adelaide, are high priced, high-quality energy storage systems that come with an integrated battery inverter and without a capital 'S'. They look great, but you cannot install them outside without an extra big-assed stainless steel enclosure. Another downside is that – in backup mode – their power is limited.
sonnen were bought by Shell1 in 2019, but it seems Shell refused to share their capital 'S' with sonnen.
Here's where all the votes went: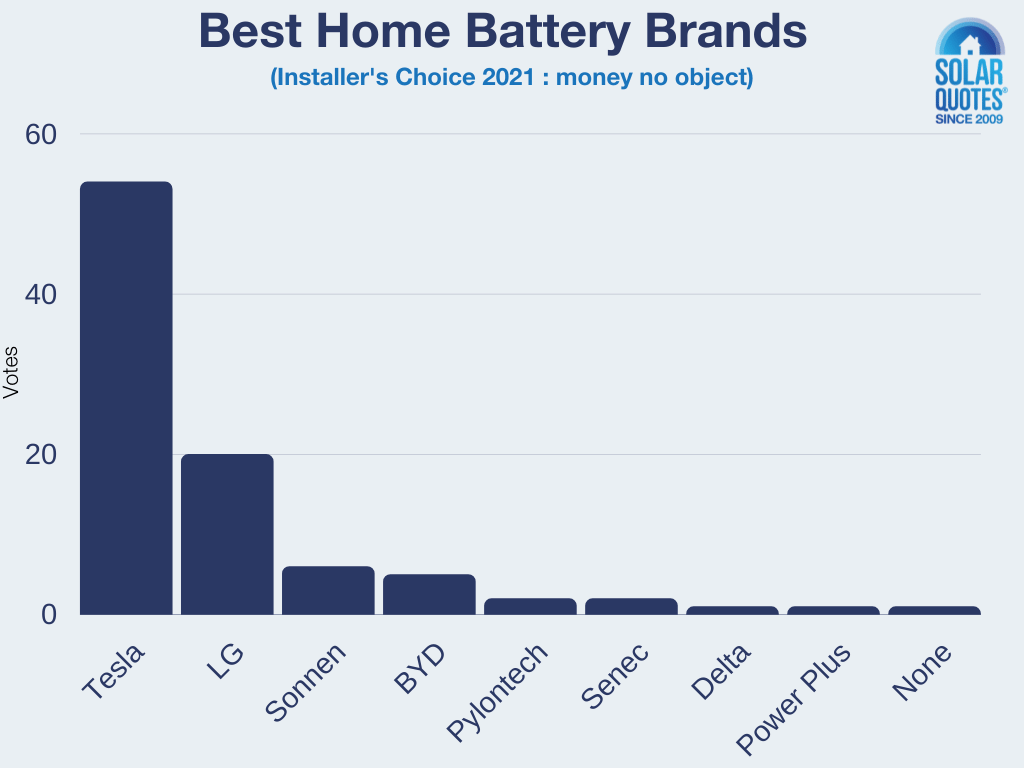 Best Budget Solar Batteries in Australia (Every Dollar Counts):
We asked installers:
What battery brand would you put on your own house if money was tight – and every dollar counts?
Here's what they told us their favourite budget home batteries are.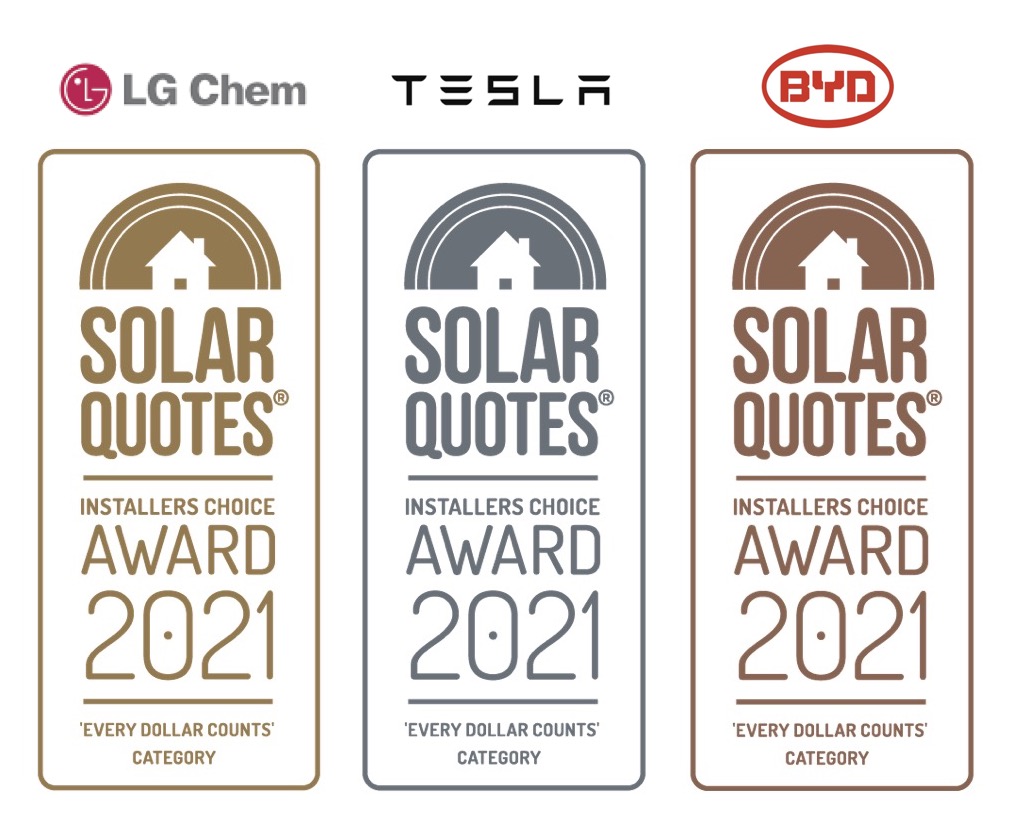 First Place: LG Chem (28.89%)
LG get silver for 'best battery' and gold for 'best budget battery'. If you want to save some money, it can be cheaper per kWh to pair a hybrid inverter with LG Chem energy storage. They also make small 6 kWh solar batteries for those who don't need the full 13.5 kWh in a Tesla Powerwall.
Second Place: Tesla (24.44%)
A good number of installers think you should only go Tesla – and if you can't afford one, then wait. This quote is typical of installers that voted for Tesla in both categories:
"If money was tight I'd leave the battery off before I went with something other than Tesla."
Third Place: BYD (16.67%)
BYD is one of China's biggest battery manufacturers. They also make enormous volumes of electric cars and buses – so they know what they are doing.
The BYD home battery pairs nicely with the Fronius Gen 24 Hybrid inverter for a solid home solar and storage solution.
Here's where the votes went: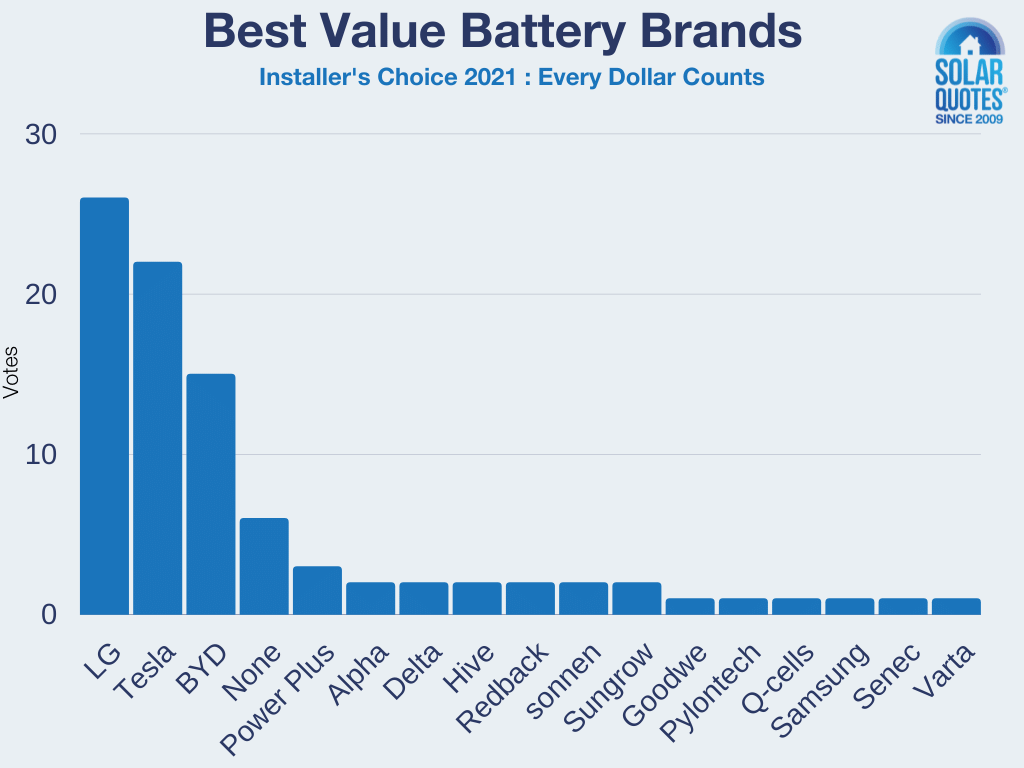 You'll notice there are 6 votes for 'none'. These votes came with comments such as these:
"If you're battling to pay for a battery, probs best not to get a battery 😜"

"If money was very tight you shouldn't consider a battery."

"If I have a tight budget I would not be installing batteries."
The best advice I can give is: if you want a home battery, go with a big brand. Big brands have the resources to deliver a high-quality solar battery, and the Quality Assurance processes in place to know when a recall is necessary. Never buy the cheapest battery on the market, and make sure your installer knows what she's doing.
Related: Read solar battery reviews from Australian customers who have had energy storage systems installed.