Good news!  The Canberra Battery Test Centre have released their 7th report.  I admit I'm a little behind in reporting this because it wasn't released this month, or last month, or even the month before that.  It came out all the way back in September.  But it's their fault I'm so late writing about it.  They normally take eight months to put out a report, but this time it only took them four months.  I was shocked, shocked I tell you!  And you may be shocked too when I reveal that of the 18 battery systems tested so far only 7 didn't need to be repaired, replaced, or buried at midnight under a crossroad.
Just how shocked you are by this probably depends on whether or not you've kept up with their previous reports.  If you're familiar with them then it's no surprise that all is not well in home battery land:
As two article titles above indicate, the reliability of tested batteries has been dismal.  Also, the good news about the BYD battery was premature.  While it has done better than most simply by not breaking down, its rate of degradation has increased and is unlikely to remain above the minimum capacity promised by its warranty.
In this article I will:
Cover the horrible failure rate of tested battery systems.
Present the latest information on battery degradation.  After all, it is important to provide you the most up-to-date, four month old information.
Point out batteries may occasionally fail to provide anywhere close to the kilowatt-hours they should be capable of.
Rank the tested batteries in my own personal "Black Knight" system.
Show the estimated DC to DC round trip efficiencies for batteries as well as an impressive 90%+ estimate of AC to AC round trip efficiency for the Powerwall 2.
Show how home batteries have failed to get cheaper.
Tell you which batteries will be in the upcoming 3rd round of testing.
44% Of Original Batteries Dead Or Replaced
So far, out of 18 original batteries tested, only 8 have either made it to the end or are still undergoing testing, without needing to be replaced.  This survival rate of only 44% is atrocious and may get worse if any remaining ones die.
Of the 8 survivors, 7 have either reached the end of testing or are still operating now without breaking down, while one needed a faulty battery cell replaced soon after commissioning.
This chart from the report, which I compressed to make more readable, shows the dismal reliability of the tested batteries.  The main thing you need to know about this chart is everything in red is bad: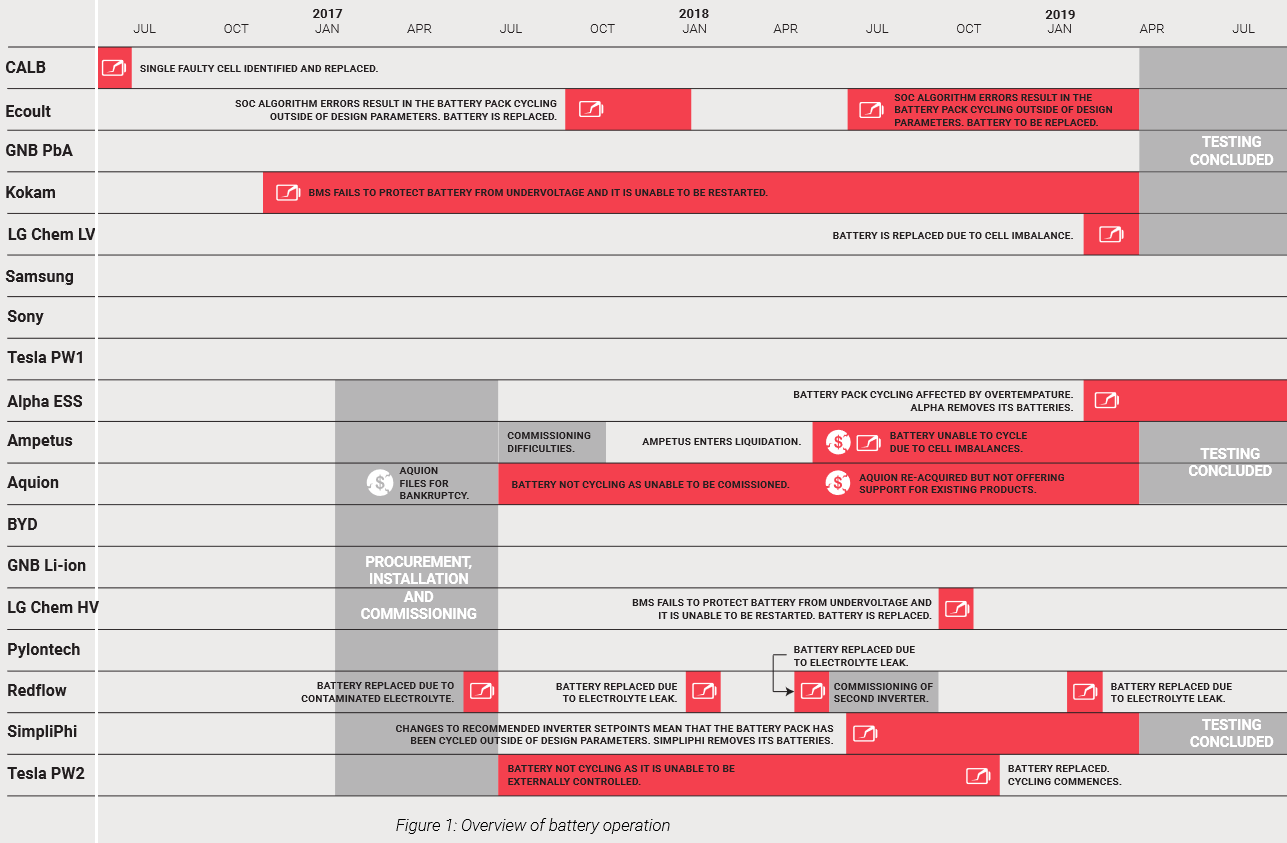 While this chart makes it clear home battery reliability was atrocious, things are worse than they appear because it only shows faults and breakdowns and not excessive battery degradation.
Only 17% Didn't Break Down Or Greatly Degrade
Of the 7 batteries that didn't break down, one — the GNB PbA — was lead-acid and so its performance is not directly comparable to the others.  The test centre did have problems with this battery that prevented them from correctly estimating its state of charge. But the fact that it worked when 44% of the more exotic competition needed replacing might explain why many off-grid installers still recommend lead-acid.
Of the remaining 6, which were all lithium batteries, only three suffered battery deterioration I call acceptable.  I define acceptable degradation as being on track to remain within the minimum promised by their warranties.
Of the 18 batteries tested, the Centre was only able to get good capacity degradation — or capacity fade — results for 7.  I've put the graphs of their deterioration from the report below and underlined the names of those that didn't break down in red.  Here are the 3 from their first round of testing: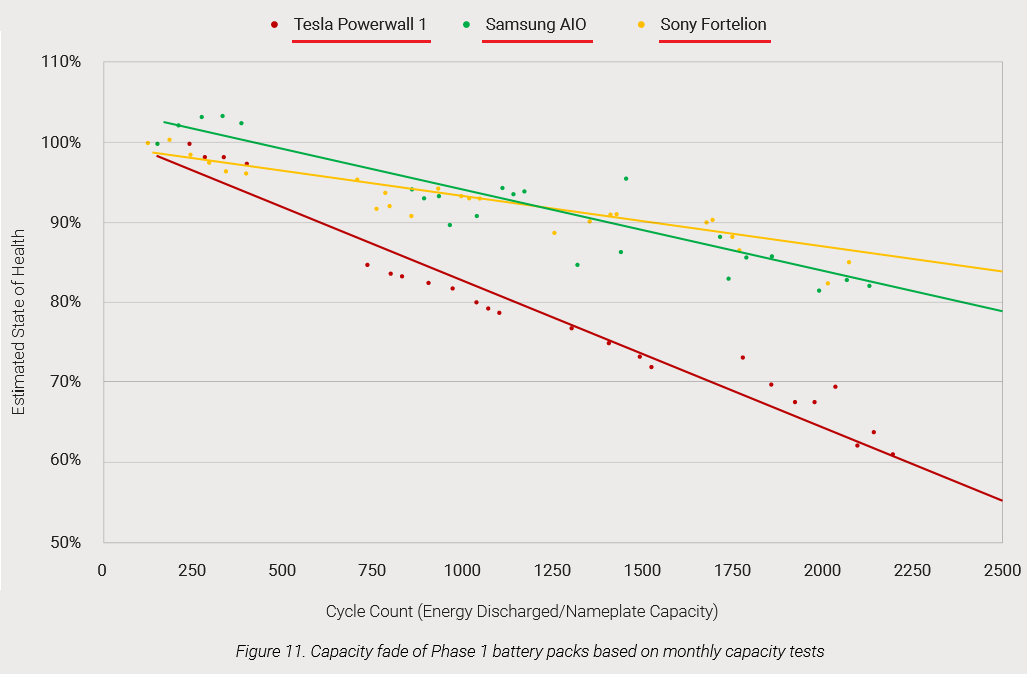 The Tesla Powerwall 1 had the worst performance of the three that made it onto the graph.  But, on account of how it operates, its testing conditions were harsher than for the other batteries.  While I suspect its deterioration wouldn't have been as bad if conditions had been identical to the other lithium batteries, I doubt it would have come close to the other two, of which the Sony Fortelion is the clear winner.  (I'd say 'the Sony Fortelion and won', but only because I enjoy inflicting excruciating pun pain on people.)
Below is a graph of the deterioration of 4 batteries from their 2nd phase of testing.  Again, I underlined in red the names of the batteries that managed to not break down: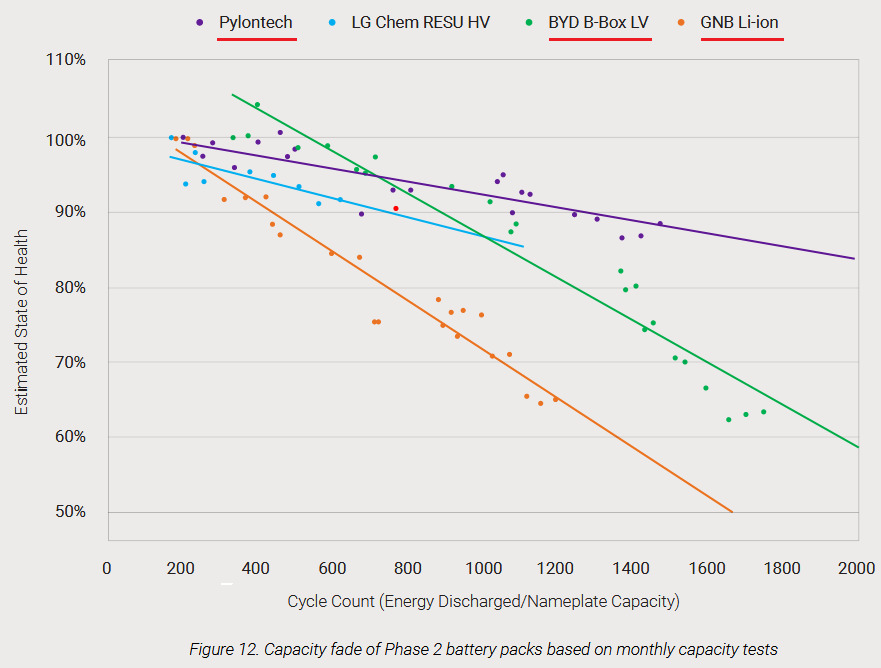 Only the Pylontech battery did very well.  The LG Chem RESU HV battery is doing the next best, but it has only been cycled a little over 600 times.  This is because the original LG Chem RESU HV died and needed to be replaced and so testing had to start from the beginning.  Provided it doesn't increase its rate of deterioration as the BYD battery did, it should remain within the minimum of 60% of its original capacity provided by its warranty.
Your Battery May Lack Charge When You Need It
The Battery Test Centre charges lithium batteries over 3 hours, discharges them over 3 hours, and then gives them a couple of hours rest before doing it again.  This way they can simulate 3 years use in a single year.  The batteries should be able to fully charge and discharge in the time given, but a strange thing about all the tested battery systems is they will often discharge much less than expected.  For example, here is a graph showing watt-hours (to get kilowatt-hours divide by 1,000) discharged by the Samsung AIO battery system: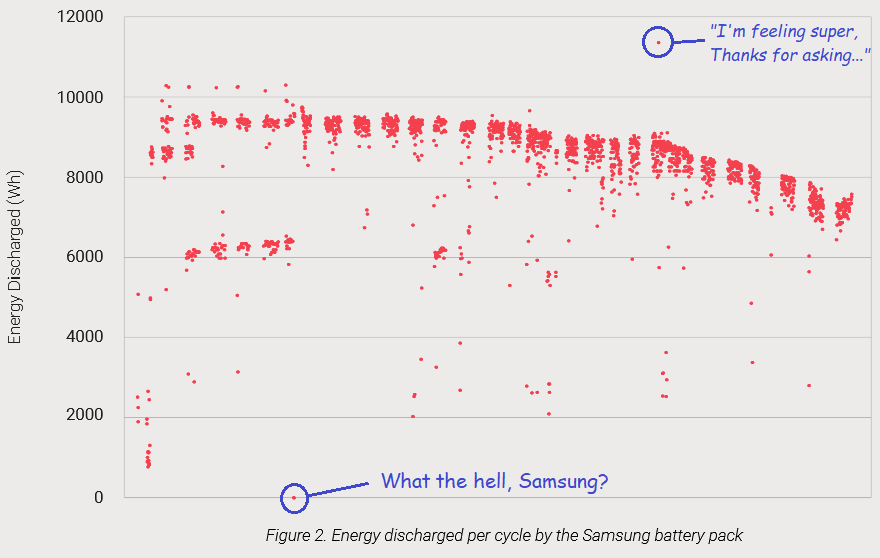 Most of the time the amount of energy discharged is close to what I'd expect, but often it's far less. And for one discharge the battery provided no energy at all.  On the other hand, one time it appeared to supply more energy than it should be able to hold according to its nominal capacity.  (I added the bits in blue that point these events out.)
This graph for the Tesla Powerwall 2 also shows the problem, although in this case it's always able to discharge at least 2 kilowatt-hours: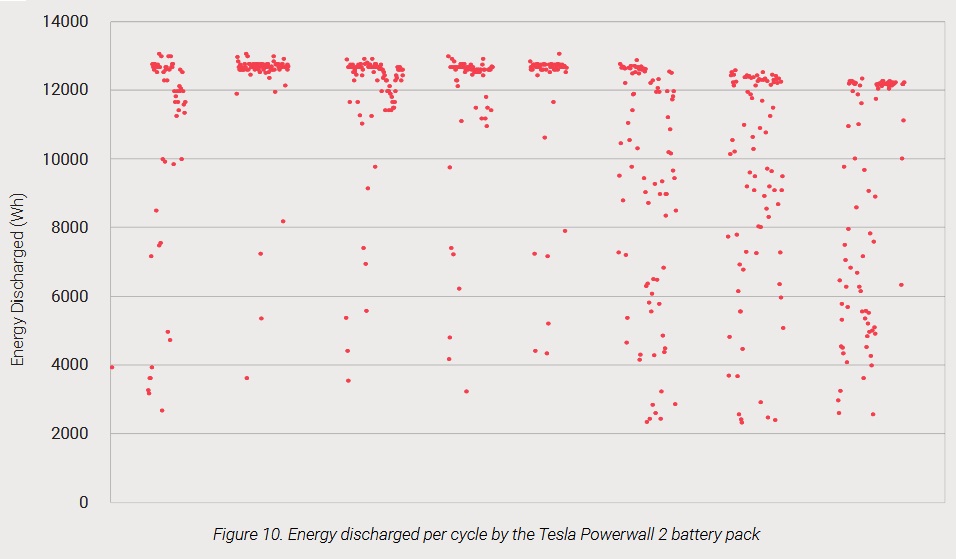 This inadequate output behavior isn't limited to lithium batteries as the zinc-bromide Redflow ZCELL does it too: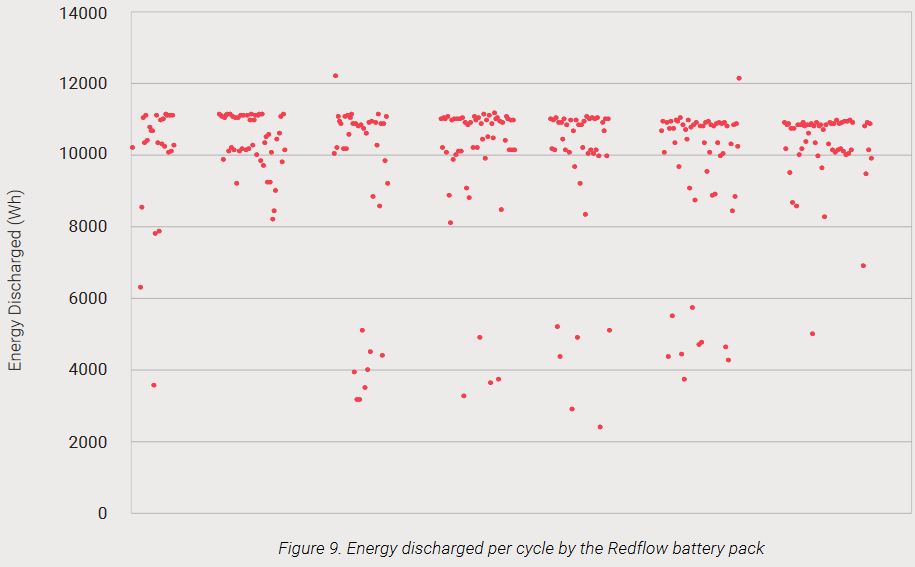 Not only does this battery have a completely different chemistry, its testing conditions are also different as it's only cycled twice a day instead of three times as lithium batteries are.
I thought the ambient temperature might be responsible, as it is altered to simulate real life conditions, but I can't see how poor output lines up with temperature changes.
The good news is so far Finn hasn't noticed his Powerwall 2 doing this and no one has complained to me yet about their battery occasionally falling on its arse and only being able to discharge a fraction of the energy expected.  It is possible the problem is due the rapid cycling done in testing and may be reduced or even disappear in actual use.  Measurement error could also be involved.  Because of the uncertainty I haven't taken occasional poor output into account when ranking the home batteries in my personal rating system.
My Black Knight Battery Rating System
To impose some order on the battery test results I have used my not at all patented "Black Knight" rating system, which is based upon this Black Knight here:
This brilliant ranking system I've devised has 4 levels into which I will place all 18 tested batteries.  Note a considerable number are no longer available as they have either been superseded by newer models or their manufacturers have retreated from the home battery market.
1. Thou Shalt Pass
Batteries in this first category worked as they were supposed to.  That's all.  They passed the bare minimum standard of not breaking down and not degrading so rapidly they're unlikely to stay in warranty.  In other words, they worked like they were supposed to.  The 3 passable home battery systems — only 17% of the total — are:
Sony Fortelion:  With no breakdowns and its capacity estimated to be 83% of its original amount after 2,100 full cycles1 this is the best performing home battery of all tested.
Samsung AIO:  This is an all-in-one system, which means there is more that can break down, but it didn't suffer any faults and its capacity was estimated at 79% after 2,160 full cycles.  (Note the Hansol AIO is this unit with a name change.)
Pylontech:  Its testing isn't complete, so it could still fail, but its estimated capacity is 86% after 1,470 full cycles.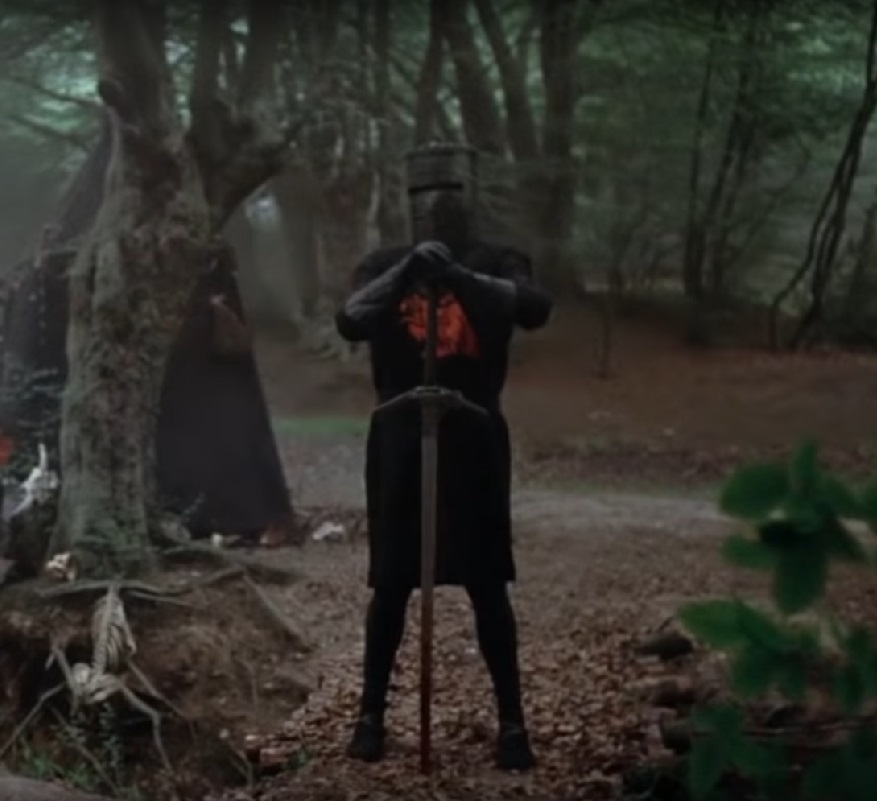 2. Tis But A Scratch
These batteries have either broken down or it appears they will degrade beyond what their warranties allow.  But in the case of breakdowns the problem was quickly rectified by the battery provider and for degradation it appears possible the battery could remain in warranty if used under real world conditions.
LG Chem RESU HV:  This battery needed to be replaced and testing restarted.  Its capacity is estimated to be 90% after 620 full cycles.  If this rate of decay is maintained it will just, barely, stay within warranty.
Tesla Powerwall 2:  This battery arrived with a fault and later developed another that resulted in its replacement.  Its capacity is estimated at 96% after 640 full cycles.  If this decline is maintained it will stay well within the minimum capacity provided by its warranty.   
Tesla Powerwall 1:  With no breakdowns and harsher testing than other home batteries, the Powerwall 1 has done well with a capacity of 64% after 2,190 full cycles.  Unfortunately, at this rate of decay it would be at 50% capacity by the end of its warranty rather than the minimum of 60%.  But it is likely its deterioration would not have been as great if tested under identical conditions to the other lithium batteries.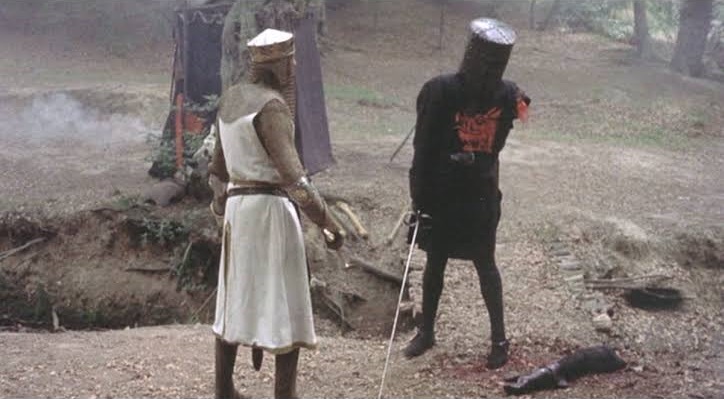 3. Disarmed
These home batteries had terrible problems but, like the Black Knight, struggled on in spite of adversity/stupidity, or they did not continue testing and so I don't know if they would perform well enough to go into the category above.
BYD:  While not breaking down, battery deterioration worsened after a good start and its capacity is estimated at 64% after 1,740 full cycles.  Unless this comes to a miraculous halt it will not come close to staying within the 60% minimum promised by its warranty.
Alpha ESS: When exposed to temperatures that simulated summer conditions this battery had difficulty charging and discharging.  Testing was stopped early and did not continue.  Due to a lack of information it gets it gets the "disarmed" rating.  This model of battery is no longer used by the Alpha ESS.
Calb CA 100:  One faulty cell needed to be replaced after installation.  There were problems with its battery management system but it continued to operate until the end of testing.  Its estimated capacity was 76% after full 1,500 cycles.  At this rate it would be 60% after 2,500 cycles.  It did not have a long term warranty, but if it had a warranty equal to that of the LG Chem batteries and its decline did not accelerate, then its capacity would remain within it.
Ecoult Ultraflex:  This suffered a fault and was replaced.  Then it suffered and another fault and broke down.  It was to be replaced but that didn't occur and testing ended leaving us short on information.
GNB lead-acid:  This battery proved difficult to charge and discharged due to voltage fluctuations.  They were not able to accurately measure the remaining capacity of this battery, but it continued to operate until the end of its testing.
GNB Lithium:  While not breaking down, its capacity fell to an estimated 65% after only 1,190 full cycles.  This is terrible.  Some odd test results suggests a fault may be preventing the full capacity from being used.
Kokam Storaxe:  The Kokam Storaxe died relatively early in testing and was not replaced.
LG Chem LV:  This often shut down at warmer temperatures that simulated summer conditions.  It suffered from a cell imbalance that required it to be replaced, at which point its capacity was estimated at 78% after 1,183 full cycles.
Redflow ZCELL:  This battery has had a disastrous run and has been replaced 4 times so far.  But Redflow refuses give up and the 5th unit is now being tested.  Because of this, I grant them the special Black Knight perseverance award.  Due to its zinc-bromide chemistry its capacity does not decline.
SimplifiPhi:  These batteries, used by the US military, developed problems and rather than replace them, SimpliPhi refunded the Battery Test's Centre's money, leaving us short on information about their performance.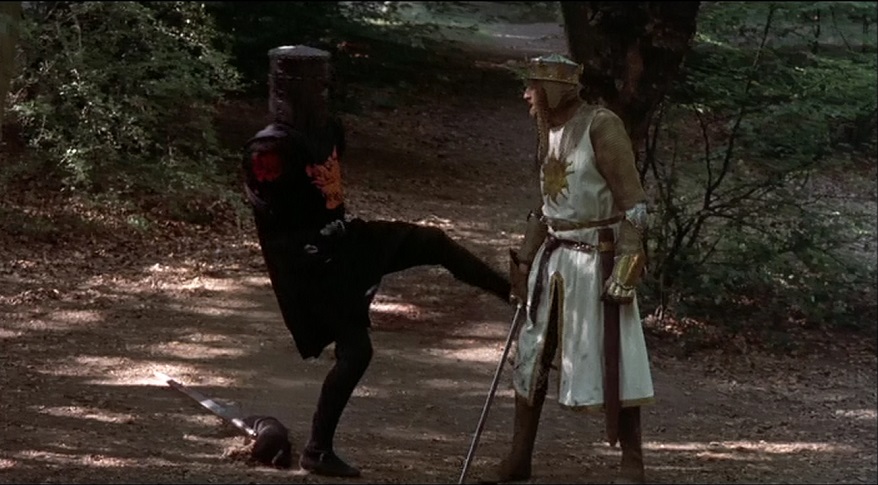 4. Haven't Got A Leg To Stand On
Ampetus:  At first this battery was difficult to install, then the company that supplied it went out of business, and then the battery died.  Ampetus, thou did not pass.
Aquion:  They could not get this battery to work and Aquion has gone bust.  For never providing a single watt-hour of stored power, Aquion gets the special Black Knight, "All right, we'll call it a draw then," award.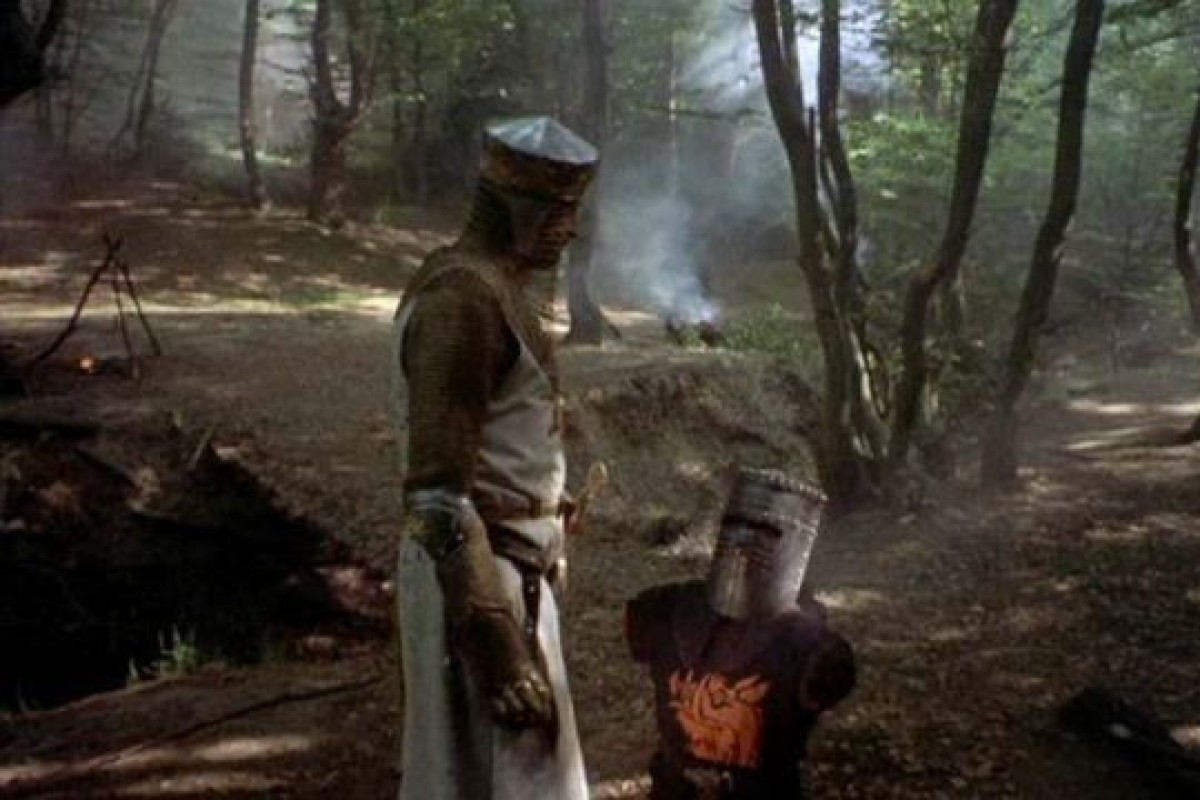 A Large Manufacturer Does Not Guarantee Reliability
Only 3 battery systems fell into the first category of Black Knight ranking, which simply means they worked as they should have.  Two of the manufacturers,  Samsung and Sony, are large well known companies while the third, Pylontech, isn't famous enough to have a Wikipedia page but is regarded as a quality manufacturer.
Other big name companies were unable to provide problem-free home battery systems.  Both of LG Chem's batteries needed to be replaced and BYD's battery is suffering from excessive deterioration.  Redflow, producer of the zinc-bromide ZCELL, is not a very large company but has a great deal of experience making batteries for telecommunications and other purposes and I never expected them to have the multiple setbacks their home battery has experienced.
Clearly, purchasing from a large and/or experienced battery manufacturer is no guarantee of problem-free operation.  But a large, financially sound organization is unlikely to go under if they have a bad run of batteries and can generally be prodded into following Australian Consumer Law so they'll replace or repair faulty home batteries.
Round Trip Efficiencies
Here is a table showing the round trip efficiencies for 9 of the batteries.  This is what percentage of energy put into a battery can be taken out again.  For 8 it only shows the DC to DC efficiency.  Batteries charge and discharge using DC power but our homes use AC, so in actual use the round trip efficiencies will be significantly worse.  The one exception is the Tesla Powerwall 2 which has an AC to AC round trip efficiency of just over 90%.  This is an excellent result given that Tesla's official figure is 88% and when my boss, Finn, tested his Powerwall 2 he only got a figure of around 85%.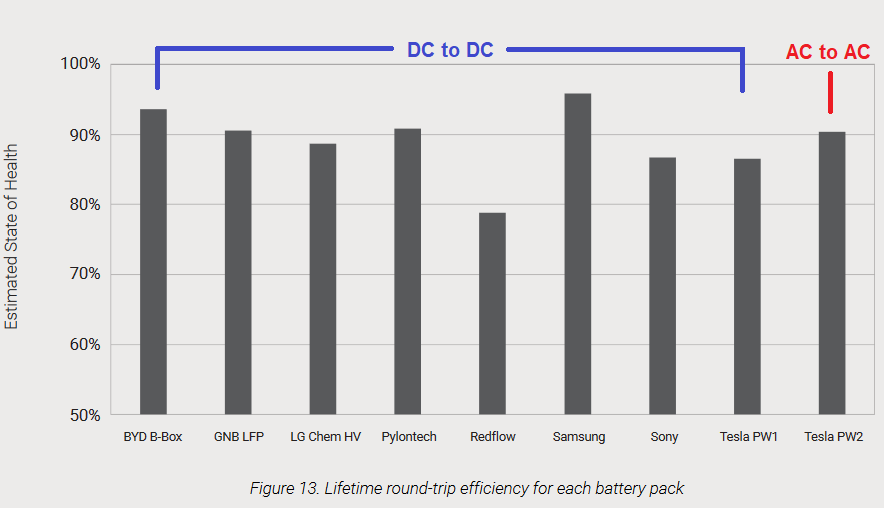 The Samsung AIO has an excellent result for DC to DC efficiency, while the BYD B-Box does very well.  Because the Redflow ZCELL is zinc-bromide and not lithium it does much worse than all the others, but has the advantage that its capacity won't deteriorate over time.
Home Batteries Aren't Getting Cheaper
The report has a table showing wholesale battery prices have hardly budged for around 3 years now: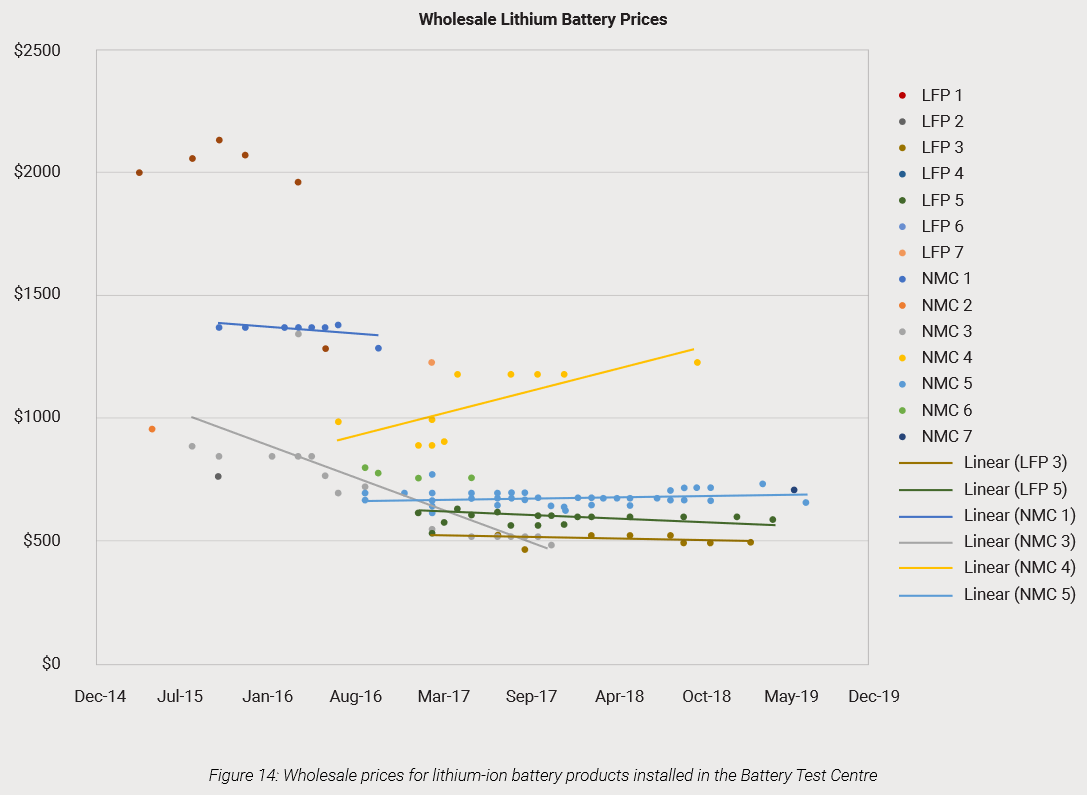 They don't actually give the names of the batteries, so detective work is required if you want to determine which is which.
The report mentions capacity constraints for battery manufacturers as a reason for the flat lining of solar battery prices, but there are two other factors that are probably of greater importance to Australians:
The Australian dollar is 11% weaker than 2 years ago and all lithium battery packs, as well as Redflow's ZCELL zinc-bromide battery, are made overseas.
By increasing demand, South Australia's large battery subsidy may have contributed to manufacturers deciding to delay competing on price.
Another reason, likely to be the most important of all, is the Battery Test Centre has shown it's obviously very bloody difficult to make reliable home batteries.  Even giant companies like LG Chem, BYD, and Tesla haven't been able to provide the test centre with systems that are failure free and overall the tested battery systems have proven to be about as reliable as a Swiss cheese condom.
While these big companies have all benefited from dramatic declines in costs — large electric car manufacturers now paying around $150 per kilowatt-hour for lithium battery cells — I assume they've all been stung by how difficult it is to actually get them to work reliably in a home battery system and have kept prices high to help cover the costs of massive failure rates.2
3rd Round Of Testing Coming Soon
The Canberra Battery Test Centre has announced they will test another 8 batteries and this will be under way by the time their next report is available, which — according to my calculations — should be in 2 months plus or minus 4 months.3  The batteries will be: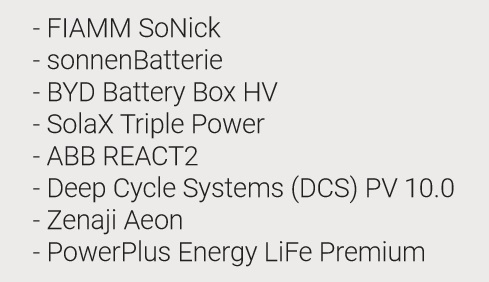 The one at the top of the list is a sodium nickel battery, which is interesting as it operates at an internal temperature of 280 degrees.  I guess this means it will work just fine in a heatwave.  All the other batteries are lithium, but the Zenaji Aeon is a lithium-titanate (LTO) battery; which is a type they haven't tried out before.
Things Should Be Better Now
The performance of the 18 tested batteries has been nearly as miserable as the history of Ireland4. With only 3 out of 18 batteries actually working as they are supposed to, it definitely gives the impression you'd have to be nuttier than Mr Peanut's family jewels to buy one.
Fortunately — while I still recommend extreme caution when buying a battery — there are a couple of reasons not to be completely pessimistic about the chances of a home battery system actually working:
 Battery testing started way back in September 2016 and battery manufacturers have put a lot of effort into improving their products since then.  They obviously were very bad at this, as the reliability of batteries in the second round of testing that started a little over 2 years ago was still crap, but while progress on reliability may be stupidly slow, it is occurring.
Battery manufacturers who are in it for the long haul have shown a commitment to replacing faulty battery systems.  Or at least they have when they're installed in a professional battery test centre.  Hopefully you'll get a similar level of service in your own home.
Another good reason for optimism is, at some point, home battery prices will come down.  It's inevitable given the low and falling cost of battery cells.  Some other good news is Virtual Power Plants that aren't complete rip offs may soon arrive, or may even be available now, and these could allow batteries to start to begin to make economic sense for homes and businesses.  Fingers crossed that solar batteries will actually be able to pay for themselves in a typical Australian home soon.