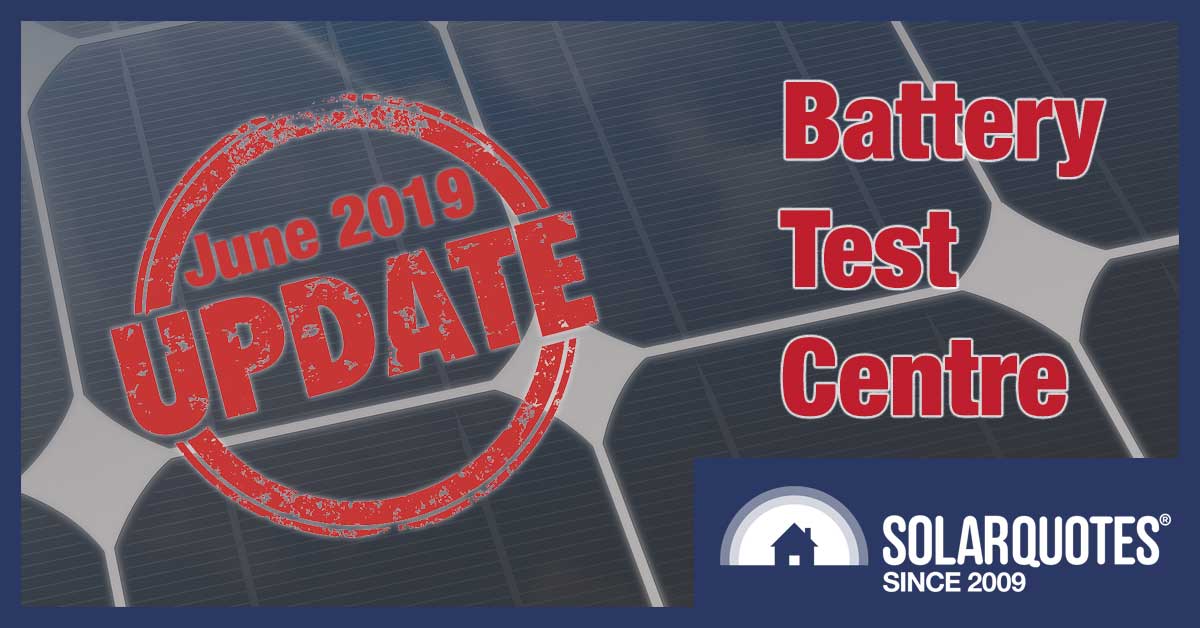 The Canberra Battery Test Centre has released their latest six monthly report.  It took them 9 months to get it out, but I'm glad they took their time, as it's a beauty. It gives information on the performance of every solar battery they've been able to successfully test and can be downloaded here.
I originally wrote about the Battery Test Centre a year ago and covered their September report here.  Today I'll go over the highlights of the latest report.  Some good news is:
The Sony Fotelion lithium battery retained 87% of its original usable capacity after testing that approximates 10 years of household use.  This demonstrates it's possible to make lithium batteries that only suffer moderate degradation.
Solar battery efficiency does not appear to decline with use.
Unfortunately, there's also plenty of bad news:
Out of the 18 batteries tested only 7 did not develop a fault or already had one when delivered.
Rather than improving with time, newer solar batteries used in Phase 2 testing were faultier than older Phase 1 models.
Total round trip efficiency of lithium batteries appears to only average around 84%.
The solar battery systems tested have shown little overall decline in price for two years.
Battery Trouble
When I first wrote about the Battery Test Centre I reported things did not look good for anyone wanting to own a problem-free residential battery.  The situation has — predictably — failed to improve with time.  The chart below was taken from the latest report and the red parts of the chart indicate battery trouble: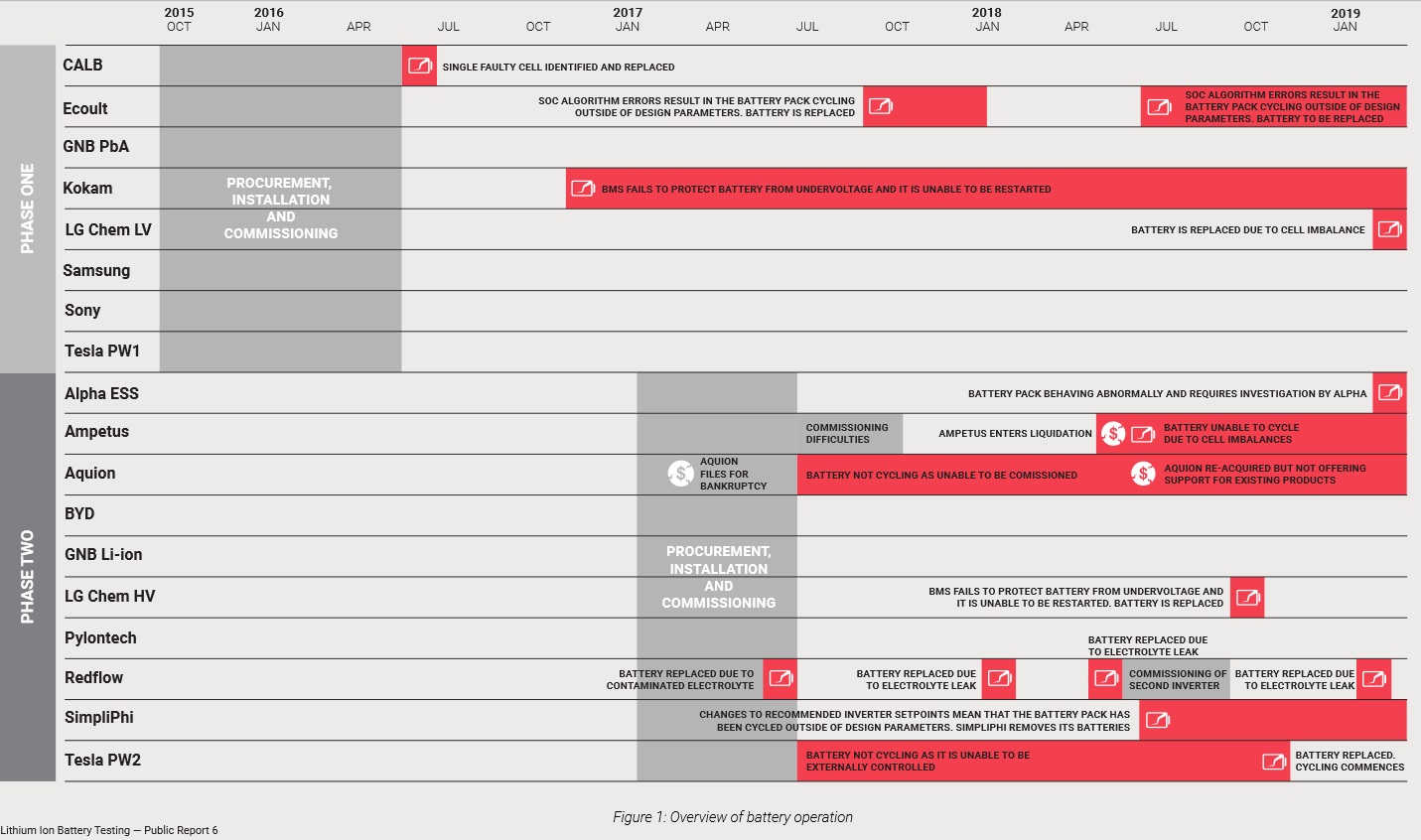 Don't worry if the chart is difficult to read because I'll save you the trouble of going through it by pulling out the most shocking1 details.
Majority Of Batteries Faulty
Of the 18 batteries tested only 7 didn't arrive with or develop a fault.  Using advanced finger mathematics I determined that's under 40%.  Three of the so far faultless solar batteries haven't finished testing, so the percentage could worsen.
It would be nice if I could report the 10 newer batteries from Phase 2 testing were less faulty than the older, original, 8 models from Phase 1 — but the opposite is true.  While half the older phase 1 batteries were fault free, only 30% of the newer phase 2 units have operated okay so far.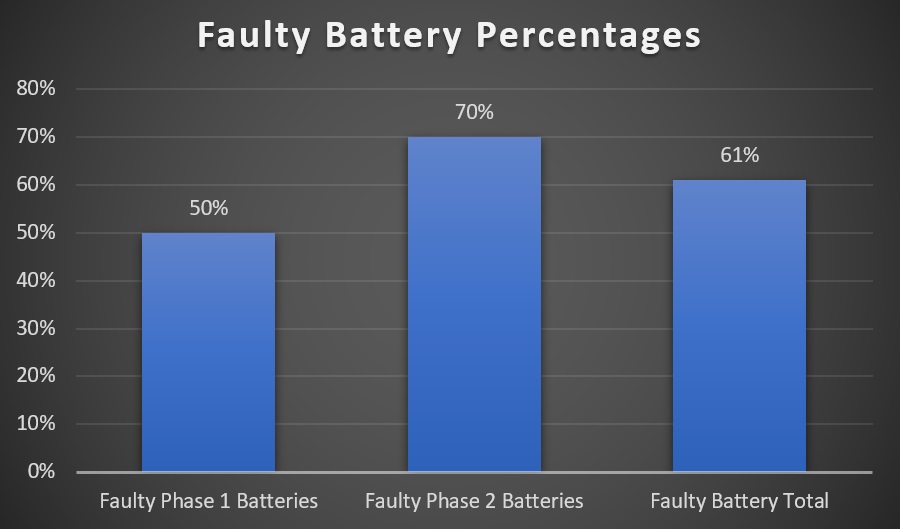 Not all faults were equal.  Some problems were detected rapidly and rectified under warranty with little interruption in operation.  For others the situation was more serious.  In the case of the Aquion Salt Water Battery, the Battery Test Centre was unable to install it and couldn't get any assistance because the manufacturer went bankrupt.  If a home owner had bought that Aquion they'd be completely out of pocket because the street value of salty water isn't very high.
The importer of the lithium Ampetus battery also went bankrupt and wasn't around to honor their warranty when it decided to turn into an expensive brick.  Two out of 18 means 11% of tested solar batteries failed because warranty support was not available.
While a household would have been out of luck with the Aquion or Ampetus battery, I think the award for bad luck combined with dogged perseverance would have to go to Redflow.  So far they have replaced their ZCell battery four times.  Once because it had contaminated electrolyte and three times because it developed electrolyte leaks.  Redflow has changed the manufacturer they use and I can't say I blame them.
Capacity Decline — Phase 1 Batteries
With very few exceptions, batteries decline in capacity with use.  Accurate information on the usable capacity over time could only be obtained for 4 of the 8 Phase 1 batteries.  One of them was lead-acid.  The graph below shows the deterioration in capacities of the 3 lithium solar batteries: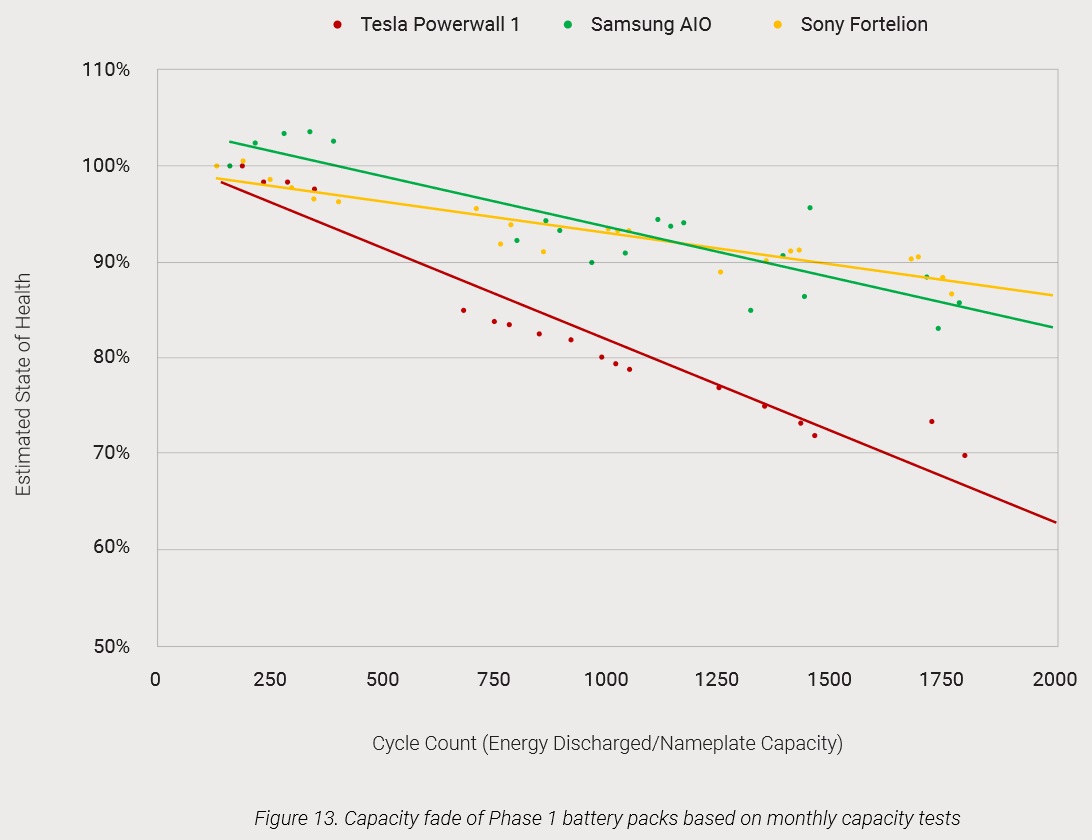 On the graph above 2,000 Cycle Counts should roughly correspond to 10 years typical household use.2  The Sony Fortelion had around 88% of its original capacity at the end of testing and is predicted to still have 87% at 2,000 Cycle Counts.  This is an excellent result and, despite being one of the older Phase 1 batteries, was the best result of all those that could be measured.  This shows lithium ion batteries can be very durable.  But this excellent performance came at a high cost in the form of a high cost.  The Sony Fortelion was expensive.
The Samsung AIO (All In One) also did well and is predicted to have 84% of its stated original usable capacity at the 2,000 Cycle Count mark.  The original Tesla Powerwall was the worst of the three but, because of hardware limitations, its testing was harsher than the other two and this could have contributed to greater deterioration.
Capacity Decline — Phase 2 Batteries
This graph shows the decline in usable capacity of the 4 out of 10 Phase 2 batteries that were able to be measured: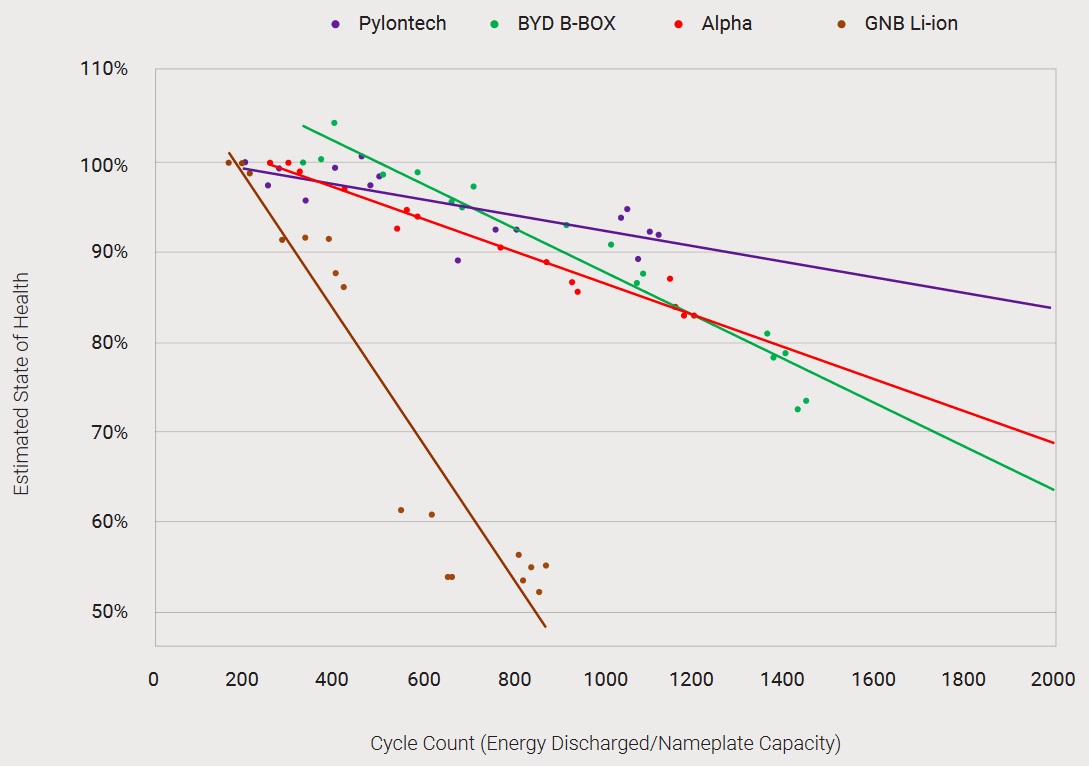 Testing of the Phase 2 systems isn't complete, but so far the Pylontech battery has proved to be the most durable and is on track to retain around 84% of its original usable capacity at 2,000 complete cycles.
At the moment the BYD and Alpha ESS batteries are more or less neck and neck.  When I wrote about the Battery Test Centre's previous report I pointed out the BYD battery was doing well, but unfortunately its deterioration rate has increased.  Alpha ESS has said their solar battery is faulty, so it's possible if it was working properly its deterioration would be less.3
The GNB Li-ion has clearly suffered the worst performance and appears to be faulty.
Efficiency Doesn't Decline With Time
The good news is the round trip efficiency of solar batteries — how much energy you can get out compared to how much you put in — doesn't appear to get worse over time.  The graph below shows the round trip efficiencies for all the Phase 2 units that are in operation: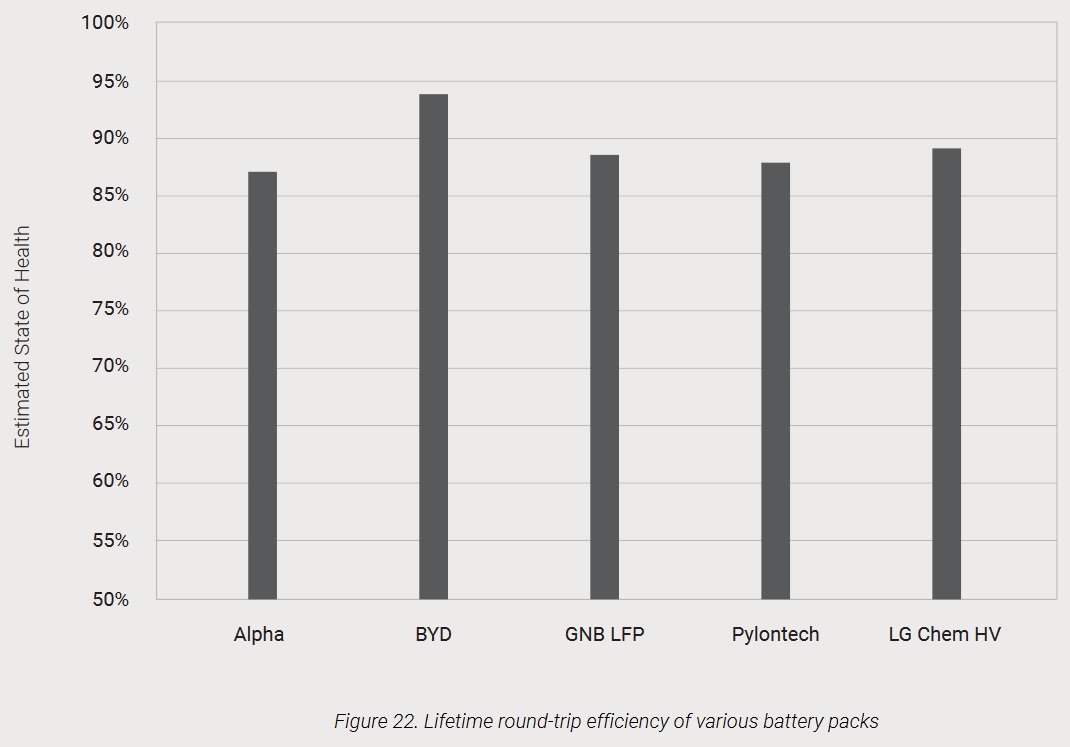 They range from 87% to 94%, but this is only the DC to DC efficiency.  In practice there will be additional losses4 and I estimate they are likely to be around 6%.  The exact amount will vary between systems.  The graph below shows the round trip efficiency figures with an extra 6% loss included: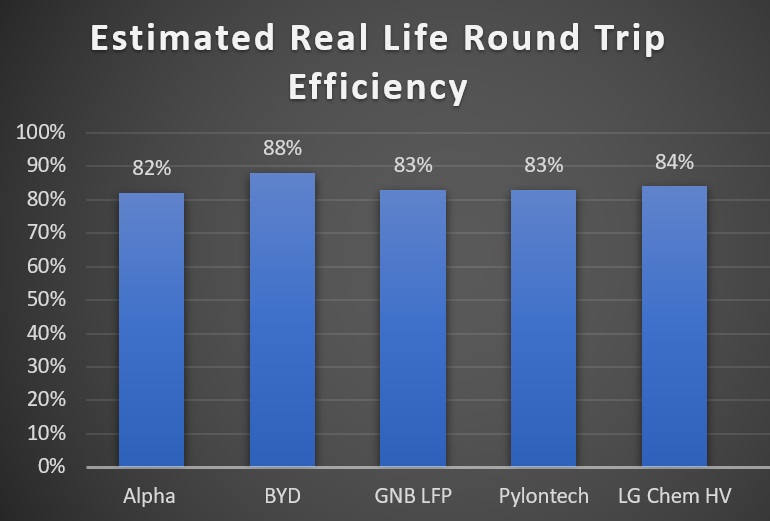 While a BYD system does well with an estimated 88% round trip efficiency, the average of the 5 is only 84%.  This means a typical solar battery system will consume around 1.2 kilowatt-hours of electricity for every kilowatt-hour of stored energy it provides.
Residential Batteries Have Stopped Getting Cheaper
According to the Battery Test Centre there's been no significant overall decrease in the cost of lithium batteries for two years.  The graph below shows wholesale electricity prices for the models they tested.  Unfortunately, they don't tell us the names of the batteries for some reason.  Don't they know that giving names and prices is not illegal?  We do it on our Solar Battery Comparison Table and I've hardly had to kill any battery assassins as a result.  Note the prices on the graph below are without retailer margins or installation costs.  Also, they often don't include the cost of required supporting hardware: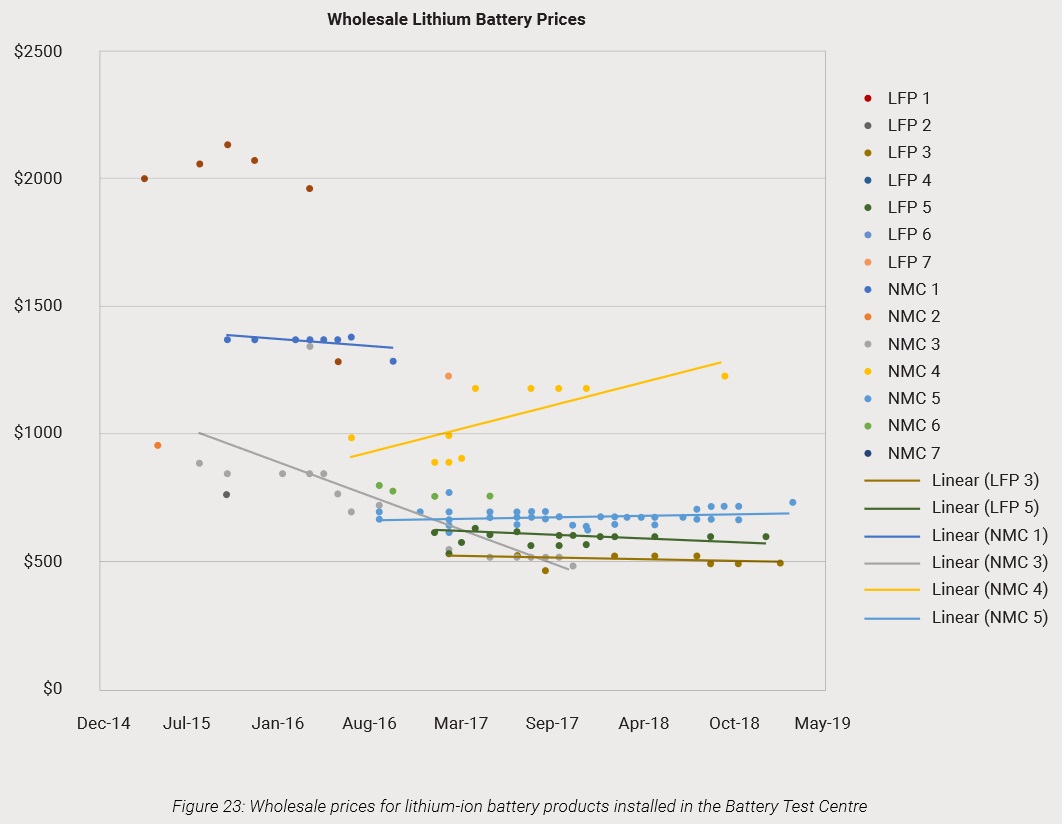 Two explanations are given by the Battery Test Centre for the pause in price falls are:
Manufacturers weren't able to meet demand.
The cost of raw materials — especially cobalt — increased.
Supply and demand certainly could have been a factor — it often is — but an increase in material costs isn't a convincing explanation.  It's the sort of thing CEOs come up with when they can't live up to their promises or need to justify a price increase.
Lithium Prices
Only a small portion of a lithium battery is lithium.  Because it's the lightest metal, a little goes a long way.  This means a large increase in the price of lithium only results in a small increase in the cost of a kilowatt-hour of lithium batteries.  Also, the price of lithium has been falling for a year and a half: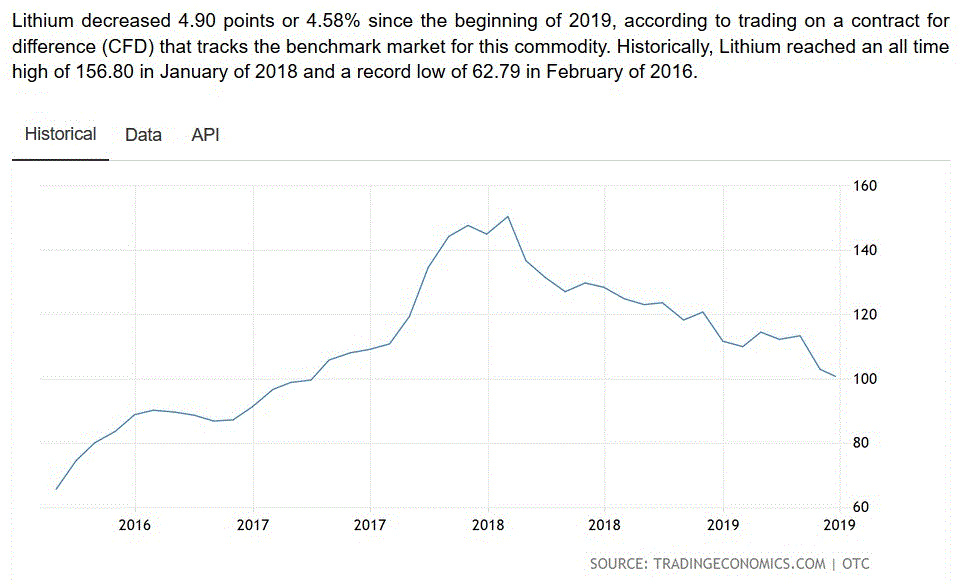 Cobalt Prices
The increase in the price of cobalt was more extreme: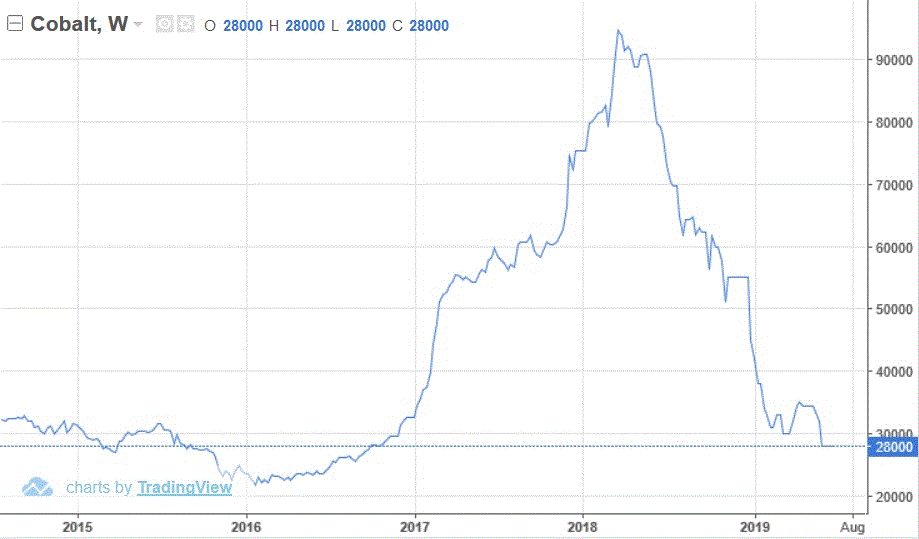 But not all lithium batteries use cobalt and the ones that do use very little.  If Tesla's statements about the quantity of cobalt in their solar batteries can be trusted5, it puts an upper limit of around 200 grams of cobalt per kilowatt-hour.6  This means if cobalt was purchased at its peak price it would only add a maximum of around $12 per kilowatt-hour.  As the estimated wholesale price of a Tesla Powerwall 2 without installation comes to $880 per kilowatt-hour, that's only around a 1% increase.  And since cobalt prices have collapsed down to around where they were two and a half years ago, even that small amount no longer applies.
Making a good residential solar battery is difficult
Personally, I think the main reason why the solar battery prices monitored by the Test Centre haven't fallen is because making a good residential battery has turned out to be freaking difficult.  If it wasn't, their testing wouldn't have involved so many faulty, buggy, buggered batteries.
Another reason for the hiatus in price declines was probably Tesla's multiple price increases for the Powerwall 2.  This reduced pressure on other manufacturers to reduce their prices to compete.
Finally, I think the announcement of South Australia's large solar battery subsidy helped keep prices high.  After all, why bother to lower your price when a state government is effectively going to lower it while hardly costing you a cent.7
Some good news is that, while batteries the Test Centre has investigated haven't budged much on price, there are new arrivals on the solar battery market that are competitively priced.  Our Battery Comparison Table shows what's available.  The problem is, since they haven't trialed by the Battery Test Centre, it's harder to be sure how well — or poorly — they'll perform.
The Moral Is Caution
Apart from the performance of the Sony Fortelion battery and the fact round trip efficiency doesn't deteriorate over time, there's not a lot of good news in this battery report.  I think the overall message is one of caution.  Just as time doesn't actually heal all wounds, it doesn't necessarily improve solar battery systems either.  This was demonstrated by newer Phase 2 batteries being faultier than older Phase 1 batteries.
I think the most important thing to take away from this battery report is the importance of using both an installer and a battery manufacturer you can rely on to fix problems or completely replace faulty solar battery systems as required.  And keep replacing them if they have to, as Redflow did four times with their ZCell.
But many reliable solar installers are now refusing to sell batteries because they have seen how unreliable they can be.  This means more battery systems are likely to be sold by dodgy installers and this means more problems for consumers.  I'm sure some big manufacturers will get it right before too long and start producing highly reliable solar battery systems, but by that point the battery industry's reputation may have suffered a lot of damage.