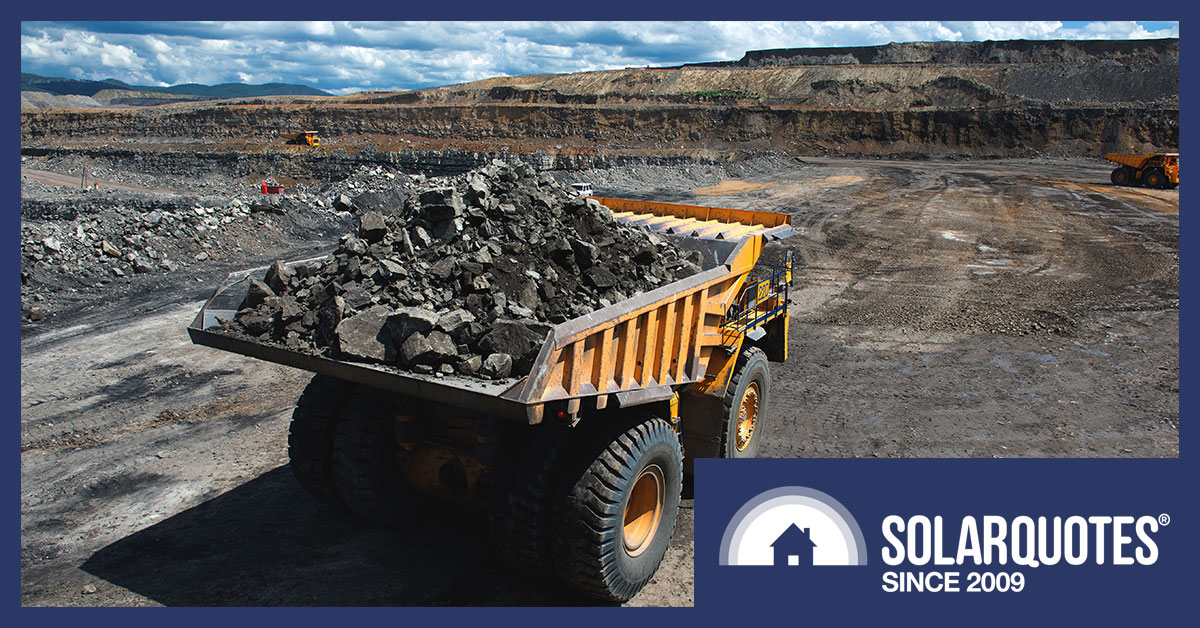 On Christmas Eve, on Twitter, DaveMySpace asked this question: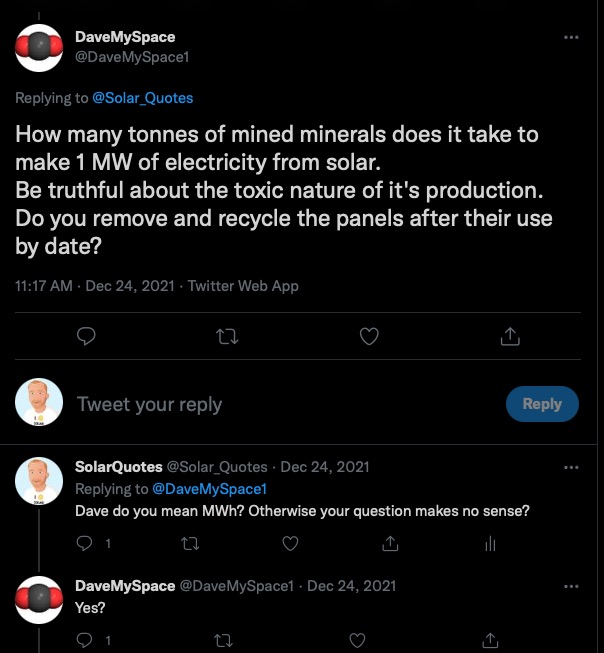 Finn promised DaveMySpace an answer. After two weeks of research, this post is my best answer. 
As DaveMySpace has realised, solar panels require resources.  Silicon and metals need to be mined and refined. Energy must be expended.  Some people get very worked up over these facts. They invariably express horror, shock, and disbelief at how many resources and how much mining is required to make renewables, but they never seem to say anything along the lines of…
"It would be wonderful to further reduce the resources required to manufacture renewables, but thank god it's only a small fraction of what's required for coal and natural gas."
I can understand people getting upset about solar panels, batteries and wind turbines consuming resources.  I'm personally furious we haven't yet mastered the magic spells to pull solar cells from a hat.  But if the whingers truly care about the amount of mining and resources required to generate energy, they should be jumping for joy wind and solar power require far less per kilowatt-hour generated than fossil fuels.
I see two reasons people worry about how many resources renewables consume instead of celebrating how much they save compared to coal and gas:
Ignorance:  They simply don't know solar and wind energy generation uses far fewer resources than fossil fuel generation.
Human Nature:  Some people just want to whinge.  Whether or not there's a real reason rarely matters. 
I'm writing this article to help solve the first problem, but it's not going to do much about human nature.  Hopefully, it will encourage whingers to whine about something unimportant, such as their favourite Pokemon not getting enough respect or how people laugh at them when they insist yellow is a flavour1.
The Main Reason For Confusion
Building a solar or wind farm or installing solar panels on roofs requires a lot of material resources invested upfront.  More than for a coal or natural gas power station per kilowatt-hour it will generate over it's lifetime. 
For solar and wind, that's about it2. 
But for fossil fuel generation, getting the power station built is only the beginning.
For coal power, less than 1% of emissions come from initial construction, with over 99% resulting from its operation.  The situation for tonnes of materials mined is roughly similar.  Gas generation isn't as bad as coal but is still awful. 
A common whinger mistake/tactic is to compare resources required to build a solar farm with fossil fuel generation and then act as though that's some disaster, while ignoring that 99% of emissions and mining for coal come after the power station is complete.
This isn't the kind of mistake anyone who knows how combustion works makes.  While anyone can make a stupid error, the slap of their palm against their forehead should ring out like a gunshot once they realize what they've done. 
This kind of "error" can really only be made by people trying to mislead or deceive people or who are — regrettably — nuttier than a squirrel's lunch.
This type of nonsense can then be spread by people who don't bother to think it through or who don't care if it's true.  So always be sure to practice proper truth hygiene on the internet3.
Emissions, Material, Mining, & Recycling
I'll give figures for emissions per kilowatt-hour generated for coal, gas, solar, and wind.  Then I'll give a rough estimate of the amount of materials they need and then an even rougher estimate of the amount of mining required. 
After I've done that, I'll point out how we can recycle far more of the material use by wind and solar power generation than fossil fuels.  I'll also consider how emissions, material, and mining apply to battery storage and show it's far superior to gas generation.
Coal Power Emissions
Australian coal power stations emit around 1 kilogram of CO2 per kilowatt-hour generated.  Total emissions are higher than this because diesel is burned mining coal and after it's dug up coal releases methane into the atmosphere, which is a powerful greenhouse gas.  One figure I have from Europe, where coal mining is heavily electrified, says extraction results in the equivalent of 120 grams of CO2 emissions.  While I suspect it's higher in Australia, I'm going to be kind to coal — despite the fact it's not always kind to us — and use a nice round figure of 1.1 kg of CO2 per kilowatt-hour.
Natural Gas Emissions
It's straightforward to determine direct emissions from a natural gas power station.  If it's 50% efficient, it will release 356 grams of CO2 per kilowatt-hour.  But the lifecycle emissions are higher due to emissions and leakage from extracting, refining, and transporting natural gas.  There are also emissions from building the power station and gas infrastructure.  According to this European report titled Life Cycle Assessment Of Electricity Generation Options the lifecycle emissions are:
50% efficient natural gas generation:  434 grams of CO2 lifecycle emissions per kilowatt-hour
They estimate around 16% of emissions occur from natural gas production with a 50% efficient gas power station.  Usually, only Natural Gas Combined Cycle power stations — or NGCC for short — are this efficient:

Australian lifecycle emissions for a 50% efficient gas power station should be very similar, but the large majority of our gas generators have lower efficiency.  Lifecycle emissions from an open cycle gas turbine with 30% efficiency would be around 720 grams per kilowatt-hour. 
Solar Power Emissions
When I looked online for the lifecycle emissions for solar power, I saw plenty of outdated material that misses considerable improvements in solar efficiency and reliability over the past few years.  But I did find this report — Life Cycle Assessment Of Electricity Generation Options — with information from 2020.  Unfortunately, it's focused on Europe and, as almost anyone could tell you, Europeans are far less well endowed than Australians… when it comes to wind and solar energy resources. 
The report gives the following lifecycle CO2 emissions in grams per kilowatt-hour generated for Europe:
Ground-mounted polysilicon solar:  36.7 grams per kilowatt-hour
Rooftop polysilicon solar:  37.2 grams per kilowatt-hour
These figures are for polysilicon, which requires less energy to produce than the monosilicon panels that mostly go on Australian roofs.  While monosilicon requires more energy to make, its is more efficient and this reduces the amount of other materials required.  For this reason, the figure for both types of solar panels should be similar. 
The report gives emissions for rooftop solar power that are slightly worse than for solar farms.  While rooftop solar doesn't require ground mounts, foundations or ballast, its efficiency in Europe is considerably less.  In Australia, thanks to higher rooftop efficiencies and larger systems, I'd expect rooftop solar to produce less emissions per kilowatt-hour than solar farms.  But this may be countered by Australian homes not lasting as long as they do in Europe, which may shorten the average system lifespan here.  
I've copied their graphics showing the sources of emissions for both types of solar:
Australia's solar output is a lot better than Europe's.  This is true for solar farms and especially for rooftop solar power systems.  This is likely to result in lifecycle emissions here being around one-third less per kilowatt-hour.  This would make emissions around 25 grams but, to be on the safe side, I'll assume Australian lifecycle emissions from rooftop and utility-scale solar are around 30 grams of CO2 per kilowatt-hour generated.
Wind Energy Emissions
Like solar, wind generation has very low lifecycle emissions per kilowatt-hour.  For Europe, the report pegs them at only 12.4 grams per kilowatt-hour:

Australia's wind resources are far superior to Europe's, so lifecycle emissions here are likely to be at least one-third less, making them around 8 grams per kilowatt-hour.  But again, to be on the safe side, I'll use a round figure of 10 grams per kilowatt-hour. 
Emissions Comparison
If we put the estimates of lifecycle emissions into a graph, it looks like this: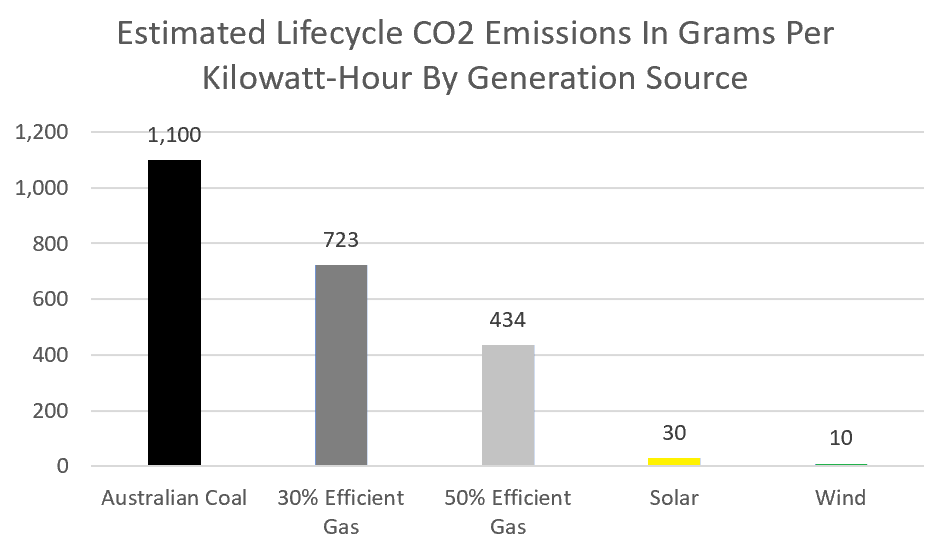 This makes the lifecycle emissions from coal generation 37 times higher than solar energy and 110 times higher than wind generation. 
While not as bad as coal, even high-efficiency gas generation has lifecycle emissions over 14 times solar and 43 times wind.
Obviously, to cut greenhouse gas emissions, we should build solar and wind capacity in favour of coal and gas.  Because wind's lifecycle emissions are lower than solar's, it may appear much better for cutting emissions. But compared to using fossil fuels, the total benefit of solar power and wind is around the same. In practice, building both solar and wind capacity is best, as their periods of high output often differ.  In Australia, we'll end up with a lot more solar than wind because we have a lot of sunshine and its cost is falling faster than for wind generation.  
Material Required
Working out how much material is required to generate one kilowatt-hour of electricity from different sources is difficult.  But it is easy to show fossil fuel generation requires far more material than solar or wind power. 
Material Required For Solar & Wind
The weight of a 10 kilowatt solar system — including solar panels, inverter, racking, conduits, and cabling — comes to around 65 kg per kilowatt.  Assuming, like most solar systems, the panels aren't optimally positioned and they suffer the minor amount of deterioration in output expected from good quality panels, it will produce around 320,000 kilowatt-hours over 25 years on a typical Australian roof.  That comes to 0.2 grams of material per kilowatt-hour.  Assuming it needs an inverter replacement in that time, that only adds around an extra 0.01 grams. 
This ignores the material in the equipment required to extract raw materials, manufacture solar hardware, ship it to Australia and install it on roofs.  This isn't insignificant, in industry the amount of material in capital goods is generally low compared to the material output produced.  But I'll be cautious and assume with the equipment used to manufacture it, solar — whether rooftop or ground-mounted — requires around 0.5 grams of material per kilowatt-hour generated. 
Wind power should come in well under this, and I'll assume 0.2 grams per kilowatt-hour.  For Australia this is probably much too high. 
Materials Required For Coal
It takes a lot of materials to build a coal power station.  Concrete has to be poured for foundations, massive amounts of steel are required, chromium must be mined to produce high-temperature stainless steel, and so on.  Building and operating coal mines require even more resources.
But I'm going to ignore all that. 
Because emissions from building coal power stations are such a small part of the total for coal generation, I will only consider materials required after it's complete. 
The average efficiency of Australian coal power stations is roughly 33%.  This means they convert around one-third of the 23.8 megajoules of thermal energy per kilogram in the black coal Australia exports into electrical energy.  As there are 3.6 megajoules in one kilowatt-hour, this means 450 grams of black coal need to be burned to generate 1 kilowatt-hour. 
But it's worse than this.  Not all the black coal Australia burns has that high an energy content, while 35% of Australia's coal generation is from Victorian brown coal and this only provides about 8.9 megajoules of thermal energy per kilogram.  This means, on average, around 717 grams of coal need to be burned to generate one kilowatt-hour of electricity in Australia.
This is over 1,400 times the material required per kilowatt-hour by solar power and over 3,500 times what's required by wind. 
The actual amount will be greater than this due to diesel and other materials consumed by coal mining, but the figure for coal alone is more than large enough to make my point.
Materials Required For Gas
I'm going to do gas generation the same favour I did coal and ignore emissions resulting from the construction of infrastructure for gas extraction, refining, transportation, and generation.  I'll only consider fuel used to generate electricity. 
When one kilogram of natural gas is burned, it releases 53.6 megajoules of thermal energy.  In a 50% efficient gas power station, each kilowatt-hour of electricity generated will require 134 grams of natural gas.  With a 30% efficient gas generator, it would require 224 grams. 
While better than coal, even a 50% efficient gas power station requires over 160 times as much material as solar and 670 times as much as wind.
Material Comparison
When the material requirements per kilowatt-hour generated from the different sources are put into a graph, it makes it clear how far wind and solar power are ahead of fossil fuels: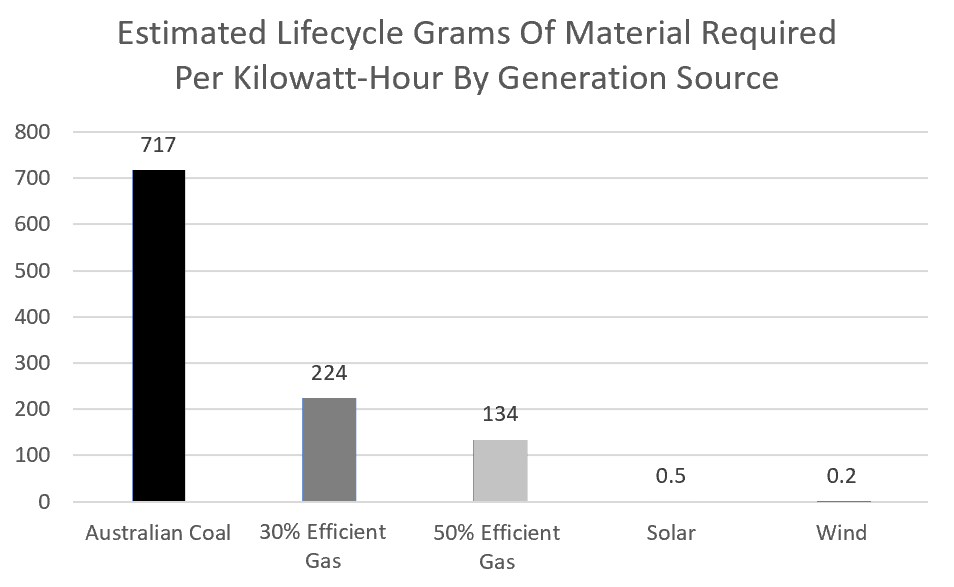 Mining Requirements
It's not possible to accurately measure the amount of mining different types of generation require — or if it is possible, it's beyond me.  But rough estimates can be made. 
Part of the problem is what to count as "mining".  In Australia, every kg of coal mined requires the removal of around 15 kg of spoil.  This is dirt or rock that must be moved to get to the coal.  If it's included, it results in a huge increase in mining required.  Then there are mines and power stations, such as Kogan Creek, that use bore water.  Some people will want to include it in the mining total since it comes from the ground.  But rather than make things complex, I'll take a straightforward approach and only consider materials that are either refined after extraction or used as fuel. 
When coal is burned to generate electricity in Australia, it doesn't undergo further refining after it's dug up.  But materials used to make solar and wind generating capacity are more complex and may require considerably more mining in total per gram of finished material.  If we assume it requires five times as much mining as coal then — while still ignoring materials required to construct fossil fuel power stations — coal requires over 280 times as much mining per kilowatt-hour generated as solar and over 700 times as much for wind generation.
For 50% efficient gas generation, it would come to over 50 times as much for solar and 130 times as much for wind.  For 30% efficient gas generation, it would be over 80 and over 210 times respectively.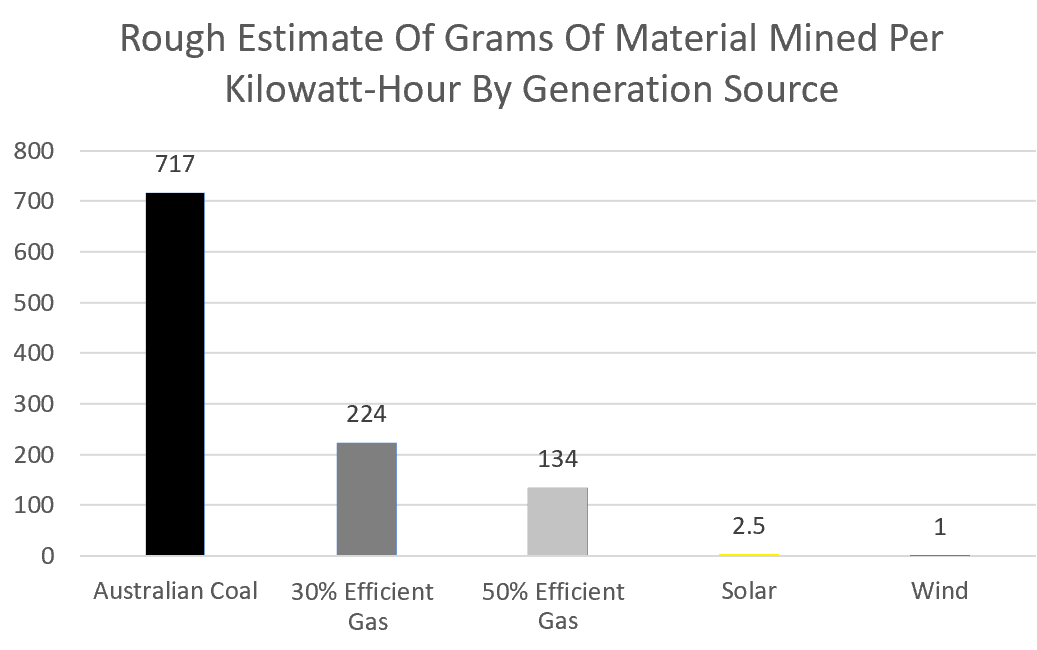 So even in a situation where I've ignored mining required to build fossil fuel extraction and generation infrastructure, gas will require at least 50 times as much mining as solar electricity per kilowatt-hour generated and Australian coal generation requires over 280 times as much. 
Recycling
None of the figures I've given above considers how recycling can reduce emissions, mining, and processing of resources.  Solar and wind are both way ahead of fossil fuels regarding the amount of material that can be recycled. 
Most of a wind turbine can currently be profitably recycled, apart from its blades, which are fibreglass or carbon fibre, and its concrete foundations.  By profitably recycled, I mean people would currently recycle it because it pays for itself.
Much of a solar system can also be profitably recycled.  This includes racking, wiring, steel ground mounts, and solar panel's aluminium frames.  At the moment, solar panels themselves, after they've been stripped of their frames aren't profitable to recycle.  Hopefully, this will soon change as processes improve.  
But even if only one-quarter of the material in a solar power system can be profitably recycled, this still puts it well ahead of fossil fuels, where under 1% of the material they require can be recycled.  While metals in a scrapped fossil fuel power station can be recycled and a tiny portion of coal ash is used by the cement industry, almost all the material used to generate fossil fuel electricity goes up in smoke.  To be more precise, it goes up as CO2.  It is not currently profitable to remove CO2 from the atmosphere and turn it back into coal or natural gas.  If it was profitable we wouldn't have coal or natural gas extraction industries. 
Toxicity
Generating one kilowatt-hour from coal in Australia requires burning over 700 grams of fossil fuel and this releases a range of toxins, including heavy metals, into the atmosphere.  This is far more damaging to health than solar and wind power, which require under half a gram of material per kilowatt-hour generated.  The suggestion renewables could result in the release of toxins on scale anywhere approaching fossil fuels is — quite frankly — nuts. 
While it's not as up-to-date as I'd like, this graph from Our World In Data makes my point by showing deaths per terawatt-hour from different sources of generation: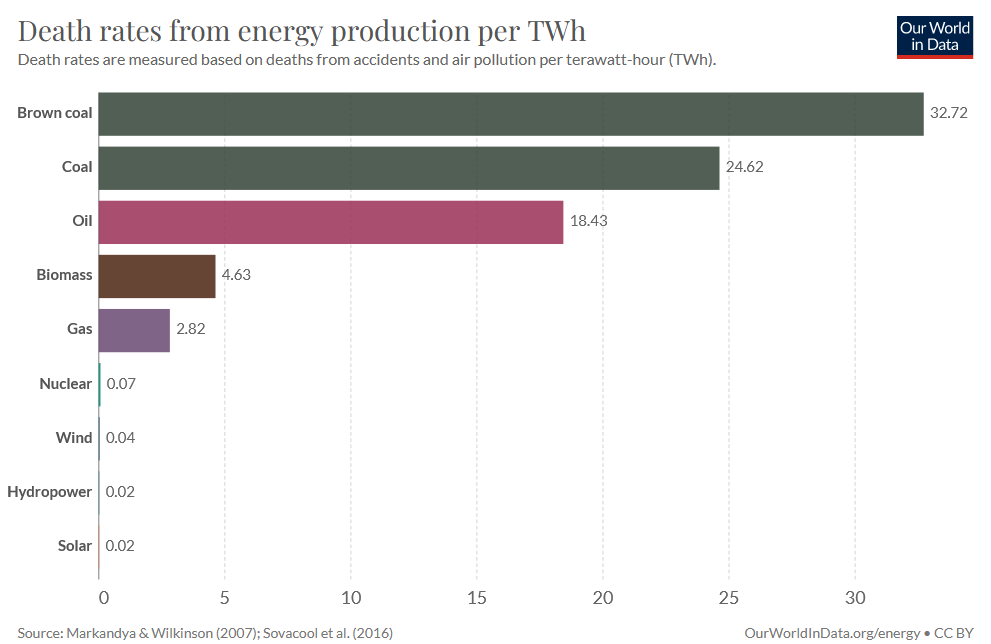 A terawatt-hour is one billion kilowatt-hours.  The death rate for Australia's mix of coal comes to over 1,000 times that of solar.  The graph includes death from accidents as well as pollution, so for solar power it will mostly be stuff like falling off roofs rather than toxins.  The result for coal is almost completely toxic, but some of it will be mining accidents and people dying in fires, so there is that.
Emissions & Materials For Batteries
Some insist solar and wind power require battery storage, and so emissions from it, as well as material it requires, should be added to their totals.  While it's not technically necessary to use battery storage with solar and wind generation, we will end up using a lot of it because it's so damn useful. 
I've already shown the drawbacks of fossil fuels compared to solar power:
Lifecycle greenhouse gas emissions per kilowatt-hour for fossil fuels are 14 to 36 times greater than solar.
Materials required per kilowatt-hour are 160 to 1400 times greater than solar.
Mining required per kilowatt-hour is 80 to 280 times greater than solar.
So all I need to do to show the combination of solar + wind + batteries is clearly superior to fossil fuels is show batteries result in less emissions and consume less resources than gas generation.
Battery Emissions
One estimate puts lifecycle emissions from manufacturing an electric vehicle battery pack at 75 kg of CO2 per kilowatt-hour.  While I suspect this figure is already outdated, I'll use it anyway.  When part of utility-scale energy storage, a battery is likely to be used for the equivalent of over 3,000 full cycles.  If one kilowatt-hour of battery capacity supplies a total of 3,000 kilowatt-hours of stored energy in its lifetime, that comes to 25 grams of CO2 per kilowatt-hour supplied.  A 50% efficient natural gas generator produces 17 times more emissions just from burning the gas. 
Battery Materials
A Tesla battery pack weighs 6.25 kilograms per kilowatt-hour.  I'll assume stationary battery storage is over three times that at 20 kg per kilowatt-hour. When fully cycled 3,000 times, that comes to 6.7 grams of material per kilowatt-hour supplied.  Natural gas generation at 50% efficiency requires at least 20 times as much material.
Battery Mining
I'm not sure how much material must be mined to create one kilowatt-hour of battery storage, but I'll lean on the safe side and say it's ten times as much as my material estimate and use 200 kg per kilowatt-hour.  This comes to 67 grams per kilowatt-hour of stored energy supplied.  Natural gas at 50% efficiency comes in at over twice as much. 
Battery Recycling
By weight, most of what's in a lithium battery can be profitably recycled right now.  There's a reason why manufacturers are so dedicated to recycling and getting battery packs back at the end of their lives.  They're worth money. 
Batteries Better Than Gas
if I take the estimates for batteries above and compare them to gas in a graph, I get this: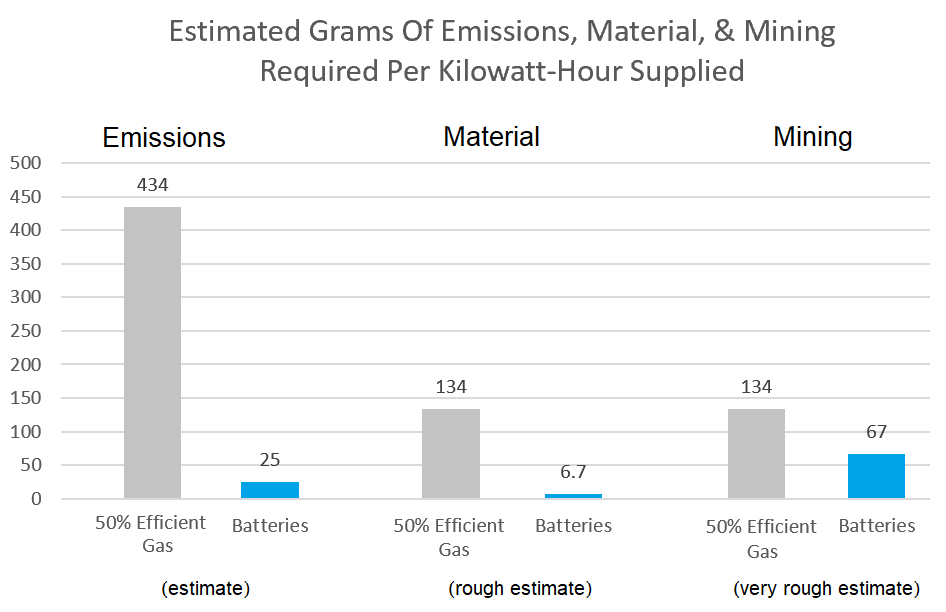 While these are only estimates, I think it's clear using batteries to store renewable energy will result in far fewer emissions, less material use, and mining than even efficient natural gas generation.
Solar & Wind Use Far Less Resources Than Coal & Gas
While some of my estimates are rough, it's still obvious when it comes to emissions, materials and mining, wind and solar power are far superior to Australian coal generation: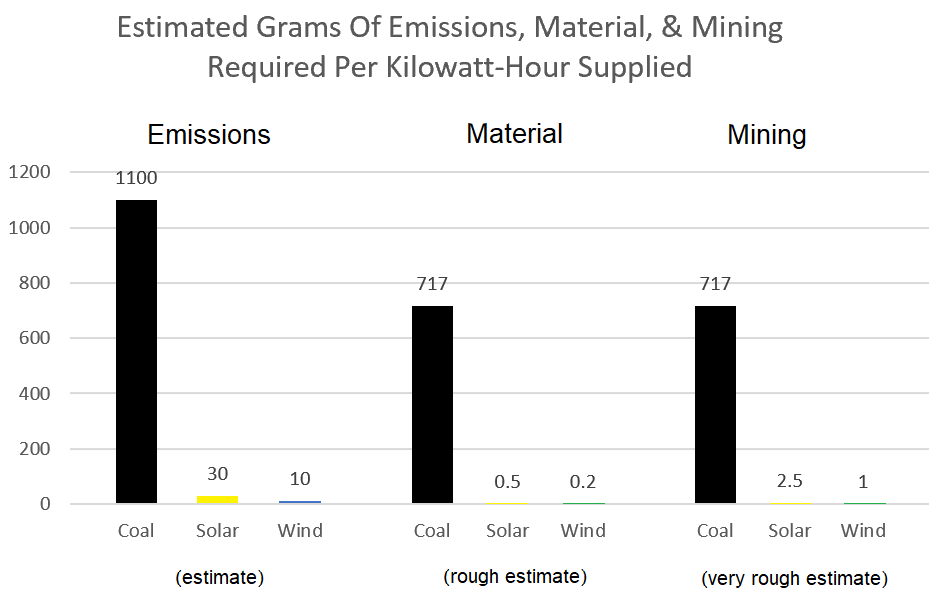 While gas burned at 50% efficiency isn't as bad as coal, it's still horrible compared to solar and wind: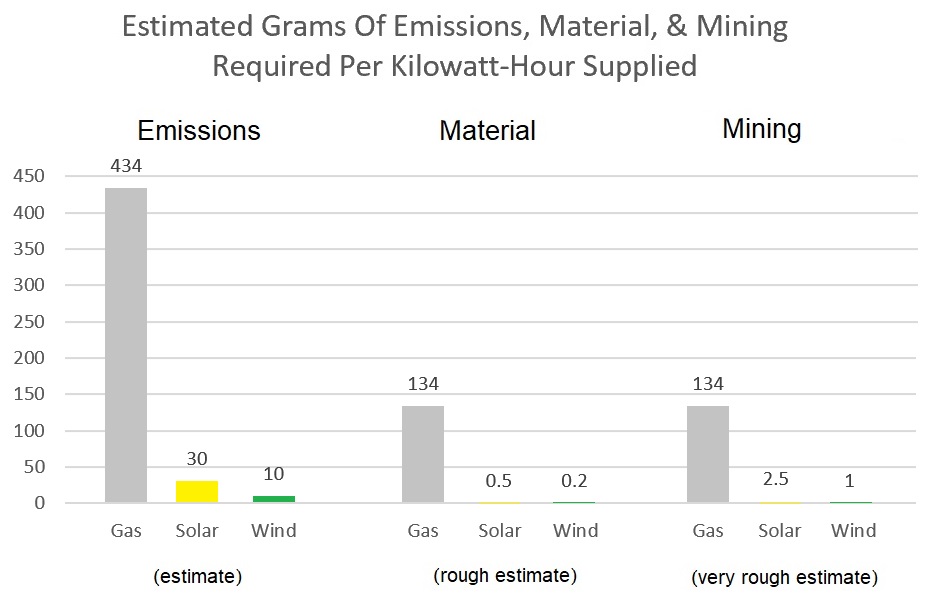 The results are so extreme I hope that even DaveMySpace can see it makes no sense to complain about the materials or mining required for solar and wind energy generation. Fossil fuels are far, far worse.
Post-publication update from DaveMySpace:
Thanks fort that article.
A bit of abuse in there but all forgiven!
I wonder if you could look at some real figures released by the International Energy Agency?
You may want to revise your calculations!https://t.co/rdRdtVPkGX
And another itemhttps://t.co/zhp4AEUmjl

— DaveMySpace (@DaveMySpace1) January 10, 2022
Footnotes
If orange can be a flavour, why not yellow? ↩
Additional emissions from repairs and replacements should be minimal, provided good quality components were used and properly installed.  Any future work done on the system for repairs and replacements will result in fewer emissions than now as the world cuts emissions. ↩
Always wear common sense and never go near a factoid with a tattoo of a dagger on any part of its body. ↩