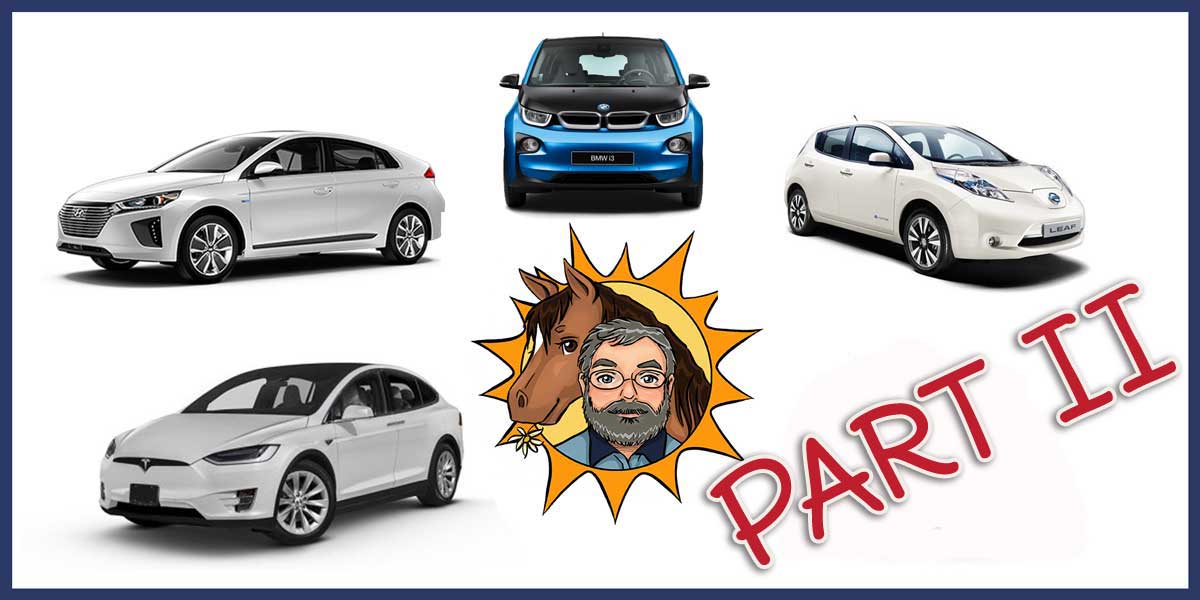 Nine days ago I attended the Charge Together electric car event in Adelaide and scored some sweet electric rides.  Last week I wrote about 5 specific electric cars and today I'll describe what I learned about driving electric cars in general from their owners.  I'll cover range anxiety and how it's not really a problem provided you get an electric car that suits your needs.  I cover charging at home, at public charging stations, and even what to do when out-the-back-of-Burke and desperately seeking a charge.  I'll even cover a little bit of electric car history.
Electric Cars Have Been Around For A Long Time
One interesting thing I learned at the charge together event was the first production car ever made was electric. It was built by Thomas Parker in the UK in 1884.  Then I went home, checked this on the internet and promptly unlearned that fact.
Maybe you could say the electric cars Thomas Parker made were identical enough to count as production vehicles, but I wouldn't choose that particular hill to die on.  There are much nicer hills you can go to cark it and I actually know some hills that are worth living on.1
I think it's enough to know that, while the first horseless carriages were steam powered, electric cars came before internal combustion engine2 ones.  But the short range that resulted from the lead-acid batteries of the time meant petrol and diesel vehicles soon left electrics in their dust.  And also in their noxious exhaust fumes.  But since people were used to breathing coal smoke, they didn't seem to mind the extra pollution.3
So while electric cars have been around for over 150 years, only now are they poised to take over from internal combustion engine vehicles.  Of course if petrol and diesel cars had to pay for the cost of their pollution, the poising would have been decades earlier — but I've already gone over this in another article.
Range Anxiety
An electric car can only drive so far before its battery pack goes flat.  But since only an idiot would buy an electric car that didn't suit their driving patterns, I think concern about this is a little over-done.  If current electric cars don't suit your driving habits but you want a car that is less destructive to the planet and people's health, you can buy a hybrid or a plug-in hybrid and refuel it whenever you need to.4
Families with two or more cars are the norm in Australia.  My parents are a two person household and they have two cars.  My sister has a two driver household and she has about eight.  (Actually, I think she may be down to seven now.)  For many households it would not be inconvenient to have one short range electric car for use around town while using their other vehicle for longer trips — whether that vehicle is a hybrid, plug-in hybrid, or conventional infernal5 combustion engine.  To "fuel" their electric town car, all a household will need to do is plug it in at home.
Home Charging
At home all an electric car requires is a 15 amp power point, which is a simple job for an electrician to put in.  It will depend on the vehicle, but generally this will allow around 20 kilometers of range to be added per hour.  So if you park for 10 hours overnight that will allow for around 200 kilometers of range to be added.  As the average passenger car is only driven around 40 kilometers a day, that should be plenty.  If a 15 amp socket isn't available an adapter will let you charge at a slower rate from a regular 10 amp power point.
An EV6 charger can be installed in your home and allow over 40 kilometers of range to be added per hour.  I have been told that overseas some car warranties require a specific charger be installed in your home. So that is something to look out for as they are not cheap and can cost over $2,000.
Fast Charging
Any new electric car will be capable of some form of fast charging at public electric car charging stations.  Just how fast you can shove energy into their battery packs depends on the car and the charging station.  Cars with larger battery packs and liquid cooling systems allowing more rapid charging.
The current champion is Tesla and its supercharging stations can provide an almost-flat battery pack with up to 120 kilowatts of power.  This can add up to 200 kilometers of range in 20 minutes, but, just like with a smartphone, the charge rate slows down the closer the batteries get to being full. It will take 55 minutes to go from half charged to fully charged.  But you may never need to need to wait until it's at 100% because Tesla superchargers are pretty close together.  Only if you were driving away from the supercharger network might you be tempted to wait for a 100% charge.
Electric car makers are looking at charging rates over 300 kilowatts in the future.  This is technically possible with the right battery pack.7
Nissan Leaf Fast Charging Can Be Limited By Heat
The Nissan Leaf battery pack doesn't have a liquid cooling system and is air cooled.  Continually charging and discharging the battery generates heat and being at a high temperature for an extended time is bad for batteries.  If its batteries become hot for a long period due to continual driving and charging the Leaf will slow the rate at which it can be charged.  So perhaps the third time its charged in a day will take a long time.  This is something to keep in mind if you are taking a Leaf on a long distance trip.  It may be possible other cars with air cooling have a similar issue, but those with liquid cooled battery packs should not.
Ad Hoc Charging
If you are not at home and there isn't a public electric car charger available then there's no need to despair.  There are still plenty of places to charge.  Caravan parks have 15 amp power points and it's also possible to use three phase sockets at businesses and showgrounds.  These locations can be recognized car charging points or you can simply ask nicely if you can charge your car there.
The stories I heard from electric car owners about traveling long distances in Australia sounded very similar to ones I heard from the United States a couple of years ago when their electric car charging network was much less built out than it is today.  To show how extensive their network of chargers is here's a map of North American showing only Tesla Superchargers: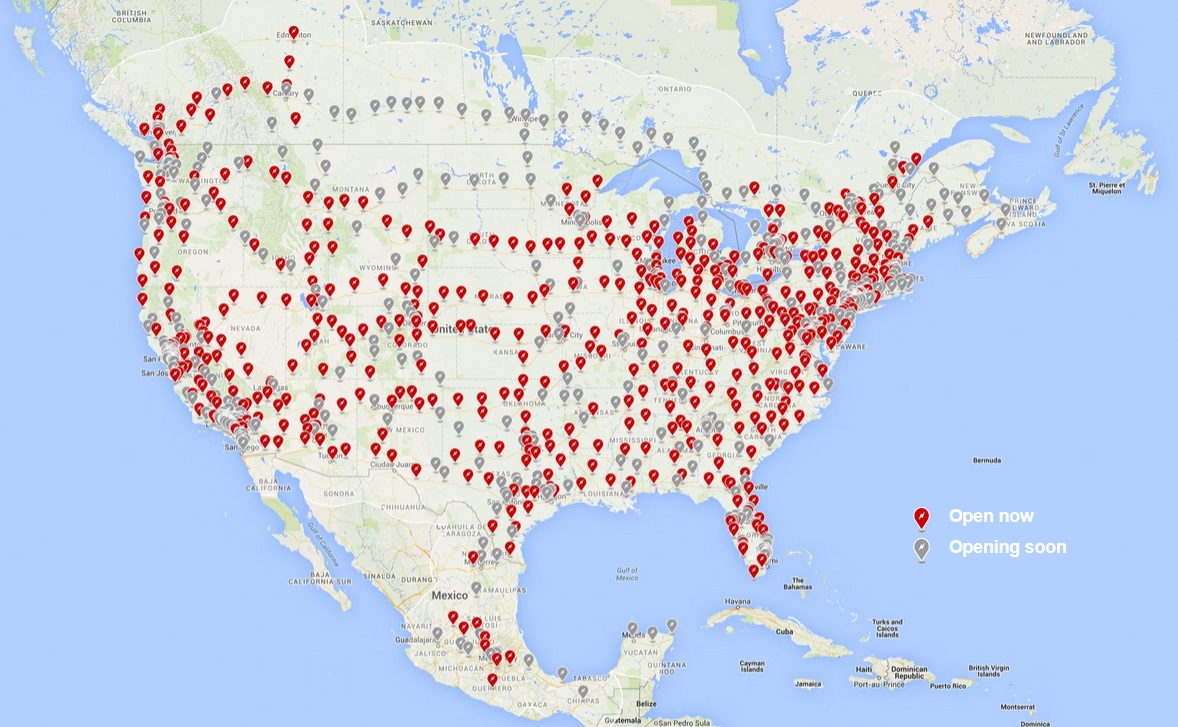 There are so many red locations it's like Communism has triumphed.  And there are many locations opening soon that are no doubt shivering with antici…
…pation.
Electric Car Owners Locked Into Small Solar Power Systems
I asked every owner of an electric car I met if they had rooftop solar and all of them said yes.  I also asked how large their systems were and they all had itty-bitty teeny weeny ones.  Typically it was only a couple of kilowatts and incapable of matching the electricity consumption of an average home plus an electric car.
It's clear that early adopters of electric cars were also early adopters of rooftop solar and here in South Australia they are still locked into old, high, feed-in tariffs that prevent them from increasing their solar capacity8 and being able to say they provide enough clean energy to the grid to offset their home and car electricity consumption.9
It makes no sense to block people who are eager to install more solar from doing so.  The state should say, "Here's some money, take it and install a larger solar power system if you want, but your new solar panels will only get the same feed-in tariffs available to everyone else."  This would be win-win as people who want more solar capacity could have it while the cost of paying for old, high feed-in tariffs could be reduced.  Actually, it would be win-win-win as the world would have more clean energy.
Australia Is Well Behind When It Comes To Electric Cars
Compared to other rich nations Australia is well behind when it comes to electric car uptake.  Last month, 37% of new car sales in Norway were fully electric with another 27% being plug-in hybrids.  The share of new petrol cars was 20% and diesel 16%.  In March there were 5,322 fully electric cars sold.10  Australia, with 4.6 times as many people may have bought 200 electric cars last month.  But I suspect it was less.
The difference is not surprising given the large subsidies for electric vehicles in Norway.  Australia's current Federal Government is unlikely to give subsidies or make petrol and diesel vehicles to pay for the harm they cause to the climate and people's health.  Unless of course they think it will get them reelected.  Five hundred and eighty-one days is a long time in politics and who knows what will happen either before or after the next Federal election.
But regardless of government policy, electric cars will continue to improve in terms of range, charging times, and price, so the longer their take off is delayed in this country the faster it will occur once it gets underway.  Unless of course the government adopts my, "a horse in every garage" policy.11
Footnotes
Just avoid fair, green, foreign hills if you're not a fan of bagpipe music. ↩
Petrol, diesel, LPG, and natural gas trucks and buses all have internal combustion engines. ↩
Or maybe the fact that, while both rich people and poor people breath air, only the rich could afford cars.  They used them to live in places with clean air. ↩
Most hybrids vehicles in Australia can't be plugged in and charged with electricity, but there are a small number of plug-in hybrids that can be.  Some plug-in hybrids will let you do almost all your driving in town using electricity and only use significant amounts of petrol on longer trips. ↩
Not a typo. ↩
EV = Electric Vehicle ↩
In China there are electric buses using supercapacitors that can be charged much faster than chemical batteries, but their stored energy per kilogram of mass isn't considered high enough to be practical for electric cars at this time. ↩
In a way that makes economic sense. ↩
Electricity from rooftop solar doesn't have to be used to directly charge an electric car to provide environmental benefit.  Exporting clean solar electricity to the grid during the day while charging a car with grid power at night is still good, provided enough clean energy is supplied. ↩
This figure includes 4 hydrogen fuel cell cars.  Hydrogen is not doing well, but on the bright side their sales figures last month were infinity percent higher than cars powered by cold fusion. ↩
Full title:  "A horse in every garage or a racing carriage and a team of emus." ↩