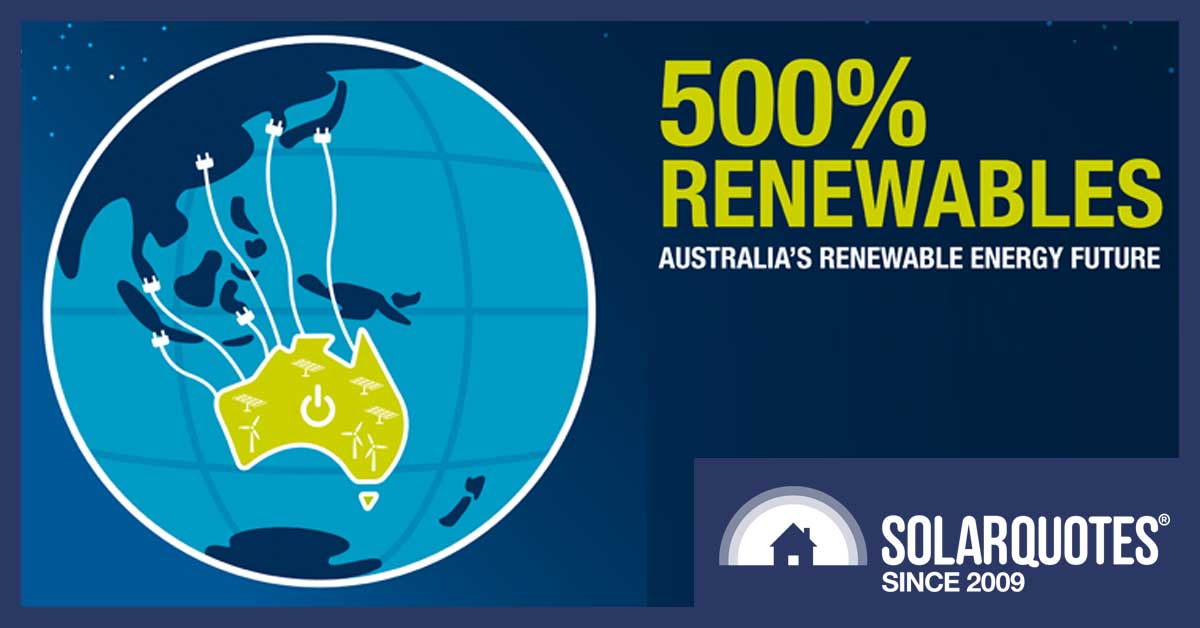 In spite of the best efforts of our government, Australia is going to overshoot 100% renewables.
That's the conclusion of big names in renewables like Oliver Yates (inaugural CEO of the Clean Energy Finance Corporation and former independent candidate for the federal seat of Kooyong), who yesterday told a Smart Energy Council online seminar we should "re-industrialise" Australia to make the best use of excess renewable energy.
Yates told the seminar that the renewable energy sector still faces a:
"tide of disbelief", adding that "it's time to call these fools out," because "fundamental change is unstoppable, and any attempts to dismiss or ignore it will fail".
Yates was joined in the webcast by Beyond Zero Emissions' CEO Vanessa Petrie, and Michael Lord of the University of Melbourne's Energy Transition Hub in the "500% Renewables: Australia's Renewable Future" presentation.
Together, they want to "break the lie" that renewables will harm the economy (as facilitator, the Smart Energy Council's John Grimes, told participants).
"How do we debunk this? How do we go further?" Grimes asked, now it's clear that renewables will by 2050 power the economy for $13 per MWh less than electricity costs today, meaning the economy will get stronger, not weaker, on renewable energy.
By "re-industrialising" the country, Yates explained, advocates of the 500% renewables approach believe cheap renewable energy will attract the kinds of heavy industry that we have mostly farewelled.
"Australia and Australians now have a nation-making opportunity in front of us," Yates said.
Petrie name-checked the technologies already available to operate industrial manufacturing without relying on coal or gas.
She said heat pumps are already starting to make headway for lower-temperature processes (up to 160°C). They're more attractive to manufacturers in industries such as food manufacturing, and pulp and paper, because as a replacement for burning gas heat pumps have a two-year payback.
Electromagnetic heating is the candidate at the next step up, for temperatures up to 2,000°C – such approaches include microwave heating, UV, and induction heating, the latter of which has been used for decades.
Petrie offered brick-making as an application example: if microwave-assisted heating replaces gas, the manufacturer can double their output.
For processes up to 5,000°C (such as recycling steel and some cement manufacture), the electric furnace (an arc furnace) is a well-understood technology – it was popular for decades until the 1970s, when gas came into vogue.
And finally, the growth of the hydrogen economy will cover applications the other three technologies can't support – steel forges, and ammonia manufacture for agriculture.
Why Would Manufacturing Return To Australia?
Yates offered a simple reason heavy industry could grow again in Australia: we will have an abundance of cheap renewable energy, but transporting energy is expensive, and as industrial process automation will erode China's low-wage advantage.
Soon, renewables will be the "only form of energy" the global population will permit Yates said, so countries without plenty of renewable electricity will either "have to move heavy industry close to the source of power, or import clean energy".
While lauding the $20 billion Sun Cable project led by Mike Cannon-Brookes to export renewable energy from the Northern Territory to Singapore, Yates stated:
"moving renewable energy is expensive … it's cheaper to move production to where the energy is".
Government, Yates said, could and should support renewable-driven heavy industry by creating "green industrial zones".
With steel alone responsible for 7% of global greenhouse gas emissions, Michael Lord said it's urgent to de-carbonise metals production, and:
"Australia is one of the best places to do this: not only have we got this abundance in renewable energy, we've got the metallic ores".
With resources such as iron, bauxite, lithium, manganese, zinc, gold, titanium, and rare earths, it's stupid to "export rocks" and let others do the clever stuff.
"We're exporting the valuable non-renewable resource at the lowest point on its value chain".
Petrie used manganese as an example of this: "manganese exports from Australia are worth $1 billion annually, "but adding the value [in Australia] brings it to $5 billion".
How Much Energy Do We Need For 'Green Industry'?
The sheer amount of energy demanded by industrial processes looks daunting – that's why the campaign is dubbed "500% renewables".
The goal of exporting a million tonnes of hydrogen, for example, demands 23 GW of renewables, which Yates said is considerably more than the 14.5 GW currently under construction. Producing Australia's ammonia would need another half-million tonnes of hydrogen, or another 11 GW of renewable energy.
Then there's the world's appetite for ammonia: nearly 200 million tonnes annually, or 800 GW!
However, Yates stated, there's nothing standing in the way of achieving the scale needed, except the public perception that renewable energy is difficult, unreliable, and expensive. He said Australia is:
"moving to a future where power is not a restricted resource".
What's needed is public education:
"we need to make sure people understand what the opportunity is".
Lord said the world is:
"on the precipice of a huge avalanche in demand for low-carbon metals. "By and large in Australia we're missing out on this opportunity".
The Smart Energy Council has the Webinar recording online here.