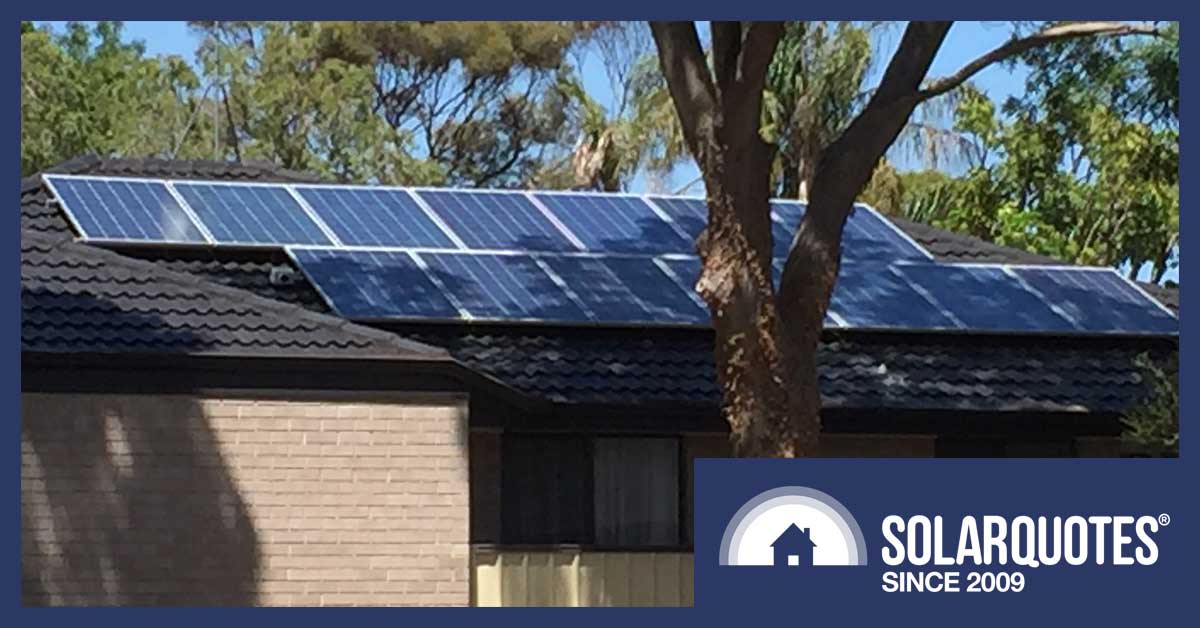 The micro-inverter debate has been stirred with two YouTube videos looking at the marketing claim that microinverters outperform string inverters when solar panels are shaded.
The simplistic claim, says MC Electrical boss Mark Cavanagh in the videos, isn't quite accurate: in the run-off between micro-inverters and string inverters, which performs better depends on the shading conditions.
We'll go into the details of Cavanagh's analysis later, but what caught my eye was what had him investigating the issue in the first place. After all, if you have a bunch of solar panels producing a decent amount of power, what is there to draw your attention to whether you're getting exactly the power you expected?
It turns out the idea first came from Managing Director of NRG Solar Eddy May, who told SolarQuotes his interest started with Enphase kit installed at the front of his warehouse in 2017.
"I noticed that when panels were only very partially shaded the performance with Enphase dropped considerably. I started to pay more attention," he said.
May passed that observation on to Cavanagh, who decided to conduct more formal testing.
The 12-year veteran of the industry did "months of testing", but told SolarQuotes once he started, it didn't take long to see the patterns described in the video.
"Eddy told me this shade situation really messes with the microinverter, and when I tested, I found he was right."
And that's a big disconnect with how micro-inverters have been marketed, Cavanagh said.
"It got as simple as this, if you have shade you need micro-inverters. Or optimisers. And string inverters don't work in shade, full stop.

"Sometimes it is better to have a string inverter. It isn't a big difference, it's fairly niche – the point is you don't always need to pay that extra money, to get that extra production."
Truth Lurks in the Shadows
What Cavanagh got from the work documented in his videos is a simple reset on what every electrician knows. It's called "kink in the hose" theory – if you have one panel shaded and running at 5A, the whole string will be restricted to 5A.
That's pretty much the premise of Enphase ads like the one below – and it's wrong.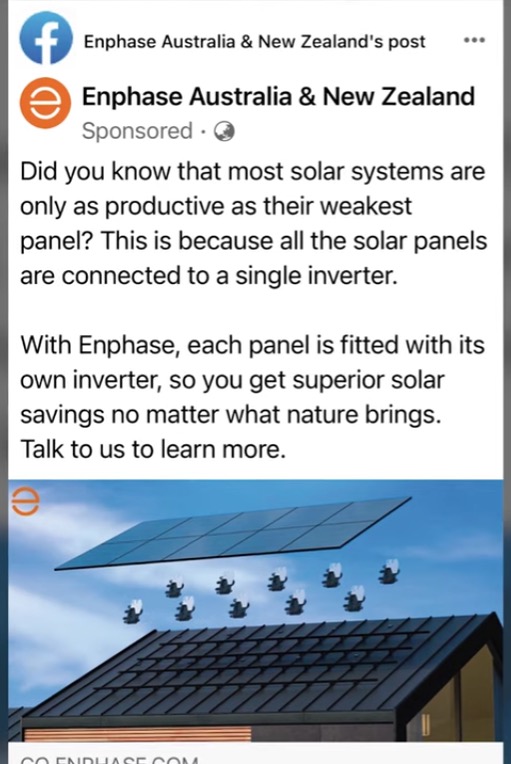 The problem, as Cavanagh details in that video, is solar panels don't work so simply. They (usually) have three bypass diodes1 – and the bypass diode's job is to decommission part of the panels if they're in shade.
That role is purely protective. Shaded cells become power consumers instead of producers. Left to themselves, cells in this state would heat up and fail, so the bypass diodes take shaded cells out of the circuit.
Cavanagh argues that 20 years ago, string inverters' Maximum Power Point Tracking (MPPT) software simply didn't work as well as it does now – these days, the power loss from partial shade is far less than it used to be.
He tested Fronius and Enphase under two types of shading conditions – from the side and from the bottom – using Solar Analytics for data collection. The results for the side-shaded setup are summarised below, in a scenario where the total system loss due to Cavanagh's artificial shade was about 15%.
| Conditions | Outcome |
| --- | --- |
| Sunny | Fronius 3.5% better than Enphase |
| Overcast | Enphase 2% better than Fronius |
He notes that Enphase always works a little better:
If you have parallel strings with uneven shade;
You have 5kW of solar power on a 5kW inverter; or
Short strings.
String Versus Micro Inverters, Part 2
In the second video, he tested inverters under bottom-shading conditions – that is, the shading starts at the bottom of solar panels as shown below. The idea came from Dr Johnathan Dore of Solar Analytics.
If you shade (for example) four panels, the inverter chooses whether to use the four half-panels, or the eight whole panels. The string inverter has only one input, so the MPPT chooses the higher current to draw.
The Enphase microinverters on the other hand can take the highest current each panel can produce.
The best illustration is in the "extreme example", where he shaded the bottom half of the whole string of 12 panels, and Enphase outperformed the Fronius inverter by 1%. Other results:
| Panels Shaded | Outcome |
| --- | --- |
| Five | Enphase 8.5% better |
| Four | Enphase 6.7% better |
| Three | Enphase 6.3% better |
And as it happens, in side-shading, he said,
"one shaded cell takes out the whole string" is a scenario you'll more likely encounter using micro-inverters!

"Panels on a microinverter system only have to deal with a little bit of energy [from one panel]."
That means it's rare that the bypass diode ever engages on a microinverter panel – so one shaded cell string will drag down the power of the whole panel.
Enphase had little to say on the topic. Marketing manager APAC Justin Cohen told SolarQuotes:
"As you're aware, there are heaps of backyard enthusiasts in solar and we love that there is so much passion in the industry at all levels. Where productive, we invest a lot of time into keeping these dialogues open with the industry at large. However, manufacturers simply don't have the time to respond to every one of these rabbit holes."
With that campaign done, Cavanagh has decided to take shading and warranties up to solar panel manufacturers as his next mission.
Manufacturers generally keep shading as a get-out-of-warranty card, since shading can be hard on bypass diodes. Since it's hard to imagine almost any location that can be guaranteed shade-free for the warranty life of a solar panel, it's a good battle to fight.
Footnotes
Six on a half-cut panel ↩