Black Solar Panels Are Hot!  This Reduces Efficiency.
I want you to think about someone you know who has rooftop solar.  It doesn't matter who.  It could be a friend, a relative, or that handsome bearded man you've been stalking for months — it doesn't matter.  I want you to think about where they live.  Picture their home in your mind's eye and then answer these two questions:
Do you have any idea what their solar panels actually look like?
Do you give a damn what their solar panels look like?
I am going to guess you answered "no" to at least one of those questions.  With maybe a few rare exceptions, the only people who care about your solar panels' appearance are you and the people selling them to you.  The few others who may care are probably nutters who are best avoided.  Personally, I'm kind of obsessed with solar panels.  I eat ground up solar panels for breakfast, but I still don't care what yours look like.  I will notice if they have been installed incorrectly, but as far as I am concerned looks don't matter as long as they reliably do their job of converting photons of light into electricity.
But the majority of humans are terribly self conscious creatures and think that other people are actually going to care what their solar panels look like.  I'm pretty self conscious myself.  I always brush my beard before checking my horse in the morning even though the only person likely to see me is the stalker hiding in the bushes.  We spend so much time worrying about what other people think of us we spend very little time actually thinking about other people.  Ironic, isn't it?1
One group of people who take advantage of humanity's basic social paranoia are salespeople.  Admittedly, when it comes to things like clothes and deodorant, they may be right about other people caring, but solar panels aren't in your face or up your nose holes.  They're on your roof and people simply don't pay much attention to them.  However, manufacturers know people are paranoid about appearances and so a number produce panels they claim are more pleasing to the eye than average ones.  Right now there is only one common method of making panels look different from the majority and that is producing black panels.
Black & Blue
There are two main types silicon used in solar cells.  Polycrystalline cells have multiple crystals and look blue while slightly more efficient. More expensive monocrystalline cells are cut from a single large crystal and are very dark.  While they're not quite black, they are close to it.  Solar cells are normally placed on a white backsheet, which creates a grid of white lines around them.  But when dark monocrystalline cells are placed on a black backsheet it is difficult to distinguish the grid from the cells and so it creates a "black" solar panel.
Three Main Points
If you like the look of black panels and want to put them on your roof that's fine with me.  I'm not writing this article to try to stop you.  I'm writing it so you can approach buying black solar panels with your eyes open and be aware of the following:
Apart from you, almost no one cares what your panels look like.
Solar panels may not be not visible from the ground.
You will be paying for a product that is slightly worse than an otherwise identical standard panel.
Beautiful Black SunPower Panels
Here is a close up of a black SunPower panel I stole from their American website: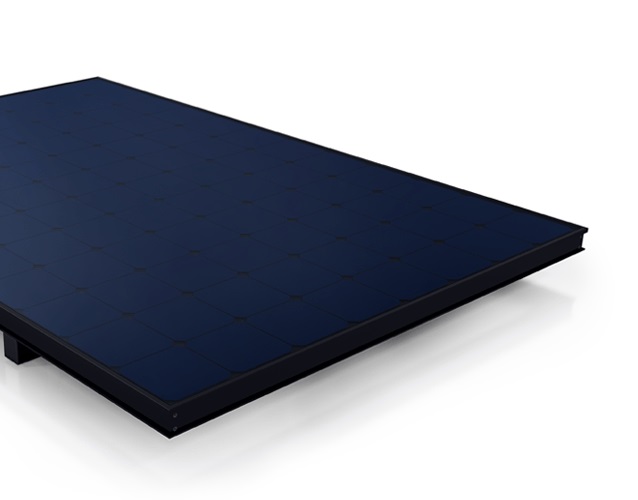 As you can see, it's pretty dark.  Dark like a German fairy tale. If you slapped them on the roof of a gingerbread house they would look like this:
Provided an obscene amount of effort was put into making the gingerbread resemble an American house.
Here are SunPower's black and standard versions of their X-series panels with their full, fancy, technical looking names underneath them: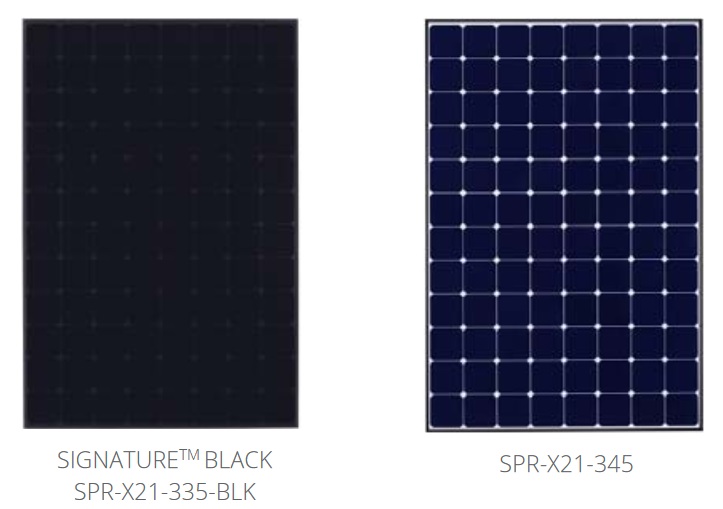 The three digit numbers in those names — 335 and 345 — are how many watts the panels are rated to produce.  As you can see the black one produces 10 watts less than the standard solar panel.  So under identical conditions the black panel will provide around 3% less energy.  Here's a table showing their differences in wattage and efficiency:

The only difference I am aware of between these two panels is the black backsheet and I'm pretty sure making it dark isn't going to make it cheaper, so you'll have to pay at least the same price, which means you will be getting less per dollar spent compared to the standard panel with a white backsheet.
LG Solar's NeON 2 Black Solar Panels
Here is a picture showing LG Solar's NeON 2 black panel and their standard NeON 2 panel: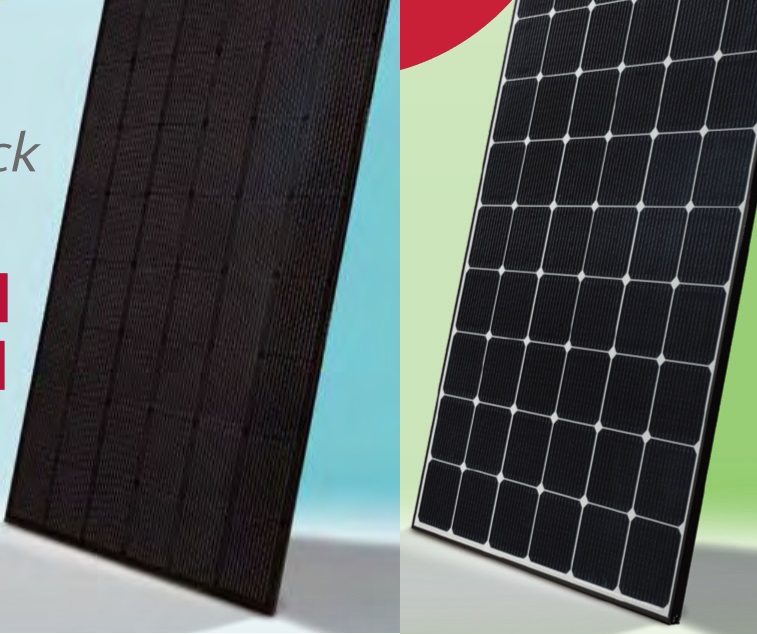 The SunPower panels above don't have busbars on the surface of their solar cells because they use N-type cells with interdigitated rear contact.  But if you look carefully at the LG panels you can see that, while they also have N-type cells, they have fine wires on their surface.  They are difficult to make out because the panels are quite intentionally tilted to make them less obvious.  You know what else is normally tilted?  Solar panels mounted on roofs.  Just as the busbars are hard to see, from a distance the white lines on a standard solar panel can also be hard to see.
As with the SunPower X-Series panels, the black NeON 2 Black panel does not perform as well as its white backsheet brother:

Both types of panels have a 315 and 320 watt version, but if you look at the module efficiency you'll see it is less for the black panels.  So how can the black panels have the same wattage if they are less efficient?  Simple — both the solar cells and the entire panel are larger in the black versions.  While they are only 4.4% larger this can definitely result in less of them fitting on a roof.
The NeON 2 Black panels do have one advantage.  The Pmax figure is -0.37% rather than -0.38%.  This is a measure of how much the panel's efficiency decreases by for each 1 degree increase in panel temperature over 25 degrees.  It's not a huge advantage because even in the middle of a massive heatwave the black solar panel will only produce about half a percent more electricity than the standard one, but that's better than no benefit.
Black Backsheets Are Bad For Efficiency
A black backsheet is a bad choice from the point of view of efficiency because the hotter solar panels get the worse they perform and in sunlight black gets hotter than white.  So the gaps between solar cells on a panel with a black backsheet will absorb heat instead of reflecting it.  These gaps will get hotter than the solar cells because the cells convert a portion of solar energy falling on them into electrical energy that gets conducted away, but the gaps don't do this.  So panels with black backsheets are always likely to perform worse than white backsheet ones.  At least until they work out a way to make the gaps generate electricity.
Panels that are made up of small overlapping solar cells, such as SunPower's P-Series or Seraphim's Eclipse, do eliminate a lot of gaps, but they don't get rid of all of them and using a black backsheet, as Seraphim does, results in the same problem.  Just not as bad.
Panels May Not Be Visible From The Ground
I'm certain you wouldn't be this silly, but some people have selected solar panels based on their appearance without first checking to see if they will be visible from the ground.  If you are thinking about paying extra for panels based on how they look, please don't forget to check the section of roof they are going on is clearly visible.
For Efficiency I'm Telling You Little White Lines
Deng Xiaoping once said:
"

只要它捕捉老鼠,一只猫是黑色还是白色并不重要。

"

"It doesn't matter if a cat is black or white, as long as it catches mice."
I wish I could say black backsheets allowed solar panels to catch photons as well as white ones, but they don't.  If you buy black panels you will pay more, either up front through a higher price or through lower efficiency.  But if your desires are black then when the darkness calls you may be more than willing to pay the price to see those somber panels clamped to your roof without a trace of little white lines. Your call.
Footnotes
This is a serious question.  I don't actually know what the word ironic means.  Alanis Morissette and I have been trying to work it out for years. ↩