I recently wrote an article on black solar panels and included pictures of sexy black ones from SunPower and LG Solar.  What I didn't do was mention Seraphim Black Max panels.  This is something I probably should have done, as we have received some inquiries about 'Blackmax panels'.
Fortunately I wasn't asked directly because all I could have said about them a few days ago was, "They are black solar panels made by Seraphim that are called Max."
I have now researched Blackmax panels and have memorized everything specifically relating to them on the Seraphim Solar website.  This was easy because there was nothing there.  The word Blackmax does not appear on their site.  Looking further, I found there is an Australian installer called Integra Energy Group that is selling Seraphim Eclipse SRP-E11B panels and calling them Blackmax solar panels.  On the Integra site you can download a datasheet for Blackmax panels that is identical to Seraphim's datasheet for their Eclipse SRP-E11B panels, except for the addition of the words "Blackmax Solar".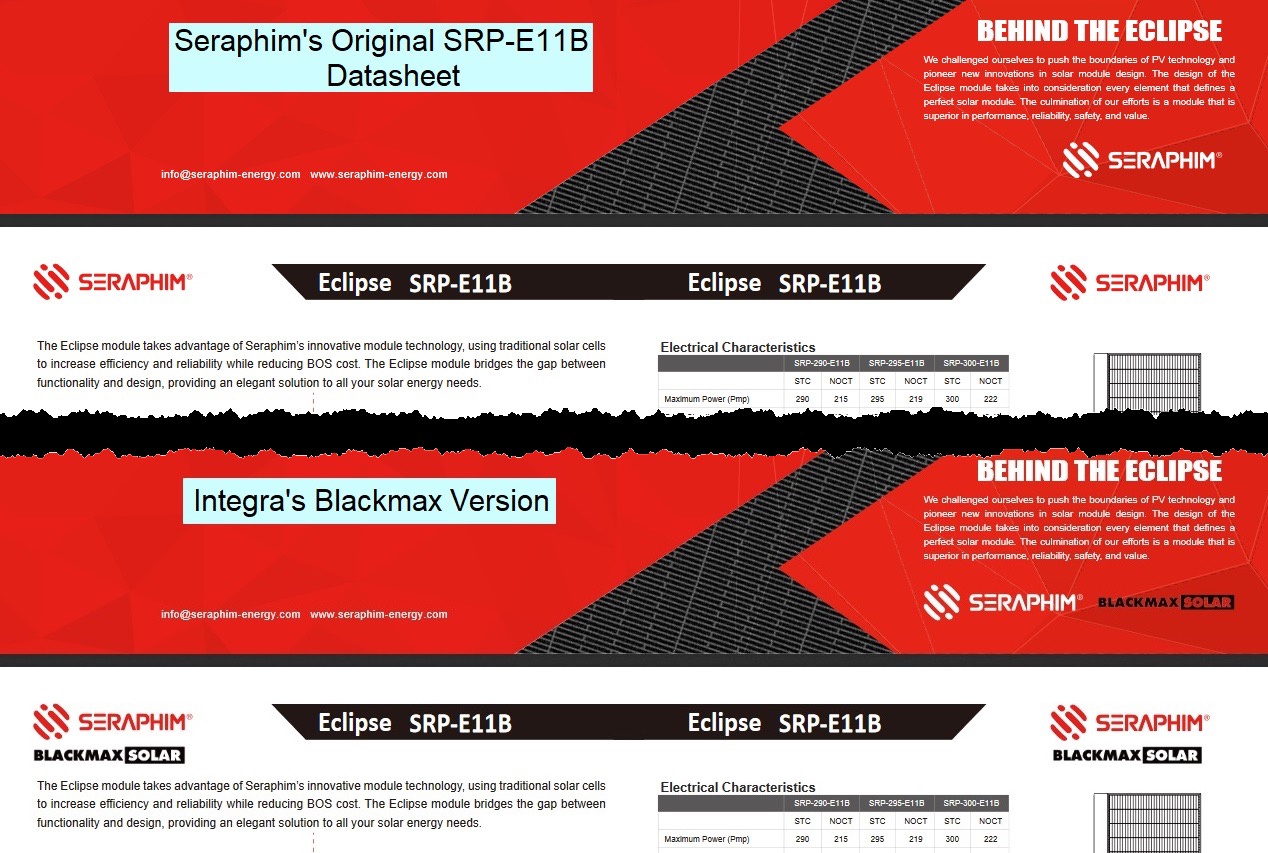 What Is A Seraphim Eclipse SRP-E11B?
Seraphim Eclipse panels are made by taking ordinary solar cells, cutting them into strips, and overlapping them.  This eliminates the spaces between solar cells and allows the main electrical conductor, the busbar, to be hidden under an overlapping strip so it won't block light from reaching the solar cell.  This allows higher efficiency than the solar cells would provide when used normally and the SRP-E11Bs are from 17% to 17.6% efficient.  SunPower's P-Series solar panels have a similar design and I wrote about them here.
What Is A Blackmax Solar Panel?
A Blackmax panel is a Seraphim Eclipse SRP-E11B but is called Blackmax, which is much more exciting.
Blackmax Or Bluemax?
Seraphim makes two kinds of Eclipse panels.  One using cheaper polysilicon cells and another using more expensive but more efficient monosilicon cells.  This picture from the Seraphim site shows them together: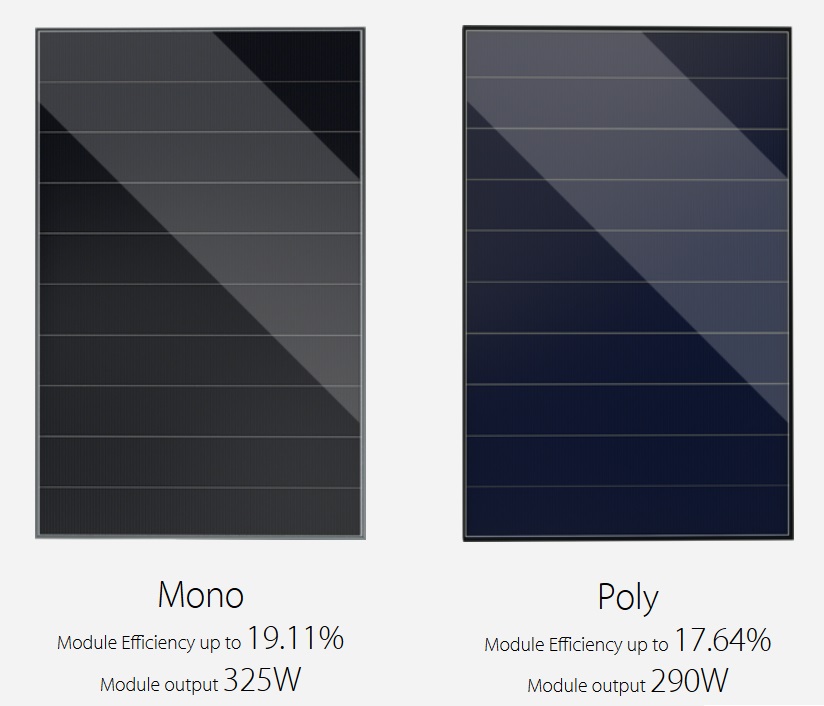 As you can see, the panel using polysilicon is dark blue, while the monosilicon one is grey-black.  I'll leave it up to you to decide which looks better, as beauty is in the eye of the beholder, but what is interesting is the Eclipse SRP-E11B that Integra calls a Blackmax solar panel is actually the bluer polysilicon panel and not the blacker monosilicon one.
There is nothing wrong with using a cheaper polysilicon panel.  They should both be of equal reliability and high efficiency panels are only really important if you have a limited amount of roof space.  But it seems an odd choice to call the blue one Blackmax instead of, you know, Bluemax.  And if they start selling the monosilicon solar panels what are they going to call them?  Blacker Blackmax?
 Blackmax Or Black Max?
On Integra's site the datasheet they provide has "BLACKMAX SOLAR" on it, but everywhere else they refer to them as "Black Max" panels.  I have nothing against giving solar panels a human name like Max.  I've known several Maxes and they've all seemed to be decent guys and gals, despite varying levels of madness.  (Except for that Mel Gibson guy.  He's a few cogs short of a Babbage Machine.)  I'm just not 100% comfortable with calling them Black Max panels.  It just seems a bit odd to give them a human name and then immediately call attention to their color as if that is the most important feature of a human.  To me it's a little reminiscent of the Dutch tradition of Black Pete.
Integra's Strange Warranty Claim
On Integra's site it clearly states Black Max panels have a 25 year output warranty, usually called a performance warranty, and a 20 year product warranty:

They put asterisks next to both of those claims and advise you to:
"Please read warranty information for greater detail."
It's a good thing they do that, because when you download the warranty document they link to you will see the product warranty is actually 10 years, not 20.  This made me wonder if the 20 year claim on their website was a serious typo.  But then I found this information in their company brochure:
I believe any reasonable person seeing this would conclude if they buy Black Max solar panels they will get a 20 year product warranty, which is way beyond what Seraphim normally offers.  Also, the 25 year performance warranty in the previous screenshot is now a 30 year performance warranty. But what I couldn't find on their site was an actual warranty document detailing the protection they provide above and beyond Seraphim's 10 year product warranty and 25 year performance warranty.  Instead I found this on their terms and conditions page:

So here they make it clear Integra provides no product warranty so you only get the 10 years provided by the manufacturer, Seraphim.  In other words, their claim of offering a 20 year product warranty does not stand up.  This could have potentially very serious consequences for them, as according to my understanding of Australian Consumer Law1, if a reasonable person would conclude  Integra Energy Group offers a 20 year product warranty on Black Max solar panels, then that is the warranty they have to provide.  It doesn't matter if they have an asterisk telling people to read the warranty for "greater detail" and that "detail" is that the product warranty is actually only half as long.
Update 01 Feb 2018:  Kent P. from Integra has provided us with a link to the warranty document for the 30 Year Limited Peak Power Warranty and 20 Year Limited Product Warranty for Blackmax panels: 
Seraphim's Unacceptable Warranty Condition
If you buy Black Max panels it looks like you'll have to rely on Seraphim's warranties – and I have some bad news there.  While looking through their warranty document I noticed an unfortunate provision in it.  I have excised it, stuck it below, and underlined the offending bit:

So, if the solar panels fail to live up to their performance warranty Seraphim will, at their choice, either:
Repair them
Replace them, or…
Provide extra panels to make up for the power loss
The first option is unlikely as it is easier to replace panels then repair them, but the third option is unacceptable.  If you discovered that 4 out of 20 Seraphim solar panels on your roof were performing at 20% below the minimum their performance warranty allowed, you'd expect Seraphim to replace all 4 of the under-performing panels.  But according to their warranty document they could decide to just give you one new panel and claim that makes up for the loss of output.  How is that supposed to work?  Are you meant to just hover it in the air off the edge of your existing solar panels?  Unless an old panel is removed there is no place for it to go.  Even if you could just hover it in the air, for the large majority of solar power systems, the performance of an array of panels is dragged down to that of the weakest one, so leaving the poor performing panels in place will lower the output of the whole system.
I am not aware of Seraphim handling any warranty claims this way, but it should not be an option.
Note you are protected by Australian Consumer Guarantees, regardless of what Seraphim's written warranty says.
Integra Energy Group Claims To Manufacture Blackmax Panels
Intega's website says, and I quote:
"Black Max is manufactured by and exclusive to Integra Energy Group."

What?  No it's not!  Black Max panels are Eclipse SRP-E11B panels made by Seraphim Solar, a Chinese manufacturer of tier one solar panels located in Chanzhou, the city with the Chinese Jurassic Park and dragon beard noodles.  It says Seraphim right on the datasheet they provide.  The warranty document they give is from Seraphim and the address at the end of it is in China and not goddam Hallam, Victoria:

Maybe they mean Seraphim makes the solar panels exclusively for Integra, but that's is not the same as manufacturing themselves.  But Seraphim does not make Eclipse SRP-E11B panels just for Integra.  They sell them in the Philippines and plenty of other countries as well.  The best they might do is use a specific bill of materials2 for Integra, but that is a long way from Integra manufacturing them.
I don't know why Integra are claiming to manufacture the panels when they don't, but it's a really bizarre thing to do.  There is only one manufacturer of solar panels in Australia and that is Tindo.  If the city of Chanzhou was in Australia I'm sure we would have noticed by now.
Fun On The Phone With Integra Energy Group
I called Integra Energy Group to ask them about their warranty and was told someone would have to get back to me.  I asked the person who answered the phone how long the warranty on Black Max panels was and she didn't know.  Someone from Integra called me back under the impression I was a potential customer with a question about warranties, but he was not able to tell me how long the warranty on the solar panels he sold was.  Even though he was forewarned he still could not tell me.  He said his understanding was they had a flat 25 year warranty but he'd have to get back to me on that.  This is from a guy who works for a company that states their warranties are "Solid as a rock" and "Clear, honest and comprehensive".
When he called back he said Seraphim offered an extended 20 year warranty on Black Max solar panels.  I said I was surprised by this and asked where I could find a copy of this extended warranty online.  He said it was new but they would get it on their site in about a week.  I asked for details of the warranty but he said he would need to talk to one of their technicians about that.  He told me their duraflex glass really improved the efficiency of the panels.  I asked him how it improved efficiency and he couldn't tell me3.  He said he'd have to talk to one of their technicians about that.  I asked him to have one of his technicians call me. He said there was only one available and he'd have to check his schedule to see when he could call me, or maybe he would talk to him and then call me back himself.
I gave up at this point and said goodbye even though I hadn't got around to asking them why they claim to manufacture the panels.
Footnotes
Note I am not a lawyer and this is just my personal understanding. ↩
A Bill of Materials or BoM is a list of specific materials used to manufacture a product.  This specific list is important because materials vary in quality. ↩
Kent P. from Integra has said in the comments that duraflex glass does not come standard on Eclipse panels and it makes them stronger.  So it appears Black Max panels do have a high quality Bill of Materials and the stronger glass should help them last long term with limited degradation in output. ↩