Seraphim solar panels review
Overall Rating From 28 Reviews: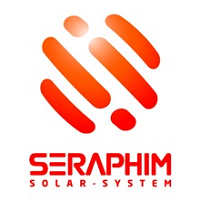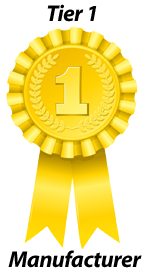 Seraphim Solar
Seraphim Solar is a Chinese manufacturer of tier one panels with 10 year product and 25 year performance warranties. They are certified as corrosion resistant which makes them suitable for installation in coastal areas.
Seraphim Solar now has an Australian office in Queensland.
I took an in depth look at Seraphim solar panels in August 2016 and you can read what I found out about them here.
Manufacturing Capacity
Seraphim solar was founded in 2009 and is a moderate sized manufacturer of solar panels. Their production capacity was approximately 2 gigawatts at the end of 2016. This put them well behind the world leader, Jinko Solar, which shipped approximately 6.6 gigawatts of panels in 2016.
As with many large producers of solar panels, Seraphim is vertically integrated and produces the silicon ingots and that solar cells are made from. This makes them less reliant on outside suppliers.
Manufacturing Location
Seraphim Solar produces most of its panels in the city of Changzhou, which is a one hour train ride north-west of Shanghai. In addition they also have a small manufacturing plant in Jackson Mississippi in the USA, with a current capacity of 300 megawatts. Seraphim Solar says this may be expanded to 1 gigawatt in the future, but this may not be true as in the United States it is common for companies to exaggerate their intended manufacturing capacity in order to wrangle increased concessions from state and local governments.
Seraphim Panels
Seraphim Solar produces a variety of solar panels. Standard sized, 60 cell panels are the type most commonly installed in Australia, but Seraphim also produces larger 72 cell panels and smaller 54 and 48 cell ones. They are all corrosion resistant and so suitable for installation by the sea. They have 10 year product warranties and 25 performance warranties.
Seraphim SRP-6MB Panels
These are standard sized, 60 cell panels and their efficiency ranges from 16.3% to 17.2%. Their temperature coefficient of maximum output power, which is usually called the Pmax temperature coefficient, is -0.43% which is slightly worse than average and will result. This means their efficiency will decline by 0.43% for each degree the panel is over 25 degrees Celsius.
AC Panels
Seraphim produces panels with built in microinverters called AC panels. They have two types. One panel has its own individual microinverter while the other shares one microinverter between two panels. Seraphim does not state on their site who makes the microinverters, but they have a 25 year warranty, which is impressive.
Eclipse Panels
Seraphim's highest efficiency panels are their Eclipse line which are made with small, one fifth normal size, overlapping solar cells.. The lower cost polycrystalline version is 17.1% efficient and the monocrystalline version is 18.8% efficient. At -0.4% their Pmax temperature coefficent is average, so losses from heat will be typical for most solar panels.
Black Panels
In addition to standard panels, Seraphim also produces black ones. These are solar panels that have a black backsheet rather than a white one and this makes the entire panel appear dark without the grid of white lines surrounding solar cells most panels have. While some people prefer the look of black panels, their performance is generally slighly lower than that of otherwise identical standard panels because they get hotter in the sun and the extra heat reduces solar panel efficiency.
Unacceptable Warranty Condition
The Seraphim warranty document states that if a panel fails to meet the minimum output its performance warranty allows then Seraphim can decide to repair or replace the panels or provide additional panels to make up for the lost output. The third option of providing additional panels is, in my opinion, not acceptable. If your solar system had 4 panels that were operating a 20% below the level allowed by their performance warranty you would expect Seraphim to replace all four, but according to their warranty Seraphim could simply provide you with one additional panel and say that makes up for the loss of output. This is not acceptable because there is no place to simply add an extra panel on a normal system and in the majority of solar systems, poor performing panels will drag down the performance of other panels to their level and all of them should be replaced.
Seraphim panels are reliable and hopefully you will never need to use their warranty, but I do not think merely providing one new panel to make up for the performance of several defective panels should be an option in their warranty.
Note you are protected by Australian Consumer Guarantees under Australian Consumer Law regardless of what is written in warranty documents or what you are verbally told by a manufacturer or installer. .
My Recommendation
Seraphim Solar produce reliable, tier one panels and, for people who are comfortable with their warranty conditions, I have no problem recommending them.
Rating
Comments
Name
State
Postcode

Bought From: 888 Solar Tek Review Date: 17 February 2018
David
NSW
2481

Bought From: SAE Group Pty Ltd Review Date: 6 December 2017
Conrad
QLD
4105

Bought From: SAE Group Pty Ltd Review Date: 21 November 2017
Alan
NSW
2477

Bought From: Solar Storage Solutions Pty Ltd Review Date: 2 November 2017
Stephen
QLD
4814
Generally, our 6.3kw system has never reached more than 4.6kw at any stage on full sunny days - accepting that we have not yet had a full summer day - and while this is OK as it suits the inverter and pretty much covers our needs, it is not what we were quoted. However, we are generally satisfied and certainly don't regret the investment.
Bought From: SAE Group Pty Ltd Review Date: 1 October 2017
Chris
QLD
4306

Bought From: Solar Storage Solutions Pty Ltd Review Date: 26 September 2017
Aaron
QLD
4818
Well its hard to say, there are so many saying so much. They are upper middle I believe, black, and 270w. Perhaps what's best is the kids showing off with their mates landed a poorly tossed rock in the middle of them the other day and they didn't break, so they are perfect in my books.
Bought From: SAE Group Pty Ltd Review Date: 21 September 2017
Jason
QLD
4300
No problems so far - probably about 5 years before they pay for themselves. The Fronius solarweb system allowed me to analyse performance in real time. I built a 12 month spreadsheet based on daily production from Fronius and daily consumption from the United Energy "Energy Easy" web site. Using these two data sources, it is possible to calculate an actual savings figure that is accurate to the last cent. Some figures from the spreadsheet below: 6.5 kW (nominal) system - 25 panels %ge of solar production used by house 31.89% %ge of solar production exported 68.11% %ge of house consumption provided by solar panels 44.59% %ge of house consumption provided by grid 55.41% % of total savings due to grid consumption reduction 53.8% % of total savings due to grid export earnings 46.2% Based on a very competitive installation price from Sahara Solar and the spreadsheet savings figures, my simple return on investment for 12 months was 12.8% PA. I expect a higher ROI next year as the Victorian feed in tariff has recently been raised from 6.2c/kwH to 14c/kwH (Globird Energy). Based on this year's data, ROI next year should increase to 19.9% PA.
Bought From: Sahara Solar Review Date: 1 September 2017
Graham
VIC
3936
We opted for the SRP-300-6PA panels.
Bought From: GTL Electrical Pty Ltd Review Date: 21 August 2017
Mark
QLD
4811

Bought From: Sahara Solar Review Date: 20 May 2017
Rob
VIC
3915

Bought From: SAE Group Pty Ltd Review Date: 8 May 2017
Al
QLD
4272
The panels are producing 3.640 w but the inverter is a 3kw not getting the full potential of the panels.
Bought From: SAE Group Pty Ltd Review Date: 5 May 2017
John
QLD
4152

Bought From: Sahara Solar Review Date: 24 April 2017
Barry
VIC
3809
The maintenance check verified their output and function was normal as expected.
Bought From: SAE Group Pty Ltd Review Date: 4 March 2017
Barrie
NSW
2478

Bought From: SAE Group Pty Ltd Review Date: 3 March 2017
John
NSW
2479

Bought From: SAE Group Pty Ltd Review Date: 26 February 2017
Anon
NSW
2487
@ 90kWh per day generated I am delighted.
Bought From: SAE Group Pty Ltd Review Date: 1 December 2016
Anon
QLD
4213

Bought From: SAE Group Pty Ltd Review Date: 30 September 2016
Gary
QLD
4209

Bought From: SAE Group Pty Ltd Review Date: 23 June 2016
John
NSW
2420

Bought From: SAE Group Pty Ltd Review Date: 7 May 2016
Glenn
NSW
2486
Installed 6.24KW of panels and a 5KW inverter. It is worth installing the extra panel capacity as it allows you to operate at 5KW for more hours a day.
Bought From: SAE Group Pty Ltd Review Date: 16 March 2016
David
QLD
4218

Bought From: SAE Group Pty Ltd Review Date: 8 February 2016
David
QLD
4218

Bought From: True Value Solar Review Date: 28 January 2016
Paul
VIC
3150

Bought From: SAE Group Pty Ltd Review Date: 12 October 2015
Toni
NSW
2484

Bought From: True Value Solar Review Date: 21 January 2015
Elaine
VIC
3352
Operating well without any maintenance
Bought From: SAE Group Pty Ltd Review Date: 20 January 2015
Jeff
QLD
4343
It works fine and output rating is as expected.
Bought From: Panel Review Supplier Name Withheld Review Date: 29 September 2017
Erosh
VIC
3810

Bought From: Energy Storage Direct Review Date: 8 September 2017
Sam
SA
5108
Seraphim has 8 solar panels in our database