The first thing I'll do in this article is point out it's difficult to fit caveats into a headline.  The second thing I'll do now I'm writing the article and have the space to explain is state there are exceptions to the two main points I am about to make, which are:
It doesn't make economic sense to charge an electric car with a home battery.
Charging an electric car with a grid-connected solar-battery is worse for the environment than simply charging it from the grid.
I will cover some exceptions later in the article, but not now.  Maybe in paragraph 46.  The first thing I am going to do is lay down some ground rules on technology and how far into the future I'm going.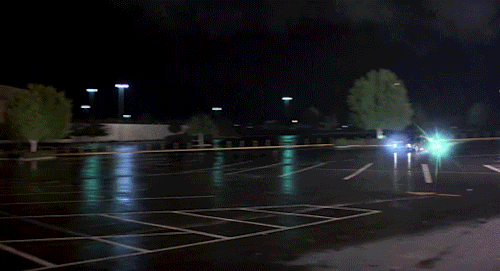 The Next 5 Years
I'm only looking at the relatively near future, which means I'm going to assume home batteries and electric cars will work much the way they do now without any radical changes in technology.
I'll also assume Australia's electricity generation will only be around 50% renewable by 2030.  I'm hoping it will be considerably higher, but as I've had three failed marriages I have to consider the possibility my optimism levels are slightly above average.
I'm confident my two statements made above will hold true for the next 5 years, but after that it's possible they will no longer apply.  So in the year 2025, if man is still alive, if woman can survive, they may find… the situation has changed and it makes sense to charge an electric car with a home battery.  But I doubt it.
Stored Solar Energy Isn't "Free"
I'm afraid there are some people who are living in a dream world.
They are under the impression it is cost-effective to charge an electric car in the evening with a home battery that's been charged with solar power during the day.
I wish I could join them in this dream world, but I'm afraid I cannot.  This is because, sooner or later, I know that giant carrot in a top hat will show up and start chasing me again.  (He's the reason I sometimes write these articles at 3:00 a.m. in the morning.)
But another problem — one that doesn't involve a giant, snappily dressed carrot with muscular legs — is this costs more than simply charging the car from the grid throughout Australia.  This is because:
Whenever energy from rooftop solar panels is used to charge a car, either directly or from a home battery, the household loses out on the solar feed-in tariff they would have received if the electricity had instead been fed directly into the grid.
There are always losses when charging and discharging batteries.  Using a home battery to charge an electric car's battery pack will, more or less, double the losses.
Battery systems cost a lot of money and this needs to be accounted for.
In addition to these points there are retail electricity plans available now that can — at least potentially — lower the cost of charging an electric car.  These are likely to become more common in the future.
Foregone Solar Feed-In Tariff
It may seem obvious solar electricity used to charge a car can't also receive a solar feed-in tariff.  It's like what my father told me when I wanted to marry two women, "You can't have your Kate and Edith as well."  But people who don't know the ins and outs of solar power and energy storage can't be blamed for not knowing this.  There are battery salespeople who deliberately ignore it in their spiels about battery savings and then there are those who don't even understand it's necessary.  This means they're advising people without knowing the very basics of how battery payback works.  That's pretty scary.
No, wait.  Not scary… shitty.  Shitty is the word I was looking for.
The amount of solar feed-in tariff you get depends on your location and electricity plan.  In Perth it's fixed at only 7.1 cents per kilowatt-hour.1  In Sydney Origin Energy is currently offering a plan with a 21 cent feed-in tariff.  This is more than what they now offer in South Australia.
The lower your feed-in tariff the less it will cost to charge a battery with solar, but the cost will be increased by…
Battery Losses
I recently looked at a report from the Canberra Battery Test Centre and estimated, on average, home batteries only provide around 84% of the energy put into them.  If I bump that figure up to 85%, around 1.2 kilowatt-hours will still need to be put into a battery to get 1 kilowatt-hour out.  This means if you have a 7.1 cent feed-in tariff in Western Australia to use one kilowatt-hour of stored electricity will require 8.6 cents of solar electricity, while with a 16 cent feed-in tariff 19.2 cents worth will be needed.
There are also losses when charging an EV's battery, but if you are going to use an electric car these are pretty much unavoidable, so I'll ignore them.2
The graph below shows:
 The standard tariff3 in each capital.
The solar feed-in tariff.  In capitals with retailer choice I simply used the Origin Energy plan with the highest feed-in tariff offered to normal households.4  For Perth and Darwin I used their fixed feed-in tariffs, while for Hobart I used First Energy's, which was the best of the two available.5  This is also how I obtained the figures for the standard tariff.
The amount of solar feed-in tariff foregone to for each kilowatt-hour of stored energy used.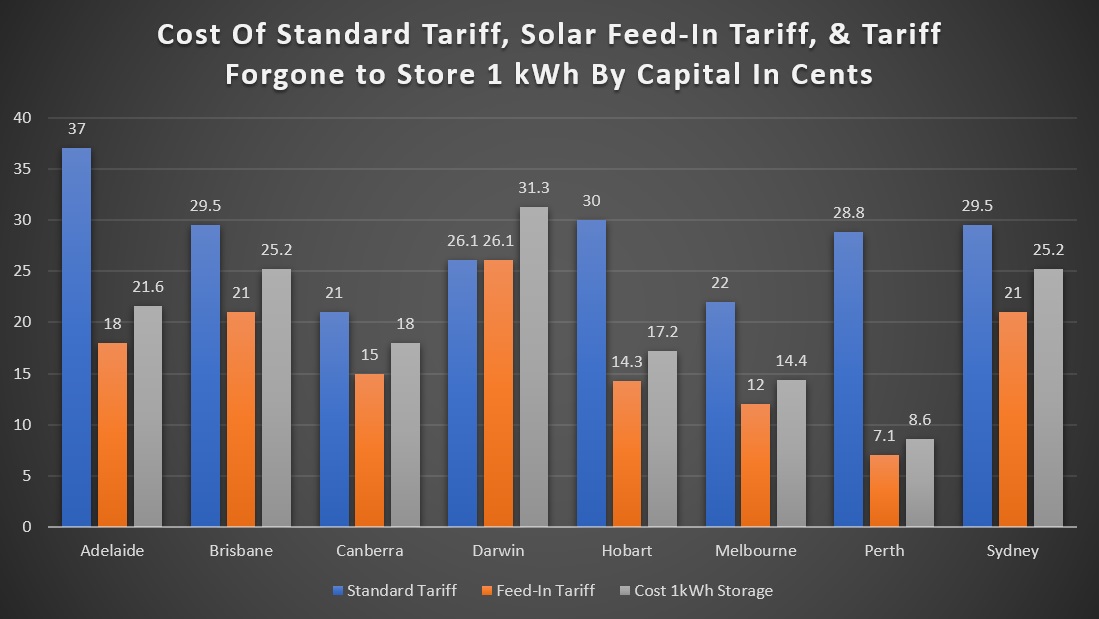 Battery System Cost
Like most things in life, the more a battery is used the more wear and tear it suffers.  (One of these days my sarcasm is going to be completely worn out.)  There is only a limited amount of energy a battery system can provide during its lifetime, so its cost per stored kilowatt-hour provided needs to be accounted for.  If we consider a Tesla Powerwall 2 — the most famous of home battery systems — and use the following assumptions:
Its total installed cost is $16,000
It provides an average of 10 kilowatt-hours of stored energy per day.  This is an optimistic figure for any home that's remotely close normal.6
It lasts for 13 years and provides a total of 47,500 kilowatt-hours7
This results in the cost of the battery system per kilowatt-hour of stored energy being 33.7 cents.  As that's more than most Australians pay for grid electricity it's clearly not going to pay for itself.  Including the cost of foregone solar feed-in tariff just makes it worse.
To be thorough this figure should also include the cost of capital, but I'm not going to worry about it.  Just keep it in the back of your mind the real cost will be a little worse.
It is possible the cost of batteries will soon come down or maybe it's possible to just get a really good deal now, so I'm going to assume the cost of a battery is only going to come to 30 cents per kilowatt-hour in most of Australia and only 17.4 cents in South Australia due to that state's hefty battery subsidy.
Total Cost Of Home Battery For EV Charging
If we take the cost of the battery system per kilowatt-hour and add the cost of the foregone feed-in tariff and compare it to the cost of a standard tariff in each capital we get the following: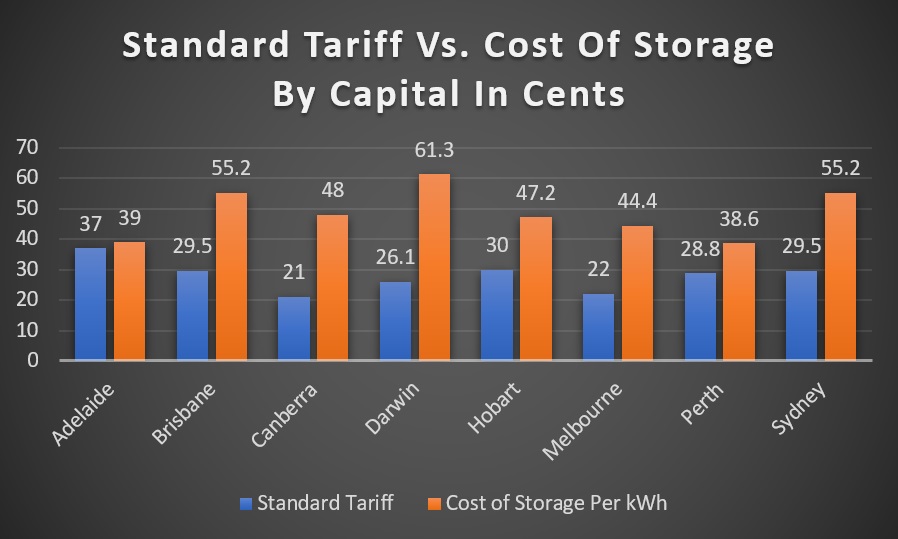 As you can see, even using an optimistic example, it costs more to charge a car with solar power from a battery than to simply use grid power on a standard tariff in every capital.  The only place it comes close to paying for itself is Adelaide and that's only thanks to the substantial battery subsidy available there.
Darwin is the worst capital for charging an electric car from a home battery thanks to having the nation's highest feed-in tariff, while Canberra is the second worse thanks to having Australia's lowest electricity prices.
While things already look awful, a standard tariff is not the only way to pay for grid electricity to charge a car and other options can make the comparison considerably worse.
Low Cost Grid Charging
Depending on your location there are a number of ways already available to charge a car with grid electricity at a lower cost than a standard tariff.  These include:
Charging with off peak power on a time-of-use tariff.  Solar homes are usually better off with a standard tariff, but if you are charging an electric car at night it may make one worthwhile.
Make your EV charger a controlled load.  This will provide lower cost electricity but you will only be able to use your charger for a limited amount of time per day.
Use an electricity plan where you are pay wholesale prices for grid electricity.  Amber Electric is an example.
Other methods of charging an electric car at reduced cost are likely to become available in the future.  If an EV charger is smart enough it will enable charging when electricity prices are low, zero, or even negative — meaning at times the household will be paid for charging their battery and potentially for consuming electricity in the home.  This graph from Thursday last week shows several periods of negative electricity prices in South Australia on a windy day: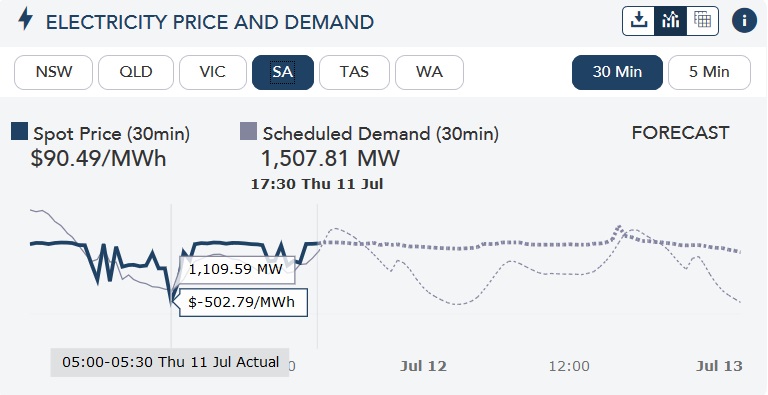 Prices fell to negative 50 cents per kilowatt-hour.  Being able to take advantage of events like this is clearly useful and in two years time it will become possible to pay for electricity in 5 minute blocks rather than having the price averaged over 30 minutes.  This graph shows 5 minute prices on that day: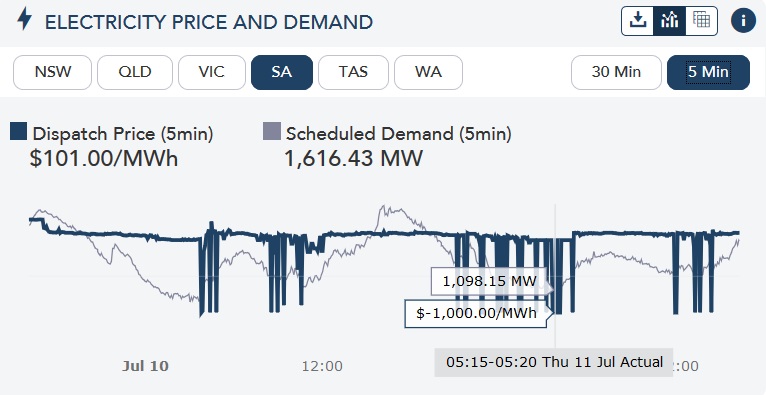 There were many, brief, 5 minute periods when the wholesale price of electricity dropped down to negative $1 per kilowatt-hour.  EV chargers and home batteries that can make use of these 5 minute settlement periods will have a considerable advantage.  On the other hand, the more storage capacity there is the less often electricity prices will go negative.  We are still in the early days of allowing households to take advantage of swings in wholesale electricity prices and it remains to be seen how much they will help home batteries pay for themselves.
Home Batteries Are Bad For The Environment
You may not care how much it costs to charge an electric car with a home battery and just want to do it to help the environment.  That's a great attitude, but not a great idea.  This is because using a home battery is bad for the environment as it increases emissions.
As I explain here, each kilowatt-hour of solar electricity sent into the grid for a feed-in tariff will reduce fossil fuel generation by around one kilowatt-hour.  But because of charging and discharging losses a kilowatt-hour of solar electricity stored in a battery will only reduce fossil fuel generation by around 0.85 kilowatt-hours.  This makes it better for the environment to send surplus solar electricity into the grid than storing it in a battery.  As renewable generation increases and coal power stations are shut down this should change, but unfortunately it's likely to take Australia more than 5 years to get to that point.
Paragraph 46 — Some Exceptions, Caveats, & Provisos
In this section I'll cover some situations where my contention that charging an electric car with a battery doesn't make economic or environmental sense may not apply.
First, just to be clear, I'll state that driving an electric car will result in less greenhouse gas emissions than driving a comparable standard internal combustion engine car.  At the moment a hybrid can easily beat an electric car on emissions, but with enough renewable generation electric cars will beat hybrids.
If your home or business is export limited and your battery is storing clean solar energy that otherwise would go to waste then the battery can be an environmental plus and reduce emissions.  This also improves its economics.
Virtual Power Plants have the potential greatly improve the economics of home storage, but it remains to be seen how much benefit they will provide households and how long they will take to become an easily available option.  They are unlikely to make charging an EV with a home battery pay for itself soon.
The current low cost of battery cells compared to what they were just a few years ago indicates home battery storage has the potential to fall a long way in cost.  If prices fall faster than predicted, charging cars with home batteries could make economic sense sooner than I expect.
If you already have a home battery then it's a sunk cost.  If you are not planning to replace it after the end of its lifespan its cost isn't a consideration in how you use it.  If you are intending to replace it then you should take the expected cost of its replacement into account.  For example, if you think home batteries will be much cheaper in 5 years time you may not mind using your battery in a way that will cause it to wear out rapidly.  You may decide to do the same if you are planning to move and have a home battery you can't take with you.
To Sum Up…
Unless there are special circumstances, charging an electric car with a home battery won't  pay for itself anytime soon and it's also likely to remain an environmental negative for a considerable time.  However, while it seems unlikely to me, if technology changes fast enough it may make sense within 5 years.
So feel free to go out and buy that electric car without worrying about having enough home-battery storage to charge it every night.