Last month my boss, Finn, received a letter inviting him to a "Home Battery Forum" hosted by South Australia's Minister for Energy and Mining, Daniel Cornelius van Holst Pellekaan, at the Marion RSL.  As Finn couldn't make it and I was curious what the Dutchest of all Australian Energy Ministers had to say, I attended.
What I discovered was perhaps Minister Dan Van Holst Pellekaan should be known as Dan Van The Battery Salesman.  He seemed certain normal households could save money by installing a solar battery system with the help of the SA battery subsidy.  Unfortunately, this is not true.  When I tried to correct his misapprehension by walking the Minister through the numbers on how solar battery payback really works, he told me that $9,300 was "very expensive" for an installed Tesla Powerwall 2. In reality $9,300 is the rock bottom price (including the $6,000 SA rebate).
This is a serious problem and Dan Pellekaan needs to stop spreading incorrect information about home batteries because he risks causing South Australian families real financial harm.  Most of the people at the meeting appeared older than me and I look like Santa Claus.  No one gave the impression they could afford to spend thousands of dollars on a home battery that would not save them money – even with the SA subsidy.
The Invitation
Finn didn't receive the invitation because he works in the solar industry, has written a book about it, and has been solaring hard for 10 years.  He got it because he lives in the seat of Gibson.  I don't know if they sent one to all of the seat's 13,500 households or if they tried to pick suburbs where the residents have more disposable/wasteable income, but he was not individually selected.  Since he would be out of town1, Finn asked me if I wanted to go.
I told him I wouldn't miss it for $2.50.  After all, it's not as if the Brakels and the Pellekaans are involved in a thousand year feud back in the old country and can only speak on holy ground without blood being spilled.  (It's actually the Finnish fish thief, Pelle Kaan, that we hate.)  And even if we were, an RSL is pretty much holy ground.
The Meeting
There were maybe 60 people at the meeting and, as you can see from the photo, there was plenty of grey hair and bald spots: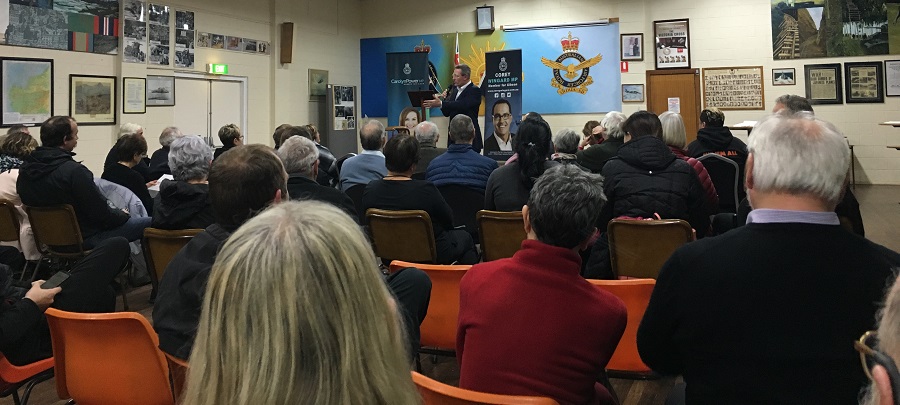 While some of the hairstyles were tres chic a la gris, no one appeared particularly loaded.  I think my Maserati2 was the only one in the entire parking lot.  I doubt anyone at the meeting could drop $10,000 on a whim for a solar battery system and then laugh about it over a bottle of Dom Perignon if it never paid for itself.
There were a couple of other pollies there, but Dan Van was the man and it was his show.  He seemed convinced batteries could save many families money and they would get cheaper in the future.  To his credit, he pointed out batteries weren't for everyone.  He said if your electricity use was low or you were still receiving a premium feed-in tariff then they weren't for you.
To his discredit, he did not tell the people gathered in the hall the most important thing they needed to know about solar batteries.  That is, they won't save normal families money at this time.  His failure to do this was shameful.  I'm willing to bet a shitload of money there wasn't a single person at the meeting who would see a positive return on a home battery within its warranty period.
Question Time
I felt sorry for Dan van Holst Pellekaan while he gave his talk at the meeting.  The SA Home Battery Scheme has been running for almost 9 months and it seemed to me that he still didn't know the basics of solar battery payback.  I felt embarrassed on his behalf.  What if other Energy Ministers found out and started picking on him?  What if someone started writing about it on the internet?  That would be really embarrassing.  As a South Australian resident I felt a responsibility to fix this problem.
I even felt embarrassed on account of our accursed heritage.  Despite despising all things Dutch, I felt an orange tide of Dutch pride welling up inside me, compelling me to stem the flow of disinformation, dam it!
I saw my chance to do something during question time and raised my hand…
BRAKELS:  Can you give me a breakdown of how you've determined how much a typical family will save from getting a battery?  Is there a printout or something I can have?

PELLEKAAN:  There isn't a printout because the typical family, there's almost no such thing, that's why I said every family, every household, really needs to check the sums for themselves.  (He gives some background information and talks about commercial solar.)

BRAKELS:  I'm in the solar industry and I've crunched the numbers and, even with the subsidy, I can't see how a typical family is going to come out ahead by getting a battery system.

PELLEKAAN:  Well, I can assure you it does work.  It absolutely does.  I've spoken to households.

BRAKELS:  Can you send some figures to my office so I can check that myself?

PELLEKAAN:  Well, I can't share households' private information.

BRAKELS:  It doesn't need to be any household's private information!

PELEKAAN:  I'll tell you what.  I'm happy to talk to you afterwards and share what I can with you.  Please be assured, as I said, it doesn't work for everyone, but it definitely, definitely works.  There's no doubt about it.

BRAKELS:  So what percentage of households, roughly, would it work for?

PELLEKAAN:  There isn't a number I can tell you but I'm very happy to talk with you and share as much information as possible.
I wasn't terribly satisfied with that exchange, but at least I could look forward to explaining to him how he's horribly wrong and then receive his thanks for doing so when I talked to him face to face.
What I Wanted To Explain About Battery Payback
What I wanted to explain to Dan Pellekaan was it's impossible for a solar battery system to save any remotely normal South Australian household money within its warranty period.  I would do this by using the most famous home battery — the Tesla Powerwall 2 — as an example.  I would point out that…
The absolute lowest price for an installed Powerwall 2 after the $6,000 South Australian rebate is $9,300.  This figure is from Tesla.
When charged only with solar, the Tesla Powerwall 2 warranty is 10 years.
Its usable storage capacity when new is 13.5 kilowatt-hours.  If it provides that much stored energy every day for 10 years it would come to a total of 49,309 kilowatt-hours.
Currently in South Australia you can get an electricity retail plan with a solar feed-in tariff of 18 cents and a per kilowatt-hour charge of around 37 cents.3
Because the round trip efficiency of a Powerwall 2 is about 85%4, around 21.6 cents of feed-in tariff will be forgone for each kilowatt-hour of stored electricity used.  So each kilowatt-hour of stored electricity used will reduce electricity bills by about 15.4 cents.
If the Tesla Powerwall 2 provides a total of 49,309 kilowatt-hours in its 10-year warranty period then it will save a total of $7,593.  This is $1,700 less than the minimum installation price of $9,300.  Therefore, it is impossible for this battery system to pay for itself within its warranty period.
What I have written above may be simple enough to get a message across to a politician, but in reality the returns are far worse.  This is because batteries degrade over time and no normal family would ever use all the available storage every single day.  If we optimistically assume an average of 90% of its original capacity is available each day due to deterioration and the household uses an average of 80% of the available capacity, then after 10 years the battery will have only saved $5,467 on electricity bills.  This means no home battery system can pay for itself at this time, even with the SA Home Battery Scheme subsidy and my optimistic assumptions.
My Face To Face With Pellekaan
Maybe it's not fair to spring numbers on a politician, especially in the evening when they're probably tired.  But when I spoke face to face with Dan Pelekaan I made a point of drawing dollar signs to make it easier to follow.  I tried my best to explain to the Energy Minister why he should stop making a fool of himself, but he distracted me early in my impromptu presentation by saying something that really threw me.  He told me $9,300 for a Powerwall 2 was…
"…very expensive."
I told him it wasn't.  He told me I should ask around for a better price5.
He honestly seemed to think it was possible to get a significantly better deal. The reality is that the price I used was unrealistically low.  Talking to him was like peeling back the layers of an onion.  There's always something underneath that makes me cry.
Tesla will offer to install Powerwall 2 for a South Australian home with single phase power for $9,290.  But this is only if everything is perfect when they arrive.  If they have to do any work above the bare minimum it costs extra.  Since it's normal for there to be complications when installing one, households should expect to pay at least $10,000 in South Australia and $16,000 or more without subsidy.
I Talk To A Battery Installer
I decided I should talk to a professional battery installer and make sure I hadn't missed out on a massive fall in the price of a Tesla Powerwall only nine months after its price was substantially increased, so I called Eddy May at the excellent NRG Solar.  They install the Powerwall 2 among other battery systems and, of course, rooftop solar power systems.
He told me I hadn't missed out on a mystery price drop and explained why the $9,300 figure I used in the example I presented to the Energy Minister is overly optimistic.  He said,6 and I quote:
"We have had many customers asking for quotes on battery storage. We always do a site inspection for quoting solar and battery storage.  It is not possible to do everything by satellite photos. You can't determine proper equipment locations, meterbox compliance, changes needed to circuits. For example, many people do not know and do not get advised that circuits on Tesla backup need to be on RCBO's or a type a safety switch (RCD) as per 5.4.4 of the AS/NZS 4777.1:2016. Many houses do not already have them."

"When we quote customers for additional work to upgrade their home to be compliant with current regulations to do with backup protected circuits we are often told 'that's more than we expected'."
On the cost of an installed Powerwall 2 with the $6,000 subsidy that's available for it in South Australia, he told me:
"On average, a standard Tesla Powerwall 2 and gateway 27 is approx $16,000 fully installed. Less the $6,000 subsidy is around $10,000. Anyone, trying to do it cheaper than this is either cutting corners, not allowing for proper upgrade to circuits connected to the backup gateway or do not have the money to employ in house technical support required for future questions that arise with their systems."
With regard to Dan Pellekaan telling me $9,300 was "very expensive" for a Powerwall 2, Eddy said:
"I am worried about a race to the bottom created by price driven messaging. We should all be after safe, compliant and sustainable solar and battery installations by companies who will profitable and survive. Not cheap, fast, unsafe installations by companies who are in it for the quick buck and aren't considering the future of their customers."
The Aftermath
Dan Van Holst Pellekaan invited me to request information from his office, so I guess I'll get to work writing a letter to him.  I suppose I'd better show it to Finn first, just so he can check the swear word to non-swear word ratio isn't too high.
I'm afraid this article has been a woeful tale8 about how home batteries won't save normal households money at the moment and South Australia's Energy Minister seems oblivious to this fact.  He is putting the financial security of families at risk by telling them…
"I can assure you it does work.  It absolutely does."

"It doesn't work for everyone, but it definitely, definitely works.  There's no doubt about it."
But, to end on a cheerful note, if you want a solar battery system and aren't concerned about getting your money back, or you just highly value having backup power without the noise, fumes, and safety risks of a generator, then don't let me stop you.  Just so long as you know what you're getting into I'll be happy.  I'm just a little jealous you'll be receiving a hefty subsidy in South Australia when the electric car I'm looking at getting will have none.9