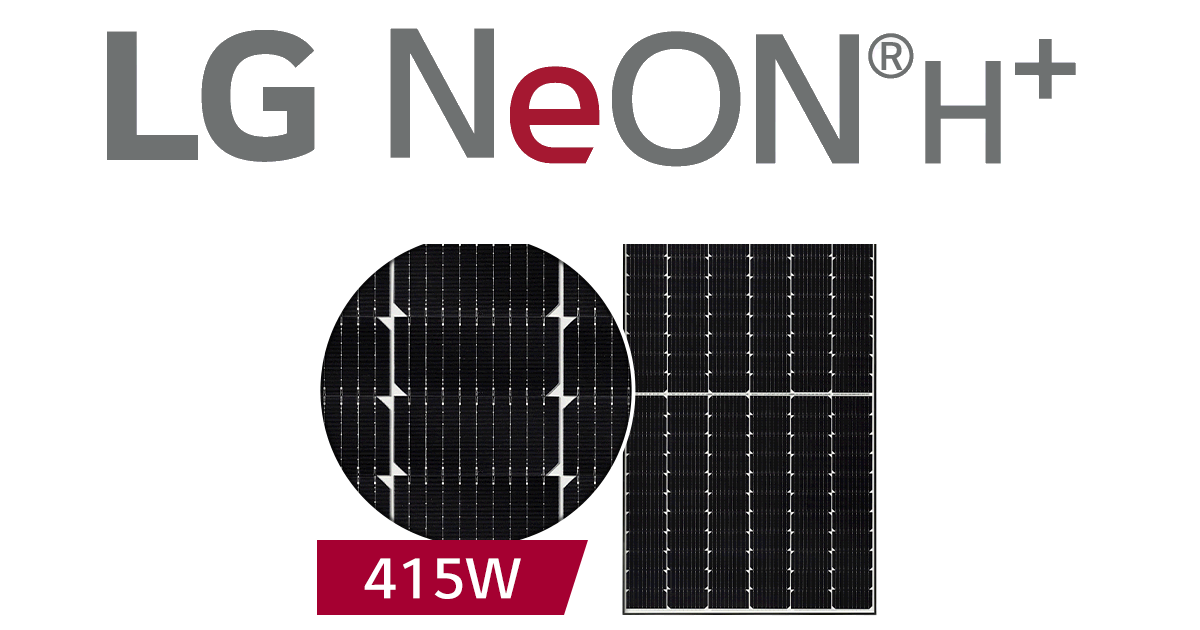 Australian solar buyers keen to get their hands on some high-wattage, high-end panels now have another option – the LG 415W NeON H+.
LG NeON H solar panels became available in Australia in lower wattages around the middle of 2021. LG were pretty pumped about these modules and most of the company's enthusiasm was probably justified as LG cranks out some pretty solid solar panel gear.
I've noticed over the last week a few local solar installers, including SQ client Solaray, mentioning the more powerful NeON H+ 415W model is now available in Australia.
LG NeON H+ 415W Specifications
You can find a full datasheet for the LG NeON H+ 415W panel here – the following are some highlights:
Capacity: 415W (but you probably already figured that out)
Cells: 132 (6 x 22) monocrystalline N-type half-cut solar cells
Module efficiency: 21.2%
Temperature coefficient: Pmax: -0.33 %/°C, Voc: -0.26 %/°C
Weight 19.7 kg
Dimensions: 1,888 x 1,042 x 40mm (L x W x H)
Salt mist corrosion to maximum severity 6 and ammonia resistance
Hail testing: 35mm hailstones at 27.2m per second
25 year product and performance warranty
The NeON H+ is a little shorter than the equivalent wattage NeON 2 (2024 mm), but a bit wider than the 2's 1024 mm. It's also lighter than the 2, which is 20.5kg, and has better efficiency (NeON 2: 20.0%).
LG Solar Panels Pretty Pricey, But..
According to the SolarQuotes January 2022 auSSII report, around 12% of the thousands of prospective solar buyers using our service  in December had a preference for "top quality" (most expensive) systems. That's been a fairly stable figure, so there's certainly some consistent local appetite for high-end solar hardware.
SQ's Ronald noted in November while wholesale prices of good quality, lower-cost panels with 12 to 15 year product warranties had roughly doubled from their lows of two years ago – largely due to the knock-on impacts of the pandemic – the cost of higher quality solar panels had held steady.
While prices for good quality "budget" panels may be showing signs of dropping again, when seeking solar quotes it might be worth finding out how much top-shelf panels may add on to the cost of a system and if that sits within your budget.
However, it's also worth bearing in mind that it's fine to not aim quite so high when it comes to the brand of solar panel, but trying to save a bunch of bucks on a solar inverter isn't such a good idea as it is the real workhorse of a solar power system and the component most likely to fail first. So, if budget allows, perhaps more focus should be on inverter quality.
There appears to be plenty of pleased LG panel owners about the place. LG solar panel reviews submitted to SolarQuotes by Australians who have them on their rooftops have generally been favourable, with the company achieving an average 4.8 out of 5 star rating overall and 5 stars in the last 12 months.
LG is currently listed as an SQ approved brand – you can view specifications of LG panels available in Australia and compare them to models from other brands on SQ's solar panel comparison table. While the NeON H+ 415W model hasn't been added yet; there are a few lower-watt NeON H's on there.