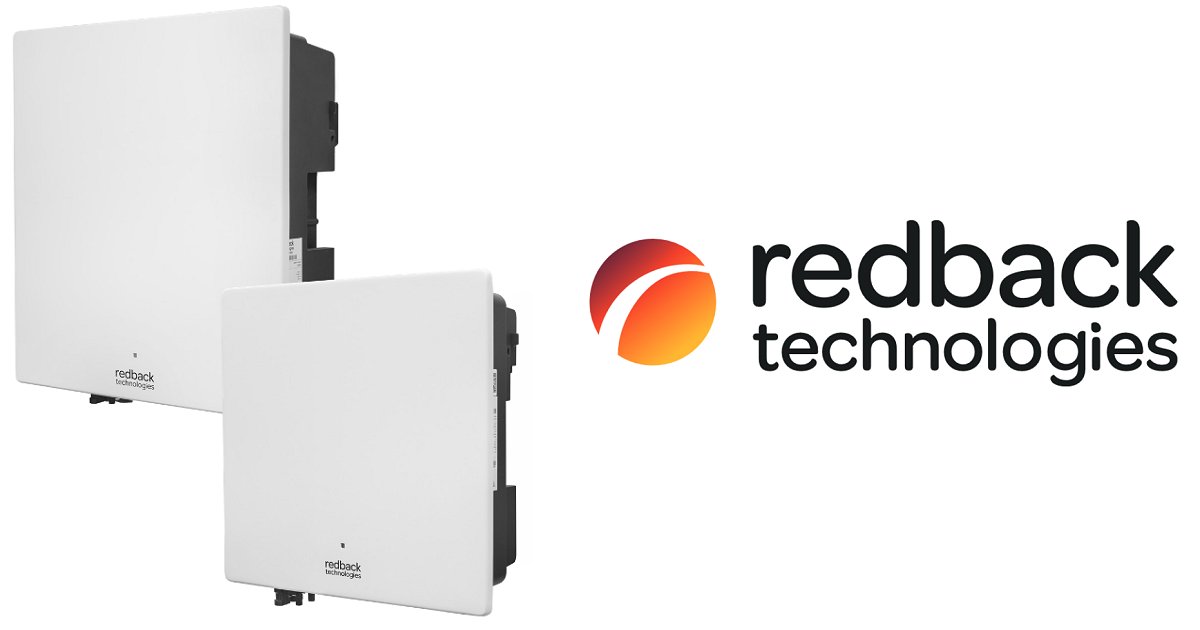 Queensland-based Redback Technologies' new single-phase, grid-tied solar inverters have hit the market.
Redback Technologies launched a brand new look in late October last year1, and with it news of new smart inverters on their way. On Tuesday, the company announced its Smart Inverter Series is now available and ready to be installed.
The Smart Inverter Series is available in four capacities – 5kW, 6kW, 8kW and 10kW options; although the company also refers to these as 5, 6, 8 and 10kVA. Kilovolt ampere (kVA) is apparent power, while kilowatt (kW) refers to actual power. I'm still trying to wrap my head around kVA vs kW and at some point I'll ask SQ's in-house electrical engineer to educate me.
Redback Smart Inverter Specs
The following are some specifications of the Redback Smart Inverter Series:
Models and capacities: 5kW (SI5000), 6kW(SI6000), 8kW (SI8000) and 10kW (SI10000)
MPPT: (Maximum Power Point Trackers): 2
Strings per MPPT Input: 1/1 on the SI5000 and SI6000, 2/1 on the SI8000 and SI10000
Ingress Protection Rating: IP65
Maximum Efficiency: 97.3% – 97.5%
Integrated DC isolator
Installed Weight: 8.5kg for the SI5000 and SI6000, 16kg for the SI8000 and SI10000
Smart meter and Wi-Fi dongle included.
MyRedback app and Redback Portal
Warranty: 10 years
Something that really stands out in the specifications is the weight of the inverters – just 8.5kg for the 5kW and 6kW models. Assuming that's not a typo, these are featherweights compared to other 5/6kW units on SQ's solar inverter comparison table, all of which are more than 11.5kg and some by quite a margin – up to 24kg.
For further specifications and other information, the Smart Inverter Series datasheet can be downloaded here.
Designed in Australia and tested in Australian conditions, the Redback Smart Inverter is manufactured in China. While many manufacturers tend to downplay or even hide Chinese origins, China cranks out some decent solar inverter gear – but it's a matter of choosing the right gear.
Just on that – Redback isn't new to the solar inverter game. The company was founded in Brisbane in 2015 by a few clean-tech enthusiasts and it has been producing hybrid inverters as part of Redback's energy storage solutions for some years . It will be interesting to see feedback from installers on the new Smart Inverter series and reviews from Redback inverter customers as more of these start appearing homes across Australia and start clocking up some serious service time.
With regard to energy storage, the Redback solar battery line-up saw some additions last year with its new Smart Battery range – 7.2kWh (SB7200), 9.6kWh (SB9600) and 14.2kWh (SB14200) models. We're yet to see any reviews of those from customers here on SolarQuotes.
Inverters being the workhorse of a solar power system and consequently the component most likely to fail first, it's pretty important careful consideration is given to this aspect of a solar system purchase. Discover how to choose a good solar inverter.
Footnotes
I miss the spider logo, although the new logo does look more polished. ↩