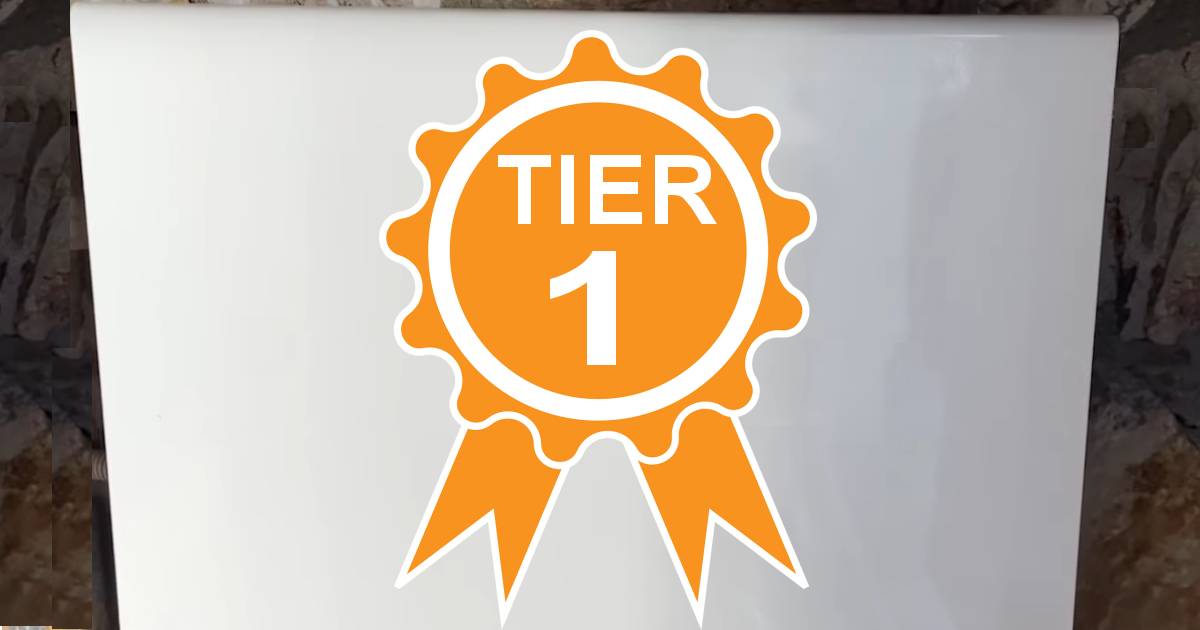 A "Tier 1" solar battery is like a Tier 1 solar inverter and nothing like a Tier 1 solar panel. Confused? Here's a simple explanation:
… there is no such thing as a "Tier 1" solar battery *or* inverter.
There is no internationally recognised, independent listing for either of these components. Only certain solar panel brands can claim this status. A solar battery manufacturer or retailer making such a claim is confused or consciously telling fibs.
So, What Is "Tier 1"?
A solar panel manufacturer with Tier 1 status just means independent industry analysts (Bloomberg New Energy Finance) believe the company to be among the most "bankable". The label has some weight, particularly where solar farms are involved as developers may have an easier time securing finance if they are using solar panels from a company that has this rating.
While Tier 1 status is not meant to be a measure of quality of products, it's an indicator the company supplied its products to six different 1.5MW+ projects financed "non-recourse" by six different non-development banks in the previous two years, along with some other criteria.
So, in that respect the status can provide some sort of reassurance – but BloombergNEF warns:
"We strongly recommend that module purchasers and banks do not use this list as a measure of quality"
Bloomberg says the primary focus for its tier ranking is for use in manufacturing forecasts, preliminary competitor analysis and other internal comparisons. A company being "bankable" means:
"whether projects using the solar products are likely to be offered non-recourse debt financing by banks".
and it notes:
"Non-recourse financing is where the bank has agreed to take the risk of the modules failing".
.. and banks wouldn't do that lightly.
While Tier 1 status may provide some peace of mind, for residential and commercial solar installations it doesn't mean non-Tier 1 manufacturers should be out of the running – they may simply have a lack of involvement in eligible PV projects to be considered.
There are also some solar panel companies with a Tier 1 rating that should perhaps be avoided for home solar for reasons such as a lack of a physical Australian presence. Having to communicate with China or Germany for support or a warranty claim if the installer/importer is no longer around isn't an ideal arrangement.
Back To The Tier 1 Solar Battery Thing
The "tier 1" solar battery situation appeared on my radar after seeing an ad from a retailer, not a battery manufacturer, making the claim. I figured it could have been an honest mistake by an overzealous ad copy writer, so I visited the company's site. Unfortunately, the claim was made on the first page I looked at – twice; with no references to back it up.
A bit more digging around turned up some pretty negative reviews about the firm with regard to sales tactics generally.
An incorrect claim can be a signal of broader questionable practices. It's wise to dig into claims and promises made – and research what people are saying about the company concerned.
But it's not just claims regarding Tier 1 status associated with batteries and inverters that should send up a red flag. Also take similar claims for solar panels with a grain of salt. It's certainly not unheard of for some retailers and manufacturers to boast Tier 1 for a brand that isn't. It's a term that has been so widely used and abused, some in the solar industry simply don't mention it any more.
So, if "Tier 1" doesn't exist where residential solar energy storage is concerned and it not being a rock-solid measure of quality for residential applications anyway, how can you go about choosing a home battery? SolarQuotes Founder Finn Peacock offers some good advice in his guide to buying solar batteries.