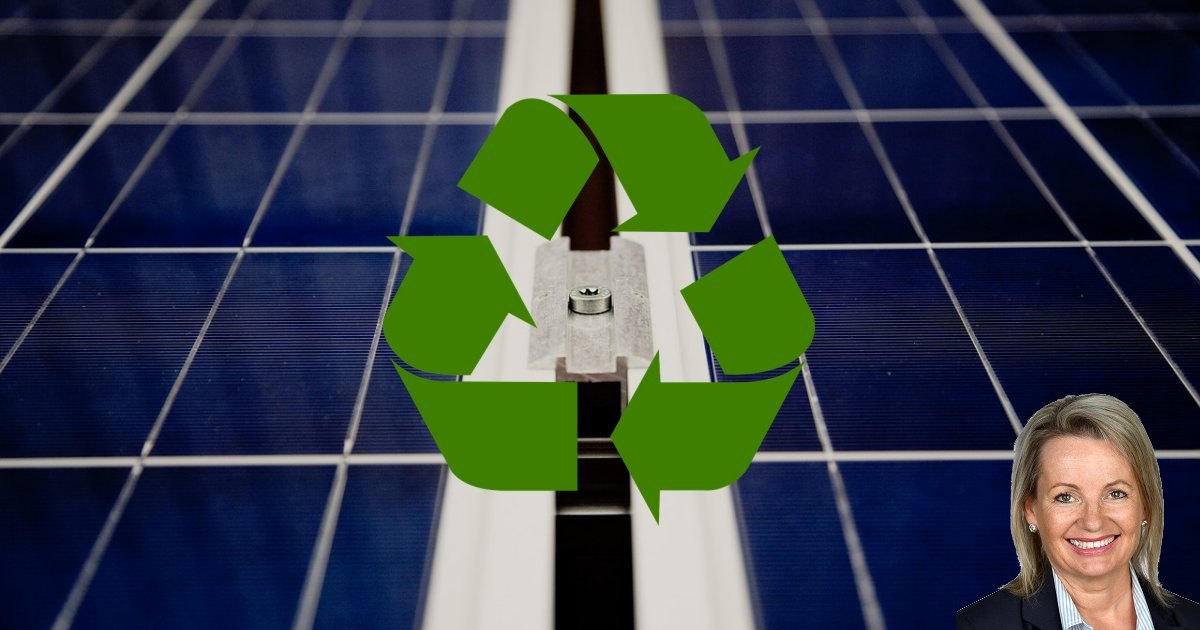 In an address to the National Press Club yesterday, Federal Minister for the Environment Sussan Ley issued a warning to the solar panel industry regarding solar panel recycling.
In a wide-ranging speech that included touching on her punk rocker background for some reason, Minister Ley threw down the gauntlet on the issue of recycling solar panels; putting the industry on notice with clear timelines for action.
"The uptake of millions of solar panels across the country from roof tops to solar farms has been vital from an emissions perspective but the explosion of retailers and importers in the area, and the lack of an industry wide approach to collection and recycling, means that it also looms as a landfill nightmare," stated Minister Ley.
And that was it – job done. Industry, over to you.
—-
UPDATE June 24: On Tuesday, Minister Ley implemented a deadline for a finalised, industry-led nationwide scheme design.
—–
Solar Panel Recycling In Australia
Good quality solar panels can be expected to last decades, but not all panels installed in Australia have been of good quality. There's also been an issue of still-functioning modules winding up in landfill as the result of solar system upgrades. The nature of Australia's "solar rebate" is partly to blame for this as you can get the subsidy for each new system installed; making getting the latest and greatest in PV tech more attractive.
While there is movement at the station on solar panel recycling in Australia, it's still very sluggish.
It's been good to see local government starting to get on board. Last week we mentioned Lithgow City Council's solar panel recycling service, which has just kicked off. It's not clear where those panels are winding up for processing.
Elsewhere, there's a proposed solar panel "upcycling" facility near Kilmany in Victoria. In Victoria, solar panels cannot go to landfill – so, there's likely a bunch of panels piling up in warehouses and commercial yards looking for a place to go for processing.
As for facilities ready to rock, there's Reclaim PV, which has struck partnerships with Canadian Solar, Suntech, QCells, Yingli and SunPower (Maxeon) so far.
The company's first site is in Lonsdale, an industrial suburb in Adelaide's south. The facility will recycle around 70,000 panels per annum, starting with the 60,000 panels it has already collected from around Australia.
Reclaim PV has also received development approval and  an environmental permit for its second solar panel recycling site, which will be in Brisbane and is due to start recycling later this year.
"A network of drop off locations for solar panels is being established with involvement from QLD councils and waste transfer sites as well as solar industry participants and environmental companies," states the company.
Reclaim PV says research suggests there will be more than 1 million panels requiring replacement in Australia annually by 2031. While 1 million solar panels stripped off their valuable aluminium frames wouldn't take up much landfill space, landfill isn't the best option.
Reclaim's process goes well beyond just stripping frames, using a controlled pyrolysis method that involves heating the panels to flash points for simple separation of various elements. While it's currently an expensive process – Reclaim PV charges roughly $10 per panel plus freight to South Australia – if operations can be scaled up and with solar panel manufacturers compelled to take responsibility for collection and recycling, the cost will be brought down.
While this will likely see those costs passed on to consumers, it will be a small price to pay to ensure solar PV waste in Australia is dealt with responsibly.