In what could have been good news, Sonnen's Australian website now gives prices for home battery systems bought directly from them after the South Australian battery subsidy is applied.  Unfortunately, they are not cheap and range from $9,375 for a 6 kilowatt-hour battery to $15,175 for 14 kilowatt-hours.
This graphic from their site shows prices for systems ranging from 6 to 14 kilowatt-hours: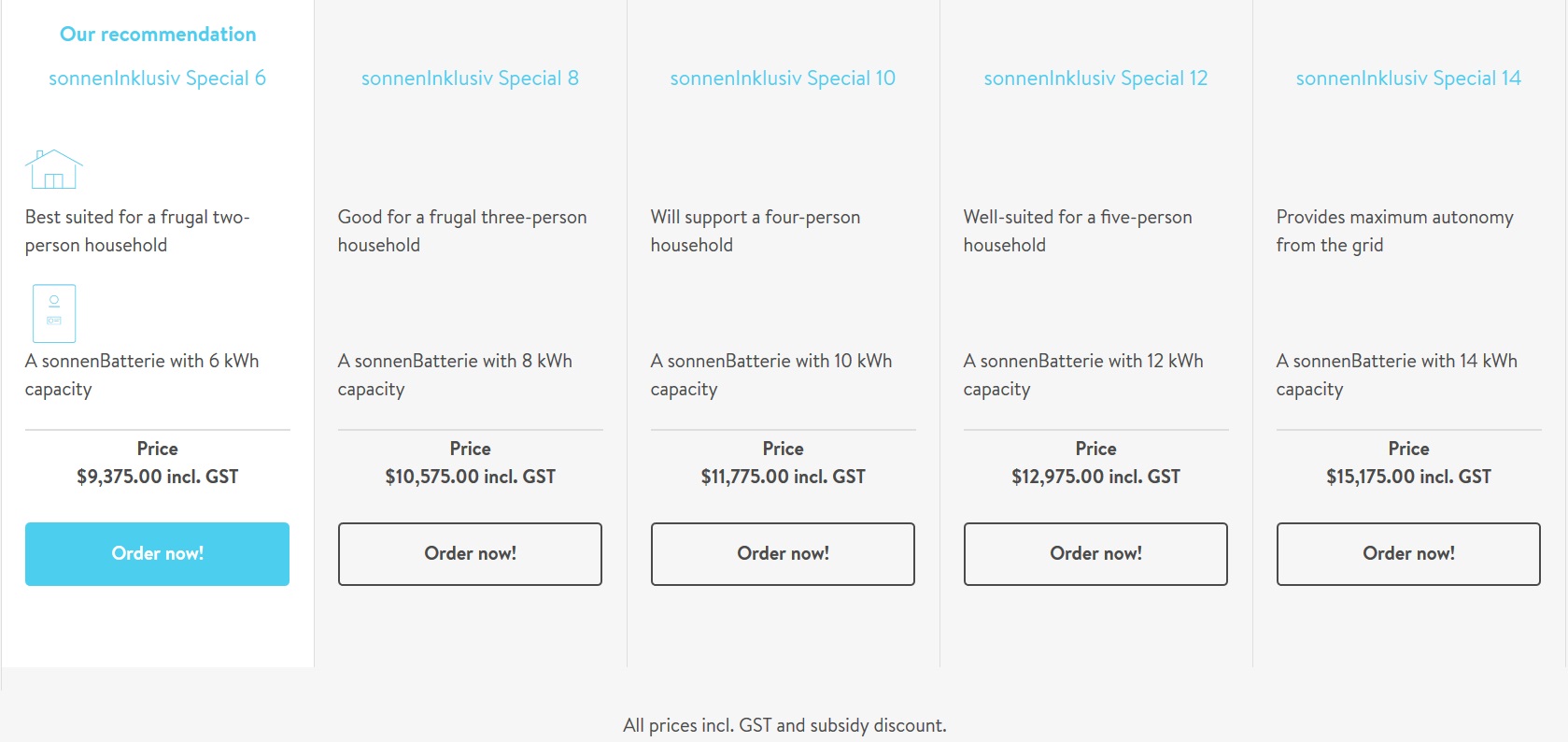 At these prices it's essentially impossible for the battery systems to pay for themselves.  The good news is you can shop around and get a better deal from one of Sonnen's partners.  It appears you have to pay a premium to buy direct from Sonnen.
The Type Of Sonnen Battery Is Unclear
The batteries are called "sonnenInklusiv".  Using my translation program I see the word "inklusiv" in German means "LANGUAGE NOT RECOGNIZED", which is an interesting choice to call a battery. But I like it.  To me it says, "Our batteries don't care what language you speak.  They just work."  Also, "inklusiv" sort of sounds like the English word "inclusive" so it's easy to remember.
The sonnenInklusiv batteries increase in capacity in two kilowatt-hour steps.  This means they use 2 kilowatt-hour battery modules like Sonnen's 8th generation and earlier systems.  But Sonnen's 9th generation batteries use 2.5 kilowatt-hour battery modules.  This means I'm not certain what generation they are and I don't know if they are going to stick with 2 kilowatt-hour modules or change to 2.5.
Just to make things a little more confusing, Sonnen's Australian site used to say their systems increased in 2 kilowatt-hour steps, but at some point in the recent past they changed it to 2.5 kilowatt-hours.
Currently it appears that both types can be obtained from Sonnen's partners.
Includes Installation?
The Sonnen battery prices should definitely include installation.  Surely they would have to?  Given the prices they are charging after subsidy I find it inconceivable there could be an additional charge for installation.
However, on the Sonnen site it doesn't actually say it includes installation.  I'm sure it does, but if you are getting one, check just in case.
Will They Pay For Themselves?  Inconceivable!
At the prices Sonnen is charging, these batteries won't pay for themselves under realistic conditions.  It's not even possible for the smaller batteries under wildly optimistic conditions.  To show you what I mean, let's look at the sonnenInklusiv 10 kilowatt-hour battery.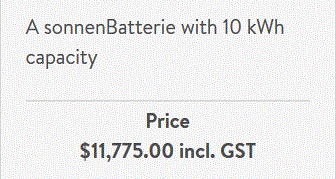 Let's say you use 10 kilowatt-hours of stored electricity from it everyday.  That's more than is reasonable to expect for any normal household, but let's just run with it.  In South Australia solar feed-in tariffs of 16 cents or more are common and grid electricity costs around 38 cents a kilowatt-hour.1  If the battery system has a round trip efficiency of 90% then each kilowatt-hour of storage used at night will only reduce your electricity bill by about 20 cents.  This is because when you store solar energy in the battery for later use you forgo the feed-in tariff you would have received and you have to put more than one kilowatt-hour in to get one-kilowatt-hour out.  This means the battery would save around $2 a day.
Over a year the savings would come to $730.  At this rate it would take over 16 years to save the $11,775 purchase price of a battery with a 10 year warranty.  If you take a more realistic approach and take into account normal expected usage, capacity deterioration, and cost of capital, things get much worse.  The two larger batteries cost about 8% less per kilowatt-hour but that's not enough to make them pay for themselves and the cost per kilowatt-hour is considerably greater for the smaller batteries.  If 6 kilowatt-hours of stored energy is used everyday from a 6 kilowatt-hour battery, it would take over 20 years for the savings to equal the purchase price.
Sonnen Offers Finance At 4.2% Or Less
Low interest loans are available as part of the battery subsidy and also apply to rooftop solar purchased along with a battery.  While Sonnen's prices are high, the interest rate charged if you decide to borrow to buy the battery aren't.  This image shows the monthly charges you will pay over 84 installments (7 years) if you finance the purchase:

The interest rate comes to 4.2% for the smallest battery and gets down to 3.8% for the largest one.  That's better than I expected.  If you decide to finance your battery, check the interest rates as they may vary.
The Sonnen Site Needs Work
If you go to the Sonnen site and tell it you want to "claim your battery subsidy" the first steps are easy.

You answer some straight forward questions and they recommend an expensive battery.  But after that it gets weird.
 They ask for your NMI number without telling you what it is or that it's on your electricity bill.  (It's your National Meter Identifier number.)
They ask for your meter ID without saying what it is or showing pictures of electricity meters with its location pointed out.
They ask for identification details at a point when no one should have decided to buy the battery as no technical details have been given apart from its capacity and this doesn't match up with information elsewhere on their site.
They ask "Are you operating a life support machine?"2 which is reasonable, but then they ask, "Do you have multiple sclerosis?" with no explanation of why they are asking about that particular condition and not others.
I suspect very few people have decided to go ahead and purchase from Sonnen after seeing their prices, otherwise enough people would have complained for them to fix this.  But this is just a suspicion of mine.  I could be wrong.  Maybe they've sold — I don't know, say 20,000 units?
I was planning to enter all the numbers and identifying information they wanted so I could move on to the next page and see what was there, but for some reason I became nervous and couldn't bring myself to do it.  I don't know why.  It's not as if a German company would misuse the information3.
You Can Shop Around For A Cheaper Sonnen Battery
Fortunately, it's possible to get Sonnen batteries at a lower cost from Sonnen's partners than directly from Sonnen themselves.  This isn't really surprising when you think about it because there wouldn't be much point in becoming a Sonnen partner if Sonnen was going to install batteries at a lower price than you could.  One potential customer told me he was quoted almost $1,000 less by one of Sonnen's partner's.  I've also been told by Mark Moody of Solaworx that he has organised a 12.5 kilowatt-hour Sonnen system for $11,500.  Going by cost per kilowatt-hour that's over $2,000 cheaper than a similar sized battery direct from Sonnen.  Clearly it pays to shop around.
More Choice Starting Next Year
At the moment only Sonnen batteries receive the South Australian subsidy because they're building an assembly plant in Adelaide.  Other battery manufacturers will be able to receive it at the start of next year.  Or possibly the 30th of December depending on how literal the state government was being when they said 9 weeks after the start of the scheme.  At that point, whenever it is, there should be much more choice and competition.
I don't know what battery systems will be able to receive the subsidy, but one that's likely is the Tesla Powerwall 2.  Tesla recently increased both its price and their estimate of how much it will cost to install.  According to them it was a coincidence this happened just before the South Australian subsidy started.  If we use the middle of their installation estimate then after the subsidy is applied an installed Powerwall 2 will cost $9,275.  That's 39% less than the $15,175 Sonnen is asking for their similar sized 14 kilowatt-hour battery. And the Powerwall 2 comes with backup.
Hopefully there will soon be a wide range of batteries available under the subsidy.  I suspect Sonnen's will be among the higher quality ones.4  But unless they lower their prices they are not going to be among the cost effective ones.