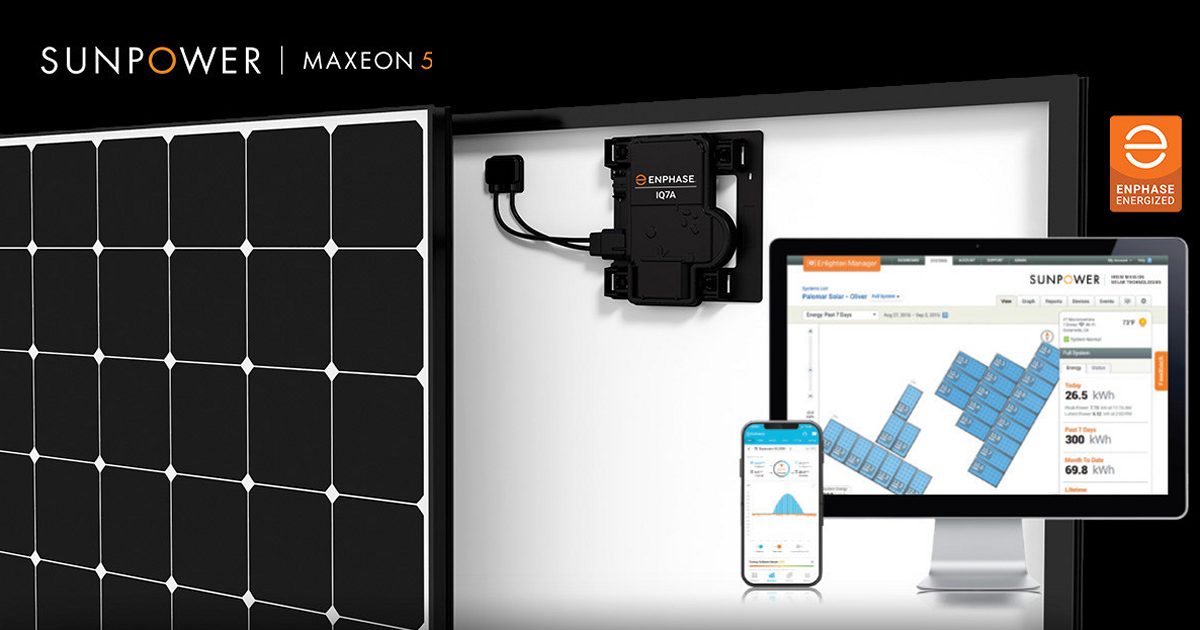 Maxeon Solar Technologies has announced its new SunPower Maxeon 5 AC solar panel is available in selected European countries. If and when it will be available in Australia isn't clear.
It was back in June this year when SunPower spinoff Maxeon Solar Technologies and Enphase Energy announced their AC solar panel partnership. An AC module is a panel with an integrated microinverter. Instead of Direct Current (DC) power, these panels output Alternating Current (AC). You can find out more about the pros and cons of AC solar panels and microinverters here.
The following are some specifications of the SunPower Maxeon 5 AC:
Wattages: 400W, 410W, 415W
Module efficiency: 21.5%, 22%, 22.2%
Temperature coefficient: −0.29%/°C
Weight: 21.1kg
Microinverter: Enphase IQ7A
Dimensions: 1017mm x 1835mm x 40mm
Product warranty: 25 years (panel and microinverter)
Year 1 minimum warranted power output: 98.0%
Annual degradation: 0.25%
Year 25 warranted power output 92.0%
The full datasheet can be viewed here.
When Will The Sunpower Maxeon 5 AC Be Available In Australia?
I was hoping the announcement would throw Australian SunPower (Maxeon), Enphase and general AC solar panel fans a bone, but it wasn't to be. On expanding availability, it was just mentioned this was first phase of the company's AC module expansion strategy in Europe and it plans to roll out the Maxeon 5 AC to other countries in the first quarter of 2021.
This may just indicate Europe at this early stage, but perhaps we'll be nicely surprised.
In 2018, SunPower CEO and Chairman Tom Werner said he believed AC solar panels are the future and other manufacturers have produced AC modules, including Panasonic, Solaria and Longi. But as far as I know there still aren't any available in Australia.
What About Microinverter Capacity Limits In Australia?
An Australian Standard, AS/NZS 5033, 4.3.12, appears to put a power limit on microinverters. It states:
"(d) Each input shall be limited to 350W max PV power at STC, at a maximum input voltage no greater than ELV."
A 2020 Enphase white paper notes Standards Australia is revising AS/NZS 5033:2014, including instances where new and/or improved technology has outdated clauses such as this. The updated Standard is expected to be published in 2021.
But this might not cause a delay here for the SunPower Maxeon 5 AC, should the company choose to make it available in Australia prior to the update. In the white paper, Enphase argues the current wording doesn't preclude the use of microinverters above 350 watts capacity. Enphase states:
"Where microinverters are used with PV Modules with greater than 350W max PV power at STC, AS/NZS5033:2014 Clause 4.3.12 Note 1 applies."
Enphase says the clause note just indicates where the capacity is greater, the normal requirements of the Standard apply. Enphase Energy's position on the AS/NZS 5033, 4.3.12 (d) 350 watt limit can viewed here.
Assuming the Maxeon 5 AC does appear in Australia, don't expect it to be cheap as SunPower is a premium brand. But given the reputations, reviews and track records of Sunpower and Enphase generally, high quality and performance in real world conditions over the long term can be expected.
A high-powered SunPower solar panel that is already available here (without the microinverter) is the 400W Maxeon 3.