When it comes to solar panel manufacturers, SunPower is basically royalty.  At 33 years old I can't think of any solar panel focused company that's survived longer.  It was founded in 1985 by Richard Swanson who is a solar panel genius.  By that I mean he's been an important figure in field of solar photovoltaics and not that he's a talking solar panel or something.
When it comes to solar panels that go on roofs or in solar farms, SunPower's are the most efficient in the world.  And I do mean in the world.  While you can get specialised solar panels with even higher efficiencies, they are often shot into space and so are more out of this world than in it.
While famous for producing high efficiency panels, I'd say SunPower's main claim to fame is being the first to provide a 25 year product warranty.  LG Solar recently matched this but it took them many years to do so1.  Australia's Tindo Solar has also started offering a 25 year product warranty for panels purchased directly from them or through an authorized reseller.  A 25 year product warranty is much more impressive and useful than the 25 year performance warranty that is standard in the industry.  At the moment the world's largest solar panel manufacturers2 still only offer a 10 year product warranty.
SunPower was able to provide a 25 year product warranty because they produce high quality panels.  If you visit their website you'll see they are happy to tell you they're all about quality.  They even have a quality statement:
"At SunPower, world-class quality leadership is a top priority. All of our employees share the responsibility to sustain and improve product quality and services for our customers – internal and external. We are committed to achieving world-class quality through operational excellence, continual improvement and satisfying customer needs in everything we do."
They also have a quote from their CEO, Tom Werner, where he mentions many high quality phrases such as:
"…world class product quality and reliability…highest quality products…worthy of our customers' trust…highest quality standards….continual quality improvement and customer satisfaction…continually improve…world class quality performance."
Of course all this quality comes at a price and SunPower panels carry a hefty premium over solar panels with less impressive product warranties.  But plenty of customers have been willing to pay that premium for the peace of mind a 25 year product warranty provides.  But is SunPower's warranty everything it's cracked up to be?  And are they truly committed to "…satisfying customer needs in everything we do"?  Well, the answer to that is — maybe.  I'll tell you about a problem a home owner had and you can decide yourself if SunPower's response was fair enough or — considering that the home owner paid for top of the line premium panels — should SunPower have handled it differently?
The Problem
They say a picture's worth a thousand words but these aren't that great so I think they may only be worth about 300 each: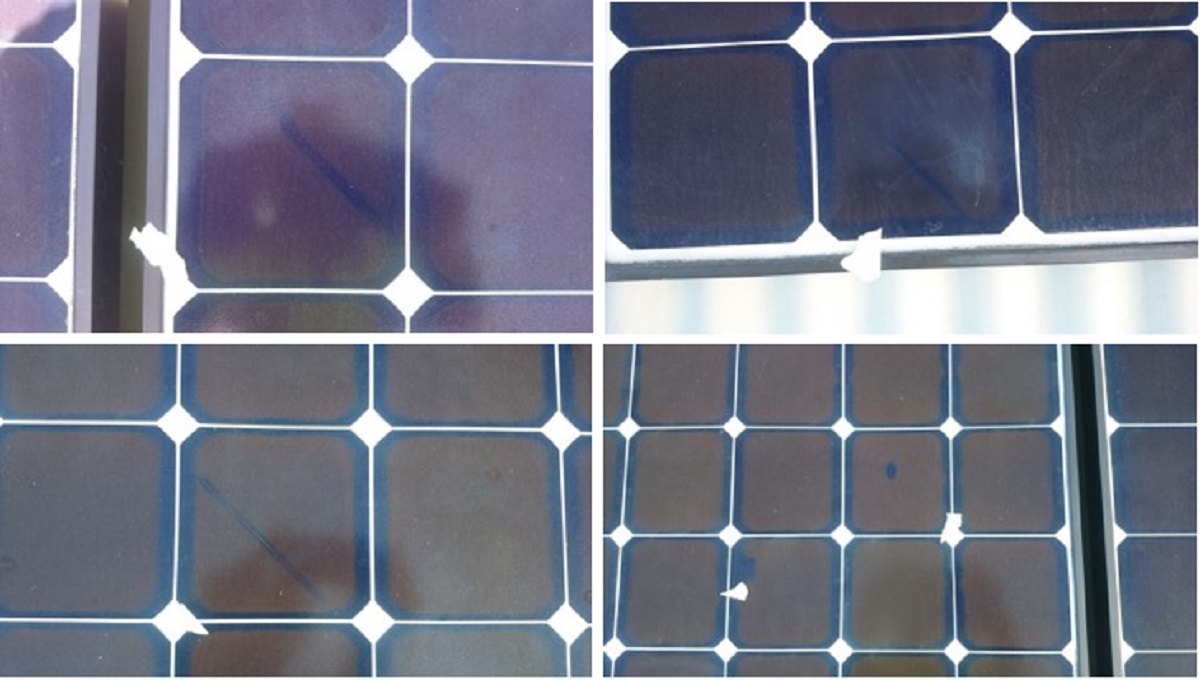 The dark lines you can see are the result of cracks in SunPower solar cells.  Those cracks shouldn't be there as solar panels are much better off without them.  These photos were taken by a home owner and since he may not want me to say who he is I'll just refer to him as Gary because I think that's a lovely name.  I wanted to name my first child Gary but my wife wouldn't let me because apparently it's somehow not suitable for a girl3.
I think it's likely the cracks were already there when the panels were installed seven years ago in 2011.  It's possible they've expanded over time.  The solar cells are also kind of brown.  This is caused by a reaction between the surface of solar cells and chemicals used to treat the glass.  While this looks like it would reduce performance because the panels are less dark than they were and so reflect more light, I have read that losses caused by browning are small and difficult to distinguish from the general slow deterioration that results from age.  But the fact a browning reaction hasn't occurred around the cracks indicates they affect the electrical characteristics of the cell.
Why Cracks Are Bad
Fine cracks in solar cells are usually called either microcracks or hairline cracks.  They're bad because they reduce the performance of panels.  One small crack where the silicon on either side remains in close contact has little effect and the reduction in output it causes may not be easily measurable.  But multiple cracks result in clear decreases in performance.
Ideally no solar panel should leave the factory with a crack in it.  Unfortunately, lower quality panels can come pre-cracked for your inconvenience. Certainly no SunPower panel should leave the factory with a crack in it.  Tindo Solar make a big deal about how not one of their panels goes out the door with a crack and if Australians can manage that then Americans — who are like gods to us4 — certainly should be able to.
It is possible for impacts during transport to result in cracks as well as rough handling during installation, such as kneeling or walking on panels.  After installation cracks can appear from being flexed in strong winds, especially if they aren't properly clamped, or from heavy hail.  Snow buildup can also cause cracks but that's usually not a problem in Australia.
Cracks may not cause a significant problem at first but they can get worse over time.  Solar panels expand when they warm up and contract when they cool down.  This thermal expansion and contraction can gradually cause cracks to lengthen and expand and over time can damage electrical contacts.  In severe cases this can lead to the entire panel failing.  This means cracks that cause no real problem now can, years later, result in a solar panel with poor output that drags down the performance of your system.
SunPower panels have a copper backing that will, hopefully, limit damage from thermal expansion.  But looking at the thermal expansion coefficients for copper and silicon I see they are:
Copper: 16.6 microns per meter per degree of temperature change
Silicon: 3 microns per meter per degree of temperature change
This means they expand and contract at different rates.  This fact in of itself is not a disaster but it does mean any cracks will have stress placed upon them due to temperature changes and have the potential to worsen.
On the bright side, I have personally mangled a SunPower solar cell with my hands and it held together much better than other solar cells I've crushed in my paws.  Hopefully that indicates they are good at resisting further damage after being cracked.
Cracks are very common.  One study of 45 older panels in 2017 found that 84% of them had at least one crack.  But none of the tested panels were made by SunPower.
SunPower's Warranty
The SunPower warranty for their X and E series panels can be found here.  It states:

Looking at that I see they mention defects here:
"…shall be free from defects in materials and workmanship under normal application, installation, use and service conditions…"
Since a crack is clearly a defect they should be covered by the warranty.  However, the warranty also says:
"Subject at all times to the terms and conditions as set out in this Limited Warranty…"
Looking through the rest of the warranty for terms and conditions that could apply I find this:

This says the warranty does not apply to the browning of the solar cells provided it doesn't cause the the output of the panel to drop below the minimum the warranty allows.  It also leaves it open for SunPower to say cracks are cosmetic and the warranty does not apply unless they cause the power output to fall below the warranted minimum.
SunPower's Initial Response
When "Gary" informed his solar installation company about the cracked panels, they in turn contacted SunPower. Sunpower did not offer to replace them under warranty due to their having defects.  Instead they said:
"this kind of cell crack has no effect on module performance and this is not valid for warranty claim unless it cause [sic] a performance issue."
They also said they were not prepared to cover the cost of the solar installation company going to Gary's house and testing the performance of the panels:
"Please be advised that we do not provide our standard compensation nor payment for initial site visit. We only provide payment once the issue has been validated and we authorize a repair/ replacement of the product."
The solar installation company didn't fancy going to the effort of testing Gary's solar panels and implied to Gary that was the end of the matter.
Gary then sent an email to the SolarQuotes helpdesk5 and we contacted Sunpower on Gary's behalf.
Sunpower suddenly changed their tune. They contacted Gary and promised to investigate his solar panels' performance to determine if it had fallen below the warranted minimum.  So they were still treating the cracks as a cosmetic problem rather than a defect but at least they were prepare to investigate the panels' performance.  While I waited for the situation to develop I had a chat with a solar expert about the problem.
A Solar Expert Responds
I had the privilege of being able to interview solar industry expert Finn Peacock, owner of SolarQuotes and author of The Good Solar Guide on this topic.  Full disclosure — he is my boss.
ME:  Thank you for agreeing to speak to me on this topic, Mr Peacock.
FINN:  You know I'm not really here, right?  This is just you paraphrasing what I said in a casual conversation we had on the topic.
ME:  Shhhhh!  You're ruining it!
FINN:  All right, we'll play it your way.  Go ahead and "interview" me.
ME:  In your opinion how should SunPower have responded when Gary informed them about the cracked cells in the solar panels?
FINN:  SunPower produces premium panels.  They cost Gary a lot of money, particularly at the time he had them installed, 7 years ago.  His installer was paid to provide a premium system and was obligated to give it to him.  While cracks can develop after installation, high quality solar panels should be resistant to this.  Because of their expense and the statements SunPower has made about delivering high quality products, their panels should be held to a higher standard than cheaper ones.  For this reason, in my opinion, SunPower should have regarded the cracked solar panels as a defect and replaced them under their product warranty regardless of whether or not their output is high enough for them to meet their performance warranty. But at the very least they should have agreed to get the panels tested when Gary sent them the photos – not fobbed him off. It shouldn't take the World's Greatest Solar Website™ to step in to get SunPower to do the right thing.
And secondly – Gary's installer should not have passed the buck to SunPower. Under Australian Consumer Law, the company that took Gary's money is responsible for all express and implied warranties no matter how the manufacturer responds. In my opinion, his solar company should have gone and tested Gary's panels for him whether SunPower were going to compensate them or not.
ME:  Thank you for your time.  Are there any remarks you'd like to make in closing?
FINN:  Nothing on SunPower, but I would like to say that Ronald is one of the most talented bloggers of our age.  He's also an all round great guy whose personal finances in no way resemble a dumpster fire.  If you're an unattached woman you should definitely take him out to dinner.  He says he's certain he knows what he did wrong in his previous three marriages and will probably stop doing it.  Be sure not to miss out on this great catch, ladies!
SunPower Replaces The Panels Under Their Performance Warranty
After SolarQuotes stepped in SunPower asked Gary to send them information on his solar power system's performance and after receiving it decided to replace the panels at no cost to Gary, not because they were defective but because they failed to meet their performance warranty.  Interestingly, and to SunPower's credit, they accepted the information Gary gave them and did not require them to be tested.
It is clear that if your SunPower solar panels do not meet the standard required by their performance warranty then SunPower will replace them.  However, given that they are high quality premium panels that cost significantly more than the average panel, perhaps SunPower should have immediately replaced the cracked panels because they were defective without first checking to see if their performance was acceptable.  Finn Peacock thinks they should have but SunPower apparently doesn't.
How Would I Respond?
Personally, if I discovered my solar panels had cracks in them I wouldn't be happy about it regardless of what type they were.  But I would be particularly upset if I had paid good money to get what are supposed to be among the highest quality panels available.  On the other hand, if I was confident their output was still above the minimum they were warranted for, I probably wouldn't be too worried.
However, I do tend to be easy going and in the habit of accepting things that are good enough rather than actually good.  That's how I ended up marrying my first wife.  Oddly enough, she didn't appreciate this personal trait of mine and was always telling me to grow some balls.  And eventually I did.  Here's photographic evidence: