If you told me two years ago you spent $46,000 on a solar and battery system and it saved you $4,000 a year, my reaction would be, "I'm sorry.  I'm so, so sorry."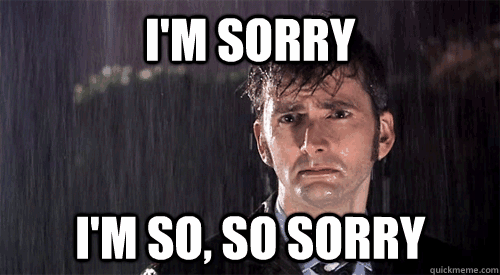 My heart would ache for you because you have been so, so very misguided.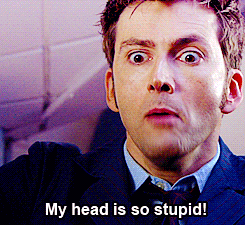 That's because the battery portion of your installation will have only lost you money.  In South Australia it is now possible — although difficult — for batteries to save households money, but that's only because there is now a huge subsidy in that state and that was not available two years ago.  The only reason you're saving any money at all is because of blended payback where the good return from solar power hides the poor or negative return from batteries.
You may think I'm being harsh, but if your goal is to save money and you are faced with two options:
Spend $15,000 on a large solar power system that rapidly pays for itself, or…
Spend $15,000 on a large solar system that rapidly pays for itself and also spend $31,000 on a battery system that will never pay for itself.
If you choose option 2, I have no problem at all calling that decision stupid.  The problem is not everyone is aware option 1 is a much better choice, so they're not so much stupid as ignorant.
One reason there is so much ignorance around is because the media enjoys shoveling out steaming piles of misleading information.  For example, yesterday Channel 7's  Sunrise TV ran a segment where they suggested spending money on home batteries in Sydney — where they will never pay for themselves for any normal family — is a good idea.  What they should have done instead is raise consumer awareness and warned people not to make the same mistake the family they featured in their segment did.
Sunrise Gets It Wrong
At 7:54 yesterday morning, Australian Eastern Standard Time, Sunrise TV presenter David Koch1, said, and I quote:
"How would you like to dramatically slash your energy bill?  A growing number of Aussie families are getting smarter with their power and their turning to not only solar panels to reduce their costs but also to battery storage."
I'm afraid he made a mistake there and said "smarter" when he should have said "dumber".  I have pointed out…
.. and in plenty of other articles that batteries won't save any normal household money unless they are in South Australia with that state's huge subsidy — and even then the circumstances have to be right for a household to come out ahead.
I have also mentioned here home batteries don't yet provide an environmental benefit, so unless there are special circumstances2 you are not being green by getting one.
Sunrise Case Study Is An Example Of What Not To Do
The Sunrise team showed us a family in Sydney that spent $46,000 for a solar and battery system with 40 solar panels and two batteries with 9.3 kilowatt-hours of usable energy storage each when new.  Actually, what they said was they bought two batteries with 10 kilowatts of energy storage, but I've gotten used to both TV announcers and battery salespeople saying kilowatts when they should say kilowatt-hours.3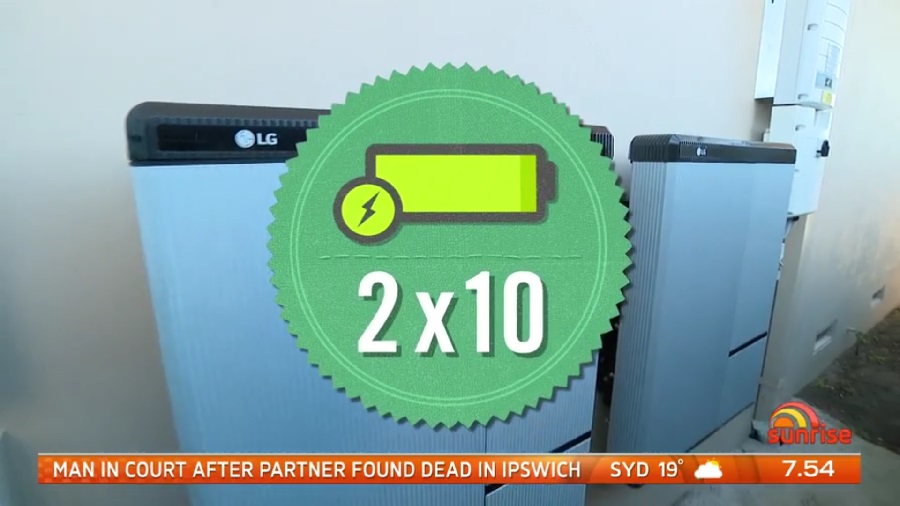 Two years ago a 40 panel solar system probably would have been around 10 kilowatts.  Back then, a good quality system that size could have been bought for around $15,000.  Tragically, this is the only part of the family's system that has saved them money. The rest of the money they spent — which may have been $31,000 —  was wasted.4  Once the full cost of batteries are accounted for, including:
Round trip efficiency losses
Foregone solar feed-in tariff
Battery capacity deterioration
Limited lifespan
Realistic household capacity utilization, and…
Capital costs
.. it is impossible for a normal Sydney household to save money from the battery side of a solar and battery system.  This includes households with time-of-use tariffs.  This is true now as well as two years ago.  If batteries fall in price and/or Virtual Power Plants5 start providing battery households with significant payments this can change, but these are things that may happen in the future.  It makes no economic sense to get batteries before they pay for themselves.
Solar Can Pay For Itself In 5 Years — But Not Batteries
At the end of their segment, after showcasing the Sydney family that paid $46,000 to save $4,000 a year, a member of the the Sunrise TV team then pointed out that a different guy (who sells smart battery management systems) told him his own solar and battery system will have:
"…a payoff rate of about 5 years."
What the hell?  Why the bait and switch?  Why give the payoff rate6 for a totally different bloke instead of using the numbers for the Sydney home they featured?  That family spent $46,000 for a system that saves $4,000 a year so it's obvious it's not going to pay for itself in five years.  The simple payback time is 11.5 years and accounting for capital costs and the potential need to replace out of warranty batteries7 will make it far worse.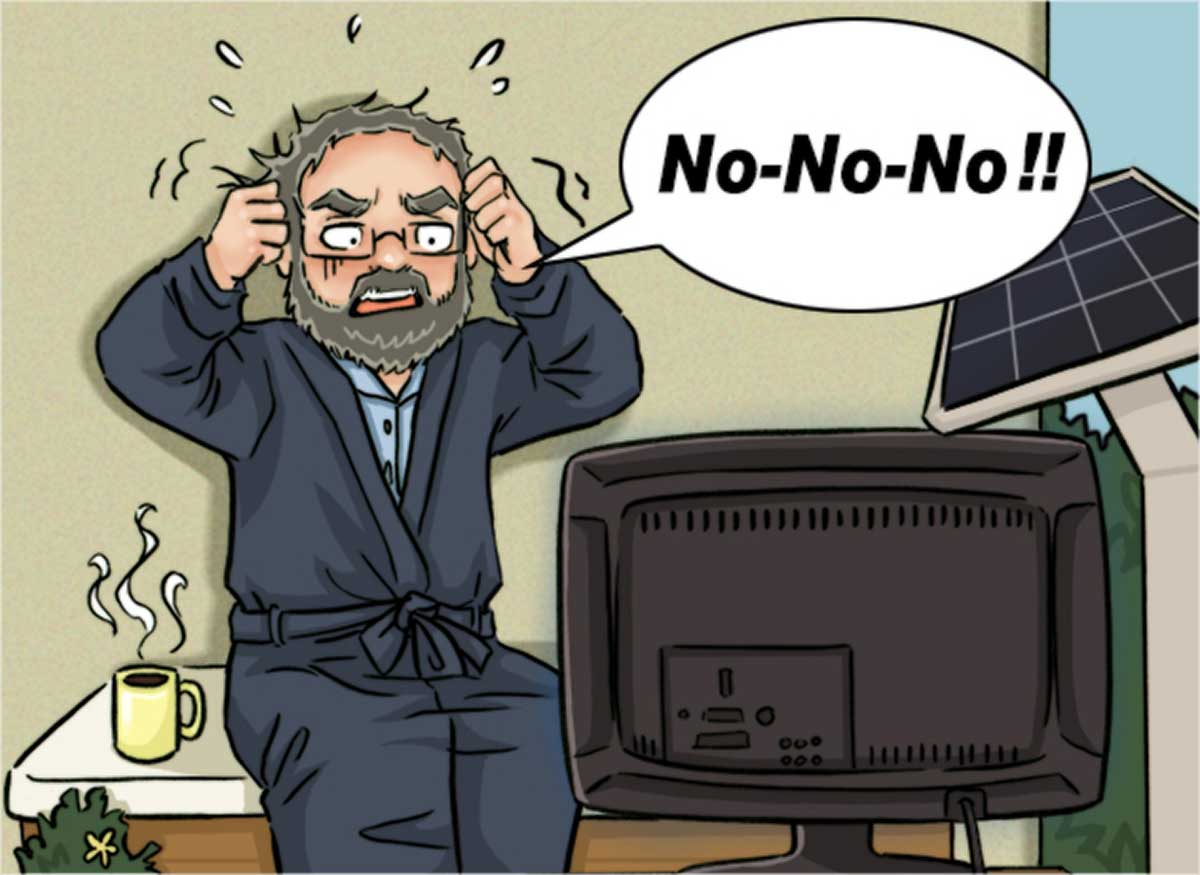 I know Sunrise doesn't have much time to get these segments ready, but they really should be capable of dividing one number by another and call shenanigans on the claim of a 5 year payback period.  If they can't manage this basic level of journalism they may as well go off the air and show something useful instead, such as three hours of Mr Squiggle reruns.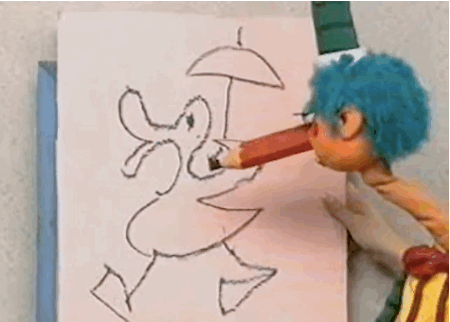 Sunrise TV is doing the families of Australia a disservice by suggesting they can save money by buying batteries rather than warning they are only likely to lose money buying them at this time.
You can view the segment for yourself here: