This morning I woke up, checked the horse was still alive, checked the children were still alive,1 and then checked my email.  To my surprise there was one from Finn telling me the price of the Tesla Powerwall 2 had dropped.
I skipped calling the ex-wife to check if she was still alive and immediately went to Tesla's Australian website to investigate.  I found the price of Powerwall had dropped by $650 from the $12,350 it had been: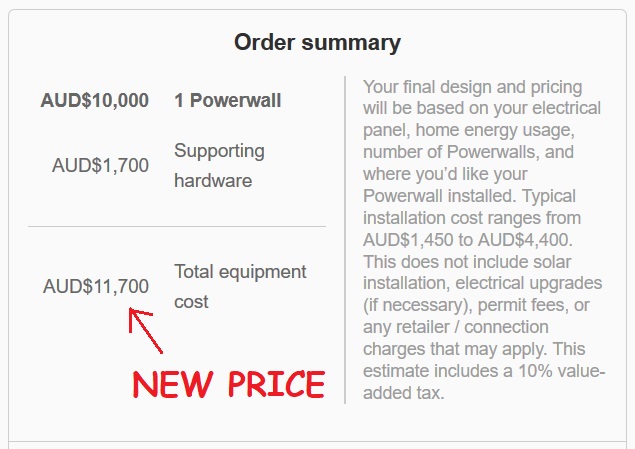 The drop is almost equal to one-quarter the price increase Tesla gave it in October, just before South Australia's battery subsidy kicked in.
October's Price Increase
In October 2018 Tesla increased the price of the Powerwall 2 by $2,750.  Because I'm a terribly suspicious person, I think this may have had something to do with the $6,000 subsidy it was set to receive in South Australia, which is Tesla's number one market for Powerwalls.  But I could be wrong.  Maybe Tesla just needed the money and the price increase had nothing to do with the subsidy.
But putting the price up last year seemed odd to me, considering Elon Musk — the CEO of Tesla — had boasted they would get the cost of their battery cells down to $143 per kilowatt-hour by the end of last year.  While it seems they only managed to get them down to around $159 that's still a hell of a lot less than what they used to be:
This means with a total battery capacity of 14 kilowatt-hours, there's around $2,200 worth of battery cells in a Powerwall 2.2  The rest of the cost comes from putting the cells into packs, electronics, a cooling system, the plastic shell, development, marketing, transport, and so on.  That stuff's not cheap.  But if you believed Elon's announcements you'd think it would be a lot cheaper than it turned out to be.
This Price Cut Is 23.6% Of The Last Price Increase
As this latest price decrease is only 23.6% of of the last price increase, it will take three more $650 cuts to get the price to almost as low as it was at the start of October last year.  Fingers crossed battery aficionados won't have to wait 10 months for the next price change.  And let's really hope the next one is also downwards.
Powerwall 2 Still Won't Pay For Itself
Unfortunately, even with the latest price cut, the Powerwall 2 is still a long way from paying for itself for any family with remotely normal electricity consumption.  This is especially true outside of South Australia where it won't get a $6,000 subsidy.
My boss, Finn, has one and it saves him less than $1 a day.  Even if I use optimistic assumptions it's impossible for the Powerwall 2 to pay itself off while still in warranty.  If I make the following assumptions:
It's installed in South Australia for the optimistically low price of $8,640.3
You use a current retail plan from Origin Energy with a solar feed-in tariff of 18 cents and a per kilowatt-hour charge of around 37 cents.
The Powerwall 2 is only charged from rooftop solar, giving it a 10 year warranty.
The average round trip efficiency is 85%.4  This requires 1.2 kilowatt-hours of solar energy for each kilowatt-hour of stored energy provided, which otherwise could have received 21.6 cents worth of feed-in tariff.
Due to battery degradation I'll assume the average usable capacity over the warranty period will be 90% of its 13.5 kilowatt-hour usable capacity when new.  (Its warranty promises a minimum of 70% of original capacity after 10 years.)
Because of variation in both electricity consumption and solar energy generation normal households can't use 100% of a Powerwall 2's usable storage capacity each day, so I will assume the average will be 80%.  This is optimistic for a large battery and requires both high household electricity consumption and a large solar power system.
With these assumptions the average amount of stored energy used per day will be 9.72 kilowatt-hours.  Over 10 years it will total 35,500 kilowatt-hours.
Using one kilowatt-hour of stored energy will save the family paying for 37 cents worth of grid electricity, but they will forego the feed-in tariff they would have received for sending 1.2 kilowatt-hours of solar electricity into the grid.  This makes the savings 37 cents minus 21.6 cents, which comes to 15.4 cents.  Multiplying 15.4 cents by 35,500 kilowatt-hours of stored energy use over 10 years gives $5,467.  This is more than $3,000 less than my optimistic estimate for its installation price, so it cannot pay for itself within its warranty period.
If the assumptions above are kept the same, including for battery degradation, then the Tesla Powerwall 2 would have to operate for almost 16 years before the savings on electricity bills exceed its installation price.  That's nearly 6 years beyond its warranty.  I haven't bothered to account for capital costs, but if I had the situation would be even worse.
Things Will Change
In my example above I've assumed things will stay the same for the life of the Powerwall 2 battery.  But this won't happen because…
Feed-in tariffs and electricity rates will change.
New types of electricity plans will appear.
Virtual Power Plants may make batteries profitable.
Powerwalls could dramatically fall in price.
If any of these changes cause home batteries to pay for themselves — and your goal is to save money — then the time to get one would be when they start to pay for themselves, not before.
If you're not concerned whether a home battery will provide a positive return, or you are in South Australia and don't want to risk missing out on the large subsidy, then please go ahead and get a battery.  It's only if you are hoping to save money by installing one that I recommend holding off.
SA Energy Minister May Have Known About The Price Cut
Last week I spoke with the South Australian Energy Minister, Dan van Holst Pellekaan, who told me $9,300 was "very expensive" for an installed Powerwall 2.  Now the price has been cut, $9,300 is around what I'd realistically expect you'd have to pay to get one installed, so I wouldn't call that price very expensive.  But it is possible the Minister said it was because he knew the price cut was coming.  Or maybe he just didn't have a clue about what it really costs to have a Tesla Powerwall 2 installed.  I could go either way on this.
What If I Ordered Powerwall 2 At The Old Price?
If you have ordered a Tesla Powerwall 2 at the old price you can ask for the price cut to be passed onto you.  I don't know if you'll be successful, but it doesn't hurt to ask.
Well, it doesn't hurt you.  But if you're running a businesses, I can imagine having people ring up and ask you to lower the price on a product you have in stock and paid the old price for probably hurts a lot.
I would say that if you are getting a Powerwall 2 through a company that isn't Tesla, don't get your hopes up about having the price reduced.  They've probably already paid Tesla for it.  If you are thinking of cancelling and then reordering, I'll point out if you've put down a 10% deposit, that will be more than the $650 price decrease.
But if you are getting one through Tesla, I'd say definitely ask if you can have the price reduced by $650.  After all, there will have been no real difference between what it cost them to make a Powerwall 2 last week and what it cost to make one this week, so it's not unreasonable to ask them to give you a break.
A Good Start
I don't know why Tesla decided to cut the price of the Powerwall 2.  But if I was to take a wild stab in the dark — as opposed to the precise and controlled ones I normally take — I would say it's because Tesla think everyone who wanted to snap up a Powerwall 2 because of the introduction of South Australia's battery subsidy has now got one and it's time to start competing on price again before they lose too much market share to other solar battery manufacturers.  But that's just something I came up with while waiting for my cat to move so I can report to the children it's still alive.  It may have no semblance to reality at all.
Okay, the cat just bit me, so I'll assume it's alive.  But since it's name is Schrodinger I have to consider it may be a zombie cat that is both alive and dead at the same time.