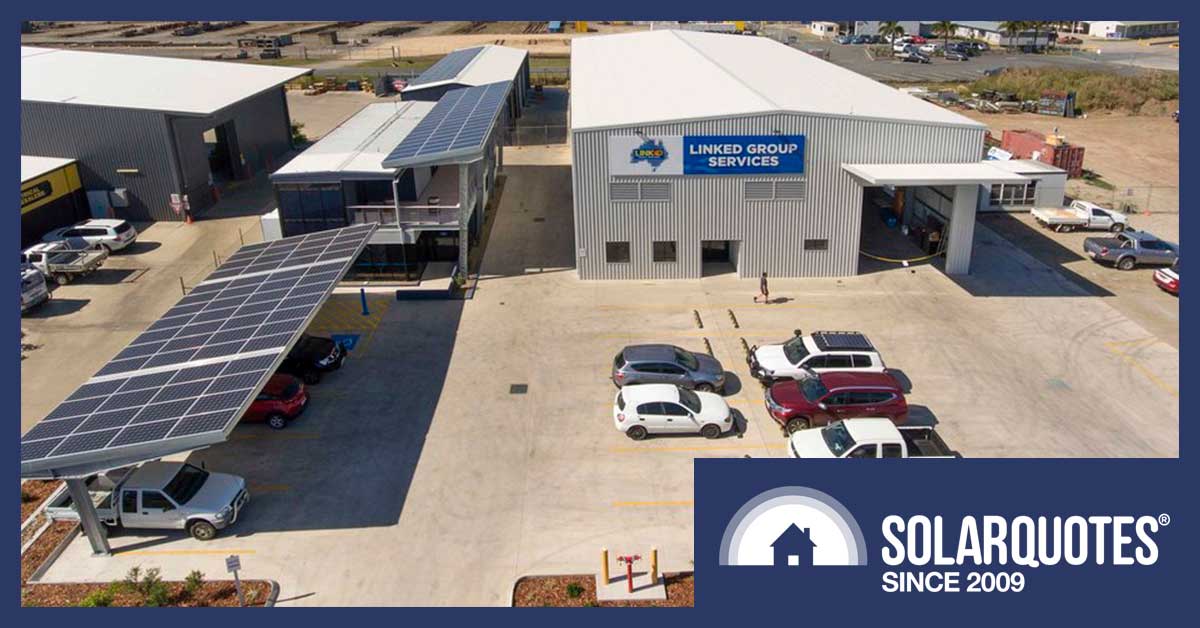 Ten years ago, a "couple of sparkies" from the Riverina headed north and set up an electrical services business in Mackay, Queensland, catering to the mining industry.
Today, Jason Sharam (managing director) and Peter Shaw (CEO) run an electrical services business with a very noticeable difference: they now have what is probably close to unique – an off-grid solar-powered manufacturing facility with "100% renewable" as its goal.
The manufacturing side of the business builds a range of custom power solutions for remote locations such as mining sites – the EcoSkid transportable power system, the EcoHub trailer-sized power set, a solar-powered pipeline monitoring system and so on.
SolarQuotes spoke to Sharam to find out why Linked Group Services would pursue such an ambitious corporate goal – and in a heartland of Queensland's mining sector.
Creating an all-renewables manufacturing facility is a tougher objective than doing so for a home, but it's a target important to Linked Group Services. Sharam told SolarQuotes the company is offering itself as a proof-of-concept for customers:
"I've been doing off-grid work for 12 years now. I wanted to demonstrate what's possible, using the technology that's currently available."
Two years ago, when he first decided to create the microgrid, the company calculated it would have a six-and-a-half-year ROI.
The Microgrid Kit
The microgrid has a lot to power, but there's plenty of room for solar panels: a 4,000 square metre manufacturing facility, 900 square metres of car parks, 1,200 square metres of office floor space on two stories, and another 500 square metres of warehouse.
The energy-hungry equipment is, naturally, in the manufacturing building: there are nine welding stations, a ten-tonne overhead crane, and various metal fabrication machines.
The microgrid that keeps everything humming comprises:
100kW of solar panels on various buildings;
Another 20 kW of solar on the car park;
Smaller installations on patios as technology demonstrations;
Canadian solar glass modules in a stairwell, with 2.5 kW capacity on the north and western side of the building;
Two Tesla Powerpack Version 1.5 battery modules providing 200 kWh of storage; and
A Capstone C-65 LPG-powered backup generator.
There's a grand-slam of inverters, with Fronius, Enphase, and Sungrow in use around the site. Sharam said there's a simple reason for that: he wanted to demonstrate that the microgrid concept is vendor-agnostic.
The Tesla battery manages its charge state: when the battery is full, it pushes the AC frequency above 50Hz and the inverters stop the charge current. When it needs charge, the frequency drops below 50Hz and the inverters ramp up.
The facility also has a free EV charger, to use up some of the power when production is above consumption.
The backup generator is the only thing keeping the facility from being 100% renewable now, and Sharam has a plan for that. He told SolarQuotes he hopes to identify a suitable electrolyser and compressor setup so  the company can generate hydrogen on-site, and burn hydrogen instead of LPG when backup power is needed.
Even so, he said, the generator gets so little use its LPG tank has only been refilled twice in two years.
Monitoring is vital when you're powering an industrial site, so there's a PLC connected to the Tesla batteries and the inverters via Modbus. It's a simple enough setup, Sharam said, once the vendors have revealed their Modbus registers (everyone eventually came through, he added).
"Once we get rid of the LPG turbine we will be at net zero. That's one of our goals, manufacturing with renewable energy, making Australian products, in a regional area. Wherever you are, you can create your own baseload energy. You have control over the cost and the reliability of supply."
It's easy to forget how much trouble a manufacturer in the tropics can have with reliability of supply, he noted:
"We live in a big cyclone region. If the power goes out in a storm, it's out for a week."
That makes it worth going down the 100% renewables route: the customer gets their electricity at a fixed price, they have energy security, and independence from the grid.
The Challenge Of Dirty Loads
The biggest "gotcha" in designing a system like this is matching the system's capacity to the loads seen in a manufacturing facility.
"The Tesla likes to see a clean load," he said.
And industrial machines aren't clean.
Welders for example, or the brake press that has a 22 kW starting current, aren't clean loads. Motors are the same – the starting current might be five to seven times the operating current. So in designing customer systems, Linked Group Services is on the lookout for any big DOL (direct on-line) loads.
The two things that matter most are to scale the system with those peaks in mind, and to have the right transformers in place so the Tesla battery sees a clean load.