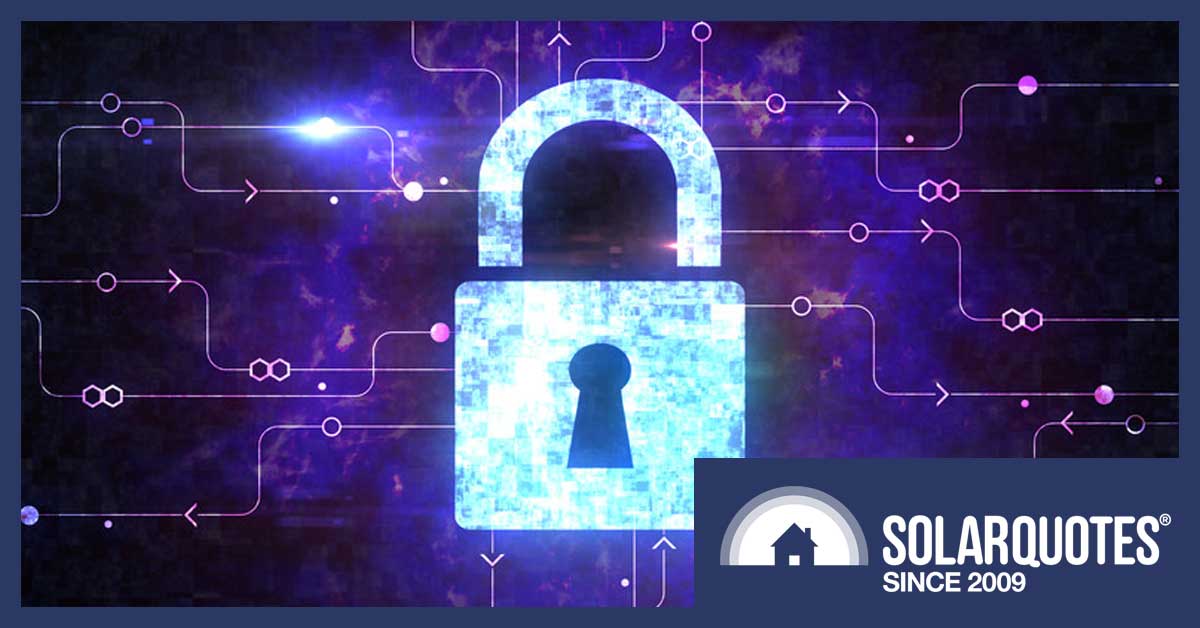 On a Friday afternoon early in July, I was pleased to hear the ABC's current affairs radio program PM cover cyber-security in the small business sector. It's impossible for a four-minute radio spot to be comprehensive, but building awareness is a slow process.
To kick off what I hope will be an ongoing discussion of security in the solar energy world, I'd like to focus on introducing some of the things a homeowner needs to consider if their household solar power system is connected to the Internet.
The PM segment can be heard here, and in it, UNSW Canberra Cyber's Nigel Phair (a well-known expert) asks a handful of useful questions as a starter for cyber-security:
How tech-heavy is your business? (Or, since I'm thinking of household PV here, how tech-heavy is your home setup?)

Where is the data kept?

Who has access to that data?

Why do they have access?
Solar energy equipment is very tech-heavy and getting more so, making Phair's last three questions just as relevant to the PV owner as to the small businesses he had in mind.
Where is the data?
If you recall the kinds of setups we've discussed here and here, to try and implement solar energy diversion if it's not built into the system, you'll quickly see the answer to "Where is the data kept?" is "All over the place"; which isn't ideal from a security point of view.
The solar inverter (or a data logger attached to it) collects and stores data; it's connected to the Internet through a household broadband modem; the data is sent to a cloud service (either operated by the vendor, or a third party service) where it's stored and formatted for presentation. Another system accesses that service to get a local copy of the data for decision-making ("Is there enough power in the PV system to charge the EV?") and yet another API accesses the data for a mobile app; and so on.
Who has access?
For most or all the hardware and software in this image, usernames and passwords are the default for controlling who can access the data.
At the very minimum, everything with an Internet connection must be protected by a strong password, with a password manager – Apple's Keychain or a browser-based service like LastPass – so you don't have to remember "haJd#M4n67x*%".
Take the broadband modem for example: the usual default admin password is often "admin". If an attacker logs into the modem, they'll have a path to whatever connects the inverter, and worse, they can start poking around the control system.
Everywhere there's a password, make it a strong one, and you can also ignore the ancient (and now superseded) warning to change your passwords regularly. Nobody's going to mount a successful "dictionary attack" (using a fast computer to test one word after another) against a properly random password.
The same goes for any smartphone app you use: give it a strong password.
Likewise, if your reseller or solar installer has access to the system (for example, to help with fault-finding), make sure they also use strong passwords.
Phishing and ransoms
Something Nigel Phair didn't mention is the popular form of attack known as ransomware: the criminal breaks into a victim's PC, encrypts it, and demands a ransom from the owner to let them have their system back.
On a large scale, this can be utterly catastrophic – the criminals behind an attack a couple of years ago called "NotPetya" caused hundreds of millions of dollars damage to the global shipping giant Maersk (I wrote about it in a previous life with UK IT publication The Register here).
But it isn't just about big business: it would be devastating if your PV system was locked up by ransomware.
The usual attack channel for ransomware is "phishing" via e-mail: you get a legitimate-looking message ("click link to view invoice"), and the link downloads the malware that attacks your computer.
The first and most obvious advice is one I've heard repeated for two decades as an IT journalist: don't click on links in e-mails. Since phishing still works, it's pretty clear that people still don't follow this advice; so I'd suggest that for something as important as control software, you don't use the same to check e-mail as well.
There's still a risk, though: someone might get tricked on their laptop, and the malware is able to jump to other machines on the same network – get good virus and malware protection, and keep it updated
If your computer is doing important work like helping control where your solar power goes, I strongly recommend getting advice about malware protection, and following that advice.
Backup is your friend
In most cases, the setup in my badly-drawn diagram isn't going to generate huge amounts of data, so a simple 1 Terabyte portable hard drive from your local office supplies shop will easily provide backup. If you do fall prey to something like ransomware, you won't have to panic, because you can restore the whole system from the backup.
Since a professional malware attacker will also try to encrypt the backup, you need a bit of hygiene here: unplug the backup drive when it's not in use.
Encryption is for everyone
A couple of final thoughts for this article on protecting information with encryption.
Encryption is an absolute must for any important data travelling over the Internet. A good example is if you're using the smartphone app to check your solar power system, and you're connected to a public Wi-Fi hotspot. If your data isn't encrypted, it's easy for someone connected to the same hotspot to view your communications – and maybe discover your usernames and passwords.
The good news here is most services you'll work with will encrypt their data by default. The important thing for you is to check that a service is safe, and in a Web browser, that's easy – just take a look at the URL.
This article, for example, travelled from SolarQuotes to you using an encrypted channel. The HTTPS:// in the URL means it's using "HTTP Secure" – the server encrypts the data before sending it to you, and your browser decrypts it.
Your modem has a web page for configuration – it's vital that it uses HTTPS after you've logged in. Likewise, make sure any cloud service you connect to uses HTTPS.
In this article, I've focused on end-user concerns – and still barely scratched the surface! When I revisit solar power system security in the future, I'd like to look at it from the retailer and reseller point of view – so I'll welcome anyone raising questions they'd like answered.