Suntech

solar panels reviews
5 star

164
4 star

175
3 star

21
2 star

1
1 star

0
About Suntech, Solar Panels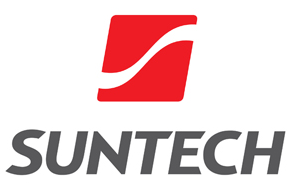 Suntech Power is a Chinese producer of tier 1 solar panels with 12 year product warranties and 25 year performance warranties. They have an Australian office in North Sydney.
Suntech is unique because it is the only major solar panel manufacturer in that world that was founded by an Australian.
Solar Panel Production
Suntech Power was started by Shi Zhengrong in 2001 and it rapidly expanded to become the largest solar panel producer in the world in 2011 with 2.4 gigawatts of production capacity. But due to massive financial problems the company has not expanded since then and produces around 2 gigawatts of solar panels a year. At the end of 2016 it was probably the 8th largest panel manufacturer in the world behind Yingli Solar.
Company History
Shi Zhengrong was born in 1963 in Yangzhong, which is what counts as a small city in China, 200km north-west of Shanghai, next to the giant brass puffer fish. His parents were so poor they kept his twin brother and adopted him out. You might think his parents ended up kicking themselves for not keeping the one who became a billionaire, but apparently his brother made it big in the world of business also. But I have no information on whether or not his business also came crashing down around him.
Shi Zhengrong studied at Shanghai University and obtained a Masters degree in "lasers". He then went on to study at the University of NSW and obtained a Ph.D. in electrical engineering. He obtained Australian citizenship and after failing to obtain both investors and government support in Australia, he returned to China to found Suntech in 2001.
The company expanded rapidly and became a world leader in technology and in August 2009 they broke the record for both polycrystalline and monocrystalline solar cell efficiency. In 2011 they became the world's largest solar panel manufacturer.
Suntech's financial position deteriorated after 2008 and by March 2013 they became a world leader in financial disasters by being the first mainland China company to default on their US bonds. At the time the bonds were worth $541 million US and the company declared bankruptcy soon after. Shi Zhengrong was forced out of his position as Chairman and CEO.
Suntech Was Scammed Out Of 560 Million Euros
Their default wasn't the first time Suntech had trouble with bonds. In July 2012 they suddenly realized 560 million Euros worth of German Government bonds they had held for two years were actually forgeries that were part of an Italian scam.
Not noticing they were being conned in the first place and then not realizing it for two years, or if you are of a suspicious turn of mind - keeping it hidden for that long, was an act of incredibly stupid negligence. So if your boss is ever down on you for a money losing mistake, you can console yourself with the fact that you probably haven't saddled your company with 560 million Euros worth of counterfeit bonds from scammers.
Shi Zhengrong's Fate
In 2007 Shi Zengrong was apparently the richest person in mainland China. But as the financial position of Suntech deteriorated the value of his share of the company fell from $3 billion to $32 million, which isn't even enough to buy 33 Sydney homes. But he is still working to promote solar power and fighting to further develop clean energy to oppose climate change. His next goal is for the world to reach 100% renewables. He says life should be green, sustainable, and enjoyable. So good on him.
It's hard to keep a good former billionaire down. There should be more people like him. And genetically speaking, there is one more.
Suntech Returns From The Dead
While Suntech went bankrupt, it never actually died. After restructuring, the Suntech website says they have now have nearly zero debt. However, I have some conflicting information on how good Suntech's financial position is.
This analysis from 2016 using Altman Z-scores says Suntech's financial position is not good. But a representative of Shunfeng International Clean Energy, or SFCE, told me they own Suntech 100% and their own financial position is good. I was informed, "The diversified nature of SFCE actually puts Suntech is an incredibly strong position financially."
While diversification certainly can help companies survive economic downturns, I'm not a massive fan of it and think that what really makes a company financially secure is not being over leveraged and consistently not losing money. Companies that manage to pull that off can hang around, more or less, forever.
Photon Consulting listed SFCE as 6th out of 61 companies for financial health in 2015, which is a pretty good result.
Suntech Solar Panels
Suntech produces a range of solar panels which are up to 18.4% efficient. They are certified as corrosion resistant, which makes them suitable for installation in coastal areas. They have 12 year product warranties and 25 year performance warranties.
Suntech Panels Obtained The Prestigious VDE Certification
VDE is a massive German association which, among other things, is a standards body that devised a rigorous testing process for solar panels that simulated exposure to harsh conditions for decades. Suntech was the third manufacturer in the world to have panels pass their test and contract VDE certification.
Warranty procedure for orphaned Suntech customers
If you have purchased Suntech panels from a solar installer who has since gone out of business, the responsibility for warranty claims shifts to Suntech. Their customer service line in Australia is 02 8188 2450 - affected customers should contact this line for warranty assistance. Suntech have advised that they are able to refer customers to installers who can diagnose issues with the panels and carry out any warranty replacement work. Labor costs involved with panel replacement are covered under warranty - $120 for the first panel, and $60 for each additional panel.
My Recommendation
Suntech makes reliable, tier one panels, so I would be fine with putting them on my roof. Despite their previous financial dramas, they seem to have come through and built up a relatively sound financial position. And because their panels are reliable, hopefully you'll never be in the position of needing to make a warranty claim.
Suntech Solar Panel Reviews
Rating Statistics
Overall rating
5 star 164
4 star 175
3 star 21
2 star 1
1 star 0
Suntech's Rank
How is this calculated?
x-axis = lowest average score to highest average score of all companies reviewed who meet the criteria selected.
y-axis = number of companies who have that average score.
red arrow = position of this company ( high is good )
ONLY COMPARE TO COMPANIES WITH MINIMUM REVIEW COUNT OF: