Are you in the market for a grid-tied 5 kilowatt solar inverter?  In that case there's plenty of choice.  I can think of nine brands I can recommend off the top of my head, but every single one of them is manufactured overseas. If you had your heart set on an Australian-made one you were out of luck.  At least you were until now, as MIL-Solar which is part of MIL-Systems — a producer of electronic devices for millitaries — now manufacture Australian-made 5 kilowatt and 4.95 kilowatt solar inverters in Melbourne.
At the moment they are priced around the same as a Fronius, which is what I'd call a premium inverter, and so aren't cheap.  But I'm confident there are plenty of people willing to pay a premium to have an Australian-made solar inverter hanging on their wall.  Possibly in the garage next to the Kingswood.
MIL-Systems Make Military Tough Stuff
MIL-Systems is an electronic equipment manufacturer in West Footscray.  Their name may make it sound like they produce equipment for mills or maybe for the milliners who make hats for the Melbourne Cup, but it actually stands for Military Systems.  A very appropriate name because they make stuff for the Australian Defence Force.
I have to give the MIL-Solar portion of MIL-systems credit for being gutsy enough to not attempt to hide this, because if anything has a reputation for being unreliable or not cost effective it's some military equipment.  Back in the days when my cousin was serving on the Melbourne1 it was generally accepted things meant to go bang usually would, but everything else was hit and miss.2
Fortunately, I've heard things have gotten better recently.  And by recently I mean in the last 30 years.  This may be hard to believe given that, in today's money, Australia is paying more for each F-35 Joint Strike Fighter than they did for an entire new aircraft carrier in 1947.  But, unlike Donald Trump who prefers steam, our Defence Force Chiefs now understand that electricity is a thing and items using it have to be both durable and reliable.3  The items MIL-systems make for the ADF definitely look durable:
MIL-Systems has done a good job of convincing me the stuff they make is dependable.  Besides their assurances, there's also several good reasons why we can expect MIL-Solar inverters won't be exposed to anything approaching the usual amount of swearing military equipment is:
It's being produced for and sold in the consumer market, so if it's going to make money it has to work as well or better than the competition and competition in the solar inverter market is tough.  The market imposes discipline often missing in military procurement.
It's not being built under the assumption that, when used in situation it's designed for, it will probably be destroyed within 6 months anyway.4
It is not being physically hauled around the place by people who are sometimes not quite as delicate as they could be.
Solar Inverter Specs
The MIL-Solar Eclipse inverter5 is 5 kilowatts, but if you live in an area with an annoying Distributed Network Service Provider that wants to limit you to an inverter capacity of under 5 kilowatts instead of the more usual 5 kilowatts for a single phase home6, there is a version that has been cranked down to 4.95 kilowatts.  MIL-Solar says in the future they may produce one that is 6 kilowatts.
Both versions of their inverter are single phase, which is the type of power most homes have.  Like all single phase inverters they can be used by homes with 3 phase power, although I normally recommend getting a 3-phase solar inverter for a 3 phase home if you can manage it.
The datasheet with the full list of technical specs can be found here, but I've put a cut down list of points likely to be of most interest to home owners below: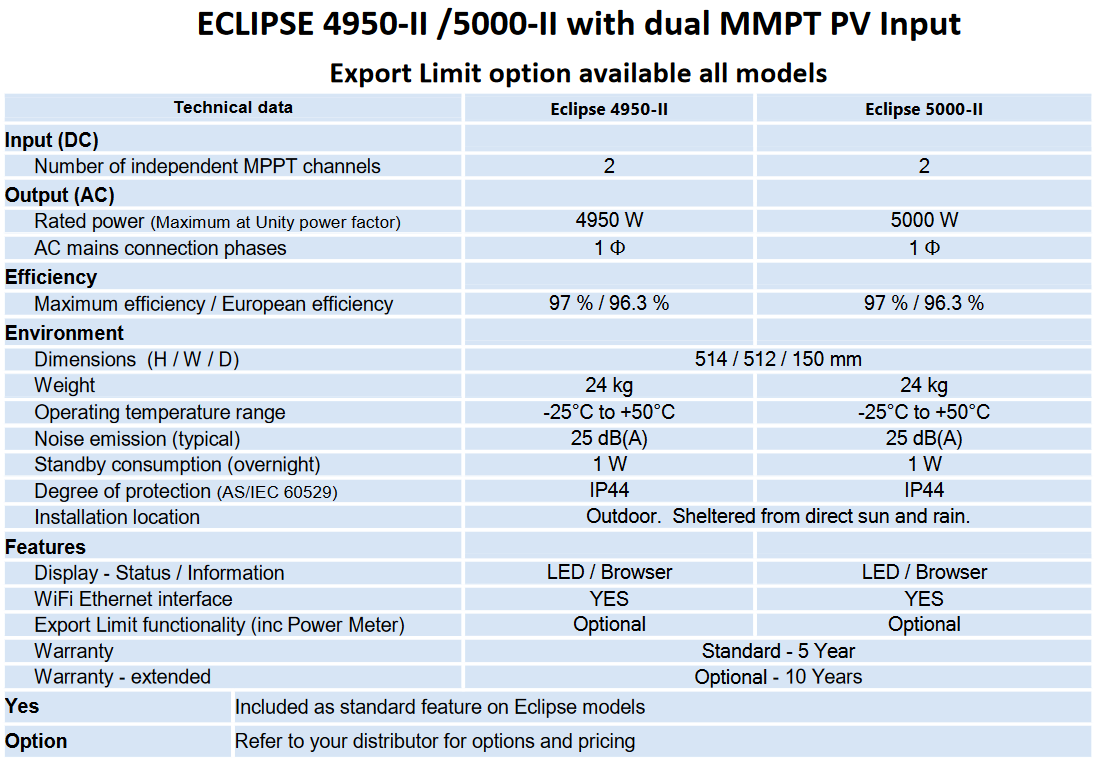 Not shown above, but of interest to installers will be that each MPPT has a 12 amp limit on operating input current  – which will limit design options for some split roofs.
Efficiency
The Eclipse inverter has a maximum efficiency of 97%, but what's important is its average efficiency under real life conditions, which is given by its European Efficiency figure of 96.3%.  Not that long ago I would have said this is pretty good, but solar inverter efficiencies have been creeping higher and here's how it stacks up against a range of others:7
As you can see, the MIL-System inverter comes in at the bottom.  While the 0.8% difference between it and a Fronius inverter isn't much, it does add up over time.  Six kilowatts of north facing solar panels in Sydney with a Fronius would produce around 670 more kilowatt-hours over 10 years than with a MIL-Solar inverter.  If each kilowatt-hour of solar electricity was worth 20 cents to the household the Fronius would give an extra $134 more in savings.
IP Rating 44 — Less Than Usual
An item's IP (Ingress Protection) rating is a measure of how well it prevents dry stuff, like dust and spiders, and wet stuff like water and spider juice, from getting inside.  The higher the numbers the better.
The MIL-Solar Eclipse is IP44.  The first number is for solids with 4 meaning objects larger than 1mm can't get inside.  This will stop most ants but not itty bitty little ones.  The second number is for water with 4 meaning it can resist being splashed with water from any angle.  All the other solar inverters I listed above are IP65, so the MIL-Solar Eclipse has considerably less ingress protection.
While MIL-Solar inverters can withstand being splashed with water they need protection from storm driven rain.  As it's technical specs say:

It can go under roof eaves, but will have to be located high enough for the roof overhang to protect it, while still leaving least 30cm clearance above the inverter to allow enough air circulation to cool it.  This may not be a problem for installers over 6 feet tall who, when they stand on either side of me, make me feel like I'm at the bottom of a well.  But for the average8 sized installer it may make things more difficult.
No Direct Sunshine
While it's not a good idea to locate any inverter in the sun, unlike other manufacturers, MIL-Solar specifically prohibits this.  This is made obvious by the fact that it is black, which means it would rapidly soak up solar energy.  That's something you want solar panels to do, not inverters.
Vampire Energy Drain
Electronic devices often consume energy when not in use.  For solar inverters night time counts as not in use.  MIL-Solar's inverter has a standby power consumption of around 1 watt.  This compares well to other 5 kilowatt inverters:
While the MIL-Solar inverter is only in 6th place, the difference between drawing 1 watt at night and up to 0.4 watts, like the ABB Uno, only comes to an extra 26 kilowatt-hours over 10 years.  If electricity cost 25 cents per kilowatt-hour at night that an extra $6.50.  Meanwhile, the vampiric SMA Sunny Boy would have slurped down an extra $44 worth of electricity compared to the MIL-Solar Eclipse.
No Screen — Only Wifi
As is becoming depressingly common, there is no screen on the MIL-Solar Eclipse.  Instead it has a wireless connection so you can look up its performance on your laptop or phone.  I don't approve of screenlessness because my parents have gone over 70 years without learning to use the internet and they're not going to start now.  (Unless of course there are recipes and dirty pictures to be found on the internet, but what are the chances of that?)  However, it does have three little lights and they can convey a surprising amount of information with their blinking and flashing.
These little lights are so good I think the inverter should have hundreds of them.  So many they could convey numbers and letters.  This is such a radical idea I think I'll patent it.  I call this new invention a freaking screen.
No Isolator Switch
One feature the MIL-Solar inverter doesn't have, which is becoming common, is a built in isolator switch.  This means a little extra effort and expense for installers as they'll have to stick one next to it.
A Sexy Appearance — Maybe Too Sexy
The MIL-Solar Eclipse has a distinctive look.  For one thing, compared to other inverters, it's as black as a spade full of aces.  It also has a corrugated exterior that increases its surface area to let air carry more heat away.  But rather than tell you what it looks like, today on Play School we're going to look through the round window at an actual picture from the MIL-Solar homepage: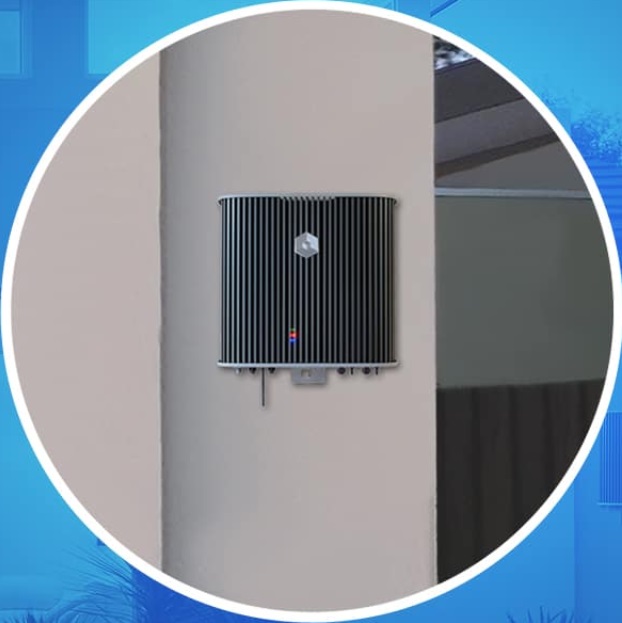 As you can see, it looks good.  Maybe a little too good, as whoever owns this inverter is clearly using it as wall decoration rather than part of a working solar power system.  Normally there would be an isolator switch and multiple conduit covered cables coming out its bottom going to the solar panels and back and to the switchboard.  But someone clearly decided they don't want a working solar system and just wanted that sexy inverter on their wall. Maybe if Mil-Solar made them a little less pretty they would have fewer solar inverter fanciers doing this.
5 Year Warranty + 5 Years Limited Warranty
The inverter's warranty is 5 years, but can be extended to 10 via the power of money.
Update 14th April 2020 6:07pm: In addition to having a 5 year full warranty there is also an additional 5 year limited warranty period where MIL-Solar will repair a faulty inverter or provide a replacement inverter but won't pay for the cost of labour required to remove or reinstall it.
As is always the case, Australia's Consumer Guarantees provide you with additional protection beyond what the warranty provides.
It's Australian-Made
The MIL-Solar Eclipse is the only Australian-made solar inverter in its class.  And that class is 5 kilowatts and almost 5 kilowatts, grid-tied, standard solar inverter.  The "grid-tied" part means that, like the very large majority of inverters, it shuts down during a blackout.
I'm from Toowoomba where the local economy is dependent on overseas exports of food (yum!), coal (yuk!), and education (duh!).  So I'm not going to tell you to buy Australian-made.  Obviously, if you don't import you can't export.  Not unless you are willing to give stuff away and the Toowoombarians aren't quite at that level of generosity yet.  But if you want to buy Australian-made then MIL-Solar has you covered.  Sure, it contains components that were manufactured overseas but, after her hip replacement, so does my aunt and she's as Australian as they come.9
I recently received an email from Tindo Solar — Australia's only producer of solar panels10 — encouraging people to buy Australian-made.  Unless they're full of hot air I'm sure they'll leap at the chance to offer Australian made panels with an Australian made solar inverter.
And speaking of Australian productions…
I am the very model of an inverter that's Australian

I'm made in Melbourne unlike models that are alien

I'm very durable so I won't soon be failing

But I'm only IP44 so don't use me for for whaling.

Behind me all competitor inverters are trailing

My smallest microprocessor is smarter than Sarah Palin

I'm better than any inverter Canadian or Arabian

Though I'm equally fond of every single Homo sapien.

I'm very good at keeping my vampiric standby power low

I won't slice at savings like that pendulum of Edgar Allan Poe,

If against foreign domination of inverters you are railing

I am the very model of an inverter that's Australian.
Footnotes
The Melbourne is famous for being the only aircraft carrier to sink two destroyers without using planes.  It used unarmed combat instead.  Unfortunately, they were both on our side.  I'll point out my cousin was not in charge of steering that thing. ↩
While they usually don't go together, it is possible for something to be both durable and unreliable.  For example, many Japanese Nambu 94 pistol were durable enough to survive World War 2 but unreliable enough to fire if you squeeze the side instead of the trigger. ↩
The main Soviet tank of World War 2, the T-34, was apparently built with the expectation it would last about 6 months and not many did.  Its diesel engines were good for about 100 hours use. ↩
They named it after what my barber does. ↩
Depending on your location it is possible to get around restrictions on solar inverter capacity by using export limiting.  Unfortunately, this isn't permitted in WA. ↩
These figures are from the manufacturer's websites and, except for Enphase, are for 5 kilowatt single phase inverters. ↩
I am exactly the average height for an Australian my age, provided that Australian is a woman. ↩
That is, she was born in Europe, reeks of tobacco, but likes vegemite. ↩
Made with imported solar cells. ↩