JA Solar

solar panels reviews
5 star

102
4 star

80
3 star

5
2 star

0
1 star

1
About JA Solar, Solar Panels

JA Solar is a Chinese company that that is one of the largest manufacturers of solar panels in the world. They produce tier 1 solar panels that carry a 10 year product warranty, which is standard for the industry. They have an Australian office located in Newcastle which means there are people in the country you can contact in case you have a problem. As their panels are salt mist corrosion resistant they are suitable for installation anywhere in Australia.
JA Solar Is Pushing For Position Of Planet's Most Prolific PV Panel Producer
JA Solar states it has shipped 29 gigawatts of solar panels (cumulative). In early 2018, it was named the fourth largest manufacturer in the world, behind JinkoSolar, Trina Solar and Canadian Solar respectively.
JA Solar Production Facilities
The bulk of JA solar's manufacturing capacity consists of 9 factories in China. Four near the giant metropolis of Shanghai and 2 in the vast Beijing conurbation. They also have a 400 megawatt facility in Malaysia, which is handy for avoiding US tariffs on Chinese made panels, and they have a 200 megawatt assembly plant in Vietnam.
JA Solar Panels
JA claims their JAM6 panels are the best selling monocrystalline panels in the world. This may or may not be true, but they have a picture of a little smiling robot as tall as the panel giving them the thumbs up and if a grinning metal homunculus doesn't fill you with confidence, I don't know what will.
Their 270 watt JAM6 panels have an efficiency of 16.5% and, unlike some solar panel manufacturers, they don't cheat by not including the frame in the efficiency calculation.
48 Cell Modules - Smaller Than The Average Panel
Some people have difficulty arranging normal sized solar panels on their roofs and so JA Solar's 48 cell panels may be of use to them. They are up to 17.9% efficient, which is considerably above the average in 2016 of around 16%, while being at least 33cm shorter than most panels. This smaller size may allow some people to better arrange their solar panels and potentially let them fit a greater total capacity of solar PV on their roofs.
JA Solar's Bankability
As we saw back in 2008, independent surveys of companies' financial health are a vital part of completely failing to prevent economic disasters.
In order to further improve our ability to fail to avoid economic disasters, each year Bloomberg News Energy Finance performs a survey to estimate the financial health of solar manufacturers. This is done by basically determining how likely lenders would be to accept a solar farm using a particular manufacturer's modules as collateral for a loan.
In 2014 JA Solar came 3rd out of 11 companies on this measure of bankability. And in 2016 they came 6th out of 15 countries putting them into the top 40% of all those surveyed, which was better than the company immediately behind them that was only in the top 47%.
JA Solar claims their debt to asset ratio is 64%. This means their company is worth more than they own, which is always a good sign in a business where it is basically impossible to get a long term advantage over the competition.
JA Solar Is No Longer Being Sued By Hemlock
Hemlock, an oddly named US silicon producer, was attempting to sue JA Solar for close to one billion US dollars, but the two companies have arrived at a settlement. It is not known how much JA Solar will have to shell out as a result, but it is sure to be less than one billion dollars.
The dispute arose after JA Solar had agreed to purchase $103.5 million US worth of silicon from Hemlock and decided not to do that after silicon prices fell and they could get it more cheaply elsewhere. Rather than sue them for US $103.5 million for breaking their promise and screwing them over, Hemlock decided to sue for almost one billion US dollars instead, because of optimism, I guess.
JA Solar Goes Private
In July 2018, the company announced the completion of its merger with JASO Acquisition Limited and that it had ceased to be a publicly traded company.
JA's Robot Mascot Gives Me The Creeps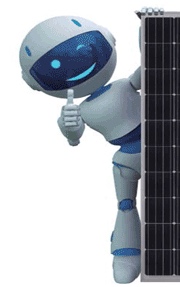 In general, I have nothing against robots. Some of my best friends are 'bots. I regard them as hard working members of society just the same as the chair that is supporting me, my microwave oven, my automatic enchilada maker, or my ninth grade Geography teacher.
JA Solar's robot is just wrong. It has solar cells in its face. That makes no sense at all. Yes, my energy enters my body through my face, but that's because I'm a human and 600 million years ago some worm decided to split the tasks of eating and excreting between two different holes. And thank god for that.
But robots are designed. They didn't come about through random worms deciding to no longer poop out of their faces. We made that robot and we made it so the only way it can get full power from its solar cells is to stare at the sun. And that is just stupid.
* Update: It appears the creepy little robot mascot is no more.
STVC Solar Scorecard
Each year the Silicon Valley Toxics Coalition (STVC) produces a report grading solar panel manufacturers on environmental and social responsibility. A low score on this report doesn't mean a company is awful, it can just mean that information wasn't available. So a high score is a good sign while a low score is not a good sign, but not necessarily a bad sign.
But regardless of how good or bad they were, JA Solar's score in 2013 stank with a total of 8 out of a possible 100. In 2014 their score was marginally less smelly with 10 out of 100. But in 2015 they hurled themselves up the scoreboard and nabbed a score of 77 out of 100.
I don't know how they managed that. Maybe JA Solar hired one of those coaches from a Disney sports movie who somehow manages to turn everything around despite being a doofus?.
However, in the 2016-17 scorecard, the company's score dived again, to 37.
I Am Fine With Recommending JA Solar Panels
JA Solar panels are reliable and cost effective. While they had dropped a little on bankability scores in the past, it is not really possible to draw any firm conclusions from that about how likely they are to remain in existence as a company. The fact they are tier 1 indicates they are considered to be a reliable manufacturer that will probably stick around.
JA Solar Solar Panel Reviews
JA Solar has 138 solar panels in our database
Rating Statistics
Overall rating
5 star 102
4 star 80
3 star 5
2 star 0
1 star 1
JA Solar's Rank
How is this calculated?
x-axis = lowest average score to highest average score of all companies reviewed who meet the criteria selected.
y-axis = number of companies who have that average score.
red arrow = position of this company ( high is good )
ONLY COMPARE TO COMPANIES WITH MINIMUM REVIEW COUNT OF: