Canadian Solar Inc

solar panels reviews
5 star

513
4 star

317
3 star

20
2 star

3
1 star

1
About Canadian Solar Inc, Solar Panels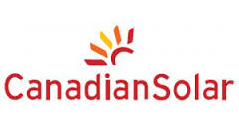 Canadian Solar is a producer of tier 1 panels. Despite their name, any panels you buy from them in Australia will not be made in Canada. In September 2016 perhaps 10% of their manufacturing capacity is in Canada, but those panels were for the North American market only. Canadian Solar panels we purchase are most likely to be made in China.
Their panels carry a 10 year product warranty which is standard for the industry. Most of their panels are certified as corrosion resistant and so are suitable for installation anywhere in Australia. Canadian Solar has an Australian office and unlike most panel manufacturers it is in Melbourne rather than Sydney.
Canadian Solar Panels
Canadian Solar produces a variety of panels. Unlike some manufacturers, Canadian Solar does not exaggerate their panel's efficiency by not including the frame in the calculation. They are corrosion resistant and suitable for installation anywhere in Australia.
Higher Efficiency Panels
The highest efficiency panels produced by Canadian Solar are 18.96% efficient. Their higher than average efficiency can be useful when available roof space is limited. These panels are certified as corrosion resistant and so are suitable for installation anywhere.
Canadian Solar Warranties
Canadian Solar panels have a 10 year product warranty which covers them if they fail to work in that time period due to a fault in manufacture. You can read more about solar panel warranties here.
Company History
In 1987 the founder of Canadian Solar, Shawn Qu, was earning around $5 a week in today's money teaching in China. That year he moved to Canada and began studying to obtain his masters degree in physics. In 2001 he founded Canadian Solar. In 2015 Canadian Solar became the second largest producer of solar panels in the world and they may be the largest in 2016.
If he still owns 27% of the company, as he did in 2014, then in September 2016 Shawn Qu's share was worth around $270 million. For a while in 2014 it was worth around $870 million, but at the moment Canadian Solar and the share market aren't getting on as well as they used to.
Shawn Qu now spends most of his time in China and that is understandable, as in winter it is so cold in Canada it is possible to freeze to death in less time than it takes for a bear to find you and eat you.
Manufacturing Locations
By the end of 2016 Canadian Solar intends to have a total of around 6.5 gigawatts of panel manufacturing capacity. Around three quarters of this will be in China with 3 gigawatts in Changsu and 600 MW in Suzhou in Jiangsu Province, and 1.1 gigawatts in Luoyang in Henan Province. They will also have an additional 500MW capacity in China acquired from a recently bankrupt competitor.
Manufacturing capacity outside of China will consist of 500 megawatts in, strangely enough, Canada, 300 megawatts in Vietnam, 300 megawatts in Brazil, 30 Megawatts in Indonesia, and they say they will build another 600 megawatts in a mystery location in Southeast Asia which may be Myanmar or it may turn out to be We-are-not-actually-going-ahead-with-this-project-now-land.
If they meet their goals for 2016 it will mean about 8% of Canadian Solar's manufacturing capacity will be in Canada. This may not seem much, but it is 8 percentage points more manufacturing capacity than Hanover Solar has in Germany or "Australian Solar Panels" had in Australia.
Canadian Solar Is less Vertically Integrated Than Their Main Competition
While Canadian solar was the world's 2nd largest panel manufacturer in 2015 it was only the 10th largest cell manufacturer. Unlike other major panel manufacturers it only produces around half or less of its own solar cells and purchases the rest, mostly from Taiwan.
2016 Jiangsu Tornado
Canadian Solar's goal to increase their own cell manufacturing capacity had a setback in June 2016 when a cell manufacturing plant they owned in Funing was hit by the worst tornado in China in 50 years, injuring employees and collapsing almost 4 hectares of factory buildings.
STVC Solar Scorecard
Each year the Silicon Valley Toxics Coalition (SVTC) produces a report grading solar panel manufacturers on environmental and social responsibility. A low score on this report doesn't mean a company is awful, it can just mean that information wasn't available. So a high score is a good sign while a low score is not a good sign, but not necessarily a bad sign.
I don't know why, but Canadian Solar was not included in the latest report which covers the year 2015. Their score in 2014 was not good as they only came 27th out of 37 companies surveyed, receiving a score of 14 out of a possible 100. But this was better than the score of 7 out of 100 they received in 2013.
Canadian Solar Builds Solar Farms
While Canadian Solar doesn't make as many of their own cells as other large panel manufacturers, they do tend to be more heavily involved in the construction of solar farms than most and have been selected to build two in Queensland. They will be small by international standards and consist of 35 megawatts near Oakey and 15 megawatts at Longreach.
Warranty procedure for orphaned Canadian Solar customers
If you have purchased Canadian Solar panels from a solar installer who has since gone out of business, the responsibility for warranty claims shifts to Canadian Solar. Their customer service line in Australia is 03 8609 1844 - affected customers should contact this line for assistance and advice on how to arrange for panel replacement under warranty. Note that Canadian Solar's warranty does not cover labor costs involved in warranty replacement of panels.
I Am Fine With Recommending Canadian Solar Panels
Canadian Solar produces tier 1 panels which means banks and other institutions consider both the panels and the company reliable enough to be a worthwhile investment. And so I have no problem recommending Canadian Solar panels. They are a generally reliable panel that provides good value for money. Just don't expect them to come from Canada.
Canadian Solar Inc Solar Panel Reviews